Democrats Poised To Win Back The House, But Fall Short In The Senate
With one week to go before Election Day, Democrats seem well-positioned to gain control of the House while Republicans seem likely to hold on to the Senate.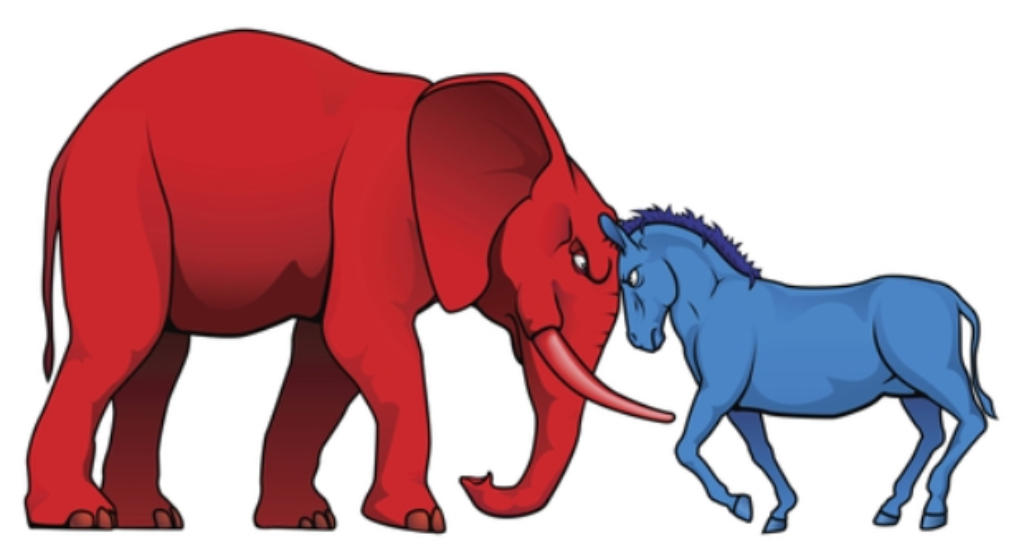 One week from today, voters across the country will head to the polls in the latest "most important election of our lifetime," with Democrats hoping to grab control of at least one chamber of Congress, and Republicans hoping to stave that off or to at least hold on to the Senate for the next two years. For much of the year, the polls have swung back and forth on both the Generic Congressional Ballot and the individual head-to-head Senate races in the states where GOP or Democratic pickups have been possible. At first, it was looking as if everything was going to break the Democrat's way, with polls indicating not only that they were headed for enough pickups in the House of Representatives to win at least a slim majority but also that they would be able to either hold on to red-state Senate seats or make gains elsewhere in the country to gain slim control in the Senate. All of that changed after the Brett Kavanaugh hearings, though. All at once, Republicans became as energized as Democrats and races that seemed to be heading the Democrats' way, such as those in Arizona, Nevada, and Tennessee, have trended toward the GOP. Additionally, Republicans running against red-state Democrats in states such as Missouri, Indiana, Florida, and North Dakota, started performing much better in the polls. This has led to the probability that we would end up with split control of control that would be the reverse of what we saw from the 2010 elections to the 2014 elections, with Democrats controlling the House and Republicans maintaining a hold on the Senate and, of course, the White House.
Politico notes, though, that there are signs that Democrats appear to be regaining the momentum they lost after the Kavanaugh hearings:
The Republican Party base has been electrified by Supreme Court Justice Brett Kavanaugh's confirmation hearings and a campaign blitz from President Donald Trump. But the burst of enthusiasm has not reversed the trajectory of the midterms for the House GOP, which remains on the verge of losing its majority next week.

Some Republicans deep in Trump country have regained ground. But the handful of bright spots have been outweighed by a tidal wave of Democratic spending and voter support in the closing weeks of the midterm election, according to public and private polling, interviews with strategists from both parties and a POLITICO analysis of TV spending figures. In recent days, House Republicans have rushed to fortify a surprise collection of GOP-held districts in a half-dozen states that were never expected to be competitive.

They indicate a Republican Party, swamped by cash-flush Democratic candidates and outside groups, still losing support among women and suburban voters ahead of the midterms and struggling to bring home voters that helped put the GOP in control of the House for most of the last quarter-century.

"Clearly the Kavanaugh confirmation was an inflection point to activate the Republican base, and even pull over some Democratic men," said Rob Stutzman, a Republican consultant based in California. "But that's an effect that benefits the Senate and leaves suburban members of Congress stranded. It's unlikely we won back suburban Orange County voters."

(…)

Meanwhile, a pair of crises just a week out from Election Day — the massacre of 11 people in a Pittsburgh synagogue and the arrest of a suspect for mailing pipe bombs to a number of prominent Democratic politicians — have further unsettled the electorate just before the midterm vote.

"Everything suggests that we are a country that's on edge, and I think that's going to translate into participation," said Jefrey Pollock, a Democratic pollster. "But the reality is that many voters in this country hold Donald Trump responsible for the divisive rhetoric these days."

Some Republicans also acknowledged that their party's "problems right now are with suburban women, and these developments in the last week affect them more than other demographic groups," said Jason Roe, a Republican consultant. "It's important for us to get them focused back on the key issues, the economy and immigration."
On the House side, things continue to look positive for Democrats, with the most recent Generic Congressional Ballot poll giving Democrats one of their biggest leads of the year:
Democrats are leading Republicans by 17 points on a generic ballot, according to a new USC Dornsife/Los Angeles Times poll.

The survey, conducted Oct. 21-27, found that 57 percent of likely voters said they plan to cast their ballots for Democrats in the Nov. 6 midterm elections, compared with 40 percent who plan to vote for Republican candidates.

The data released on Monday show a 4-point gain for Democrats following an LA Times poll the previous week that found the party leading by 13 points.

The poll also found higher levels of enthusiasm among Democrats, with 52 percent saying they will vote in the midterms, while only 42 percent of Republicans said the same.

The survey was conducted before, during and after several pipe bombs were mailed to prominent Democrats. The final day of the poll was Saturday, when 11 people were killed during a shooting at a Pittsburgh synagogue.
Another poll released late last week also gives Democrats a double-digit lead, albeit by a smaller margin than the USC/L.A. Times poll:
A new poll released Friday showed Democrats lead Republicans by double-digits on a generic congressional ballot less than two weeks before November's midterm elections.

The NPR/PBS NewsHour/Marist poll found that 50 percent of registered voters said they would vote for the Democratic congressional candidates in their district if the election was held today.

Republicans trail 10 points behind with 40 percent of support .

Five percent of respondents said they wouldn't vote for either political party and 6 percent were undecided.

Likely independent voters  gave Democrats a 10-point boost, with 44 percent saying they would vote for a Democrat compared to the 34 percent who would for for a Republican.

Republicans have been consistently polling behind as they attempt to fight off a Democratic effort to retake control of the House. Democrats need to pick up 23 seats in the House to reclaim the majority.
In addition to these polls, other recent polling shows the following:
With the exception of the NPR poll, all of these polls are of Likely Voters.
The polling averages and forecasts, meanwhile, show similar numbers:
In the RealClearPolitics average, Democrats ( 49.5%) have a +7.6 point lead over Republicans (41.9%), which is slightly above where it stood two weeks ago;
In the Pollster average, Democrats (48.1%) have a +7.7 point lead over Republicans (40.4%), a decrease in the Democratic advantage in the past two weeks;
In the FiveThirtyEight average, Democrats (50.3%) have a +8.5 point lead over Republicans (41.8%), which is roughly the same as it was two weeks ago; and,
The FiveThirtyEight House Forecast, meanwhile, gives Democrats an 85.9% chance at winning the House and gives Republicans a 14.1% chance of holding on to the House. This is a slight increase in the Democratic advantage, and decrease in the odds for Republicans, over two weeks ago.
All of this is reflected in the RealClearPolitics chart: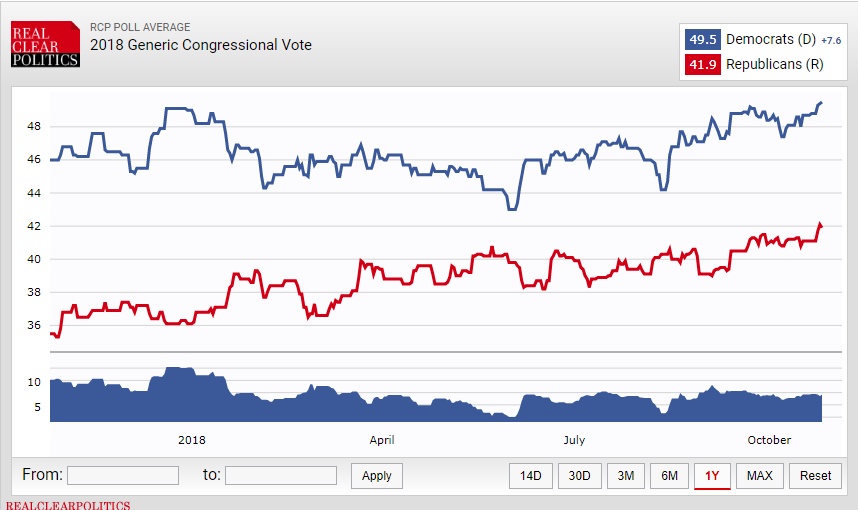 The continued Democratic advantage in the Generic Congressional Ballot, as well as polls from individual battleground districts around the country, suggest strongly that Democrats stand to pick up at least enough seats to win control of the House of Representatives. In order to get there, Democrats need to pick up at least 24 seats to just get to a bare one-seat majority. One sign of that can be seen in the last minute money race, where Democrats continue to have an advantage over Republicans, causing the GOP to spend the last several weeks deciding which seats to concentrate on to prevent a Democratic wave akin to what we saw in 2006 (for Democrats) or 2010 (for Republicans). As things stand right now, the odds that they'll be able to accomplish that, and do even better, are looking fairly good. Depending on which projection you look at, and depending of course on what the voting demographic ends up looking like, it's possible that Democrats could end up picking up as few as 25-30 seats, which would give them a slim majority, to something on the higher end such as 30-40 seats, which would mean a more comfortable majority. Somewhat less likely at this point are the odds that they'll repeat something like the historic pickup that Republicans managed in 2010 when they picked up 60 seats in the House or that the Democrats will gain some seats but not enough to get the majority. All four of these outcomes, or some variation, are possible, of course, but the most likely options appear to be those that have Democrats picking up a decent enough number of seats to have a comfortable majority starting in January 2019, something that would obviously have a big impact on how Washington will work from that point to January 2021.
Over in the Senate, things are not looking quite as optimistic for Democrats and the probability of Republicans holding on to the upper chamber of Congress seems to be increasing. Much of this appears to be due to the impact that the Kavanaugh hearings and confirmation have had on the race for the Senate, an impact that does not appear at the moment to be carrying over to the battle for control of the House of Representatives. Prior to the Kavanaugh hearings, Democrats seemed to be well positioned to flip Senate seats in states such as Arizona, Nevada, and Tennessee and were even holding their own in red states such as North Dakota and Missouri. Now, there's evidence that Republican candidates have turned the tide in all of these states and are well positioned in others:
To give you an idea of what this means in terms of what we can expect in the Senate, the FiveThirtyEight Senate Forecast gives Republicans an 82.8% chance of holding on to the Senate and Democrats just a 17.2% chance of capturing the Senate. The projection gives the GOP a 17.5% chance of keeping the 51-49 majority they have now, a 16.8% chance of increasing their majority to 52-48, and a 13.6% chance of getting a 53-47 seat majority. The probabilities of other scenarios where the GOP increases its majority beyond that are all given less than a 10% chance as of today. The RealClearPolitics forecast meanwhile, puts 50 seats in the GOP column and 44 in the Democratic column, with 6 seats listed as "toss-ups." Without toss-ups, the RealClearPolitics forecast puts the GOP at 53 seats and the Democrats at 47 seats.
In other red states or states that President Trump won in 2016, such as West Virginia, Wisconsin, Michigan, and Pennsylvania, the Democratic incumbents are all leading their Republican opponents by double digits or nearly doing so (Debbie Stabenow is at +9.7 points in Michigan), suggesting that their seats are safe. On the whole, though, the trend at the Senate level is at the clearly in the Republican's favor. Given the map that the parties are dealing with this year, where there are far more Democrats up for re-election than there are Republicans, and far more Democratic seats that are vulnerable, this isn't entirely surprising. However, until the Kavanaugh hearings, it appears as though the trend in the Senate was starting to favor Democrats. For now, at least, that trend has completely reversed itself and Republicans seem to be poised to hold on to control of the Senate and to possibly even pick up a seat or two from their current 51-49 seat majority. If these numbers hold up, then we'll not only end up with a divided government but a divided Congress much like we saw from 2011 through 2014 when Republicans controlled the House and Democrats controlled the Senate and, of course, the White House. If this is how things turn out on Election Night, then it will at the very least mean that Republicans will be able to continue to confirm Judicial and other nominees with no significant ability on the part of Democrats to do very much about it.
Going forward in January, that would likely mean that we'd see the Democratic House turn its attention to investigations of the Trump Administration while the Senate concerns itself primarily with confirming the President's nominees and other matters. Outside of the budget, where the two parties will have to work together whether they like it or not, the odds of any real legislating getting done over the two years that the new Congress would be in charge would be pretty low, though. And perhaps that's not a bad thing for the time being. The legislative performance of the Republican Congress and Republican President hasn't exactly been all that spectacular, after all, so it's not like the difference will be all that noticeable. Additionally, a Democratic House would mean at least somewhat of a check on this President at a time when one is desperately needed. As I have said on social media several times this year, Republicans in Congress have utterly failed at their Constitutional task of being a check and balance against Executive power to the point where they no longer deserve to control Congress. A Democratic House would at least allow for some Congressional scrutiny of an Administration that has been out of control from the start.