Three Weeks Out, Polls Indicate A Divided Congress In January
With three weeks to go until Election Day, it's looking like we'll end up with a Congress divided between Democrats in the House and Republicans in the Senate.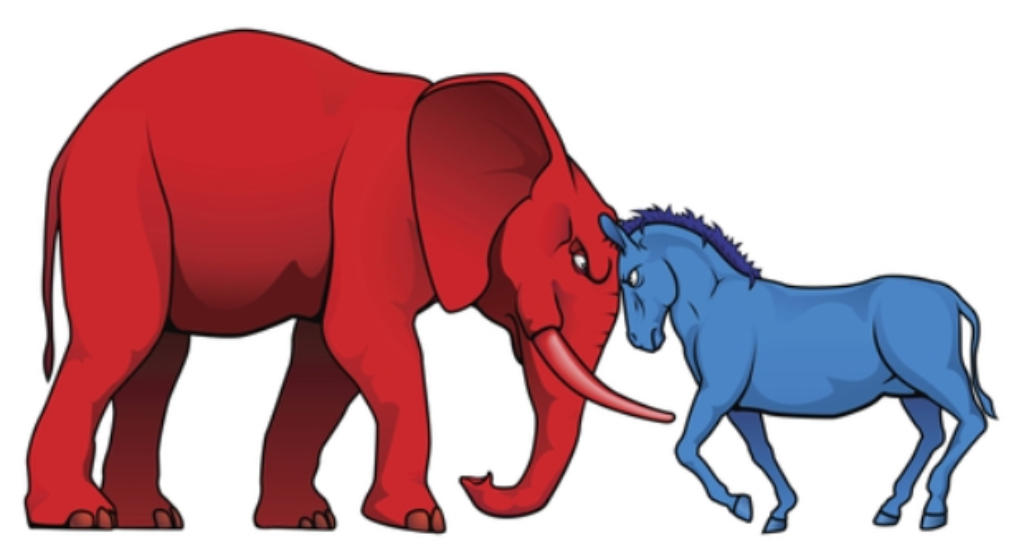 Exactly three weeks from now, voters who have not voted via absentee ballot, mail-in ballot, or early voting will head to the polls to vote for all 435 members of the House of Representatives and one-third of the Senate, and indications are growing that, at least at the House level, Democrats are likely to have a good night.
First up in that regard, there's a new CNN/SSRS poll showing Democrats with a double-digit lead over Republicans in the Generic Congressional Ballot:
Four weeks out from Election Day, Democrats remain well ahead of Republicans in a generic ballot matchup, with 54% of likely voters saying they support the Democrat in their district and 41% backing a Republican, according to a CNN poll conducted by SSRS.

This is the widest margin of support for Democrats in a midterm cycle since 2006, when at this point, the party held a whopping 21-point lead over Republicans among likely voters. That's also when Democrats seized control of the House from Republicans, making Nancy Pelosi speaker until 2011.

This year, Democrats' enthusiasm about their congressional vote has increased and 62% now say they're extremely or very enthusiastic to vote, up seven points since September among Democrats and Democratic-leaning independents. Among Republicans and Republican leaning independents, enthusiasm has remained relatively steady, going from 50% in September to 52% in the most recent poll.

Democratic enthusiasm this year is more intense than it has been in previous midterm cycles, which typically engage voters less than presidential years. The 40% who call themselves "extremely enthusiastic" is the highest share to say so in a midterm election cycle since CNN first asked the question in 2009.

In fact, Democrats' enthusiasm today more closely resembles the 2008 presidential election. Just before President Barack Obama was elected, 45% of Democrats and Democratic-leaners said they were extremely enthusiastic about voting that November. In 2008, Democrats won eight seats in the Senate and 21 in the House, as well as a victory in the presidency.

Women's support for Democratic candidates remains extremely strong; 63% of women say they'll vote for the Democrat and only a third say they'll vote for the Republican. Men are more closely divided, but tilt in the opposite direction, with half backing the Republican and 45% behind the Democrat.

If women were to vote as the likely voter number suggests, it would be Democrats strongest performance in the House race in the history of modern exit polling (back to 1976). The previous record for women voting Democratic was in 1982, when Democrats got the nod of 58% of women voters.

Women are not significantly more enthusiastic to vote than men: 57% are extremely or very enthusiastic compared to 53% of men. This is, however, a shift from what we usually see in a midterm election year. In 2010 at this point, 46% of women voters were enthusiastic about voting in the midterm election vs. 54% of men. In 2014, a very low turnout year, 32% of men were enthusiastic compared to 28% of women.

(…)

When asked which party would handle important issues better, Democrats hold the edge on two of three critical campaign issues. Americans largely trust Democrats over Republicans on handling health care, 54% to 36%, and immigration, 49% to 42%. Republicans have the edge on the economy — 48% favor them on that issue vs. 42% who prefer the Democrats.

Beyond the big three, Republicans have an advantage on national security (50% say Republicans would handle it better, compared to 39% who prefer Democrats). Democrats hold the advantage on handling issues of sexual misconduct (51% to 30%) and the investigation into Russian meddling in the US eection (50% to 34%). On the federal budget and gun policy, Americans split between the two parties. On gun policy, that's a shift away from Democrats, who held a 48% to 40% advantage in a March CNN poll.
Democrats also have a double-digit lead in the new poll from ABC News and The Washington Post:
A Washington Post/ABC News poll released early Sunday shows Democrats with an 11-point lead over Republicans on a generic congressional ballot just weeks before the midterm elections.

Fifty-three percent of registered voters would choose a Democratic candidate in their district, according to the new survey, while 42 percent would vote for a Republican.

Ninety-five percent of Democrats would choose their party's candidate, compared to 93 percent of Republicans who would select the GOP candidate on the ballot.

Just more than half of independents — 52 percent — would select the Democratic candidate while 38 percent would vote for the Republican.

A similar poll conducted in late August showed Democrats with a 14-point lead on the generic ballot.

Democrats need to flip 23 seats in order to regain the House majority.
Finally, a new CBS News poll provides similar results:
The Democrats' lead in the race for control of the House is expanding ahead of next month's midterm elections, according to a new poll.

An updated CBS News/YouGov Battleground Tracker released Sunday projects Democrats to hold 226 seats in the House to Republicans' 209 seats following November's elections.

Democrats, who are currently the minority in the House and the Senate, would need to flip at least 23 seats to take control of the lower chamber.

The CBS tracker has a margin of error of 14 seats, meaning the model still gives Republicans a chance of retaining control of the House.

When the tracker was last updated in August, Democrats were expected to win 222 seats, or four fewer than in the newest projection.

CBS also ran two additional models for the tracker: one that assumes high voter turnout and one that assumes low voter turnout.

According to the tracker, Democrats will have a better chance to win control if there is high voter turnout in the midterms.

In the high voter turnout scenario, Democrats would control 235 seats following the elections. In the low voter turnout scenario, Republicans would keep their majority by one seat, controlling 218 seats to the Democrats' 217.4
In addition to these polls, other polling over the past week shows the following:
It's worth noting that of these polls, the Post/ABC, Emerson, and Economist polls are all polls of Registered Voters. The remaining polls are of Likely Voters
The polling averages and forecasts, meanwhile, show similar numbers:
All of this is reflected in the RealClearPolitics chart: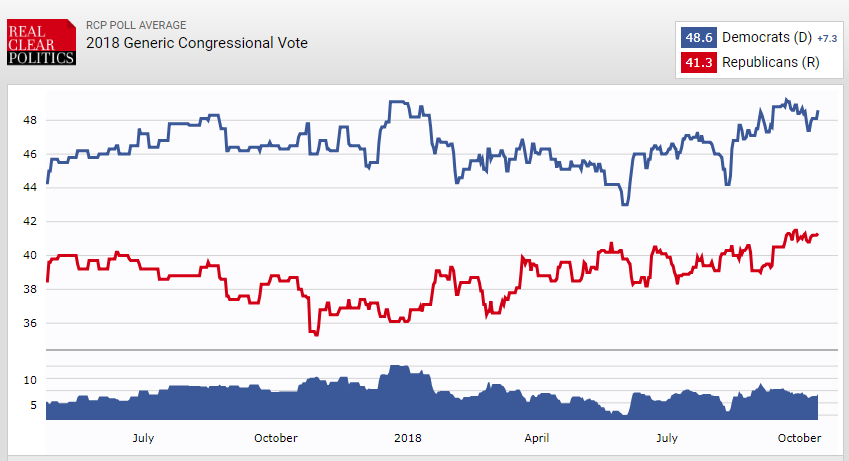 The one theme that seems to be emerging from all of this is that we may end up seeing something of a split scenario at the end of the night (or later) on November 6th. On the one hand, Democrats continue to look like a good
The continued Democratic advantage in the Generic Congressional Ballot, as well as polls from individual battleground districts around the country, suggest strongly that Democrats stand to pick up at least enough seats to win control of the House of Representatives. As I've said before, to do this Democrats need to pick up at least 24 seats to just get to a bare one-seat majority. As things stand right now, the odds that they'll be able to accomplish that, and do even better than gaining the bare minimum are looking fairly good. Depending on which projection you look at, and depending of course on what the voting demographic ends up looking like, it's possible that Democrats could end up picking up as few as 25-30 seats, which would give them a slim majority in the House, to something on the higher end such as 30-40 seats, which would mean a more comfortable majority. Somewhat less likely at this point are the odds that they'll repeat something like the historic pickup that Republicans managed in 2010 when they picked up 60 seats in the House or that the Democrats will gain some seats but not enough to get the majority. All four of these outcomes, or some variation, are possible, of course, but the most likely options appear to be those that have Democrats picking up a decent enough number of seats to have a comfortable majority starting in January 2019, something that would obviously have a big impact on how Washington will work from that point to January 2021.
Over in the Senate, things are not looking quite as rosy for Democrats and the probability of Republicans holding on to the upper chamber of Congress seems to be increasing. It appears from the polls that much of this is due to the impact that the Kavanaugh hearings and confirmation have had on the race for the Senate, an impact that does not appear at the moment to be carrying over to the battle for control of the House of Representatives. Prior to the Kavanaugh hearings, Democrats seemed to be well positioned to flip Senate seats in states such as Arizona, Nevada, and Tennessee and were even holding their own in red states such as North Dakota and Missouri. Now, there's evidence that Republican candidates have turned the tide in all of these states and are well positioned in others:
In other red states or states that President Trump won in 2016, such as West Virginia, Wisconsin, Michigan, and Pennsylvania, the Democratic incumbents are still in decent shape, suggesting that their seats are safe. On the whole, though, the trend at the Senate level is at the clearly in the Republican's favor. Given the map that the parties are dealing with this year, where there are far more Democrats up for re-election than there are Republicans, and far more Democratic seats that are vulnerable, this isn't entirely surprising. However, until the Kavanaugh hearings, it appears as though the trend in the Senate was starting to favor Democrats. For now, at least, that trend has completely reversed itself and Republicans seem to be poised to hold on to control of the Senate and to possibly even pick up a seat or two from their current 51-49 seat majority. If these numbers hold up, then we'll not only end up with a divided government but a divided Congress much like we saw from 2011 through 2014 when Republicans controlled the House and Democrats controlled the Senate and, of course, the White House. If this is how things turn out on Election Night, then it will at the very least mean that Republicans will be able to continue to confirm Judicial and other nominees with no significant ability on the part of Democrats to do very much about it.
The big question, of course, is whether these seemingly opposing trends in the House and Senate continue over the next three weeks, or whether the bounce that Republicans have experienced in the wake of the Kavanaugh hearings peters out prior to Election Day and Democrats start turning things around on the Senate side of the Capitol Building. As things stand now, though, it appears that the most likely outcome for the midterms is one where Democrats end up with control of the House and Republicans retain control of the Senate. Going forward in January, that would likely mean that we'd see the Democratic House turn its attention to investigations of the Trump Administration while the Senate concerns itself primarily with confirming the President's nominees and other matters. Outside of the budget, where the two parties will have to work together whether they like it or not, the odds of any real legislating getting done over the two years that the new Congress would be in charge would be pretty low, though. And perhaps that's not a bad thing for the time being. The legislative performance of the Republican Congress and Republican President hasn't exactly been all that spectacular, after all, so it's not like the difference will be all that noticeable. Additionally, a Democratic House would mean at least somewhat of a check on this President at a time when one is desperately needed. As I have said on social media several times this year, Republicans in Congress have utterly failed at their Constitutional task of being a check and balance against Executive power to the point where they no longer deserve to control Congress. A Democratic House would at least allow for some Congressional scrutiny of an Administration that has been out of control from the start.