Two Days Away, A Split Decision Congress Seems Likely
With less than forty-eight hours to go until voters head to the polls, the odds are pointing to a Democratic House and a Republican Senate.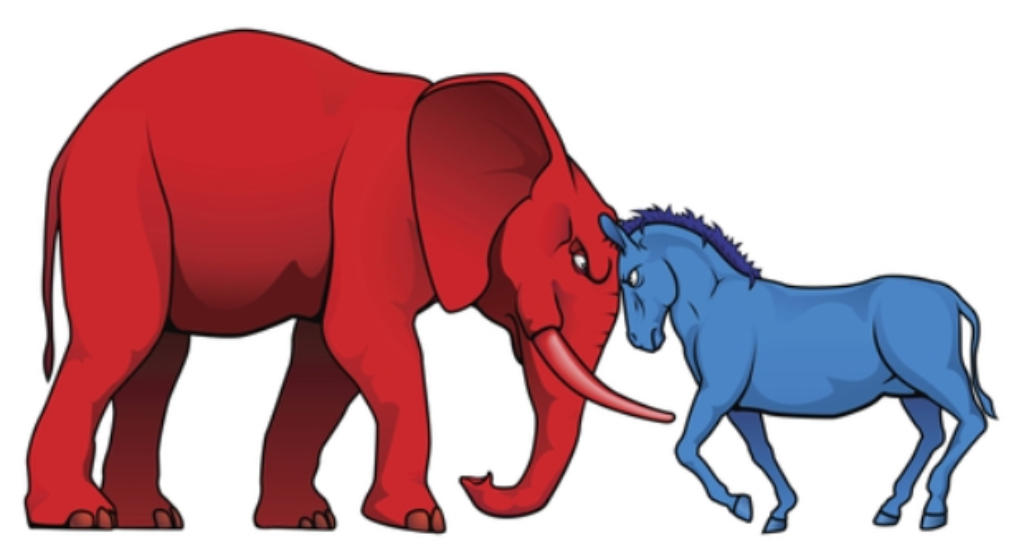 In just under forty-eight hours, voters will head to the polls across the country in what amounts to the first real electoral test for President Trump and the Republican Party after two years of one-party rule at both ends of Pennsylvania Avenue. For the better part of this year, we've seen the polls swing back and forth in both the Generic Congressional Ballot and the individual head-to-head Senate races that have been considered competitive. Initially, at least, the numbers seemed as though everything was breaking in favor of the Democrats, with polls indicating that they were headed for both pickup in the House of Representatives that would lead to a change in control in that body for the first time since 2010. In the Senate, the fact that voter enthusiasm seemed to be leaning in the Democrats direction suggested that Democrats would be able to hold on to many of the seats up for grabs in states that President Trump won in 2016 and that they would be able to flip a seat or two in states such as Nevada, Arizona, and Tennessee to gain control of the upper chamber as well. That began to change in the wake of the Kavanaugh hearings. At that point, Republicans began to become as enthusiastic about voting as Democrats were, and this caused polls in several states to start shifting in favor of Republicans. This has led to the probability, if not the likelihood, that we would end Election Night with a split decision in Congress, with Democrats controlling the House and Republicans hanging on to control of the Senate. Based on the late polling, that still seems to be the most likely outcome.
The last ABC News/Washington Post poll, for example, shows Democrats maintaining their lead in the generic ballot, but also shows that good economic news and the President's focus on immigration and the border could help Republicans in marginal races:
Heading into Tuesday's critical midterm elections, Democrats retain their advantage in the battle for the House, but Republicans could be buoyed by increasingly positive assessments of the economy and by President Trump's harsh focus on the issues of immigration and border security, according to a new Washington Post-ABC News national poll.

The poll finds that registered voters prefer Democratic candidates for the House over Republican candidates by 50 percent to 43 percent. That marks a slight decline from last month, when Democrats led on the generic congressional ballot by 11 points, and a bigger drop from August, when they enjoyed a 14-point advantage.

Democrats also have a 51-to- 44 percent advantage among likely voters identified by The Post. That seven-point margin, which is in line with other polls taken in the past two weeks, puts Democrats roughly within range of what they probably will need in the overall national vote for the House to capture a majority from the Republicans, based on calculations from previous midterm campaigns.

However, there is no way to translate the national numbers into the district-by-district competition that will ultimately decide who controls the House in January. Democrats need a net gain of 23 seats to capture control of the House. Public and private polls of individual races conducted by candidates, political party committees, the media and others show many contests still within the margin of error.

Republican candidates in competitive House districts, almost a third of which backed Hillary Clinton in 2016, threaten to be dragged down by the president's unpopularity. Presidents with approval ratings as low as Trump's have generally suffered significant losses in midterm elections. But this president has shown over time that historical statistical benchmarks don't always apply to him.

Trump's approval rating among all adults stands at 40 percent, holding steady from a poll in early October and slightly higher than his 36 percent rating in August. Those who disapprove account for 53 percent. Among registered voters, Trump's approval is 44 percent, with disapproval at 52 percent, the best margin among this group during his presidency.

(…)

The president's focus on immigration appears to have raised the importance of the issue in the minds of his party's voters ahead of Tuesday's voting. Since a Post-ABC News poll three weeks ago, the share of Republicans saying immigration is "one of the most important issues" in their vote has grown from 14 percent to 21 percent. The share of Democrats saying immigration is a top issue has dropped from 23 percent to 11 percent.

When all voters were asked which party they trust more to handle immigration, Democrats were slightly favored by 47 to 42 percent over Republicans. But on border security, which has been the principal focus of the president, Republicans are more trusted by 49 percent to 39 percent.

Those who rank immigration as one of the most important issues in the election favor Republicans over Democrats by 12 points when choosing a generic congressional candidate, though the gap among this group is tenuous given its large error margin. For those who say border security is one of their top issues, Republicans lead Democrats by 42 points on the House vote.

Those groups who have shifted toward Republicans on the issues of immigrationhttps://mail.google.com/mail/#inbox since early October include white men without college degrees, voters over age 65 and voters who live in rural areas — all staples of the coalition that elected the president two years ago.

Democrats hold a lead almost as large — 39 points — among those voters who rank health care as one of the single most important issues. They lead by 69 points among those for whom global warming is one of the most important issues and by 46 points among those who say reducing divisions in the country is a top issue.

Overall, 17 percent of voters consider health care and reducing the country's divisions as among the single most important issues — about the same as the economy (15 percent) and immigration (14 percent). When looking more broadly at issues voters say are at least "very important," health care and the economy top the list at 78 percent and 76 percent, respectively, followed by reducing political divisions, immigration, taxes, border security and global warming.
The final NBC News/Wall Street Journal poll reports similar findings:
WASHINGTON — Democrats hold a 7-point advantage over Republicans in the final national NBC News/Wall Street Journal poll before Tuesday's midterm elections, with both parties showing record enthusiasm and interest in the upcoming contests.

Fifty percent of likely voters say they prefer a Democratic-controlled Congress, while 43 percent want Republicans in charge. That's down from Democrats' 9-point advantage in October's NBC/WSJ poll, though the change is well within the poll's margin of error.

Democrats lead with likely African-American voters (84 percent to 8 percent), Latinos (57 percent to 29 percent), voters ages 18-34 (57 percent to 34 percent), women (55 percent to 37 percent) and independents (35 percent to 23 percent).

Among white women with college degrees, the Democratic edge is 28 points, 61 percent to 33 percent.

Republicans, meanwhile, are ahead among voters ages 50-64 (52 percent to 43 percent), men (50 percent to 43 percent) and whites (50 percent to 44 percent).

Among white women without college degrees, Republicans have a 12-point advantage, 54 percent to 42 percent. And among white men without college degrees, it's 35 points, 65 percent to 30 percent.

"It is a political kaleidoscope," says Democratic pollster Peter Hart, whose firm conducted this survey with Republican pollster Bill McInturff. "You turn the poll one way, and it looks [good for Democrats]."

But you turn it another way, Hart adds, "you can see how the GOP squeaks through."

"It has closed. It is a more competitive race," says McInturff, the Republican pollster. "But for Republicans, it feels slightly short of where you'd want to be for a national election."

Both Democratic and Republican voters are expressing a record-level of enthusiasm heading into Tuesday's elections. Eighty-five percent of likely Democratic voters have a high level of interest in the midterms — registering either a "nine" or "10" on a 10-point scale — versus 82 percent for Republicans.

Among all registered voters, 70 percent are highly interested in the election, which is up from 61 percent in 2006 and 2010.

(…)

Trump's job rating among likely voters is 46 percent approve, 52 percent disapprove – essentially unchanged from October's 45 percent approve, 52 percent disapprove.

(Among registered voters, it's an equal 46 percent approve, 52 percent disapprove.)

Only 37 percent of registered voters approve of Trump's handling of the recent shooting at a Pittsburgh synagogue, and just 39 percent back his handling of the pipe bombs sent to prominent Democrats.

But only 22 percent of voters said these events had a significant impact on their vote, versus 75 percent who said they had no significant impact.

A plurality of registered voters — 40 percent — say their vote will be a signal of opposition to Trump, compared with 32 percent who say it will be a signal of support; 28 percent say it will not be a signal either way.

Forty-one percent say their vote will be a message for more Democrats to check and balance Trump and congressional Republicans, versus 31 percent who say it will be a message for more Republicans to help Trump and the GOP pass their agenda.

Asked differently, however, 43 percent of voters say they are more concerned Republicans will go too far in supporting Trump, while an equal 43 percent say they are more concerned that the Dems will go too far in obstructing the president.

But 59 percent of registered voters say they want a "great deal" or "quite a bit" of change in direction from the way President Donald Trump has been leading the country, versus a combined 38 percent who want no change, not that much change or just some change.

Those numbers are virtually identical to our September poll — and are close to what the NBC/WSJ poll found from 1994 (when Democrats lost control of Congress) and 2010 (when they lost the House).

"This will be an election that, like most first midterms of a new president, fundamentally is a referendum on President Trump," says Democratic pollster Fred Yang of Hart Research Associates.
These are the two most recent polls since we last looked at the national polling last Tuesday, and the poll averages have therefore stayed roughly where they were then:
The polling averages and forecasts, meanwhile, show similar numbers:
All of this is reflected in the RealClearPolitics chart: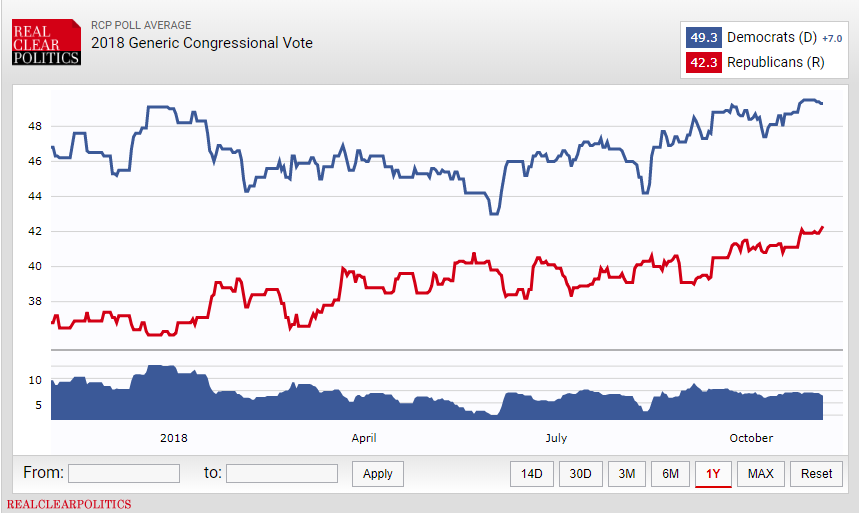 Taking into account both the continued Democratic advantage in the Generic Ballot and polling from individual battleground districts around the country, the numbers continue to favor the idea that Democrats will pick up enough seats to win back control of the House. To get there, Democrats will need to win at least 23 seats just to get to a bare majority. The continued Democratic advantage in the Generic Congressional Ballot, in fundraising, as well as polls from individual battleground districts around the country, suggest strongly that Democrats stand to pick up at least enough seats to win control of the House of Representatives. In order to get there, Democrats need to pick up at least 23 seats to just get to a bare one-seat majority. At this point, the odds that they will be able to accomplish that are looking very good. Depending on which projection you look at, and depending of course on what the voting demographic ends up looking like, Democrats could end up picking up as few as 25-30 seats, which would give them a slim majority, or they could end up with something on the higher end such as 30-40 seats, which would mean a more comfortable majority. Somewhat less likely are the odds that they'll be able to repeat their success in 2006, or the GOP's success in 2010 and pick up something closer to 50-60 seats, which would give them a strong majority that could theoretically stand through the 2020 elections. It also seems unlikely at this point that Republicans will be able to hold on to control of the House even by a slim majority, something that would be a clear win for the GOP.  All four of these outcomes, or some variation thereof, are possible, of course, but the most likely possibility appear to be those that have Democrats picking up a decent enough number of seats to have a comfortable majority starting in January 2019, something that would obviously have a big impact on how Washington will work from that point to January 2021.
Over in the Senate, things are not quite as optimistic for Democrats and the probability of Republicans holding on to the upper chamber of Congress seems to be increasing. Much of this appears to be due to the impact that the Kavanaugh hearings and confirmation have had on the race for the Senate, an impact that does not appear at the moment to be carrying over to the battle for control of the House of Representatives. Prior to the Kavanaugh hearings, Democrats seemed to be well positioned to flip Senate seats in states such as Arizona, Nevada, and Tennessee and were even holding their own in red states such as North Dakota and Missouri. Now, there's evidence that Republican candidates have turned the tide in all of these states and are well positioned in others:
To give you an idea of what this means in terms of what we can expect in the Senate, the FiveThirtyEight Senate Forecast gives Republicans an 85.0% chance of holding on to the Senate and Democrats just a 15.0% chance of capturing the Senate. The projection gives the GOP a 17.8% chance of keeping the 51-49 majority they have now, a 17.4% chance of increasing their majority to 52-48, and a 13.8% chance of getting a 53-47 seat majority, and a 14.9% chance of a 50-50 split that would result in the GOP maintaining control due to Vice-President Pence's tie-breaking vote. The probabilities of other scenarios where the GOP increases its majority beyond 53-47 are all given less than a 10% chance as of today. The RealClearPolitics forecast meanwhile, puts 50 seats in the GOP column and 44 in the Democratic column, with 6 seats listed as "toss-ups." Without toss-ups, the RealClearPolitics forecast puts the GOP at 52 seats and the Democrats at 48 seats.
In other red states or states that President Trump won in 2016, such as West Virginia, Wisconsin, Michigan, and Pennsylvania, the Democratic incumbents are all leading their Republican opponents by double digits or nearly doing so (Debbie Stabenow is at +9.7 points in Michigan), suggesting that their seats are safe. On the whole, though, the trend at the Senate level is at the clearly in the Republican's favor. Given the map that the parties are dealing with this year, where there are far more Democrats up for re-election than there are Republicans, and far more Democratic seats that are vulnerable, this isn't entirely surprising. However, until the Kavanaugh hearings, it appears as though the trend in the Senate was starting to favor Democrats. For now, at least, that trend has completely reversed itself and Republicans seem to be poised to hold on to control of the Senate and to possibly even pick up a seat or two from their current 51-49 seat majority. If these numbers hold up, then we'll not only end up with a divided government but a divided Congress much like we saw from 2011 through 2014 when Republicans controlled the House and Democrats controlled the Senate and, of course, the White House. If this is how things turn out on Election Night, then it will at the very least mean that Republicans will be able to continue to confirm Judicial and other nominees with no significant ability on the part of Democrats to do very much about it.
Update (11/5/2018): Two new (final) Generic Ballot polls were released this morning:
Both of these polls appear to be outliers at the opposite extremes of where most of the final polls are.