2018 Is Looking A Lot Tougher For Senate Republicans
With the results from Alabama. the GOP faces a hard road ahead defending its majority in the Senate.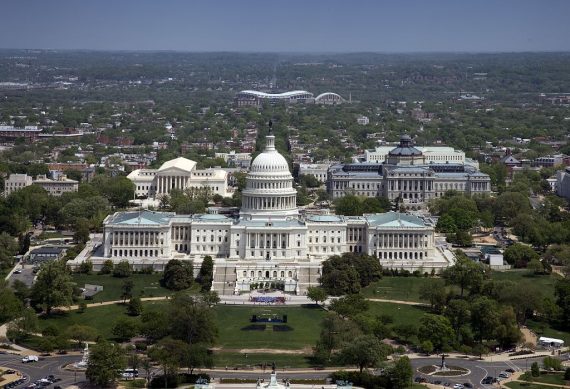 Thanks to the victory of Democratic nominee Doug Jones on Tuesday, the GOP's battle to keep control of the Senate just got more difficult:
At this time last year, the Democratic path to Senate control seemed impossible: Hold all of the Democratic seats, flip Arizona and Nevada, then hope for a miracle.

The Democrats got the political version of a miracle on Tuesday. Doug Jones's victory in Alabama means Democrats have accomplished the most difficult item on their checklist in pursuit of the Senate. A Democratic path is now obvious, and the race for control is basically a tossup, perhaps with a Republican advantage.

It is hard to overstate how surprising this would have seemed a year ago. Democrats needed three states to flip control of the Senate, but they entered the cycle defending 25 seats (two of them independents) to the G.O.P.'s eight. Of those Democratic seats, a staggering 10 of them were in states that chose Donald J. Trump for president, including five that he carried by at least 18 percentage points.

Only one Republican, Dean Heller, represented a state (Nevada) won by Hillary Clinton. Jeff Flake's seat in Arizona was also plausibly competitive after Mr. Trump's tepid 3.5-point win in the state, but it was hard to find the third Democratic seat. Perhaps the next best Democratic opportunity was against Ted Cruz in Texas — a long shot at best.

But the Republican position has steadily deteriorated throughout the year. Most obviously, Mr. Trump's weak approval ratings have decidedly shifted the national political environment. The party's two most vulnerable seats — those held by Mr. Heller and Mr. Flake — became much more vulnerable. Mr. Flake said he wouldn't run for re-election, while Mr. Heller came out of the health care debate badly damaged and facing a primary challenge.

The retirement of Bob Corker in Tennessee and the entry of a former Democratic governor, Phil Bredesen, gave Democrats a new, credible option for that crucial third seat. Texas remains a long shot, but the likely Democratic nominee, Beto O'Rourke, has run a vigorous and well-funded campaign. Republicans did get some good news in Al Franken's retirement, but Democrats would clearly be favored to hold a Minnesota seat in this political environment.

At the same time, it became clear that the Republican opportunity to flip Democratic-held red states wasn't as good as it looked.

It increasingly seems that many red-state Democrats are favorites to win re-election, despite the steady national trend toward a tighter relationship between presidential and Senate vote choice. Polls show that red-state Democrats remain popular, and most hold a lead over many of their strongest potential challengers. A tough political environment has so far discouraged many of the G.O.P.'s strongest potential candidates, and those who do run might face tough primary challenges from Steve Bannon-backed insurgents.
When Jones takes office, the Republican majority in the Senate will be reduced from the current 52-48 balance to the razor-thin margin of 51-49. As a practical matter when it comes to legislation, this complicates things for Senate Majority Leader since it means, even leaving aside concerns about the sixty-vote majority required to invoke cloture on ordinary legislation, he would only be able to afford to lose one member of the GOP caucus. Anything more than that would mean falling below the 50-50 margin that allows Vice-President Pence to cast a tie-breaking vote. Less than a year into the Trump Administration, Mike Pence has done 6 times since January 20th, which exceeds or comes close to the number cast by all of his recent predecessors. Depending on whether or not the Senate is able to take up the tax reform legislation before January, this could have an impact on that issue and will most assuredly have an impact on any further efforts to change the health care laws, as the events of the summer demonstrated quite aptly.
Beyond those immediate concerns, though, the issue of defending their majority in the Senate is obviously more difficult once Jones is in the Senate. Just a few months ago, it seemed as though the Republicans in the Senate were sitting pretty and even in a position to potentially buck the trend of the President's party losing seats in the first midterms of his term that has generally been the historical case with the notable exception of the 2002 midterms, which took place just over a year after the September 11th attacks. This was largely due to the fact that the GOP only has to worry about defending eight seats next year while Democrats need to worry about defending twenty-five. While many of these seats are in solidly blue states, nearly a dozen of them are in traditionally red states such as Montana, South Dakota, and Indiana while others are in states that President Trump won last year. Of the Republican seats, the only one that seemed vulnerable was Dean Heller's seat in Nevada.
That was months ago, though, and since then much has changed that has the potential to make things much more difficult for Republicans.
At the top of the list, of course, are the decisions by Jeff Flake and Bob Corker to retire rather than run for reelection. In Flake's case, the retirement opens the door to a far-right Bannonite candidate such as Kelli Ward capturing the GOP nomination and making a Democratic victory in an increasingly purple state possibly. In Corker's case, the retirement has led popular former Democratic Governor Phil Breseden to enter the race for Corker's seat, which could make it competitive. In addition, there is a possibility of other potential open seats next year. In Arkansas, Tom Cotten has been mentioned as a potential replacement for Mike Pompeo at the Central Intelligence Agency while Pompeo would become Secretary of State. Additionally, John McCain's cancer diagnosis could make a potential retirement necessary, thus leading to the possibility of two open seats in Arizona.  While one wishes the best for Senator McCain, he has described his prognosis as poor and is currently being treated at Walter Reed Army Hospital for complications due to his chemotherapy and radiation treatments. If these seat get added to the GOP's list of seats they need to defend, things could become very difficult indeed.
In addition to the addition of at least two more vulnerable Republican seats, the political climate is not looking well for the GOP. As I noted yesterday, Donald Trump's job approval numbers remain at historic lows and are likely to stay there for the foreseeable future. Additionally, the Generic Congressional Ballot AS tracked by RealClearPolitics, Pollster, and FiveThirtyEight continues to lean heavily in favor of Democrats at this point, although it's arguably a bit too early to be giving this number much significance. Finally, the benchmark Right Track/Wrong Track poll continues to show that the vast majority of Americans think the country is on the wrong track.
Finally, contrary to Republican hopes at the moment it doesn't appear that Democrats running for re-election are nearly as vulnerable as the GOP would like. This is particularly true of Jon Tester in Nevada and Heidi Heitkamp in South Dakota, both of whom remain popular in their home states notwitstanding the fact that these states are generally Republican-leaning. Additionally, it doesn't presently appear that the Democratic incumbents running in the four Midwestern/Middle Atlantic states that Trump won last year — Pennsylvania, Ohio Michigan, and Wisconsin — are vulnerable at all. Given that, the prospect for GOP pickups that would balance out any potential losses is far less likely than it may have appeared on paper earlier this year.
All of this adds up to a difficult road ahead for Senate Republicans, who have already had a difficult time even though they have controlled the Senate for nearly four years now.