August Jobs Report Nothing To Write Home About
The August Jobs Report was positive, but weak, calling into question the Federal Reserve's apparent plan to raise interest rates this month.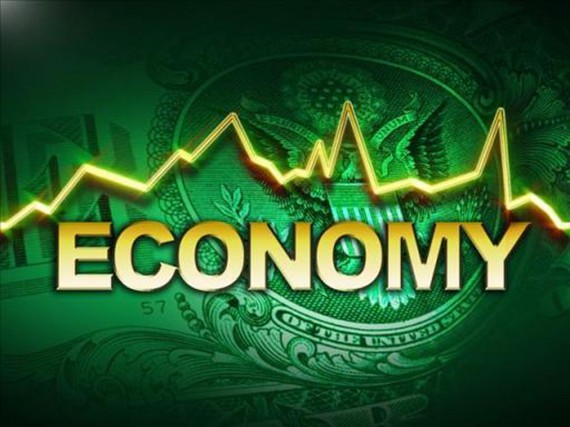 August's Jobs Report paints a picture of an economy that is growing, but growing rather slowly, and once again calls into question the Federal Reserve's apparent plan to begin raising interest rates in September:
Total nonfarm payroll employment increased by 173,000 in August, and the unemployment rate edged down to 5.1 percent, the U.S. Bureau of Labor Statistics reported today. Job gains occurred in health care and social assistance and in financial activities. Manufacturing and mining lost jobs.

In August, the unemployment rate edged down to 5.1 percent, and the number of unemployed persons edged down to 8.0 million. Over the year, the unemployment rate and the number of unemployed persons were down by 1.0 percentage point and 1.5 million, respectively. (See table A-1.)

Among the major worker groups, the unemployment rate for whites declined to 4.4 percent in August. The rates for adult men (4.7 percent), adult women (4.7 percent), teenagers (16.9 percent), blacks (9.5 percent), Asians (3.5 percent), and Hispanics (6.6 percent) showed little change in August.
(See tables A-1, A-2, and A-3.)

(…)

Total nonfarm payroll employment rose by 173,000 in August. Over the prior 12 months, employment growth had averaged 247,000 per month. In August, job gains occurred in health care and social assistance and in financial activities. Employment in manufacturing and mining declined. (See
table B-1.)

Health care and social assistance added 56,000 jobs in August. Health care employment increased by 41,000 over the month, with job growth occurring in ambulatory health care services (+21,000) and hospitals (+16,000). Employment rose by 16,000 in social assistance, which includes child day care services and services for the elderly and disabled. Over the year, employment has risen by 457,000 in health care and by 107,000 in social assistance.

In August, financial activities employment increased by 19,000, with job gains in real estate (+8,000) and in securities, commodity contracts, and
investments (+5,000). Over the year, employment in financial activities has grown by 170,000.

Employment in professional and business services continued to trend up in August (+33,000) and has increased by 641,000 over the year.

Employment in food services and drinking places continued on an upward trend in August (+26,000), in line with its average monthly gain of 31,000 over the prior 12 months.

Manufacturing employment decreased by 17,000 in August, after changing little in July (+12,000). Job losses occurred in a number of component industries, including fabricated metal products and food manufacturing (-7,000 each). These losses more than offset gains in motor vehicles and parts (+6,000) and in miscellaneous durable goods manufacturing (+4,000). Thus far this year, overall employment in manufacturing has shown little net change.

Employment in mining fell in August (-9,000), with losses concentrated in support activities for mining (-7,000). Since reaching a peak in December 2014, mining employment has declined by 90,000.

Employment in other major industries, including construction, wholesale trade, retail trade, transportation and warehousing, and government,  showed little change over the month.
The figures for June and July were revised upward to show a total of 245,000 jobs created each months, a total upward revision of 44,000 net jobs over the two months. Including the figures for August, that means that job gains have averaged 221,000 per month over the summer, a respectable number but hardly a sign of a robust and growing economy. One good sign can be found in the work week and hourly wage figures, both of which increased during the month of August after having been mostly stagnant for the better part of 2015, hovering around an annualized growth rate of around two percent. Whether this is the start of a trend or a an anomaly remains to be seen, however, especially since there are other signs that businesses remain cautious when it comes to new spending and investment. , so it's better  Long term unemployment remains unchanged as it has all summer, and is still above ten percent, although it is worth noting that it is below where it was a year ago, when it was still stuck at twelve percent. Finally, the labor force participation rate remains at levels unseen since the Carter Administration.
Heading into the announcement of today's report, analysts were expecting net job growth somewhere in the range of 220,000 new jobs, so these figures are obviously disappointing in one respect. In another, though, they are likely to be viewed positively on Wall Street. For the past several months, the Federal Reserve has been hinting that it would be raising interest rates in the near future. The most recent statements from the Fed have indicated that we'd likely see a rise sometime this month, albeit a very small one. Given the fact that interest rates have been effectively near zero, after adjusting for inflation, for years now, it's inevitable that we'll see an interest rate increase at some point. Many observers have expressed concern about the Fed's seeming determination to raise rates at a time when there are no real signs of inflation in the economy, and when there are still signs of underlying weakness that could slow economic growth quickly, or even send the nation over the edge into recession. Additionally, Wall Street traders and investors have gotten somewhat used to a low-interest rate environment and even a slight rise in rates is likely to have an impact on trading. While that alone shouldn't stop of the Fed from raising rates if it believes it to be necessary, there would also be an undeniable economic impact from a market downturn, not the least them being the impact on the retirement savings of millions of Americans.
Because of all that, every economic data point released recently has been examined from the perspective of what impact it might have on the Federal Reserve's interest rate decisions.  As The New York Times notes, today's report is yet another data point that analysts and traders will be using to try to anticipate what the Federal Reserve will do in the coming weeks and months:
Federal Reserve officials have repeatedly signaled they plan to soon raise interest rates from near zero, where they have been since the depths of financial crisis in late 2008.

But the exact timing of the decision has become an obsession for traders and investors on Wall Street, and something of a parlor game for economists and other armchair strategists, albeit one with billions of dollars at stake.

While the initial rate increase will be small — probably a quarter of a percentage point — it looms large psychologically for the markets because it will be the first increase in short-term rates by the Fed since June 2006.

Many Wall Streeters credit historically low interest rates and loose monetary policy for helping lift stock prices to near highs, triggering fears that the inevitable tightening could put an end to the long post-recession bull market.

Some experts have been predicting a rate increase when the Fed meets in two weeks.

But another school of thought contends the Fed will wait until its last gathering of the year, in December, especially in light of the recent stock market sell-offs on bourses around the world.

Officials said at the last Fed meeting, in July, that they wanted to see "some further improvement" in labor markets. Stanley Fischer, the Fed's vice chairman, said Saturday that the Fed was awaiting the results of the August survey to make that judgment.

Inflation remains sluggish, and a number of officials have expressed concern about the volatility of financial markets. They have said the central bank is unlikely to move until it can judge the reasons for the turmoil and assess the damage.

Eric Rosengren, president of the Federal Reserve Bank of Boston, said Tuesday that signs of a weaker global economy raised new doubts about the Fed's expectation that domestic job growth would continue to be fast enough to drive up inflation.

"In my view, these developments might suggest a downward revision in the forecast that is large enough to raise concerns about whether further tightening of labor markets is likely," Mr. Rosengren said.
Given the fact that we've seen job growth above 200,000 per month for most of the year, these July numbers are obviously disappointing. Even if they are revised upward, they are still likely to end up somewhere below what we've been seeing for most of 2015. Whether that ends up being a blip or not is something only time can tell, but it does suggest that there's at least some underlying weakness in the economy. Additionally, it's still unclear what economic impact we'll see from the instability in China and the fluctuations in worldwide stock markets that has resulted from that. At least in the short term, traders seem to be anticipating slower long term growth worldwide, a fact that is perhaps best demonstrated by the decline in oil prices, which is largely attributable to anticipated lower demand from China and elsewhere in the wake of an economic slowdown. Given that, it remains unclear whether even a small rise in interest rates is worth risking now.