Second Quarter G.D.P. Revision Shows Strong Growth, But Future Weakness Seems Likely
Today's revision of Second Quarter G.D.P. growth was good news, but it doesn't seem likely to last.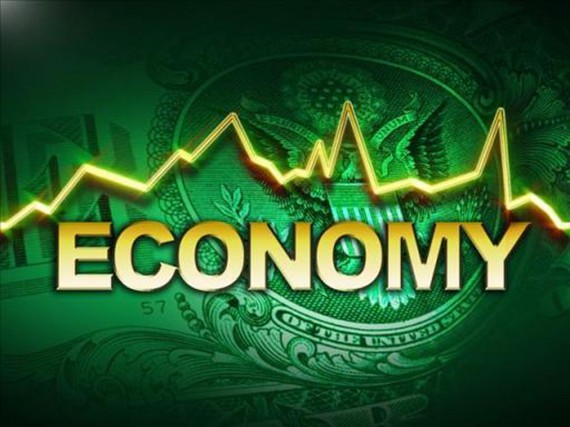 The first revision of Gross Domestic Product for the second quarter showed the economy growing at a far better pace than initially believed:
The economy grew much more quickly last quarter than initially thought as businesses and consumers increased spending, the government said Thursday.

At 3.7 percent, the revised estimate for the annualized rate of economic expansion in the spring is more than a full percentage point higher than the initial reading of 2.3 percent reported by the Commerce Department in late July.

It provides further assurance that the American economy remains on an even keel, despite questions about whether the United States can skirt mounting economic turmoil in China and other emerging markets as well as a volatile stock market at home.

Much of the revision Thursday was powered by increased corporate spending. Business investment increased at a 3.2 percent annual rate in the second quarter, according to Commerce Department statisticians, compared with the initial estimate of a 0.6 percent decline.

Other tailwinds included a better trade picture, as net exports improved, and increased government spending, especially at the state and local level.

But companies also added to their stockpiles of goods, which could weigh on growth in the months ahead. Real private inventories increased at $121.1 billion pace in the second quarter, adding a little more than 0.2 percentage point to overall economic activity.

The upward adjustment was better than expected by economists on Wall Street, who predicted the revised growth rate would come in at 3.2 percent. This is the second estimate of economic growth for the second quarter; the third and final estimate will be released in late September.

"This was a very solid report and very much confirms our view that the U.S. economy is on a solid growth track," said Nariman Behravesh, chief economist at IHS, a private research and forecasting firm in Lexington, Mass. "The good news is that there was strength in many parts of the economy, both in terms of consumer spending and business sector investment."

Although the revision was certainly good news, investors are already turning their attention to fresher data to determine the economy's course and whether the Federal Reserve will make its long-awaited move to raise interest rates in September or wait until later meetings, in part because markets remain on edge.

In a separate report Thursday, the Labor Department said initial claims for unemployment benefits fell by 6,000 last week to 271,000 — a level that suggests the labor market remains healthy.
A growth rate of 3.7%, assuming that it holds up and sees itself replicated later in the year, is certainly better than the rather anemic 2.3% we saw from the initial report last month. At that point, it was at least clear that the economy had rebounded from its small downturn at the start of the year, but other signs continue suggest that we may be looking at an anomaly in this report. The July Jobs Report released earlier this month, for example, showed the same good-but-not-great employment growth that we've been seeing for some time, suggesting that the third quarter may not be moving at the same pace as the second quarter seems to have been. A primary reason for that is the fact that today's GDP figure suggests that businesses spent much of the second quarter building up inventory. That's typically not something that carries over from one quarter to another, though we'll likely see some additional inventory growth in the third quarter as retailers get ready for Christmas. Additionally, factors outside the United States could end up having an domestic impact that leads to slower economic growth. While Monday's stock market tumble has largely reversed itself over the past several days here in the United States, the underlying economic issues in China still remain and the world will continue to have to deal with them. It's unlikely that a downturn in China will lead to a recession in the United States, but it will have some impact domestically, and that is likely to lead to slower growth heading into the rest of the year.
The most immediate relevance of today's report, of course, will involve the issue of whether or not the Federal Reserve will increase interest rates. For months now, the board has been hinting that it would be making its first increase in more than six years at some point in the near future and many Wall Street observers expected it to come in September. This week's events in the markets, though, along with the fact that the downturn in China is something that has been going on for months before it started having an impact on Wall Street, has led to at least some hints that the Fed may delay raising rates until it becomes clear what impact overseas events may have on the economy. Even in the face of today's good news on GDP growth, this seems like a wise decision.
Beyond the immediate economic, of course, we're once again entering the time when economic news such as this will start to become an important part of the ongoing Presidential race. Republican candidates have been making the argument that the economy under President Obama has been anemic and weak and that it has resulted in millions of Americans who have given up even looking for jobs while others are left to take lower paying jobs just to make ends meet. There is certainly plenty of evidence to back up this contention as even the most optimistic jobs reports show that real, long-term unemployment is still in double digits and that the percentage of people participating in the labor force is at levels not seen since the Carter Administration. A weak economy heading into the 2016 elections would certainly provide further evidence for that narrative, although in the end it's been shown that most voters perceive the economy based upon how they are doing rather than what economic statistics happen to say. Notwithstanding that fact, though, if we head into the 2016 elections with a weak economy it could be rough sailing for Democrats.