Stock Market Drop Leads Trump And Walker To Say Dumb Things About China
Yesterday's stock market drop led some Republican candidates to say some particularly dumb things.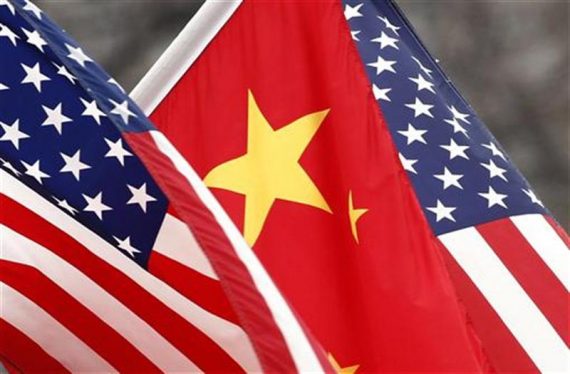 Yesterday's stock market plunge, which capped off several days of declines that started with uncertainty in Chinese markets amid signs that their economy there is weakening in a way that hasn't been seen before, has had its inevitable political consequences, with many Republican candidates for President using it as an opportunity to bash China. At the head of the parade, of course, was the frontrunner Donald Trump, who blamed the entire downturn in the market on China and offered the nonsensical advice that the United States should somehow disassociate itself from the second largest economy on the planet. Scott Walker meanwhile, decided that the best response to the market volatility was to call on the President to cancel the upcoming state visit of Chinese President Xi Jinping. Trump and Walker weren't alone, of course, as other candidates for President jumped on the story to score political points, or at the very least get their names in the news:
Republican presidential candidates began shifting their focus on Monday from the dangers posed by illegal immigrants to a new target:China, whose currency devaluations and stock market plunges are starting to hurt the savings of American investors.

One Republican candidate, Gov. Scott Walker of Wisconsin, called on President Obama on Monday to cancel his plans to meet in Washington next month with President Xi Jinping of China on what will be his first state visit to the United States. Mr. Walker accused Beijing of a range of offenses that have harmed American interests, including manipulating its economy and currency, carrying out cyberattacks and persecuting Christians.

His remarks came after another Republican candidate, Donald J. Trump, seized on the 1,000-point decline early Monday of the Dow Jones industrial average and took to Twitter and Instagram to warn that China will "bring us down" and that "this could get very messy."

The criticism comes at a particularly delicate time for relations between the United States and China. Mr. Obama is expected to use the state visit to press Mr. Xi on such nettlesome issues as Beijing's aggressive military maneuvers in the South China Sea, cybersecurity, the treatment of American companies in China, and now the decline of China's currency, the renminbi, which is likely to hurt exports.

Republicans are not the only ones criticizing the Chinese government; Hillary Rodham Clinton last month accused China of "trying to hack into everything that doesn't move in America."

But for candidates like Mr. Walker and Mr. Trump, the criticism may be less politically costly than focusing on immigration. Mr. Trump, in particular, has faced harsh rebukes from others in the party for potentially alienating Latino voters who could be crucial in swing states in the 2016 general election.

Gov. Chris Christie of New Jersey, a Republican candidate who is a moderate on immigration, joined the criticism of China on Monday by saying that the federal debt "has been given to us in large measure by the Chinese" and that "as the Chinese markets have a correction" it will have an outsized impact on the United States.

While the Chinese government is in fact the largest holder of United States government debt, its large purchases help hold down the interest payments that American taxpayers must ultimately bear to service that debt.
It's understandable why politicians in the United States would target the Chinese in their political rhetoric. For many years now, China has occupied that space that Japan once did as the international economic rival that poses a threat to position as the leader of the world's economy. In China's case, that perceived threat is magnified by the fact that China itself has seemingly been stretching its military muscles in areas such as the South China Sea as well as taking steps to expand its influence in Africa and elsewhere around the world. Notwithstanding all of that, the fact remains that the United States and China have far more in common than they do differences and that the confrontational approach that people like Trump, Walker, and so many others advocate would do far more harm than good. The Chinese depend on the United States and the rest of the west as a market for the goods that they produce, and the United States and the West depend on Chinese as a source for those goods and, increasingly, as a market all its own as the Chinese middle class becomes larger and larger. The decoupling that Trump and others suggest is not only impossible, but it would cause widespread economic harm throughout the United States and elsewhere.
As for Walker's contention that we should cancel the upcoming State Visit as some kind of punishing for a market downturn that is likely to be temporary and have no real lasting economic impact outside China, Daniel Larison puts it best:
Walker's suggestion is a bad one. I understand that he's engaging in standard China-bashing rhetoric that is common to most presidential candidates, but unsurprisingly he fails to grasp that his preferred course of action is the empty, purely symbolic one that will do nothing to address any of the problems he mentions. If there is "serious work to be done," it isn't going to get done by publicly embarrassing China. Snubbing China in such a dramatic fashion as Walker wants wouldn't make Beijing the least bit more interested in cooperating with the U.S. or in making concessions on contentious issues, and it would likely make relations noticeably worse in the near term. It would also demonstrate to everyone that our government puts empty gestures ahead of the practical work of sustaining one of the most important bilateral relationships in the world.
In reality, of course, Walker's proposal wasn't meant to be a serious one. Just as was the case with much of the Japan bashing in the 1980s when we were told that the Japanese would be overtaking America and buying up all our commercial real estate, the rhetoric on China that we're hearing from him, from Trump, and likely from others is just another example of the populism bashing of the last foreign economic rival. It isn't, and it should not be taken to be, serious policy analysis of any kind. This is especially true when comments like these are made in connection with a stock market downturn that has little to do with the underlying issues facing the relationship between the United States and China. That being said, the fact that candidates like Walker and Trump find it so easy to delve into simplistic populism in response to even the most random event provides at least some clues as to their judgment, or lack thereof. One would hope the voters are paying attention.