Beto O'Rourke: On Second Thought, Maybe I Will Run For President
After initially saying no, Texas Congressman Beto O'Rourke is now reopening the door to the idea of running for President.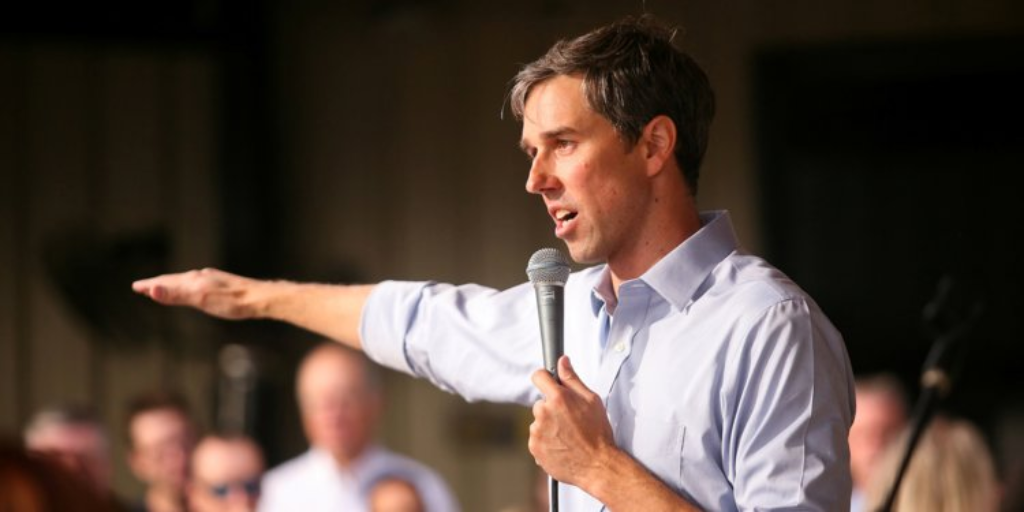 After several months of denying interest in the idea, Texas Congressman Beto O'Rourke, who most recently lost a bid to unseat Texas Senator Ted Cruz, now says he isn't ruling out the idea of running for President:
Representative Beto O'Rourke, the Texas Democrat whose unsuccessful underdog Senate bid this year turned him into a political celebrity and fund-raising powerhouse, told an El Paso audience on Monday that he was not ruling out running for president in 2020.

Mr. O'Rourke had previously said, on repeated occasions, that he would not seek the presidency in the next election. But Mr. O'Rourke has demonstrated strong appeal with a cross-section of Democrats as well as with people who had never voted before or infrequently cast ballots, and he now possesses a list of hundreds of thousands of small donors that is the envy of most politicians mulling a White House bid.

A three-term liberal congressman from El Paso, Mr. O'Rourke, 46, lost to Senator Ted Cruz in a hard-fought campaign to become the first Democrat to win a Senate race in Texas since Lloyd Bentsen was re-elected in 1988. But Mr. Cruz won by just 2.6 percentage points in a solid-red state — President Trump carried Texas by nine points in 2016 — and Democrats have spent weeks speculating about Mr. O'Rourke's future in politics.

At a town hall event on Monday and in remarks to reporters afterward, Mr. O'Rourke suggested he was now open to a presidential run, a significant shift from his remarks on the matter during his Senate race.

When asked by a member of the audience if he was running in 2020, Mr. O'Rourke said he was focused on spending time with his wife, Amy, and his children, as well as finishing his term in Congress, which ends in January.

"And then, Amy and I will think about what we can do next to contribute to the best of our ability to this community," Mr. O'Rourke said, according to a report in The Texas Tribune.

After the event, Mr. O'Rourke told reporters that before the election, winning the Senate race was his focus.

"We're thinking through a number of things and Amy and I made a decision not to rule anything out," Mr. O'Rourke said. "The best advice I received from people who've run for and won and run for and lost elections like this, is don't make any decisions about anything until you've had some time to hang with your family and just be human. And so I am following that advice."

(…)

If Mr. O'Rourke enters the 2020 Democratic presidential nomination contest, he would very likely become a formidable rival for other possible candidates who are popular with small donors and progressive activists, like Senator Elizabeth Warren of Massachusetts and Senator Bernie Sanders of Vermont. Mr. O'Rourke stood out in the 2018 midterm campaign as an unusually charismatic figure and speaker — a former punk rock bassist who became a businessman and City Council member before entering Congress.

Still, Mr. O'Rourke has never been subjected to the intense scrutiny and rigors of a national campaign, and this year he was running against a relatively unpopular figure, Mr. Cruz.

Any run by Mr. O'Rourke could also complicate the political calculus for one other high-profile Texas Democrat, Julian Castro, the former mayor of San Antonio and the former housing secretary in the Obama administration, who has said he is considering running for president in 2020.
On some level, of course, talking up the idea of O'Rourke running for President in just two years seems rather silly and desperate and betrays no small bit of wishful thinking among those who worked for or were attracted to O'Rourke's campaign over the past year as polling showed him doing far better against Cruz than would ordinarily be expected from a Democrat in Texas. Of course, none of those polls except for a handful of outliers showed O'Rourke beating Cruz or coming within the margin of error, but it is worth noting that the outgoing Congressman did better than the final polls were predicting. The final RealClearPolitics average, for example, showed Cruz with a +6.8 point lead over his challenger, suggesting that he was headed for an easy, albeit closer than expected, victory. According to the latest poll numbers, Cruz's margin of victory over O'Rourke was roughly 220,000 votes, or just a 2.6 point margin. This contrasts significantly with other statewide Republicans who were on the ballot, including Governor Greg Abbott, Lt. Governor Dan Patrick, and Land Commissioner George P. Bush, all of whom won their respective races by double-digit margins. Additionally, exit polling showed that O'Rourke actually beat Cruz among "native Texans," while Cruz beat O'Rourke among those who were transplants from other parts of the United States.
In addition to all of this, and largely due to the fact that he was performing so well against a Senator like Ted Cruz, O'Rourke received a lot of attention from Democrats around the country. This is part of the reason why he was able to raise more than $38,000,000 in just the third quarter of 2018 alone. Although much of that money came from small donors inside Texas, the Congressman also received donations from around the country. One could see signs of that in areas far from Texas itself. For example, much like James Joyner noted in one of his post-election posts, I noticed several O'Rourke signs in front yards around Northern Virginia, as well as a handful of bumper stickers on cars with Virginia plates. There was also significant interest in the Congressman among the people on the left that are in my social media timelines. As noted, this was due in no small part to the fact that he was running against Ted Cruz, who has few friends even among his fellow Republican and conservatives.
Despite all of this, it's fairly hard to understand why a candidate that lost an election is suddenly considered a contender — I'll refrain from adding the word "serious" to the sentence for the time being — for the 2020 Democratic nomination. Admittedly, he's a charismatic candidate and the fact that he came close, relatively speaking, to beating a Senator that raises considerable ire on the left side of the aisle. However, it's going to take a lot more than just charisma to make a winning candidate either in the nomination fight or in a hypothetical General Election fight. To be honest, O'Rourke strikes me as a better candidate for a running mate, or better yet, a Cabinet position in a future Democratic nomination. Perhaps he will be President someday, but if it's going to happen he's going to need more experience under his belt than just a few years in the House of Representatives and a failed Senate campaign.