Betting With The Public's Money: The Lessons Of The Solyndra Bankruptcy
The Solyndra case is a classic example of what's wrong with "government investment."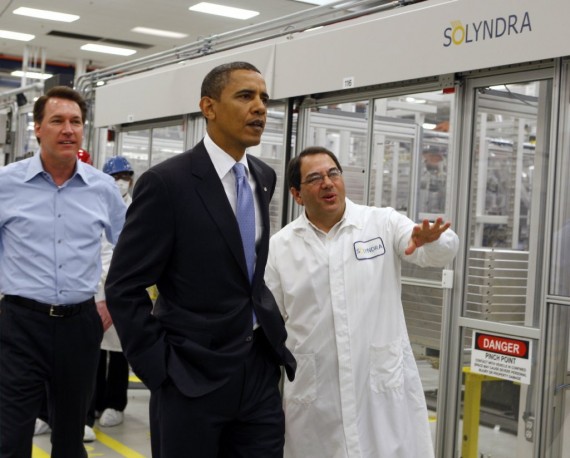 Responding in part to the fallout over the collapse of Solyndra, the politically connected solar energy firm that received a half billion dollars in guaranteed loans from the Federal Government, (which I've written about here and here) Ezra Klein argues that there's nothing inherently wrong with the government investing in companies that may fail:
As a general point, it's entirely possible for the initial investment to have made sense and for the company to have eventually failed. If we're going to try to support young companies doing risky things in sectors that we're hoping to dominate, we're going to have to be prepared for some of them to fail. In fact, we should be hoping some of them fail. If our success rate is too high, it means government is making bad investments.

Technologies and companies that are sure things can raise money on their own. They don't need government support. It's companies making big, risky bets with a huge upside but a high chance of failure that have a case for public support. What we're looking for in those investments isn't a perfect success rate, bMut the occasional big success. When we look back at past government investments, we talk about the ones that paid off, like microchips and the Internet and radiotelephony and nuclear power. But there were a lot of efforts that totally failed. And that's fine. If we hadn't been willing to fund some of the duds, we would never have groped our way to the breakthroughs.
Klein's examples of previous government "investments" that succeeded are, for the most part, non sequiters. None of these areas of technology were the target of government programs that were designed to emulate, albeit imperfectly and ultimately unsuccessfully, the private investment market. In each case, the industries benefits because they were tasked with fulfilling a government need, usually one related to national defense. The Internet started out as a DARPA project to create a communications network that could survive a nuclear attack. Nuclear power, quite obviously, developed out of the research undertaken during World War II to build the Atomic Bomb (although it's worth noting that research in the atomic energy field was taking place before the Manhattan Project).  To a small degree, microchip technology advanced as private contractors worked to fulfill the needs of the Defense Department and NASA, although for the most part it was the private market that drove chip technology to push the boundaries of Moore's Law further and further. Radiotelephony, what most people call wireless communications, received some benefit from government spending but, again, it was private technology that was driving technology forward to the largest degree.  To the extent each of these technologies benefited from government investment, they did so because they were fulfilling a specific need, not because the government had decided to invest public money to pick winners and losers in the market place.
Klein is right that investing in new companies means risking loss, but he forgets whose money is being invested. A private investor is only risking his own money. If he bets right, he stands to benefit big, but he could also lose everything. A venture capitalist is risking money that's been entrusted to him, and he owns fiduciary duties to his investors that, if violated, could subject him to personal liability for losses. Of course, he also stands to benefit greatly if he bets right, both from the profit his investment earns and from the additional investors he's likely to attract additional investors. These rewards of success and punishments of failure serve, hopefully, to give him the incentive to choose his investments carefully, targeting companies that are likely to most likely to make a profit rather than those that are politically popular or politically connected.
None of that exists when the investment decisions are being made by government. For one thing, it's fairly clear in this case that the decision to give guaranteed loan money to Solyndra had nothing to do with any realistic expectation that the government would be making a profit any time soon, or that it would actually be competitive in the solar energy field. Instead, it was part of the Obama Administration's "Green Jobs" initiative, which is more about politics than economics, and for which there  is very little empirical evidence to support the idea that this will be the big new source of jobs. Add to this the reports of possible political intervention by the White House in the loan decision, and you've got a perfect example of everything that's wrong with government "investment."  Additionally, who suffers if a government investment decision goes wrong? Not the politicians who supported it, not the bureaucrats who made the decision, and not even the owners of the company who received the loan. the only people who are going to suffer are the taxpayers who are out half a billion dollars. And that's the problem with this entire program. The government is playing with other people's money, and has no incentive to ensure that they're making wise investment decisions. That's why this is a job for the market, not the Department of Energy.