Biden's Team Shaping Up
Some square pegs are being forced into some round holes for the sake of inclusion.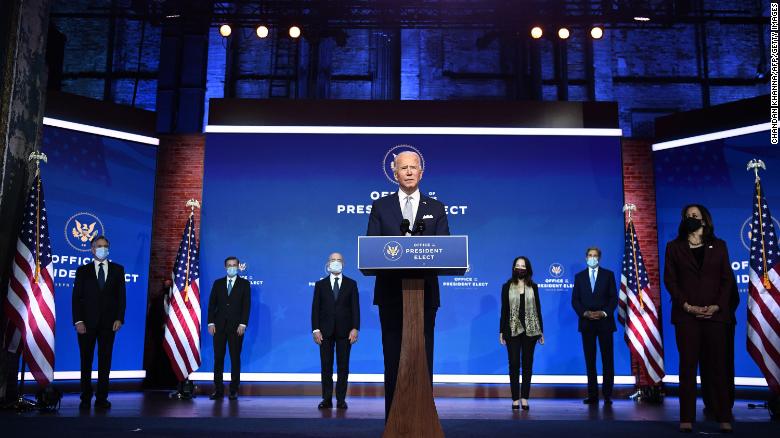 While my interest in President-elect Biden's cabinet and other top-level officials has naturally focused on foreign and defense policy, he's now announced most of the plum jobs. And it's looking a little weird.
I've already written at length about the wrangling over Defense Secretary, with him controversially passing over the presumptive frontrunner, Michèle Flournoy for Lloyd Austin, a recently-retired general who will require yet another waiver to the law in order to assume the post. But that fight illustrates what seem to be the three criteria being prioritized for the team at large.
A personal relationship with Biden, preferably a long-standing one
A need to check demographic boxes to appease constituencies and pay off campaign promises/debts
Being qualified for the job by CV.
Indeed, I would say that this is the order.
Because of Biden's long experience in Washington, there are plenty of people who check the first box that also check the second and third and, as one who voted for him in both the Democratic primaries and the general election, I'm reasonably satisfied with the picks overall. My objections thus far to Austin, for example, are more theoretical than substantive.
Still, this balancing act has led to some odd-to-me choices. Most notably, the late-breaking news that Susan Rice, the Obama UN Ambassador and National Security Advisor many had on the shortlist for Secretary of State has curiously been named Domestic Policy Advisor. The woman is a Rhodes Scholar and highly accomplished. But she's probably the last person I'd want advice from on domestic policy.
Presumably, this is a function of the fact that, unless the Democrats win both of the Georgia Senate run-offs and abolish the filibuster, Rice is simply unconfirmable. Having been National Security Advisor, there's not a higher level, non-confirmed post for her that utilizes her expertise. But, presumably, she enjoys a good relationship with Biden. And she's a Black woman.
Similarly, Rep. Marcia Fudge has been tabbed as the next HUD Secretary, despite having little relevant experience or apparent interest in the job. She had lobbied hard for Agriculture Secretary, another post for which she's not traditionally qualified, and had the full-throated backing of Rep. James Clyburn, who was instrumental in getting Biden a win in South Carolina. But, having decided to recycle Obama HUD Secretary Tom Vilsack in the job, he had to do something with her.
The American Prospect's David Dayen has a rather harsh assessment titled "The Cabinet Selection Process Is Veering Off Course" with the subtitle "What was supposed to be a return to seriousness and expertise has been a hodge-podge of favor-trading and ill-considered decisions." It's worth reading in full for a discussion of the complexities of HUD and USDA and what those agencies actually do but I'll focus just on the conclusion:
 Records have taken a back seat to friendships and paybacks and diversity goals. People are not being set up to succeed. Impressions are being given that HUD and Interior are not important federal agencies but political chits to be handed out. And it augurs very poorly for governing in the Biden era, if it's characterized by a lack of pre-planning and dashed-off ideas.

The various congressional caucuses are culpable here too. Nothing was etched in stone that Marcia Fudge had to be in the cabinet; lots of qualified Black people were available for HUD and other positions, and overall housing policy could suffer in the exchange. By foregrounding representation, you ultimately threaten the experience of those you seek to represent. 

Biden sought throughout the campaign to return normalcy to Washington, to put adults back in charge and show that experience matters. That's not how things are working out, and the process badly needs to get back on track. 
Defense One's Katie Bo Williams gets at the issue from another angle in "Austin Pick Thrusts Pentagon Into Identity-Politics Debate: His confirmation would be historic. But for whom?"
The debate over the intersection of Austin's various identities — Black, male, uniformed — has put the Pentagon at the epicenter of the national Democratic party's delicately orchestrated — and occasionally strained — efforts to promote diversity, whether it be in congressional leadership or presidential cabinet positions. Biden has vowed to select a cabinet that "looks like America." But keeping a diverse cast of constituency groups with diverse priorities happy has proved a balancing act within a party historically sensitive to the politics of identity, particularly following a presidential victory largely attributed to women and minority voters. Each new pick from Biden has brought inevitable cheers and inescapable disappointments. 

The choice of Austin over Flournoy has exposed the fragile underbelly of the Democrats' push for diversity: the risk of pitting one group against another. And for some women it will offer a painful reminder of another, higher-profile contest 12 years ago, when Democratic voters chose Barack Obama over the favorite, Hillary Clinton, as the party's presidential nominee.

[…]

"The pressure is coming from the fact that many want to see these nominees reflect the diversity of the country as a whole v. a need to pick well-qualified individuals," said Jim Manley, a Democratic strategist and former top aide to Senate Majority Leader Harry Reid. Doing both, he said, "is very doable."

"But sometimes the personalities are getting lost in the broader debate about race and gender," Manley said.
Indeed, as regular OTB commenter @Andy noted in the thread discussing my opposition to a retired general as SECDEF, the focus on these issues has displaced a focus on the substantive policy issues.
Biden is in a particularly tough spot here and I'm not all that upset about any of the picks. (Although putting Denis McDonough, who never served a day in uniform, in as Veteran's Affairs secretary strikes me as odd.) He's gregarious even by politician standards and I get his desire to surround himself with people he likes and trusts. And, as a Democrat especially, attention to identity politics is just the cost of doing business.
Still, it has led to some square pegs being put into round holes.