Boris Johnson Officially Becomes British Prime Minister
Boris Johnson now has the job he's wanted since he entered politics. Whether he succeeds or fails should become readily apparent rather quickly.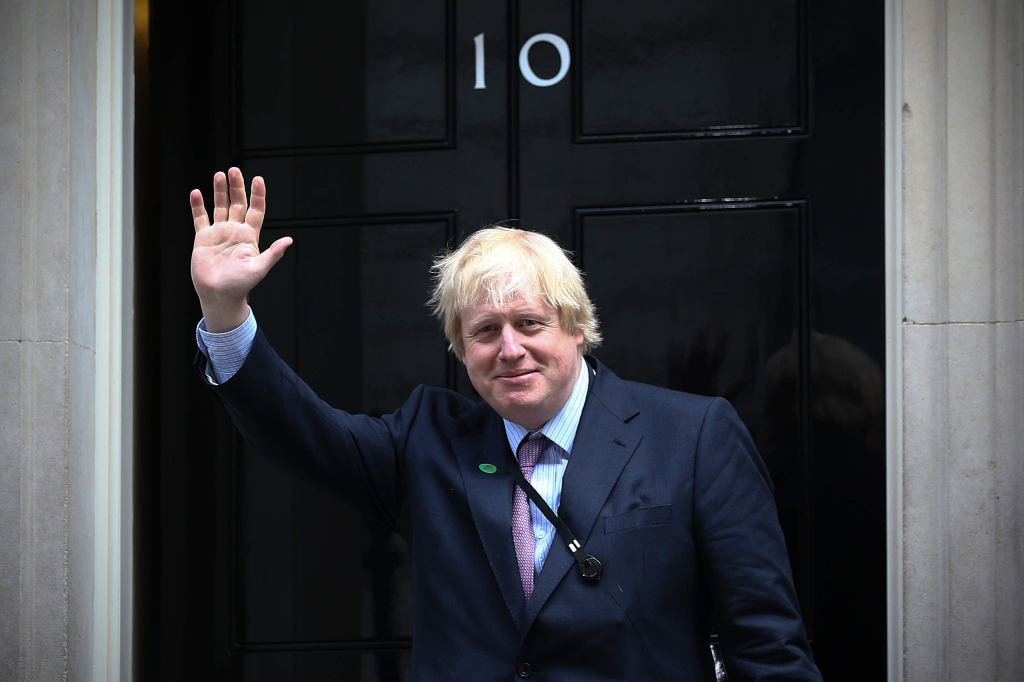 One day after being declared the winner of the battle for leadership of the United Kingdom's Conservative Party, Boris Johnson has officially become the Prime Minister of the United Kingdom, a political goal he has been aiming for since he first entered British politics:
LONDON — Boris Johnson, an ardent supporter of Britain's withdrawal from the European Union, took over as prime minister from Theresa May on Wednesday, projecting an optimistic view of the country's future despite the looming specter of Brexit.

Mr. Johnson, a former foreign secretary and two-term mayor of London, is a polarizing figure, known for over-the-top displays and a charismatic bluster that has connected with many voters but alienated others.

But in his first address in front of 10 Downing Street, his new residence, shortly after meeting with Queen Elizabeth II and being invited to form a new government, he offered a rebuttal to those who doubt his ability to lead.

"After three years of unfounded self-doubt, it is time to change the record," he said in a speech that repeatedly made reference to Brexit, an issue that divided the country and brought down the last two prime ministers. "No one in the last few centuries has succeeded in betting against the pluck, nerve and ambition of this country. They will not succeed today."

Mr. Johnson promised to start work immediately on a series of policies including putting more police officers on the streets, revitalizing social care and strengthening the National Health Service. He was also preparing to appoint a new cabinet, a day after his easy victory in a Conservative Party leadership vote was confirmed.

"We in the government will work flat out to give this country the leadership it deserves, and that work begins now," he said, reiterating his view that Britain must leave the European Union by Oct. 31 one way or another. "No ifs or buts."

Protesters, apparently from Greenpeace, tried to block Mr. Johnson's car as he was being driven to Buckingham Palace. Several tried to form a human chain that was quickly dispersed, and two others unfurled a banner that said "Climate Emergency."

A little more than an hour earlier, Mrs. May stood outside the same iconic doorway at 10 Downing Street offering her final remarks as prime minister before handing her formal resignation to the queen.

During her short address, she congratulated Mr. Johnson and then added, "Of course much remains to be done, the immediate priority begin to complete our exit from the E.U.," highlighting the very issues she had tried and repeatedly failed to resolve.

Earlier in the day, Mrs. May traveled to Parliament for a final round of questions from legislators. After some pleasantries, she launched into a raucous back and forth with the opposition in which she was questioned about Mr. Johnson's fitness as a leader.

Jeremy Corbyn, the leader of the opposition Labour Party, applauded her service before adding that he hoped Mrs. May, who will keep her seat in Parliament, would be involved in "helping me to oppose the reckless plans of her successor."

Mr. Johnson was among the most high-profile backers of Brexit, and in his Wednesday speech, he had made clear that he would push for Britain to leave by the October deadline even if there were no deal in place. He also took aim at one of the major stumbling blocks for Mrs. May in successfully passing her deal for Britain to leave the bloc: the Irish backstop, an insurance policy designed to prevent a contentious hard border between Northern Ireland, part of the United Kingdom, and Ireland, which will remain a European Union member state.

"Never mind the backstop, the buck stops here," Mr. Johnson said on Wednesday, but said he was convinced Britain could make a deal that didn't include checks at the Irish border.

Mr. Johnson has previously described Britain's departure from Europe as a matter of "do or die," but opponents of a no-deal departure — who include a majority of Parliament and some members of his own party — have warned that it could have ruinous effects on the British economy, and lead to shortages of food and medicine.

(…)

A handful of Conservatives who served in the previous government have resigned already, signaling they had no intention of serving under Mr. Johnson's leadership.

Alan Duncan, the second-ranking official in the foreign office, resigned on Monday, while Anne Milton, an education minister, announced her resignation on Tuesday shortly before Mr. Johnson's victory in the party leadership race was announced. Philip Hammond, the chancellor of the Exchequer, resigned on Thursday, having said earlier that he would quit before Mr. Johnson could fire him.

Other prominent figures, including David Gauke, the justice secretary, and Rory Stewart, the international development secretary, made clear that they would not serve in a government led by Mr. Johnson because of concerns about his willingness to leave the European Union without a deal.

A series of further cabinet ministers resigned or were fired Wednesday evening as Mr. Johnson began the process of appointing his team.

This process of forming his Cabinet will likely take up the majority of Johnson's time over the next several days. Among the more important posts that will need to be filled is likely to be that of Foreign Secretary, a position currently held by Johnson's rival in the just-concluded battle for Tory leadership. It seems unlikely that Hunt will want to stay on in that position for an extended period of time, and Johnson will likely want someone who shares his views not only on Brexit but also on other matters. The same is true of other Cabinet positions and, of course, unlike the process here in the United States there is no requirement in the United Kingdom that the members of the Cabinet be approved by Parliament generally or by the House of Commons specifically. One of the few requirements set in law is that all of the members of the Cabinet must be members of either the House of Commons or House of Lords. This gives the Prime Minister a much freer hand in selecting his closest advisers.
After the appointment of Cabinet members, Johnson's first, and indeed, only priority for the coming months will be the same issue that brought down his immediate predecessor, guiding the country through the final stages of the Brexit process. As Theresa May found, this is far easier said than done. After more than a year of negotiating a deal with the European Union's negotiators that would lessen the impact of Brexit on the British economy and fulfill the nation's financial obligations under Article 50 of the European Union Treaty only to have the deal rejected by her own party in a historic rebuke by the House of Commons back in January. Eventually, this resulted in the original March 29th deadline for Brexit being pushed forward to April and then, eventually, to the end of October. Despite these objections, May was unable to come up with a deal that her party and a majority of the House of Commons would accept.
As of today, Johnson has exactly 100 days to come up with a Brexit plan before we hit the October 31st deadline. That is an exceedingly short period of time within which to accomplish something that May was unable to accomplish over a two-year period. One possibility, of course, is that the deadline could be extended further but Johnson has said he does not want to do that. Instead, he has said in the past and recently that he would be willing to suspend Parliament in order to force a no-deal "hard" Brexit that would likely be quite disruptive to the British economy. Needless to say this would be a very controversial step that is nearly unprecedented in recent British history. Taking it could result in setting forces in motion that would force Johnson to call a General Election far sooner than he would prefer.
In any case, Johnson now has the job he has been aiming for since he had entered politics. What he does with the power he now has remains to be seen.