Bush, Rubio, And Perry Condemn Trump, While Ted Cruz Salutes Him
Republicans are finally starting to react to what Donald Trump has been saying.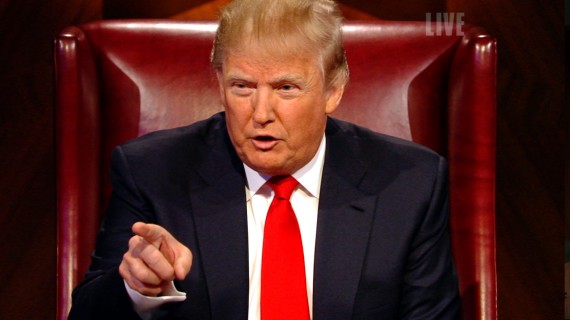 Mitt Romney isn't running for President, but that isn't stopping him from commenting about the people who are, especially one guy named Donald Trump:
Mitt Romney said Saturday that Donald Trump's comments on Mexico and undocumented immigrants have hurt the Republican Party, making the 2012 presidential nominee the latest Republican to slam the billionaire over his controversial remarks.
Romney made his remarks during a Fourth of July parade in Wolfeboro, New Hampshire, which was also attended by presidential candidates New Jersey Gov. Chris Christie and Florida Sen. Marco Rubio.

Asked if Trump's comments on Mexicans have hurt the Republican Party, Romney replied, "Yes."

"I think he made a severe error in saying what he did about Mexican-Americans," Romney said.

And when he was asked if Republican candidates should be speaking out about Trump's comments, Romney said, "I think a number of them have."

He was referring to the handful of 2016 Republican hopefuls, most notably former New York Gov. George Pataki, who have slammed Trump over his remarks, in which he referred to some Mexican immigrants as "rapists" and "killers."
Pataki isn't alone in criticizing Trump anymore, though. Just in the past several days Jeb Bush has called Trump's remarks "extraordinarily ugly," Marco Rubio has called then "offensive" and "divisive," former Texas Governor Rick Perry said he was offended by Trump's remarks and that Trump does not represent the Republican Party,  and New Jersey Governor Chris Christie has also joined in the criticism of Trump's remarks. So far, in fact, the only Republican candidate who has had anything positive to say about Trump is Ted Cruz:
While several of his competitors run in the opposite direction, Republican presidential candidate Ted Cruz says he won't attack primary rival Donald Trump for his comments on Mexican immigrants. Quite the opposite, in fact.

"I salute Donald Trump for focusing on the need to address illegal immigration," the Texas senator said on NBC's Meet the Press in an interview that aired Sunday. "The Washington cartel doesn't want to address that. The Washington cartel doesn't believe we need to secure the borders. The Washington cartel supports amnesty and I think amnesty's wrong, and I salute Donald Trump for focusing on it. He has a colorful way of speaking. It's not the way I speak, but I'm not going to engage in the media's game of throwing rocks and attacking other Republicans. I'm just not going to do it."

(…)

"I like Donald Trump," Cruz said. "He's bold he's brash. And I get that it seems the favorite sport of the American media is to encourage some Republicans to attack other Republicans. I ain't gonna do it. I'm not interested in Republican-on-Republican violence."
The dynamic of what's going on here is quite interesting, and also rather predictable. Candidates like Bush, Perry, and Christie see Trump's remarks for what they are, idiotic and ultimately damaging to the Republican Party. They also recognize that the longer the media keeps paying attention to the things Donald Trump says, which is likely to continue for as long as he remains a factor in the polls and keeps getting invited to debates, the harder it is going to be for them to get their message into the news cycle where voters can hear it. This is particularly important in the case of Perry and Christie, both of them are nearly the bottom of the top ten in the national polling averages. If either one slips out, they lose their chance to appear in the first round of Presidential Debates unless Fox News and CNN change their current debate criteria. For them and other candidates like then, Trump represents because, even if he does represent a temporary phenomenon in the race rather than something who is actually a serious contender for the nomination, as long as he is in the race he is going to be getting a outsized portion of the media coverage and he's going to be sucking a lot of the oxygen out of the room. As long as he's around, candidates like Perry and Christie will be severely handicapped in their ability to break through to voters. Candidates like Bush and Rubio on the other hand, as well as national Republicans like Romney, recognize the fact that Trump's rhetoric has the potential to cause real damage for the party nationally, even more so because at the moment at least there seems to be at least some Republicans rallying around Trump.
Ted Cruz, on the other hand, is playing a different game, and it's one that other candidates are likely to follow as well. Eventually, Trump's candidacy is going to peter out. It will either happen because he finally implodes to the point where nobody takes it seriously, or he just gets bored with the whole and moves on to whatever his next publicity stunt might be. Whichever it is, even after Trump is going the people who seem to rallying around him in the polls will still be there. Cruz is obviously thinking that he could make a play for those voters at some point by refraining from attacking the man they're supporting. It's a cynical strategy, of course, and it essentially involves Cruz endorsing Trump's bigoted nonsense, but that's how politics works some time. As I said, I suspect we'll see some other candidates follow Cruz's route in refusing to criticize Trump no matter how much the media tries to get them to do otherwise. Don't be surprised if candidates like Bobby Jindal and Mike Huckabee take up the same strategy in the coming weeks.
As for Trump himself, as I have said from the beginning he is not going to be the nominee but as long he is in the race he's going to be one the predominant factor shaping the debate among the rest of the Republican field. This is just one example of that.