Cain, Romney, Gingrich Nearly Tied In New National Poll
A three-way tie?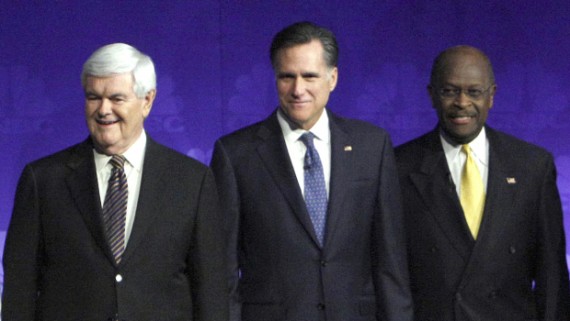 Herman Cain is still at the top of the field in a new CBS News national poll of the Republican Presidential field, but his lead has been cut and much of the support he lost seems to have gone to former Speaker of the House Newt Gingrich:
In the Republican race for the presidential nomination, Newt Gingrich's support continues to slowly grow, and he is now tied with Mitt Romney for second place, while Herman Cain just edges both of them out for the top spot. Both Cain and Romney have lost support since late October.

In a new CBS News Poll, 61 percent of Republican primary voters say the sexual harassment accusations against Cain won't make any difference in their vote, but 30 percent say the charges make them less likely to back him, and that rises to 38 percent among women. Cain has lost support among women since last month – from 28 percent in October to 15 percent now. He has lost ground with conservatives and Tea Party supporters as well.

But the race could still change; seven in 10 Republican primary voters say it is still too early to say for sure which candidate they will support.

The field of Republican candidates now has three candidates within striking distance of each other at the top of the list: with 18 percent, Herman Cain is in the top spot, followed by Mitt Romney and Newt Gingrich with 15% each. Support for both Cain and Romney has declined since late last month, and Gingrich is the only one of the top three whose support is steadily – if slowly – on the upswing.
There are no numbers given for any of the other candidates, which leads one to assume that they are all below 10%, including Rick Perry and Michele Bachmann. We also don't have any of the crosstabs for this poll so it's hard to tell if this is indicative of a new trend — Rising Newt, Falling Cain we can call it, perhaps — or a statistical blip. If it holds out, though, it looks like a pretty significant drop for Cain. Before today, Cain's RealClearPolitics average was at 25.2, Gingrich's was at 12.2 and the last CBS/New York Times Poll had Cain at 25% and Gingrich at 10%. These numbers are also significantly different from the numbers we saw out of NBC News and ABC News, although those polls, unlike this one, were taken before the latest revelations about Herman Cain. Whether it's indicative of a trend, though, will have to wait for additional polling, some of which we'll start to see Sunday morning when NBC releases its new poll.
Steve Benen is skeptical like I am, while Jazz Shaw points out what may be the most significant news in the poll:
The other, and perhaps most significant factor here is the massive amount of unrest among the voters. There is virtually no solidification behind any one person as the standard bearer yet. With less than two months until votes are cast in Iowa and New Hampshire, more than 70% of respondents are saying that "it's still too early to say which candidate they will support."

That's not just a few independent leaners sitting on the fence. That's a huge majority of the primary crowd. Perry seems to be doing the comedy tour circuit to play down debate gaffs and show that he's got a sense of humor about it all. Cain is sticking to his, "nothing happened, let's move on" strategy about the harassment allegations, and Newt is… well, he's just being Newt. For better or worse, the voters seem to be waiting for some sort of Come to Jesus moment when the herd will receive the sign they're waiting for and begin lining up.

That may never happen. I'm surprised to be saying it, but absent a serious sea change, this thing might actually go deep into the late state primaries if somebody can't find a way to seize some actual, lasting momentum.
Republican primaries and their delegate allocation rules are structured differently than Democratic primaries (Republicans also don't have Superdelegates like the DNC does), so it's not as likely that a Republican primary race could go as long as the Obama-Hillary race did in 2008. It's not impossible, though, and it all depends on what happens in the early primaries in January. Cain is currently ahead in Iowa, although there are signs that his lead there is slipping in the wake of the sexual harassment stories. If he loses there, then his campaign may be fatally wounded. If New Hampshire is Mitt Romney's barring an unlikely total collapse, so the best anyone can hope for their is a strong second place. Though he doesn't say it, this seems to be what Jon Huntsman is hoping for, although I'm not sure how he'd capitalize on a good New Hampshire showing if he got it. Next we've got South Carolina, where Cain also still leads. However, if he loses Iowa then he's likely to slip in South Carolina and a loss there heading in to Florida at the end of the month would be near-fatal. On the other hand, if Gingrich could manage to actually win one of those states, then he becomes a contender.
If things play out like they usually do for Republicans, then we'll have two main contenders heading into Florida, then we'll have two contenders, Romney and whoever the not-Romney is. If it turns out that there are two "Not-Romney's" then that only helps Romney further, allowing him to pull off a victory without even a plurality of the vote. After Florida, there's nearly a month off before the next round of primaries, which allows Romney time to regroup, raise funds, and prepare for the primaries in big states like California, New York, and Ohio where he's likely to have an advantage. In the end, I still see the most likely outcome being a Romney victory, but hey, crazier things have happened.