Cain Starting To Sink In Iowa?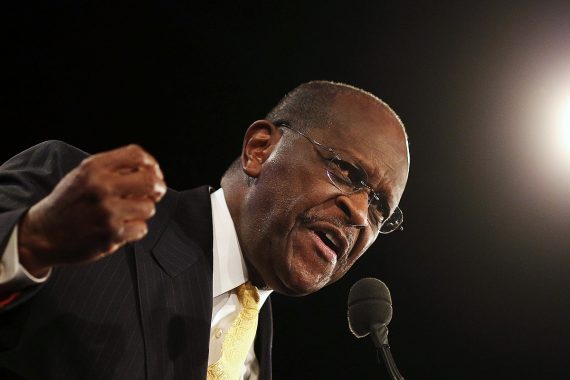 There are some signs that Herman Cain's support in Iowa may be slipping in the wake of the ongoing sexual harassment controversy:
Even so, there are signs that the accusations that he sexually harassed women when he led a Washington trade group more than a decade ago could be causing Cain's luster to dim. Uneasiness is growing among Republicans less than two months before voting begins in Iowa.

Private polling shared with The Associated Press shows Cain's support in Iowa has declined since last month. Internal polls of likely Republican caucus-goers showed Cain's support consistent with The Des Moines Register's poll in late October, which showed him narrowly leading in the state with 23 percent. The private polls showed Cain still in double digits in Iowa, but markedly lower.
The most recent published poll out of Iowa, taken on November 3rd, is from Insider Advantage [PDF] and shows Cain ahead by 15 points. That lead itself seemed rather improbably when the poll came out considering that, just a week earlier, The Des-Moines Register had Cain up by only one point. We'll have to wait for new public polls, which I suspect will come out early next week at the latest, to see if Cain is indeed in trouble in Iowa. However, it's worth noting that the RealClearPolitics polling average seems to show that Cain may have peaked in Iowa a few weeks ago: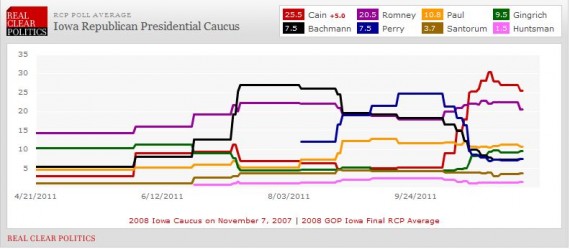 And. it's worth keeping in mind where the Iowa race was at this point in the 2008 cycle: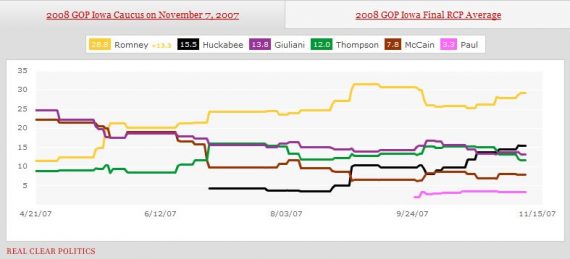 The Yellow line is Mitt Romney. The person who actually won the Caucuses two months later, Mike Huckabee, is the black line. There's still plenty of time for this race to change, and plenty of time for someone to knock Herman Cain off the top of the field.