California's Democratic Party Snubs Dianne Feinstein A Second Time
California's Democratic Party endorsed "progressive" upstart Kevin de León over Senator Dianne Feinstein, but this is unlikely to stop Feinstein from winning election to a sixth term in office.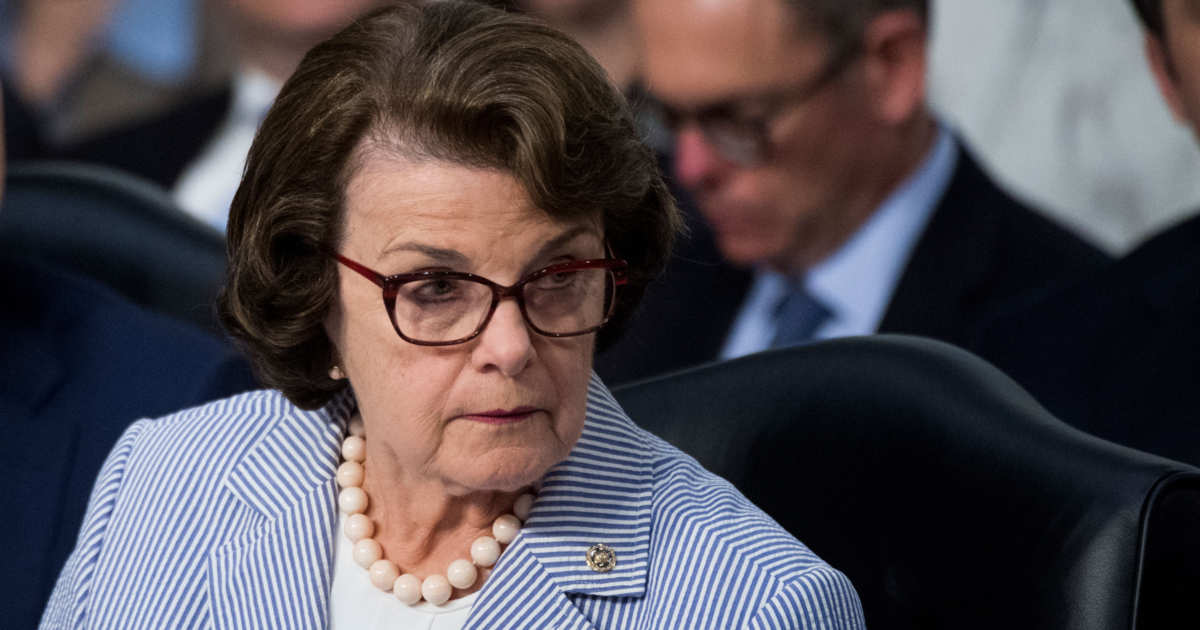 Signaling that her bid for a sixth term in office may prove to be more difficult than she may have suspected, Dianne Feinstein, who has represented California in the Senate since winning the election in 1992, failed to secure the nomination of her own party in her race against "progressive" Democrat Kevin de León:
LOS ANGELES — Six weeks after winning an overwhelming victory among California primary voters, Senator Dianne Feinstein suffered an embarrassing setback Saturday night as the state Democratic Party officially endorsed her rival for election this November.

Kevin de León, the Democratic leader in California's State Senate, won the support of the party leadership despite an effort by Ms. Feinstein to convince the party not to offer an endorsement.

The vote for Mr. de León reflected the rise of younger liberal activists in the California Democratic leadership, some of whom regard Ms. Feinstein as a moderate compared with the intensely progressive voices who are coming up through the party ranks. These activists tend to be younger and more left-leaning than the state party at large.

Mr. de León, 51, remains a long-shot candidate in his two-way race against the 85-year-old Ms. Feinstein in November; the two Democrats are facing each other, with no Republican in the mix, after they prevailed in the state's so-called "top two" open primary last month. Still, the vote for Mr. de Leon was a reminder of Ms. Feinstein's tepid support among liberal Democrats as the party debates how to take on President Trump in the fall midterm elections.

In a tweet after the endorsement, Mr. de León wrote: "Earning the endorsement of so many leaders and activists of the @CA_Dem party isn't just an honor and a privilege; today's vote is a cleareyed rejection of politics as usual in Washington, D.C."

Mr. de León's victory was the latest of several triumphs for liberals in Democratic primary elections this year. Most notably, Alexandria Ocasio-Cortez, a New York community organizer, scored a stunning upset over Representative Joseph Crowley, a Democratic Party leader and 19-year incumbent, in his bid for renomination last month. Ms. Ocasio-Cortez is the most prominent of several members of the Democratic Socialists of America who have won primaries for state and local offices this year.

Two other progressives, Jared Polis of Colorado and Ben Jealous of Maryland, also beat challengers last month for the Democratic nomination for governor in those states.
More from Politico:
California Democrats, torn by infighting between moderate and progressive factions, rebuked Sen. Dianne Feinstein's bid for a fifth term — for the second time this year.

The state party's executive committee voted Saturday to endorse progressive state Sen. Kevin de León in the general election, signaling what many fear will be a divisive Democrat-on-Democrat battle going toward to the fall in California, where the party hoped to put the focus on a host of crucial congressional races that could determine control of the House of Representatives.

The endorsement delivers a lifeline to de León's struggling campaign — and the party's imprimatur, which is accompanied by valuable access to slate cards, email lists and voter outreach machinery that will allow him to reach an estimated 2 million Democratic voters. And he could also get an infusion of federal campaign cash shared with the party, party officials said.

Feinstein, who was also snubbed in February at the annual state convention where party activists declined to endorse her bid for re-election, had pleaded for party unity prior to Saturday's vote. She asked the executive committee of the California Democrats, the nation's largest state Democratic Party, to choose "no endorsement" — what many saw as a strategic defense to head off an aggressive challenge for the party's endorsement by de León.

And in an effort to frame the endorsement clash in the context of the national political landscape, the senator's team circulated a "no-endorsement" plea signed by a half-dozen Democrats whose campaigns in contested California districts are a linchpin of the national party's strategy to retake the House.

The final vote gave de León 217 votes or 65 percent — beating the 60 percent required threshold — versus 94 (or 28 percent) for the "no endorsement" urged by Feinstein, and 22 votes, or 7 percent, for the senator herself.

The Senate contest pits two contrasting pols: Feinstein — at 85, the oldest member of the Senate — and De León, 51, a former state Senate pro tem and son of a single immigrant mother. She is a centrist long at odds with her state party's leftist activist grassroots, while he is a progressive who has called for new "bold leadership" from Democrats unafraid of confronting President Trump head-on.

"I think it's always good to have younger generations rise up and assume positions of leadership," de León told POLITICO Saturday.

His fight, he said, was not about "a gender issue…it's not an age issue." Pointing to progressive icons Sens. Elizabeth Warren and Bernie Sanders, de León said, "it's about the right values."

The weekend's Senate nail-biter over the party's Senate general election endorsement underscored the depths of the bitter divisions still lingering from the 2016 battles between more progressive backers of Sanders' presidential bid and the more centrist faction of Hillary Rodham Clinton supporters in the nation's most populous state.

While the endorsement involved just a small circle of the most activist voters — a 313-member executive committee in a party that represents 7.4 million voters — many Democratic insiders said it carried potentially dangerous implications for the party beyond the state's borders.

Not only did the internal battle it threaten to extend the rift among Democrats in California — a traditional mother lode of campaign contributions — many Democratic leaders, like former state chair Art Torres, worried about the prospect of a circular firing squad.

"We have the opportunity to change the nature and the control of the House," said Torres, a Feinstein backer, adding that a de Leon endorsement threatened that Democrats "won't have enough federal money to put into those congressional campaigns."
Phil Willon of The Los Angeles Times adds this:
California Democratic Party leaders took a step to the left Saturday night, endorsing liberal state lawmaker Kevin de León for Senate in a stinging rebuke of Democratic icon Sen. Dianne Feinstein.

De León's victory reflected the increasing strength of the state party's liberal activist core, which was energized by the election of Republican President Trump.

The endorsement was an embarrassment for Feinstein, who is running for a fifth full term, and indicates that Democratic activists in California have soured on her reputation for pragmatism and deference to bipartisanship as Trump and a Republican-led Congress are attacking Democratic priorities on immigration, healthcare and environmental protections.

De León, a former state Senate leader from Los Angeles, received 65% of the vote of about 330 members of the state party's executive board — more than the 60% needed to secure the endorsement. Feinstein, who pleaded with party leaders meeting in Oakland this weekend not to endorse any candidate, received 7%, and 28% voted for "no endorsement."

(…)

The endorsement can come with hundreds of thousands of dollars in campaign money, which the De León campaign will have to help raise, as well as party volunteers and political organizing assistance. De León needs that support to increase his odds of victory in November. Feinstein had $7 million in campaign cash socked away as of May, 10 times what De León had.

The Feinstein campaign touted her primary win in a statement Saturday night.

Lynne Standard-Nightengale, a member of the Amador County Democratic Central Committee, said she supported De León even though she realizes he has almost no chance of beating Feinstein. She said she wanted to send a message.

"I just think we need a younger, progressive person there," she said. "The Democratic Party in California has moved to the left, and he personifies those values."

De León had some inherent advantages with the California Democratic leaders who decided the endorsement. He's been a fixture at state party conventions and has spearheaded legislation in a Democratic-dominated state legislature. Feinstein, who spends much of her time in Washington, has had a distant relationship with party activists for years.

"Kevin, by nature of his job, is visible and active here at home," said state Party Chairman Eric Bauman said.

(…)

Party insiders and politically attentive bystanders see the Democrat vs. Democrat Senate fight as evidence of a deepening chasm between the party's moderates and progressives — a California version of the Democratic battle between Hillary Clinton and Vermont Sen. Bernie Sanders in the 2016 presidential election.

In every other Democrat vs. Democrat race on the November ballot, the party is not making an endorsement. Candidates for lieutenant governor all the way down to Assembly races have issued statements calling for unity.

While meeting with delegates on Saturday, Feinstein emphasized her position as the highest-ranking Democrat on the Senate Judiciary Committee. She told them she will play a pivotal role in confirmation hearings for President Trump's nominee for the U.S. Supreme Court, Judge Brett M. Kavanaugh. Feinstein warned that the appointment could lead to the end of Roe vs. Wade, the landmark 1973 ruling that guaranteed women nationwide the right to an abortion.

"Given the White House situation, at this time and place a senator with her experience is the right choice for California," said Carolyn Fowler of Inglewood, a vice chair of the state party's Women's Caucus and Feinstein backer.

De León's campaign has focused on the party's energized liberal faction. He supports single-payer healthcare, aggressive goals for renewable energy and helped lead the successful effort to raise the state's minimum wage to $15 an hour. He has criticized Feinstein, known for having moderate tendencies, for being too conciliatory toward Trump, such as when she urged people to have "patience" with the president last year.
As noted, this isn't the first time that Feinstein, who has been a fixture in California Democratic politics since becoming a member of San Francisco's Board of Supervisors in 1970 and becoming Mayor of San Francisco in 1978 in the wake of the assassination of Mayor George Moscone and fellow Supervisor Harvey Milk in 1978, has been rebuked by her own party in this election cycle. As James Joyner noted back in February, Feinstein also failed to receive the endorsement of the state Democratic Party at its annual meeting, a development that made headlines around the country notwithstanding the fact that de León himself failed to win the endorsement in his own right. At the time, it was unclear if this represented a real setback for Feinstein or if it was just a bump in the road to what would likely be relatively smooth sailing toward a sixth term. The only thing that was clear is that de León, who had become a hero of the progressive wing of the party for things such as his sponsorship of the bill that passed the state legislature that essentially makes California a "sanctuary state" because it curtails the cooperation of local law enforcement with federal immigration officials. De León has also joined other national "progressive" Democrats in calling for the abolishment of the Immigration and Customs Enforcement (ICE) agency in response to the Trump Administration's "zero tolerance" and family separation policies.
Despite failing to gain the party endorsement both back in February and this weekend, though, Feinstein still appears to be well on the way toward winning re-election in November. Earlier this year, she easily came out on top of the state's "jungle primary", garnering 44% of the vote in a field filled with three dozen candidates from the Democratic, Republican, and other minor parties as well as a handful of independents. De León came in second in that race, and thus won the right to be the sole challenger to Feinstein in November, but garnered more than two million fewer votes than Feinstein did, and getting just 12.1% of the vote compared to her 44.2%. If nothing else, this appears to indicate that, as far as the voters of California are concerned, Feinstein is the favorite heading into November notwithstanding the fact that the state party appears ready to support her challenger.
Thus, notwithstanding the developments this weekend at the hands of a state party leadership that, based on the results of the jungle primary, is clearly out of step with the voters and with the voting base of the California Democratic Party, Feinstein is by all accounts still secure in her bid for a sixth term in office. Current reports indicate that her campaign has more than $10 million cash on hand while de León has fewer than $1 million available to him at this point despite the fact that he has the support of a handful of wealthy "progressives" such as Tom Steyer, who currently is spending most of his money on a national media campaign directed against the President. While this victory at the state party level is likely to push some additional resources in de León's direction, it likely will not be enough to make up for this disparity. Additionally, recent polling shows Feinstein leading de León by significant margins, although there does still appear to be a sizable number of Californians who consider themselves undecided in the Feinstein-de León race.  Because of this, all of the major rating services — including the Cook Political Report, the Rothenstein Report, Larry Sabato's Crystal Ball, Daily Kos, Fox News, CNN, and RealClearPolitics — rate the race as being "Safe" or "Likely" Democratic in favor of Feinstein. Absent some indication that de León is rising in the polls, which we have not seen yet, this is likely to remain the case through November. This means that, notwithstanding this manifestation of the conflicts between more traditional Democrats and the "progressive" wing of the party that this weekend's events appear to represent, Feinstein will most likely be easily re-elected in November.