Citing Trump's Rhetoric, Judge Allows Lawsuit Against DACA Order To Proceed
A Federal Judge In New York City is allowing a lawsuit against the President's DACA order to go forward, and he based part of his ruling on the President's own rhetoric.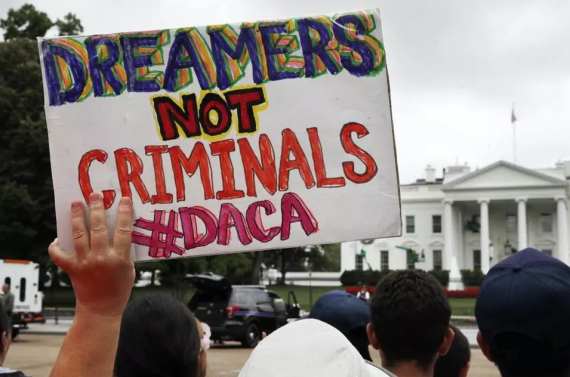 Relying in no small part on the President's own rhetoric in speeches and on Twitter, a Federal Judge in New York City is allowing a lawsuit against President Trump's decision to end the Deferred Action for Childhood Arrivals (DACA) program to go forward:
Citing President Trump's "racially charged language," a federal judge in Brooklyn ruled on Thursday that a lawsuit seeking to preserve a program that protects hundreds of thousands of young undocumented immigrants from deportation could continue.

The order, by Judge Nicholas G. Garaufis of Federal District Court in Brooklyn, was the strongest sign so far of judicial support for the program known as DACA, or Deferred Action for Childhood Arrivals, which has for months been the subject of a heated debate in Congress.

In October, lawyers for the Justice Department filed a motion to dismiss the Brooklyn lawsuit, claiming that the plaintiffs in the case — a coalition of immigration lawyers and a group of Democratic state attorneys general — had failed to make a persuasive case that DACA was rolled back in September because of a racial animus toward Latinos.

But in his order rejecting the motion to dismiss, Judge Garaufis pointed directly at Mr. Trump, noting that his numerous "racial slurs" and "epithets" — both as a candidate and from the White House — had created a "plausible inference" that the decision to end DACA violated the equal protection clause of the Constitution.

"One might reasonably infer," Judge Garaufis wrote, "that a candidate who makes overtly bigoted statements on the campaign trail might be more likely to engage in similarly bigoted action in office."

In February, Judge Garaufis issued an injunction ordering the Trump administration to keep DACA in place as he considered the legal merits of the suit. That injunction echoed a similar one issued in January by Judge William Alsup of Federal District Court in San Francisco, who is hearing a separate but related suit.

The ruling on Thursday took the legal process in New York one step further, strongly hinting at what Judge Garaufis thought about the suit's central claims. It did not offer a conclusive win for the plaintiffs, only allowing the case to move forward toward a summary judgment decision or a trial. But it was notable for its strong language suggesting that there may have been an improper racial motivation for rescinding the DACA program.

Of the nearly 800,000 immigrants who are protected by DACA, referred to as Dreamers, more than 90 percent hail from Latin America, and almost 80 percent are originally from Mexico. In his order, Judge Garaufis specifically mentioned Mr. Trump's statements about Mexico sending "criminals" and "rapists" to the United States and his verbal attacks on an American-born jurist of Mexican descent, Judge Gonzalo P. Curiel of Federal District Court in San Diego. Judge Garaufis also cited Mr. Trump's assertions — both before and after his inauguration — that Latino immigrants were "animals" and "bad hombres."

While the judge noted that looking for racial bias, especially in "campaign-trail statements," was a potentially fraught process that could result in an "evidentiary snark hunt," he concluded that his court could not "bury its head in the sand when faced with overt expressions of prejudice."

In a separate prong of the ruling, Judge Garaufis said that the decision to rescind DACA violated the Administrative Procedure Act, or APA, a federal law that bars the government from repealing policies arbitrarily, capriciously or without a rational basis.
As noted above, Judge Garaufis, who was appointed to the Federal bench by Bill Clinton in 2000 and assumed Senior Judge status in 2014, did narrow the scope of the lawsuit to some degree, but this is mostly a technical ruling that doesn't have any real impact on the case. This narrowing also does not impact the scope of the injunction that Judge Garaufis issued in February, roughly a month after a similar injunction was issued against the President's DACA order in January by a District Court Judge in San Francisco. Thanks to both of these injunctions, the DACA program continues to be in place, although there's always a danger that this temporary stay could come to an end at any moment.
This isn't the first time that President Trump's rhetoric, both as a candidate and as President, has been used against one of his actions in a court proceeding, of course. Many of the rulings that have been handed down relating to the travel ban that is aimed primarily at nations that are predominantly Muslim have cited the President's statements as a candidate as well as comments made after he became President by both Administration officials and others to support the finding that there was an illegal discriminatory intent behind the order. Just as there was plenty of evidence to support the contention that the real motivation for the travel ban was a disdain for Muslims in general, there is plenty of evidence to show that the President's positions regarding immigration are based in racial and ethnic bias against Latinos in general and Mexicans specifically. As Judge Garaufis noted, the best examples of this can be found in his comments about Mexican immigrants being "criminals and rapists," a claim he made in his very first speech as a Presidential candidate, and in his attacks on a Judge Gonzalo Curiel, an American-born Jurist who happens to be of Mexican descent. Based on this and other rhetoric, it seems fairly clear that much of Trump's position when it comes to immigration is based in racial or ethnic bias. Whether Trump actually believes what he says is rather irrelevant, what's important is that he campaigned on this rhetoric and that he is quite obviously making policy decisions based on this rhetoric. Now, it's coming around to bite him in Court. It couldn't happen to a more well-deserving guy.
As far as this case goes, this ruling means that the case can now go forward toward what would be a final ruling on the merits. Given the tone of Judge Garaufis's rulings both in February and this month, it seems apparent that the government is going to have an uphill fight if it is somehow going to win on the merits after having been defeated twice in preliminary matters. After that, of course, the matter would likely be appealed by the losing party to the Second Circuit Court of Appeals, although there is at least some chance that there may be an effort to bypass the Circuit Court of Appeals by asking the Supreme Court to take the case on a direct appeal from District Court. As we've seen with recent cases dealing with other subjects, though, this is an unusual procedure and not something typically granted by the Court. In either case, though, it likely means that President Trump's DACA Order is likely to remain on hold for quite some time.
Here's the opinion:
Battala Vidal Et Al v. Nielsen Et Al Opinion by Doug Mataconis on Scribd