Competitive House Districts: A Rarity
Our non-competitive political system.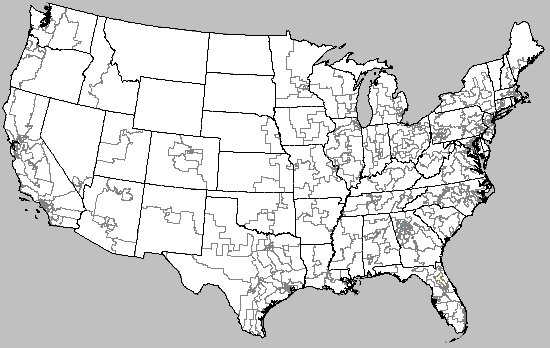 Chris Cillizza notes Why it's going to be hard for Democrats to win back the House this decade, in one chart at WaPo's The Fix.
Before getting to the chart, let me note that while the story here is being cast in the typical horse-race language of election coverage (and likely reads to many as a partisan lament), the real issues are more profound (and should concern us all).
Ok, so here's the chart:
So, this says, in basic terms, that only 90 seats (out of 435) are potentially competitive.  Cillizza goes on to note that even that number is far higher than reality this election:
And, the PVI numbers may actually undersell the true lack of competitiveness.  A look at Cook's list of most competitive races shows only 43 — 23 Democratic-held, 20 Republican-held — seats rated as either toss-ups or leaning to one side or the other. The Rothenberg Political report rates only 36 races as toss ups or leans.
This is troubling, and it should be regardless of one's partisan preferences, because this lack of competition means, among other things, that general elections really do not matter.  Safe districts means that the real choices are being made in the primary elections.  This should be concerning because primary elections are driven by very small percentages of voters—and voters who are often not even representative of the dominate party in the given district (let alone of the district in question).  It is simply not a good thing for US governance that a large number of members of the House are effectively being chosen by voter pools that are not representative of their parties, let alone of their districts.  In this way, primary elections (which are theoretically a democratized method to select candidates) can actually damage the democratic quality of elections.
Of course, beyond primaries, single member districts are a major problem here as well, as they narrow competition as well.
Think about that for a moment: the system we currently have is not geared towards doing a very good job of representing the constituents in districts designed to select members to the House of Representatives.  This is problematic if one thinks that Congress ought to actually represent the interests of the public.
Also it is worth pointing out that lack of competitiveness means that it is impossible for the public to effectively let the House know when it is unhappy (or happy for that matter).  As I have noted before, there is clearly something wrong with our system when the Congress can have approval ratings in  the teens, but reelection rates can be in the 90% range.