Competitive Pressures and Party Behavior
Assessing Republican strategic positioning (and the incentives in our system).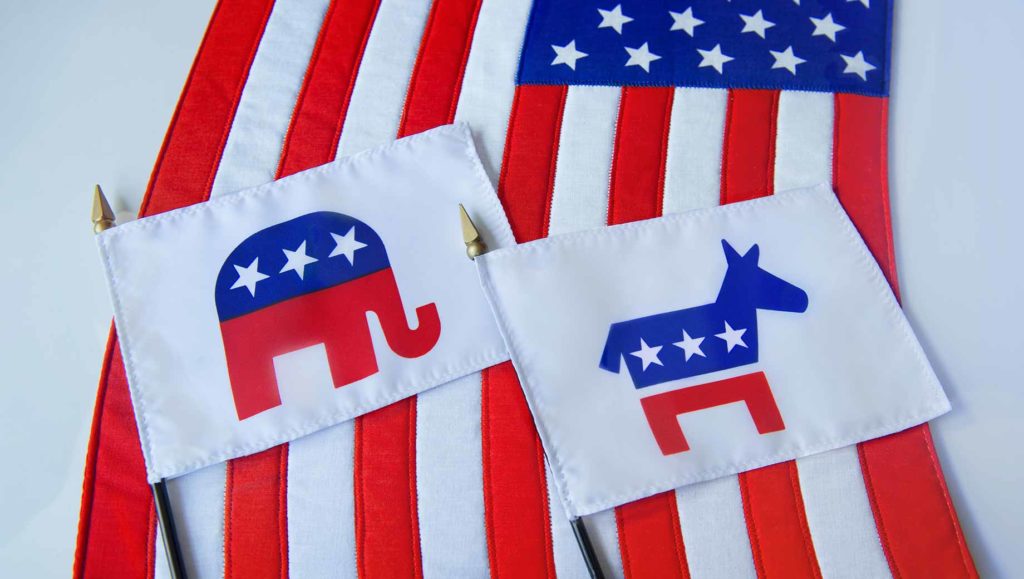 In my post on fiscal policy, I discussed my perception of Republican and Democratic strategic positioning in the current Congress. I am of the opinion that the current constellation of the parties is such that Republicans, even in small numbers, are not likely to join with Democrats to do anything new and major. It is my assessment that members of the Republican Party do not see any political advantage in voting with Democrats because most of them are worried primarily about re-nomination in their respective primaries.
I have been very influenced in my thinking about the current moment by a combination of past Republican behavior combined with the vote on the recent Covid-19 relief package. The legislation passed the Senate 50-49 and the House 220-211. In case there were zero Republican votes. Why? Because the Republicans don't want to be seen as giving the Democrats a victory. They also know that Biden is going to get the credit (or blame) for national policy no matter what they do. As such, they are, from a political power point of view, better off being able to tell their nominating electorate in the primaries back home that they opposed Biden tooth and nail (and be able to criticize him for not bringing the unity he promised). None of them want to defend a vote for socialism against some MAGAesque challenger in next years' primary cycle.
I would note that none of what I said above is about whether the legislation was a good idea or not, nor about how Republicans might leverage votes in exchange for different contents in the package. What we are seeing here is what we would expect in a period of significant polarization. Consider: in a period of high levels of polarization, what is the political advantage of bipartisanship?
Primaries are a structural condition of our elections that I write about often, but know that the broader public fails to take into account when thinking about politics and that even regular readers do not fully account for in their political calculations about partisan behavior. And it is a reminder that members of Congress are doing individual math about their specific re-election fortunes, but also in a more collective context as it pertains to the party's prospects. That last point is a reference to something I continually write about: that in recent times, and for the foreseeable future, every elected aspect of the federal government favors Republicans.
To repeat myself: the use of single-seat districts in a too-small House leads to rural (defined here as non-urban) over-representation. That helps Republicans. The very nature of the Senate does the same thing. The advantages in the Senate then redound to the Electoral College.
The easiest way to put this is: a shift of fewer than 50,000 votes across three states last November and Trump would have won the presidency in 2020 even whilst losing ~7 million popular votes. (This math continues to be the most easy-to-understand problem with our representative democracy and is only justifiable by hand-waving about states versus people that do not stand up to scrutiny).
If you are a Republican strategist, what are you going to focus on? Getting a handful of base voters riled up enough to vote R in 2024 or try and change the minds of millions of voters?
The new census and reapportionment of House seats shifted 3 EVs from Biden states to Trump states. This is an example of how structural conditions affect party fortunes. The Republicans did not change their platform nor their approach to politics, but they just gained a slight increase in their advantage. Indeed, they gained not one voter, but their chances of winning in 2024 increased this week. That's not a democratic outcome.
Can Democrats try and compete harder for, say, the vote in Texas? Yes, and they should. But the entire point is that the Dems have to work harder even when we know they have more voters nationally than do the Reps. This is not how competition is supposed to work. The foundational notion of the importance of competition is that while the winner has to keep on doing its best to keep winning, the loser has to improve in some way to get better to win. When a party can increase its chances of winning without having to improve itself in some way, well that is shall we say suboptimal (and yes, read that sentence as an attempt at comedic understatement).
I think most readers of this site, and plenty of people elsewhere, understand all of this, but it is nonetheless easy to fall into assuming that, in fact, politics is about national sentiment and not the collection of a lot of local sentiments that are structurally divided in ways that makes all those contests not reflections of national views, but of very much local ones (although with national partisan identification reinforcing all of it).
Another part of this puzzle is to remember that most people, when it comes to voting, end up voting based on party. They do not sit down each election and re-assess, based on logic, policy, and performance, the two parties let alone each individual candidate.
And yes, over time things can shift in a location (as happened in Georgia in 2020 and early 2021, which may or may not have long-term implications),* but the bottom line remains that people, in the aggregate, tend to vote the same party election-on-election and allow their partisan identities to guide what they think about issues far more than the other way around.
---
All of that was prelude (Dear God, did he just say "prelude"?!) to the following comment by Scott F. on the post I linked above:
Though all the incentives favor obstruction in order to placate the base, the loss of the Senate and WH in 2020 showed the base won't be enough to hold power. The Republicans are going to eventually have to DO something for the tribalist and country club Republicans or I can't see them continuing to vote GOP. They won't switch parties, but they could start to not participate if there's nothing in it for them. The scaremongering about radicals and socialists isn't going to convince any right-center folks in the midst of a strong economy that their way of life is at stake.
Now, I think that there may be some truth in all of this, and I am not here picking on Scott, but it spawned several thoughts that I started to comment on, but then blossomed into this lengthy post. The broadest one is that I think it assumes, as many do, that national success and failure directly influences local races more than is likely the case.
But, specifically, let me address a couple of items.
First, "the loss of the Senate and WH in 2020 showed the base won't be enough to hold power."
I do not think that the lesson the national GOP learned in 2020 was that they need to expand their appeal (just look at Leader McCarthy's response to MTG and his spinning of 1/6, the criticisms that Liz Cheney is facing, and the close vote on censure of Mitt Romney in Utah). This is not a party looking to expand their appeal, quite the opposite.
Now, at first blush you might say: then they are doomed since, you know, there are empirically more Democratic voters than Republican ones. And maybe, at some point, this approach will doom them. But, 2020 did not teach them a lesson of expansions. The more rational in the party can blame the overall outcomes on the pandemic and the economic downturn. The more delusional will convince themselves that yes, the election was stolen and ride the "election integrity" legislative train at the state level to simply make voting harder to forestall marginal Democratic gains. They surely aren't going to try and be more inclusive.
Consider: the GOP could have still won the presidency while losing the popular vote by a wide margin, they lost fewer House seats than predicted and are in a good position to make gains in 2022, and they lost the Senate in two razor-thin elections. In other words, Republicans are not going to look at 2020 and say "we have to change, look at what we lost!" They are going to look at 2020 and say "look how close we were to winning!"
And with the new census figures helping them out, coupled with control of a good number of state legislatures meaning control of redistricting (plus "voter integrity" laws) and really, Republicans have every reason to be optimistic about 2022. They certainly have no incentive to cooperate with Biden in this Congress.
Second, "The Republicans are going to eventually have to DO something for the tribalist and country club Republicans or I can't see them continuing to vote GOP."
Well, first and foremost, being a tribalist means tribe matters more than anything else. Again (and I know a lot of people here balk at this for reasons I still have not fully worked out): the main variable that predicts one's vote election-on-election is one's previous vote. People don't change tribe easily. Further, they are really terrible at understanding who to blame and who to give credit to as it pertains to the government. People are also more likely to give their tribe a pass and to blame the other tribe for their own tribe's failings.
As it pertains to doing something, I would note that the most fundamental element of conservative politics is that the current arrangement of power, status, and wealth is basically the just result of the test of time. As such, change is bad and so not doing something is kind of their thing.
Lastly, on this point, country club Republicans got their tax cut two years ago (and their judges), and many like the notion of keeping the non-country club members well, out of the club (think BLM, immigration, and trans rights for example).
---
All of this is to say: never, ever, ever forget that the most important way to understand American politics is not a national assessment of policy outcomes. It is not about what voters as a whole want. It is, rather, how the lines on the map dictate the relative power of what sub-national groups want as filtered through only two viable choices.
Where voters live dictate their political significance more than what voters want.
State lines matter for both Senate (especially) and House, as well as the EC.
District lines matter at the House level.
The shape of those containers has more to do with political outcomes (and, to the point of this post, politician and therefore party behavior) than want Americans, taken as a whole, actually want.
I think in some ways this is the key point I have been trying to make in various ways about what the fundamental problem is with American democracy. Our system simply does not generate the incentives for politicians to maximize the number of voters that they please (even in their own states and districts because of primaries). Instead, they incentivize appealing to primary voters, who are far smaller slices of the electorate than we find in the general election and who are frequently ideologically skewed vis-a-vis even their fellow citizens in the districts and states wherein they reside.
Keep in mind, I am not denigrating the notion of location-based representatives in a national legislature and I agree that there are localized interests that need to be elevated to national politics. But, even allowing for that, the goal of national politics should be to reflect national needs, not to be subservient to lines on a map (and especially to nominating contests).
The bottomest of bottom lines: the incentives in our system structurally favor the Republicans, so don't expect them to try and broaden their appeal until that advantage no longer exists. And that members of Congress, in general, are incentivized to worry more about primary electorates than the general electorate in most elections.
---
PS: All of the above is what I was getting at in the Carville/woke discussion thread before that conversation got side-tracked. The Democrats aren't going to lose seats in 2022 because they were too "woke" or use "faculty lounge words." They are poised to lose seats in 2022 because of structural conditions noted above–conditions made slightly worse in the House because of the census and our unwillingness to expand the size of the House, despite 435 having been in place since we had ~92 million residents. (Also, something I don't mention enough, the usage of two-year terms is part of the problem, but I will leave that for another day).
In other words: existing partisan identification, and how voters are geographically located, have a whole lot more to do with electoral outcomes than messaging debates or even legislative outcomes.
And I argue for reform because we should want a representative democracy that incentivizes the national legislature to do what the national population wants and is rewarded or punished based on how well that is accomplished. We currently do not have such a system.
---
*I would note that I don't think we know how much of 2020/2021 in Georgia was about long-term partisans flipping their vote, how much was about very targeted voter-turnout actions, and how much is just demography (e.g., increased urban populations, the relative growth of key groups, etc). Time will tell, but my hypothesis would be that the main issue was not a bunch of party-switchers, although I am sure that the nature of the Trump presidency led to some of those as well).