Carville: Dems Need to Speak Yiddish, Not Hebrew
Bill Clinton's strategist thinks his party needs a wake-up call.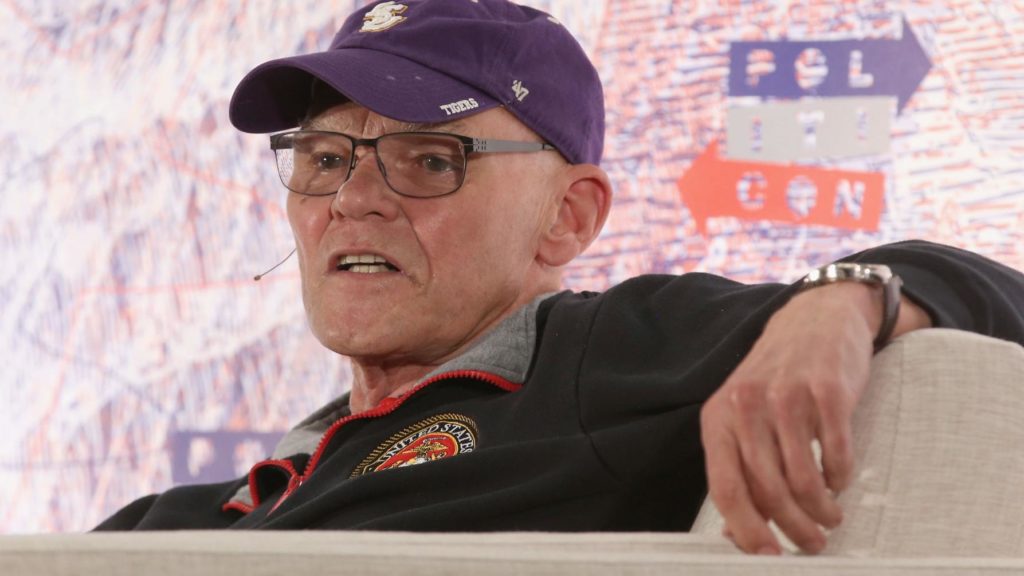 When I saw that Jim Carville told Vox "Wokeness is a problem and we all know it," I was both curious and fearful that it would be another case of an older white man not getting it. But he actually makes a subtle point in his classic not-so-subtle style.
What Carville offered up instead was a blunt critique of his own party even after a successful 2020 election cycle — a sequel of sorts to his fulminations during last year's Democratic primaries. The longtime Democratic strategist is mostly pleased with Biden, but it's where much of the party seems to be going that has him worried.

"Wokeness is a problem," he told me, "and we all know it." According to Carville, Democrats are in power for now, but they also onlynarrowly defeated Trump, "a world-historical buffoon," and they lost congressional seats and failed to pick up state legislatures. The reason is simple: They've got a "messaging problem."
But, no, the issue isn't that the party is alienating white racists and misogynists by over-emphasizing social justice issues. It's literally about the language being used to communicate those issues.
Sean Illing

What do you make of Biden's first 100 days?

James Carville

Honestly, if we're just talking about Biden, it's very difficult to find something to complain about. And to me his biggest attribute is that he's not into "faculty lounge" politics.

Sean Illing

"Faculty lounge" politics?

James Carville

You ever get the sense that people in faculty lounges in fancy colleges use a different language than ordinary people? They come up with a word like "LatinX" that no one else uses. Or they use a phrase like "communities of color." I don't know anyone who speaks like that. I don't know anyone who lives in a "community of color." I know lots of white and Black and brown people and they all live in … neighborhoods.

There's nothing inherently wrong with these phrases. But this is not how people talk. This is not how voters talk. And doing it anyway is a signal that you're talking one language and the people you want to vote for you are speaking another language. This stuff is harmless in one sense, but in another sense it's not.

Sean Illing

Is the problem the language or the fact that there are lots of voters who just don't want to hear about race and racial injustice?

James Carville

We have to talk about race. We should talk about racial injustice. What I'm saying is, we need to do it without using jargon-y language that's unrecognizable to most people — including most Black people, by the way — because it signals that you're trying to talk around them. This "too cool for school" shit doesn't work and we have to stop it.

There may be a group within the Democratic Party that likes this, but it ain't the majority. And beyond that, if Democrats want power they have to win in a country where 18 percent of the population controls 52 percent of the Senate seats. That's a fact. That's not changing. That's what this whole damn thing is about.

Sean Illing

Sounds like you got a problem with "wokeness," James.

James Carville

Wokeness is a problem and everyone knows it. It's hard to talk to anybody today — and I talk to lots of people in the Democratic Party — who doesn't say this. But they don't want to say it out loud.

Sean Illing

Why not?

James Carville

Because they'll get clobbered or canceled. And look, part of the problem is that lots of Democrats will say that we have to listen to everybody and we have to include every perspective, or that we don't have to run a ruthless messaging campaign. Well, you kinda do. It really matters.

I always tell people that we've got to stop speaking Hebrew and start speaking Yiddish. We have to speak the way regular people speak, the way voters speak. It ain't complicated. That's how you connect and persuade. And we have to stop allowing ourselves to be defined from the outside.
I've made variations of this argument many times over the years and think Carville is right. Even beyond the issue of the effect on party identification and election turnout, a large part of the problem with our national conversation is that vocabulary that has been developed in Sociology and Gender Studies departments not only fails to translate to the outside world but actually alienates people you're trying to persaude.
My go-to example are variations of "privilege." "Privilege" is a great faculty lounge word. It's a perfect way to convey "unearned advantage" and academics, like professionals in any field, will naturally gravitate to useful jargon that simplifies discussion among the in-group.
Transported to conversations with out-groups, though, and it backfires. It should not be that hard to explain to people that, all things being equal, being white comes with certain advantages in American society. Most fair-minded people would agree that this is true with very little persuasion. But, tell a white person who is in or came up from poverty or working class origins that they have "white privilege" and they will immediately become defensive, if not insulted. And telling them to "check their privilege" will make them irate.
"LatinX" is a perfectly useful faculty lounge word, in that it's a way to take a gendered language that assumes that sex is binary and make it more inclusive by using conventions borrowed from other contexts. But neither Spanish nor Portuguese have this construction and normal people from those communities will find the construction idiotic. (Granted, this is partly a function of the problem that "LatinX" is trying to solve—the cultural assumption that gender is binary.)
There are lots of other examples of words that come from Critical Theory and various Studies programs ("intersectionality," "ally," "mansplaining," and "manel" come quickly to mind) that don't easily translate to retail conversation. Carville may well be right that we should simply come up with better ways to communicate the ideas rather than trying to propagate those constructions.
The rest of the conversation is more about political strategy and is less interesting to me. But he makes a series of interesting points around this idea.