Congress Punts DHS Funding Bill For Seven Days
Another lesson in incompetence in governing from House Republicans.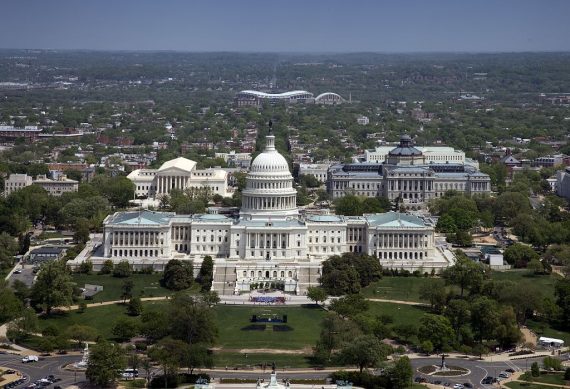 Repeating a pattern that we've seen from the House of Representatives for four years now, the  issue of funding the Department of Homeland Security has been kicked down the road, for seven days:
A partial government shutdown was narrowly avoided late Friday evening as House Minority Leader Nancy Pelosi (D-Calif.) made a surprise move to back legislation funding the Department of Homeland Security (DHS) for one week.

Pelosi's support helped Speaker John Boehner (R-Ohio) move the one-week bill through the House in a 357-60 vote just after 10 p.m., with 55 Republicans and 5 Democrats voting against it. The Senate passed the one-week funding bill in a voice vote.

President Obama signed the bill just before midnight.

The eleventh-hour votes in Congress had forced the Obama administration to begin preparations for a partial government shutdown, with DHS releasing a 47-page contingency plan spelling out which employees would have been "essential" and forced to work without pay at agencies like the Coast Guard, Secret Service and U.S. Customs and Border Protection

Earlier in the day, House Democratic leaders had whipped their members against legislation that would have funded DHS for three weeks, and the bill failed 203-224.

The defeat of the three-week bill was a humiliating defeat for Speaker John Boehner (R-Ohio) and left his leadership team scrambling for a path forward as a bloc of their conservative members refused to vote for any funding bill that did not reverse President Obama's executive actions on deferred deportations for illegal immigrants.

Pelosi came to the rescue late Friday evening, sending a letter to Democrats urging them to vote for a one-week continuing resolution (CR) of Homeland Security funding without any immigration riders.

"Thank you for your cooperation on the vote earlier today. Our unity was a strong statement that the Department of Homeland Security must be fully funded," Pelosi wrote in the letter to Democrats. "We are asking you once again to help advance passage of the Senate passed, long-term funding of DHS by voting in favor of a 7-day patch that will be on suspension in the House tonight."

Pelosi announced the letter in a 90-second press conference in the Capitol, where she was flanked by all of her top lieutenants but didn't take questions and didn't explain why she and the Democrats — who were adamantly opposed to a three-week extension —  suddenly reversed course to accept the one-week deal just a few hours later.

The Democratic leaders declined to comment on whether their agreement to the seven-day deal came with assurances that the House would vote on the Senate's "clean" DHS bill providing funding through September.

Asked that question, Rep. Steny Hoyer (D-Md.) eluded it.

"You would be right to try to analyze why we would do what we're doing," Hoyer said, declining further comment.

Pelosi in her letter assured Democrats that, "Your vote tonight will assure that we will vote for full funding next week."

Boehner spokesman Michael Steel firmly denied that a deal was cut with Democrats on the clean funding bill.

"We did not make any such 'deal' or promise," Steel said.

GOP leaders, for their part, were mum on the next steps. The one-week funding bill only pushes the fight into next week, when Republicans had hoped to focus on Israeli Prime Minister Benjamin Netanyahu's address to a joint meeting of Congress.
So basically, Congress accomplished absolutely nothing yesterday. The House's version of the DHS funding bills, which include restrictions on the DAPA deportation deferral program announced by President Obama in November, could not get past the sixty vote threshold in the Senate. House Republicans proved themselves to be incapable of passing a three week Continuing Resolution earlier in the day yesterday, although at least in part that was due to the fact that the vast majority of House Democrats voted against the bill. So, as usual, we ended up with a last minute vote on a Friday night that did nothing but kick the can down the road for seven days. As noted above, Democrats supported this extension because, they claimed, they had an agreement from the House Republican Leadership that a "clean" Continuing Resolution that would fund DHS through the end of the year. While John Boehner, Kevin McCarthy, and other members of the leadership team have been quiet since last night but several House Republicans who have spoken publicly have said that there is no such deal, although they would not necessarily be in a position to know one way or the other. Additionally, many have suggested that Boehner would be opening himself up to a leadership challenge if he were to put a "clean" bill on the floor.
In any case, we'll likely be seeing this entire debate go down to the wire again next week, probably to next Friday night just as we saw unfold this week. Whether that results in another Continuing Resolution or, finally, a "clean" bill is something only time will tell. At the very least, though, we're getting yet another demonstration of how dysfunctional Congress has become, thanks largely to a minority in the House Republican Caucus that has no interest at all in governing.