Every Other Democrat Who Might Run For President Is Waiting For Hillary
The Democratic field for 2016 is frozen in place waiting for the presumptive frontrunner to make a decision.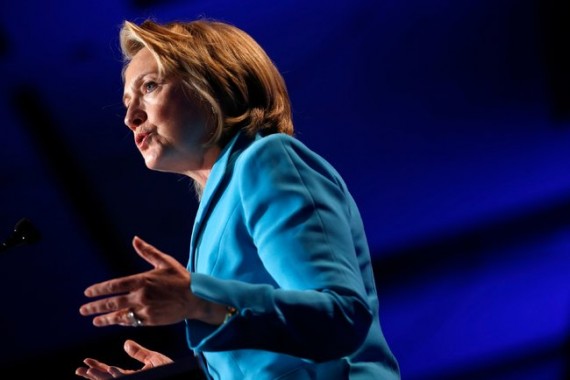 While the Republican race for the White House in 2016 is likely to be a wide open and raucous race, with a field that could contain everyone from Rand Paul and Ted Cruz to Jeb Bush and Chris Christie, the Democratic field is essentially frozen in place because everyone else who might run is waiting to see what Hillary Clinton does:
Hillary Clinton's phantom presence in the Democratic presidential-nomination stakes—neither in nor out—is freezing the rest of the field, creating formidable obstacles for other candidates needing to raise money and set up an organization.

When advisers to a fundraising group backing a prospective 2016 Clinton bid came calling in late January, hedge-fund manager and political heavyweight Orin Kramer said he met them in his New York office and agreed to write a check. When another potential candidate, Maryland Gov. Martin O'Malley, tried to reach him, Mr. Kramer said he didn't take the call.

"She's Gladys Knight and all the rest of them are the Pips," said Robert Zimmerman, a longtime Democratic donor, comparing Mrs. Clinton with potential opponents from both parties.

Possible 2016 candidates are in the crucial early stages of raising money, but they won't likely set up formal campaign infrastructures until after this year's midterm elections.

Even though she isn't officially running, Mrs. Clinton retains huge influence with the Democratic Party's fundraising and get-out-the-vote machinery. A super PAC called "Ready for Hillary" is recruiting Clinton campaign volunteers in Iowa, New Hampshire and other early-voting states. A group called Priorities USA Action is prepared to raise millions for her campaign, having made early overtures to donors such as Mr. Kramer.

That organizational advantage coupled with her renown as a former first lady, U.S. senator and secretary of state have prevented other prospective Democrats from getting a toehold in the race. One Democratic strategist describes a political environment "frozen" in anticipation of a possible Clinton bid.

"She, as much as anyone, knows that running for president is a very personal and weighty decision that people need to make on their own timeline, based on whatever factors they want to take into account," Clinton spokesman Nick Merrill said in a recent interview.

For any candidate with a surname other than Clinton, getting an early start is vital because few have the luxury of being able to wait until the last minute, given the complexities and expense of running campaigns.

Vice PresidentJoe Biden is considering a run, but he seems under no illusion about what he is up against. Last year, when he met with a Democratic fundraiser and talked about his possible 2016 ambitions, Mr. Biden made a modest request given his status as a sitting vice president: Please keep your powder dry, the fundraiser recalled him asking.

Friends of Mr. Biden's want to start organizing on his behalf in New Hampshire. But as of early April, they hadn't asked for a green light from his office. Daniel Eaton, a Democratic New Hampshire state representative, said he planned to ask Mr. Biden's office for permission to begin mobilizing supporters and donors. "I don't think the American people appreciate a party anointing anyone," Mr. Eaton said. "They want it earned."

Polls show Mrs. Clinton lapping the field of potential Democratic rivals, raising the possibility that she could be a rare candidate who takes the nomination without a fight—if she chooses to run.
That last fact, of course, is what makes for the vital difference between Clinton and anyone considering running for President in 2016, including the incumbent Vice-President. Thanks both to her name recognition and the huge lead that she continues to hold in polls of Democratic voters both nationwide and in early primary states, Hillary Clinton can afford to put off the action necessary to become a formal candidate for President much longer than anyone else can. She doesn't really need to worry about "introducing herself" to the American people the way that a candidate like Maryland Governor Martin O'Malley, New York Governor Andrew Cuomo, or former Montana Governor Brian Schwietzer, to name just three people who have been mentioned as potential 2016 candidates, would have. She also wouldn't need to worry as much about raising money as they would, and indeed there have been several reports that all of the various "waiting for Hillary" groups out there are essentially just waiting for her to make the formal decision, at which point they can relatively easily be transformed into formal parts of the campaign, or SuperPACs devoted to supporting her campaign. Even Vice-President Biden wouldn't be able to rely on a network like that, and if he ran against Hillary he'd likely find that many of the establishment Democrats who might otherwise support a sitting Vice-President seeking the nomination are instead backing the former Secretary of State.
The standard response to the argument that Hillary is the inevitable Democratic nominee, of course, is to point to the 2008 cycle when it also seemed as though she was on a course to winning the nomination. What happened instead, of course, is that Clinton's campaign ran headlong into the campaign of then Illinois Senator Barack Obama which not only had the benefit of the kind of popularity that is rare in politics to begin with, but also proved itself to be more adept at running a campaign that Clinton's was. Is it possible that the same thing could happen again in 2016? I suppose it is, but it strikes me as being far less likely this time around. For one thing, it seems unlikely that there will be an Obama-like candidate in the Democratic field in 2016. At the very least, none of the names that have been mentioned to date seem like ones that could light a populist flame the way that candidate Obama did in venues throughout the country during the winter and spring of the epic battle between him and Senator Clinton for the nomination. For another, it seems fairly clear that Hillary Clinton has learned from her mistakes in 2008 as have he people most likely to end up running her campaign, many of whom were actually part of President Obama's campaign in 2008. So yes, while it's possible that Biden, O'Malley, Cuomo, or someone else could surprise the nation and beat Clinton for the nomination, it seems quite improbable at this point.
Secretary Clinton has made clear that she's unlikely to make any formal moves on running for President before the end of this year, so I think we can expect to see the Democratic field remain frozen for much of 2014. At some point, though, those candidate who are not Hillary Clinton are going to have to taking the steps necessary to set up a campaign if they're going to have any chance of winning at all. When that point comes, the really interesting question isn't likely to be "Can any of these people beat Hillary?," but "What happens to the Democratic field if Hillary decides not to run?"