More Evidence Of The Political Risk To The GOP In A Shutdown
With just hours to go, the Republicans on Capitol Hill seem prepared to take a big political risk.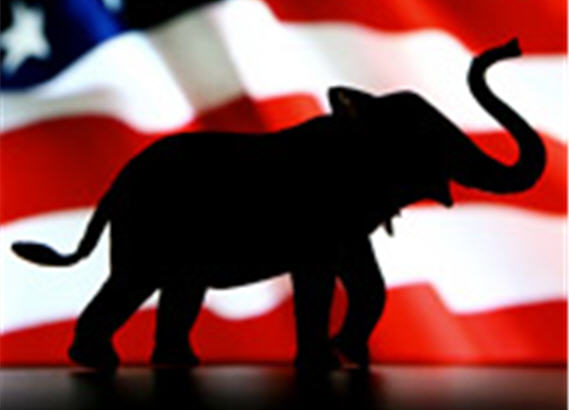 Backing up the CNN poll I discussed this morning, a new ABC News poll shows that Republicans seem to have the most to lost in this showdown over a government shutdown:
A new ABC News/Washington Post poll finds the Republicans in Congress at greater risk of political damage in a government shutdown: Sixty-three percent of Americans disapprove of their handling of the budget debate, 13 points worse than Barack Obama's rating on the issue.

Neither side gets remotely positive scores, indicating plenty of irritation to go around. But Obama's 41-50 percent approval rating for handling the budget negotiations far exceeds the GOP's 26-63 percent. The Democrats in Congress fall between the two, at 34-56 percent.

While these views are highly partisan and ideological, the Republicans are weaker in their base. Seventy-one percent of Democrats and 61 percent of liberals approve of Obama's handling of the issue. Fewer Republicans or conservatives approve of the GOP's performance, 56 percent and just 40 percent, respectively.

Notably, even among those who call themselves "very" conservative, fewer than half, 45 percent, approve of how the Republicans in Congress are handling the issue. (Naturally, even fewer in this group, 17 percent, approve of Obama's approach.)

In the political center, this poll, produced for ABC by Langer Research Associates, finds that 56 percent of independents disapprove of Obama's handling of the issue. But 66 percent disapprove of how the Republicans in Congress are dealing with it.

(…)

These views are roughly similar to results in ABC/Post polling after the brief shutdowns in 1995 and 1996. In late January 1996, Bill Clinton's rating for handling the dispute, 42-50 percent, was essentially the same as Obama's now; the Republicans', 20-74 percent, was somewhat worse than now. Overall, today, as then, the president looks to be on firmer ground, the GOP less so.

Additionally, the public by 72-24 percent in 1996 said "partially shutting the government should not be used as a tool in budget negotiations" – again similar to current opposition to using the threat of a shutdown as a way to try to block the health care law.
This number comes as conservative journalist David Freddoso shoots down an idea that has been floating in Republican circles for the past week or so, namely that the 1995-1996 shutdown didn't really hurt the GOP:
A lot of conservatives are now trying to minimize the damage the GOP suffered after the 21-day government shutdown of 1995-1996. They point out, correctly, that even though President Clinton was re-elected, Republicans held the House (losing just three seats on net) and gained two Senate seats.

What they fail to mention or appreciate is that this was not a good performance for the GOP that year. The GOP's Senate gain that year sounds just fine if you measure it from a baseline of zero, but political victories and defeats aren't measured that way. Absolute victories can be relative disasters, and vice-versa.

Republican success in the Senate in 1996 was as much a function of the map as anything else. Even taking Bill Clinton's second plurality victory into account, Republicans underperformed in Senate races. They picked up relatively low-hanging fruit by winning three seats where long-serving Democrats were retiring — in Nebraska, Alabama, and Arkansas — but they narrowly lost four other close contests, and have since managed to gain only one of those four missed seats.

In South Dakota, Republican Sen. Larry Pressler lost his re-election to Sen. Tim Johnson by about 8,500 votes out of more than 300,000 cast. Republicans are only now hoping to pick that one up now, 18 years later

They lost an incredibly close contest for an open Democratic seat in Louisiana by less than 6,000 votes out of 1.6 million cast, putting Sen. Mary Landrieu, D, into office. Again, she will have held this seat for 18 years by next November.

In Georgia, Max Cleland, D, just barely won the seat of retiring Sen. Sam Nunn, D. He won by 30,000 votes out of more than 2 million cast. Republicans did pick this one up in 2002.

Republicans also narrowly lost a Senate seat in a special election that occurred in January 1996, right after the shutdown drama. Ron Wyden, D, narrowly defeated Republican Gordon Smith to take over the seat vacated by the resignation of Sen. Bob Packwood, R. The margin of victory was just 18,000 votes out of more than 1 million cast. (Smith went on to win the state's other Senate seat that fall, holding it in the GOP column.) Wyden still holds this seat, and probably can as long as he wants to.

So yes, Republicans gained two Senate seats after shutting down the government. But they could have done much better. We can't immediately conclude that the shutdown caused this underperformance, but the election of 1996 is not something you want to hang your hat on when you argue that shutdowns don't matter.
If there is a shutdown, it's entirely likely that the GOP's control of the House will not be in serious jeopardy. As Nate Cohn explains today in The New Republic, thanks to gerrymandering and the fact that the number of actual competitive districts in the House today is far lower today than it has been at virtually any time in the recent past. Indeed, the GOP victory in 2012 was as much the result of redistricting after the 2010 census as it was public dissatisfaction with the President and the state of the economy. The fact that Republicans suffered relatively small loses in the fact of a very good Democratic year in 2012 is further testament to just how solid this majority actually is. Is it possible that we could see some kind of wave election in 2014 that would sweep the Democrats back in power in the House? Well, anything is possible. However, under current conditions the odds of serious Republican losses in the House seem pretty low. This, of course, is what happened in 1996.
Just as in 1996, though, the GOP could face problems in the Senate. Seventeen years ago, the GOP had a big enough majority in the upper chamber that it could afford to suffer the minor losses it did that year. Nonetheless, as Cohn notes, the party lost seats that it probably could have won, even with Bill Clinton at the top of the Democratic ticket. This time around, the GOP is in the minority in the Senate and aiming to regain the majority after a disappointing performance in 2012 when it actually lost two seats. If Republican are going to win the majority back, they will have to win six out of seven red state seats currently held by Democrats while holding on to all of the Republican seats up for re-election. While can't say for sure, as Cohn readily admits, that the 1995-1996 showdown was responsible for GOP underperformance in the Senate races that years, when you're in a situation like the GOP will be in next year where there's little room for error, it's hard to say that the party is helping itself right now, and they'd realize that if they took off blinders.
But of course, those are the kind of facts that complicate a convenient narrative. Now, the GOP appears headed toward another shutdown, the first since that fateful one that lasted three weeks and, in part, put in motion events that led to everything to the re-election of a President and a sex scandal that would eventually lead to impeachment and trial in the Senate. Perhaps its easy for them to forget just how big a price they paid for that, but they may be about to learn all over again.