Jeb Bush Sounds More And More Like A Presidential Candidate
The former Florida Governor is talking more openly about running for President than he ever has before.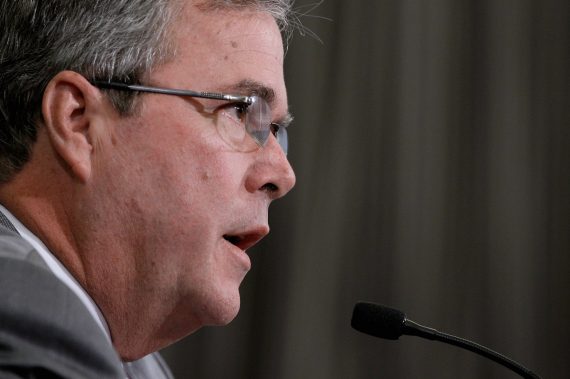 Former Florida Governor Jeb Bush is talking more openly about running for President than he ever has in the past:
Former Florida governor Jeb Bush said Sunday that he will base his decision on whether to run for president in 2016 on whether he thinks he can mount a campaign that would transcend the modern-day mechanics of such a run.

Bush, the second-oldest son of former president George H. W. Bush and younger brother of George W. Bush, spoke at an event marking the 25th anniversary of his father's presidency at the library and museum that bears the patriarch's name. The event was closed to reporters, but moderated by Fox News anchor Shannon Bream and portions of the event were later broadcast on the Fox News Channel.

In a rambling answer that suggested he has given serious thought to the prospects of running for a job once held by his father and brother, Bush said he would decide whether to run for president by the end of this year. He appeared to bemoan the thought of having to spend time attending political cattle calls in early-primary states, suggesting that some candidates might devote too much time to questions such as, "How am I going to get to win the Muscatine Pork Roast straw poll, or something like that."

Bush said he ultimately would base his decision on whether a candidate can "run with a hopeful, optimistic message, hopefully with enough detail to give people a sense that it's not just idle words and not get back into the vortex of the mud fight."

"In my case, that means can one do it joyfully without being tied to all the convention of the here and now?" he added.

Family considerations will also play a prominent role, he said, especially whether running a campaign would be a "huge sacrifice."
 National Journal's Sara Morrison has more:
Bush, who hasn't held a political office since he was governor of Florida from 1999 to 2007, talked to Fox News today about his long-rumoredpresidential run, saying he'd figure out whether or not to run by the end of this year. In the meantime, he's keeping busy by not caring about straw polls (oh, burn, CPAC) or worrying about the politics of a campaign because things could be totally different two years from now.

Instead, he wants to run a campaign with an "optimistic message" and avoid "the vortex of the mudfight."

"Can one do it joyfully, without tied to all of the convention of the politics of the here and now?" Bush wondered.

This certainly sounds nice, but then again it's not like any candidates ever say "I'm looking forward to running a wholly negative campaign that annihilates my opponent at every turn." If Bush does run, it'd be difficult to emerge from the expected Republican nomination free-for-all with his hands completely clean.

Bush noted that he's getting more attention now for being undecided about running than he would have gotten if he had made a decision — though this wasn't intentional.

"I'm not that smart, I promise you," Bush said.

As for his possible competitors for the Republican nomination, Bush called Chris Christie the "real deal" and "a spectacular guy" but wouldn't comment on anyone else specifically.

Who doesn't he like? Candidates who are running just to "make a point" and not to actually win the election or lead the country. You can go ahead and guess who he's talking about there.

"Campaigns ought to be about listening and learning and getting better," Bush optimistically and hopefully said. "I do think we've lost our way … Campaigns themselves are reflective of this new America."
This is probably the most openly and candidly that Bush has talked about possibly running for President since his name first started being mentioned as a potential candidate back in 2008. Quite obviously, he was not a viable candidate back then thanks to the mess that his brother had left the country in. Indeed, I doubt that Jeb Bush would have been a viable candidate in 2008 even if the Bush 43 Presidency had ended on a modestly successful note simply because of the issue of name fatigue. Bush's name came up again as people began to pay attention to the 2012 Presidential cycle, but he made it very clear very early on that he would not be running for President that year either, although Bush's name did come up in some conversations in the media at those points in the primary when it looked like Mitt Romney might not be able to go all the way. When he bowed out of the 2012 race, many people thought that this would be the end of Jeb Bush as far as electoral politics were concerned. Perhaps we might see him named Secretary of Education in a Republican Administration, some suggested, but if he wasn't running for President in 2012 then that probably meant he wouldn't be running at all. Based on these comments and some of Bush's other recent statements and actions, though, it seems fairly apparent that he's closer to jumping into a race for the White House than he ever has been in the past.
In part, no doubt, this is because Bush likely realizes that 2016 is potentially his last shot at the Presidency. If a Republican wins in 2016, then he'd be locked out of running in 2020 in any case, and if a Democrat wins then he'd face the far more formidable task of trying to unseat an incumbent President, something that Mitt Romney would no doubt agree is not an easy task. Additionally, Bush's prominence recently is likely related to the fact that New Jersey Governor Chris Christie has fallen in the polls ever since the so-called "Bridgegate" scandal became public. While that story is now three months old and there is still absolutely no evidence that Christie himself was personally involved or knew about any political motivation behind the lane closings at issue in that matter, it's still unclear what impact the whole story will have on what ever Presidential ambitions he may have.  Given this, the people who would be potential Christie backers if he ran are likely looking to Bush as a fall back candidate, and Bush himself is realizing that he made need to enter the race himself if he doesn't want to see the GOP turned over completely to the Tea Party wing. If those conditions continue to apply as 2015 inches closer, then I believe a Jeb Bush campaign will become a whole lot less theoretical.