Millennials Lean Left, But Reject Political Parties
Young voters reject political parties to a greater extent than other voters, but on policy issues they trend Democratic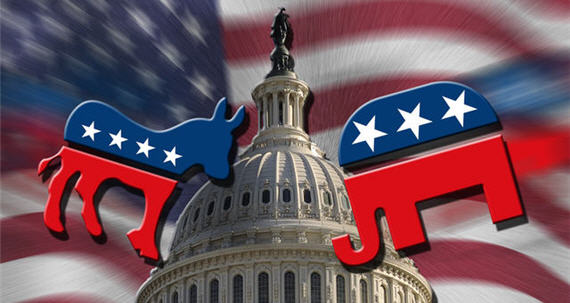 A new poll shows that the youngest generation of American voters is rejecting both political parties at a much higher rate than previous generations, but digging deeper into the numbers it's clear that Republicans will have a harder time attracting these voters than Democrats:
Half of millennials identify as independents up from 38 percent in 2004, according to a new poll.

These are the highest levels of political disaffiliation the the Pew Research Center has recorded for any generation in its 25 years of polling.

But more millennials have Democratic leanings — half identify as Democrats or lean toward the Democratic Party compared with 34 percent who identify as Republican or lean toward the Republican Party, according to the survey.

Millennials hold the most liberal views on many political and social issues, including same-sex marriage and marijuana legalization. Sixty-eight percent support gay marriage, up from 44 percent in 2004. During the same period, the proportion of Gen Xers who support same-sex marriage increased from 40 percent to 55 percent and the portion of Boomers increased from 30 percent to 48 percent. Even more millennials approve of marijuana legalization — 69 percent, up from 34 percent in 2006.

On abortion and gun control, millennials' views do not differ as much from older generations.

Millennials are more approving of Obama than older generations — with almost half —49 percent — approving of how Obama is handling the presidency. Gen Xers and Boomers approve about equally, with 43 percent and 44 percent approving respectively.

Support for bigger government was also highest among millennials (53 percent) compared with Gen Xers (43 percent) and Boomers (32 percent).
In other words, even though millennials identify as political independents to a greater degree than other generations of voters, they still tend to hold views that are more likely to lead them to vote for Democrats rather than Republicans. Given that, Republicans looking for good news in the fact that the generation most closely identified with President Obama seems to be rejecting the party more than previous generations need to be cautious in the enthusiasm. Quite obviously, when it comes to the issues that motivate voters the millennial generation is still more closely allied with Democrats than Republicans, and that is going to remain the case as long as the GOP continues to hold fast to the socially conservative agenda that it is most closely identified with.
At the same time, of course, Democrats shouldn't be jumping for joy either. The fact that a majority of younger voters don't identify with either party seems to be indicative of the dissatisfaction that they have with politics in general. The optimism of the Obama campaign of 2008 and been tempered, harshly, by the reality of governing over the past five years and it hasn't been pretty at all. Will these voters be as enthusiastic for a post-Obama Democratic party as they were when he was at the top of the ticket, or will they follow the example of previous generations of younger voters and return to the practice of sitting out elections? One need not look very far to see what can happen to Democrats if younger voters stay home, because we saw it in the 2010 elections. In 2008, according to the exit polls, voters age 18 to 29  accounted for 18% of the electorate and voted Democratic by a 66% to 32% margin. In 2010, again according to the exit polls, that same demographic accounts for just 12% of the electorate and voted Democratic by a 55% to 42% margin. While this change in the millennial vote isn't the sole reason that Democrats performed so poorly in 2010, the fact that some of President Obama's most ardent supporters decided to stay home that year certainly didn't help, and it's not going to help Democrats in 2014 either if the same thing happens this year.
As time goes on, we'll likely get a better idea of where this generation of voters stands. Most likely, though, we're looking at a group that is going to be largely liberal when it comes to social issues while at the same time being cynical about the political process as a whole. That's likely to present challenges for both political parties.