Millennials: Less Patriotic, Or Just Differently Patriotic?
Some surveys suggest that younger Americans are less patriotic than older generations.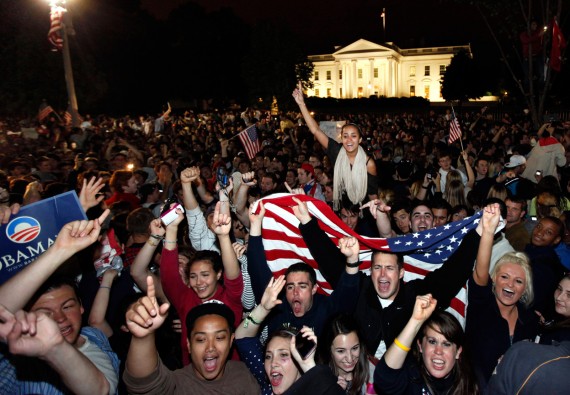 Surveys indicate that younger Americans are "less patriotic," at least in the ways that people older than they are seem to define what it means to be patriotic:
Americans are a patriotic bunch. Compared with people in most other countries, Americans express more pride in their nationality, and most say that being an American is an important part of their identity.

Even so, patriotism in America is on the decline.

But the decline seems to have more to do with reactions to the symbols of American democracy than its values. Older Americans remain remarkably high in their devotion to symbols like the flag, while young citizens are cooler toward Old Glory but express higher support for classic American ideals like equality and opportunity.

The patterns suggest the shifts are generational and not driven by stages in the life cycle. Past generations have declined only marginally in their nationalism over time – they start out high and mainly remain so. But today's youngest generation begins adulthood with much lower levels of fondness for the symbols of America, and if the past is a guide, there is no reason to expect increases as they age.

Measures of American patriotism over the last several decades are found in the American National Election Study (A.N.E.S.), the nation's longest-running data collection on political attitudes and behavior. Started in 1948, the A.N.E.S. is funded by the National Science Foundation, and the interviews are done in person every four years, in the homes of nearly 2,000 randomly selected Americans.

(…)

There are small differences in levels of patriotism across political parties, between men and women, and among racial groups, but these patterns pale in comparison to the differences across generations, with overt patriotism shifting down with age. Here's a striking example: 81 percent of the Silent Generation (those who are 69 to 86 years old in 2014) love America while only 58 percent of millennials (18 to 33 years old) feel the same. Born between 1928 and 1945, the Silent Generation fought both the wars in Korea and Vietnam. Thirty-one percent of them report that they personally served on active duty in the United States Armed Forces. Only 4 percent of millennials have done so.

Seventy-eight percent of the older generation consider their American identity to be extremely important. That drops to 70 percent for baby boomers (50 to 68 years), 60 percent of Generation X'ers (34 to 49 years), and only 45 percent of young adults define themselves this way. And while 94 percent of the Silent Generation say that seeing the U.S. flag flying makes them feel extremely or very good, only 67 percent of millennials muster the same affection.

Millennials, it seems, are a different breed. According to a recent report by the Pew Research Center, millennials are "detached from institutions … linked by social media, burdened by debt, distrustful of people, in no rush to marry – and optimistic about the future." They are, the report concludes, "different from older adults back when they were the age millennials are now."

These trends can be seen in the A.N.E.S. data by examining the 1988 version of the question about flying the flag. Millennials start out in a very different place than other generations. In 1988, when Gen X members were 23 or younger, 73 percent said the flag made them feel extremely or very good – the same percentage of that generation that says so today. And 82 percent of the boomers in 1988 (age 24 to 42), who may be more comparable to the age range of today's millennials, report extremely or very good feelings when seeing the Stars and Stripes – very close to the 87 percent who say this same thing today.

Patriotism seems to span the life cycle, not change with it, which might give us pause given the low starting levels of the millennial generation. But it shouldn't. Just as the Pew data found young people to be optimistic despite being saddled with debt, the A.N.E.S. data show millennials to be extremely supportive of the ideals and values of democracy, if not the symbols of America. In particular, equality stands out.

The A.N.E.S. asked respondents whether they agreed or disagreed with six statements about equality. One of them was: "It is not really that big a problem if some people have more of a chance in life than others." People who agree with the statement are saying that the differences in people's prospects aren't terribly problematic for American society. Only 28 percent of Americans agree with that statement; 21 percent neither agree nor disagree. Half think it is a big problem that some people get more of a chance in life than others.
On some level, I'm always skeptical of surveys like this that try to measure something like "patriotism." In no small part, I think that's because it's rather obvious that these are the kind of poll questions that respondents will tend to give answers that they think that people want to hear, or the ones that make them look good in the eyes of the questioner. There was some example of that in political polling in what used to be known as the "Bradley Effect," which got its name from the fact that African-American candidates would often poll higher than they would actually perform on Election Day. It got its name from the 1982 run for California Governor of Los Angeles Mayor Tom Bradley, who polled well throughout the race but ended up losing One theory that pollsters developed to try to explain this disparity was the idea that respondents were saying that they supported Bradley because they didn't want pollsters to think they were being prejudiced in not supporting an African-American. Arguably, the same thing may be at play in these surveys. Most Americans, after all, will likely want to be seen as patriotic. That impulse is likely to be stronger among older Americans than it is among younger Americans as well, for a variety of reasons that probably have nothing to do younger Americans being less "patriotic" and everything to do with the different attitudes of different generations.
The other problem with a survey like this, though, is the fact that "patriotism" is not nearly as easy to define as the questions would seem to indicate. For some people, patriotism indeed about the tangible symbols like the American flag and such. For others, patriotism morphs into an unhealthy form of nationalism that tends to believe that there's nothing that the country can do wrong, as long as its led by the right people (there are far too many of this type in American politics for my taste, but that's the subject of another post). For still others, patriotism is about the ideas that the nation was founded on such as liberty and equality under the law. Martin Luther King Jr. didn't go around waving American flags and such, but he quite obviously drew on the founding principles of the nation to advance his cause by arguing that it was time for the nation to "live out the true meaning of its creed." If that's not patriotism, then I don't know what is.
When it comes to younger Americans, it's perhaps understandable why they wouldn't exactly be "gung-ho" Americans in the manner of other generations. In many respects, they've been dealt a pretty crappy hand thanks to a weak economy, a weak job market, and a decade of war that only now seems to be coming to an end. When you're dealing with things like that, it makes sense that you might be a little less enthusiastic about things like a flag. At the same time, though, its clearly a mistake to say that Millenials are anti-patriotic, or that there is even anything to worry about here. As the survey noted above, for example, this generation has a strong commitment to principles of equality that have long been a part of the American mileau. Additionally, younger Americans are just as likely as anyone to rally around the flag at the appropriate times, as the turnout in various American cities to watch the U.S. Men's National Team play in the World Cup, and the spontaneous rally outside the White House the night the death of Osama bin Laden was announced, demonstrates quite well. So, maybe these Millenials aren't dressing up like Uncle Sam and such, but that doesn't mean they aren't patriotic. I'd suggest that it just means they'll end up expressing their patriotism in a different way.