Is It Possible To Be Patriotic In The Era Of Trump?
Is it possible, or even appropriate, to express pride in a country that is being led by a President who stands against everything this country stands for?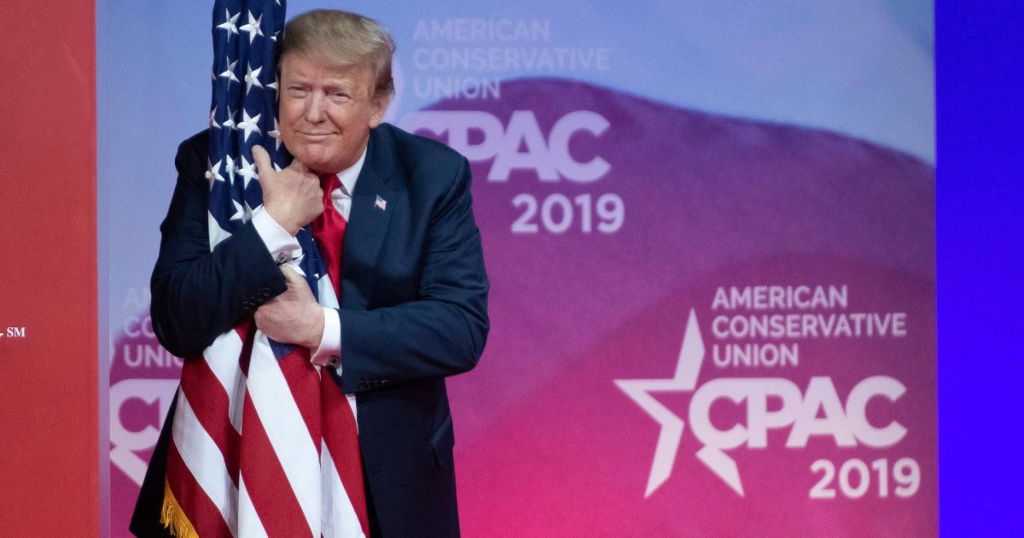 With President Trump set to headline his own 4th of July celebration at the Lincoln Memorial, which many observers fear will turn into an opportunity for partisan mudslinging rather than a celebration of American freedom, The Washington Post's Philip Bump notes that we have come to the point where what passes for patriotism depends very much on your political affiliation:
Recent polling has looked at how Americans view patriotism and national pride. Often, there's a gulf in perceptions between Democrats and Republicans, including on what sorts of actions constitute a forfeiture of the ability to identify as a patriot and on views of the parties themselves.

On Tuesday, for example, Gallup released survey data looking at the extent to which respondents said they were proud to be Americans. The percentage saying they were "very" or "extremely" proud to be American is at its lowest point since Gallup first asked the question in 2001. As many people say they were very or extremely proud to be an American today as said they were extremely proud 16 years ago.

Democrats have driven this drop: The percentage of Democrats saying they're extremely proud to be American has sunk from 56 percent in 2013 to 22 percent this year. There was a drop among independents as well over that period, from 50 to 41 percent. Among Republicans, though, pride has risen since 2015, from 68 to 76 percent. The Trump effect.

The 54-point spread between the parties among those who say they're extremely proud to be American is the widest on record.

Pride isn't necessarily patriotism, but there's clearly some overlap.

Republicans, new Economist-YouGov polling tells us, are much more likely to see themselves as the more patriotic political party. While about 6 in 10 Democrats say their party is more patriotic, 8 in 10 Republicans say the same about the GOP. Democrats are 20 points more likely than Republicans to say both parties are about equally patriotic.

That Economist-YouGov poll also asked about how specific actions a person could take might affect respondents' views of their patriotism.
So, for example, about half of respondents thought you could disobey a law you found immoral and still be considered patriotic. Slightly fewer said the same of refusing to serve in a war you thought was immoral, and slightly fewer still said you could be patriotic even if you criticized American leaders to foreigners.

In each case, Democrats were significantly more likely to say the person taking such actions could still be considered a patriot. On refusal to serve in a war, Democrats were 37 percentage points more likely to say that doing so wouldn't preclude someone from being considered a patriot.
The idea that there are different ideas of what it means to be patriotic that vary depending on one's political party. is not a new one and is largely made apparent by our two major political parties.
For Republicans, the idea of "my country right or wrong" and "love it or leave it" have been part of conservative political discourse since the Vietnam War era at least, and was most openly exploited by the Nixon Administration during its confrontations with protesters over the Vietnam War and other policies. It is a sentiment most aptly personified, in a satirical way, by Archie Bunker in All In The Family. This is the sentiment we see when the crowds at Trump rallies change "USA! USA!" and then switch on a dime to "Lock her up!" or cheers at the President's latest attack on the free press, which ironically is one of the great guardians of liberty albeit sometimes an imperfect one.
For Democrats, it seems to this outside observer that patriotism has been somewhat of a more sensitive and difficult issue. For a long time, it seemed as though Democrats were explicitly shying away from displays of patriotism at party events due to the fact that many of the themes of the idea had been hijacked by Republicans. Additionally, there are clearly certain segments of the Democratic Party for whom patriotism itself seems to be anathema because it is allegedly covering up past sins committed by Americans toward African-Americans and Native Americans. While those things most certainly shouldn't be forgotten, the idea that we ought to reject the symbols of our founding, such as the Betsy Ross Flag, because of that past is an idea that arguably looks to ordinary Americans as being a rejection of the idea of America itself.
More recently, Democrats seem to be rediscovering patriotism or at least no longer willing to let Republicans and conservatives define what it is. That being said, there's definitely a difference between what Democrats and the left consider patriotic and what Republicans and the right consider patriotic. There's more room, for example, for dissent against authority in the Democratic definition of patriotism than there is among Republicans, although this seems to vary somewhat depending on which party controls the levers of government. Additionally, Democrats are largely less likely to see audacious displays of military power as being a necessary part of patriotism. In that respect, I suppose my own views of patriotism are closer to the Democratic definition than the Republican cult of patriotism best epitomized by pictures of the current President bizarrely hugging the flag.
In addition to these differences, the Trump Era seems to have created a divide on patriotism and optimism about the nation's future that applies to everyone except Republican. I noted this in a post last year at this time, and that pessimism only seems to be becoming more apparent the deeper we get into the Trump Era. Last year, for example, surveys conducted by Gallup and other organizations showed that national pride had hit a new low. Those numbers have only gotten worse:
WASHINGTON, D.C. — As Americans prepare to celebrate the Fourth of July holiday, their pride in the U.S. has hit its lowest point since Gallup's first measurement in 2001. While 70% of U.S. adults overall say they are proud to be Americans, this includes fewer than half (45%) who are "extremely" proud, marking the second consecutive year that this reading is below the majority level. Democrats continue to lag far behind Republicans in expressing extreme pride in the U.S.

These findings are explored further with new measurements of the public's pride in eight aspects of U.S. government and society. American scientific achievements, military and culture/arts engender the most pride, while the U.S. political system and health and welfare system garner the least.

U.S. adults' extreme pride in being American has been steadily weakening in recent years, and the current reading, from a June 3-16 Gallup poll, marks the lowest point to date. However, the latest two-percentage-point decline from last year's 47% is not a statistically significant change.

The highest readings on the measure, 69% and 70%, were between 2002 and 2004, after the 9/11 terrorist attacks, when the American public expressed high levels of patriotism and rallied around the U.S. government. Yet, since the start of George W. Bush's second presidential term in 2005, fewer than 60% of Americans have expressed extreme pride in being American.

Record-low American patriotism is the latest casualty of the sharply polarized political climate in the U.S. today. For the second time in 19 years, fewer than half of U.S. adults say they are extremely proud to be Americans. The decline reflects plummeting pride among Democrats since Trump took office, even as Republican pride has edged higher.

While neither party group feels proud of the U.S. political system, politics may be affecting Democrats' overall sense of pride in their country more than Republicans', given Democrats' low approval of the president. Democrats' awareness of Trump's historically low presidential approval rating across the international community may also be a factor in this latest decline in patriotism. So too could be Gallup data from earlier this year, which found that just 31% of Americans (including 2% of Democrats) think foreign leaders have respect for Trump.

Absent a significant national event that might rally all Americans around the flag, given Democrats' entrenched views of the president, these historically low readings on American pride are likely to continue until Trump is no longer in office.
This decline in the number of people expressing national pride can be attributed to the current state of American politics and the extent to which two and a half years of the Trump Administration has worn away at public faith in political institutions and helped to bring some rather distasteful things out in the open.
The most blatant example of that, of course, is the fact that the racism and xenophobia that Trump has tapped into since the start of his campaign more than three years ago has come into the mainstream by the President's rhetoric and the rhetoric of his supporters. This can best be seen in the fact that, over these past three years, we have seen plenty of examples of the extent to which this President has seemingly resurrected the worse aspects of American politics. These include everything from Charlottesville to the positive comments about Trump from former KKK Grand Dragon David Duke that it took Trump far too long to disavow to Trump's own campaign rallies, the signs that hate and racism have been normalized, at least among the small group of people who are in tune with those beliefs are plain and evident. Finally, several civil rights organizations, including the Anti-Defamation League, the Center for the Study of Hate and Extremism and the Southern Poverty Law Center. have reported that the number of reported hate crimes has increased measurably since Trump took the oath of office on January 20, 2017.
More recently, the Administration has adopted policies that have created a humanitarian crisis on the southern border that it is now attempting to use to clamp down even further on immigration, one of the things that has made America unique among the nations of the world. The past month alone, for example, has seen reports too numerous to mention of the appalling conditions under which women and children seeking asylum as permitted by American law are being held, in violation of existing law and international treaties to which the United States is a signatory. Rather than seeking to fix those conditions, the President and his supporters in Congress are simultaneously denying that the conditions are as bad as the evidence shows they are and using those conditions as proof of their argument that a "crisis" on the border exists which requires the construction of an absurd wall that won't accomplish anything.
On the international stage, the President continues to embarrass the country on a regular basis, and arguably to place it in a dangerous position thanks to policies that run counter to everything that has been at the center of American foreign policy since the end of World War Two. On a regular basis, he has alienated the nation's most important allies while behaving obsequiously toward dictators such as Kim Jong Un, Xi Jinping, the Saud Family, and, of course, Vladimir Putin. Economically, he has spent the better part of the past two years sending the nation down an uncharted course with a trade war that has set us at odds not only with nation's such as China but also with some of our most important allies. In the process, he has casually tossed grenades into important international alliances such as the G-7 and NATO and, as I've noted — see here, here, here, and here — driven a wedge between the United States and its most important allies. More importantly, his repudiation of international agreements such as the Trans-Pacific Partnership, the Paris Climate Accords, and the Joint Comprehensive Plan of Action have demonstrated that, under Trump the United States simply cannot be trusted to keep its agreements or to be the force for international stability it has been since the end of World War II. All of this leaves one to wonder what kind of damage he'll do to the standing of the United States in the world before he leaves office.
Given all of this, I suppose it's not surprising that many Americans aren't feeling particularly patriotic at this point. It's worth noting, though, that the United States of America is more than Donald Trump. For the most part, our institutions are holding up fairly well notwithstanding the efforts of this President to flout Constitutional norms, and possibly even the law. While Congress is demonstrably failing in its duty to act as a check against a President like Donald Trump, we still have the ability, through elections, to change that as voters did last November. Additionally, the Courts have proven to be a strong bulwark against the Presidents efforts to remake the nation in his image, as we've seen in legal rulings dealing with the Muslim Travel Ban, DACA, the effort to undo the Deferred Action for Childhood Arrivals program, the efforts to deny rights to LGBT Americans, and the efforts to punish so-called "sanctuary cities." While the wheels do grind slowly and success is not guaranteed, there is at least some hope that we'll survive Donald Trump just as we've survived other challenges.
On the day President Trump was inaugurated, during which he delivered one of the darkest and most divisive Inaugural Addresses in our history, I said this:
Our nation has faced many challenges over the past 228 years, including a war that divided the nation and threatened to destroy it even before it turned one hundred years old. It has faced dangers from overseas, including a war that was fought on two fronts and involved millions of deaths and casualties, and a quieter Cold War that threatened to unleash forces of destruction capable of making the planet essentially uninhabitable for hundreds of years. It has endured scandals and corruption in all three branches of government, racial, ethnic, and gender-based prejudice, and political polarization that was, as hard as it might be to believe, even worse than what we are dealing today. It has faced economic downturns that forced millions of people out of work and into seeming hopelessness, natural disasters, and political assassinations. Through it all the nation has survived, and it will survive Donald John Trump no matter how long he ends up serving as President of the United States.

None of this is to say that we shouldn't stand up and speak out when the new President does something we disagree with, of course. As Thomas Jefferson put it, "eternal vigilance is the price of liberty," and that means it is the responsibility of each of us to speak out and to act within the system when our leaders are headed down the wrong path. I fully expect that I will be critical of President Trump far more than I will be accepting of the policies he will advocate in the coming years. Of course, that was true of the man who just left the Presidency and the man before him as well, so that's hardly a change. At the same time, though, I'm going to try to remember that America will survive this just as it survived everything else we've faced over the past two centuries. The damage that is done, though, will depend largely on how vigilant men and women of conscience on both sides of the aisle are and whether they're willing to speak out when necessary. Donald Trump is our President, words that still astound me even as I type them, but he isn't our King and he isn't President for life. So remain vigilant, and try not to be too melodramatic about the future no matter how tempting it might be.
Despite the manner in which things have unfolded since Inauguration Day, I still believe this to be the case. Admittedly, I find myself far more pessimistic and frustrated with the state of the nation than I was a year ago or in January 2017. It's hard to be optimistic when we have a President attacking norms and principles such as the rule of law and freedom of the press and a Republican Party that has become so sycophantic that it is unwilling to speak out against scoundrels. Meanwhile, Democrats seem to be intent on snatching defeat from the jaws of victory by listening to the siren song of a far-left extreme that doesn't represent where most of America is on so many issues. Thus, the idea of a second Trump term and everything that could mean cannot be dismissed. In the end, though, Trump and those who support can only win if the American people let them, and I remain hopeful that the American people will end up doing the right thing even if it takes them a while to figure out what that is.