Trump Sells Out To Putin
President Trump's summit with Russian President Vladimir Putin was an even bigger disaster than anticipated.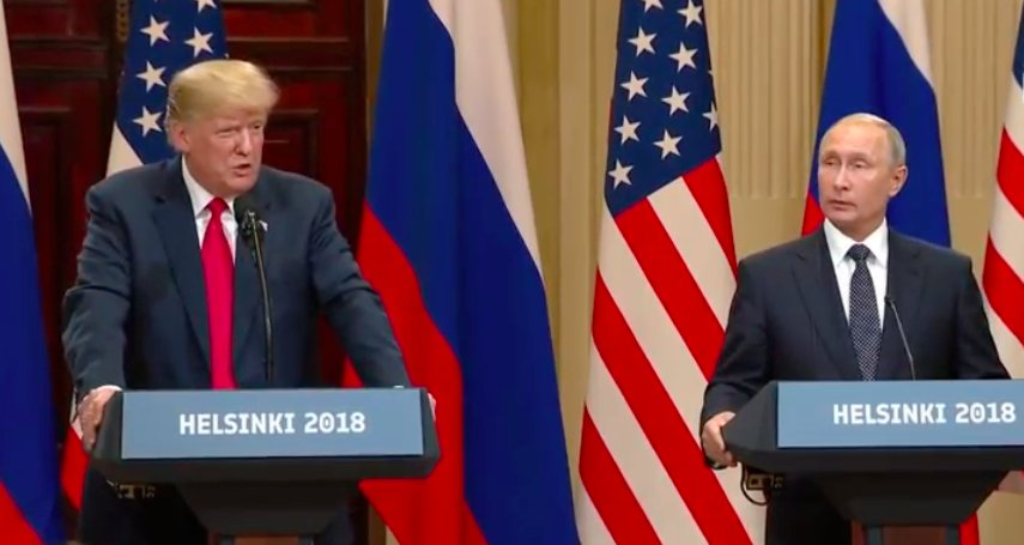 President Trump and Russian President Vladimir Putin met for roughly four hours today in Helsinki, Finland and, by the time it was over, the world witnessed what can only be called the most abject surrender to a foreign leader ever undertaken by a President of the United States:
HELSINKI, Finland — President Trump stood next to President Vladimir V. Putin of Russia on Monday and publicly challenged the conclusion of his own intelligence agencies that Moscow interfered in the 2016 presidential election, wrapping up what he called a "deeply productive" summit meeting with an extraordinary show of support for a leader accused of attacking American democracy.

"They said they think it's Russia; I have President Putin, he just said it's not Russia," Mr. Trump said, only moments after the Russian president conceded that he had favored Mr. Trump in the election because of his promises of warmer relations with Moscow.

"I will say this: I don't see any reason why it would be" Russia that was responsible for the election hacking, Mr. Trump added. "I have great confidence in my intelligence people, but I will tell you that President Putin was extremely strong and powerful in his denial today."

The 45-minute news conference offered the remarkable spectacle of the American and Russian presidents both pushing back on the notion of Moscow's election interference, with Mr. Putin demanding evidence of something he said had never been proven, and Mr. Trump appearing to agree.

When asked whether he believed Mr. Putin or his own intelligence agencies, Mr. Trump changed the subject, demanding to know why the F.B.I. never examined the hacked computer servers of the Democratic National Committee, and asking about the fate of emails missing from the server of Hillary Clinton, his campaign rival.

"Where are those servers?" Mr. Trump said. "Where are Hillary Clinton's emails?"

Asked by an American reporter whether he had wanted Mr. Trump to win and directed an effort designed to bring about that result, Mr. Putin quickly answered: "Yes I did, yes I did, because he talked about bringing the U.S.-Russia relationship back to normal." It was not clear whether he had heard the translation of the second part of the question.

Mr. Trump's statements were a remarkable break with his own administration, which on Friday indicted 12 Russian intelligence officers for cyberattacks intended to interfere in the presidential contest. The indictment explained, in detail, how Russian intelligence officers hacked the Democratic National Committee and the Clinton presidential campaign, providing the most explicit account to date of the Russian government's meddling in American democracy.

Mr. Putin said he would look into the possibility of having Russian law enforcement authorities assist Robert S. Mueller III, the special counsel investigating Moscow's election interference, in questioning the 12 people who were charged. But in return, Mr. Putin, who rolled his eyes at the notion that he had compromising material on Mr. Trump or his family, said that Russia would want American assistance in cases of interest to Moscow, including the ability to send Russian agents to work in the United States.

He also took solace in Mr. Trump's doubt-casting about who was responsible for the hacking, saying the allegations that Russia directed the effort were "utter nonsense, just like the president recently mentioned."

In the United States, critics of Mr. Trump reacted quickly to the day's events. Senator Ben Sasse, a Nebraska Republican, responded sharply to Mr. Trump's statement that Russia and the United States shared blame for their deteriorated relationship.

"This is bizarre and flat-out wrong," he said in a statement. "The United States is not to blame. America wants a good relationship with the Russian people, but Vladimir Putin and his thugs are responsible for Soviet-style aggression. When the President plays these moral equivalence games, he gives Putin a propaganda win he desperately needs."

(…)

As Mr. Putin and Mr. Trump emerged from a longer-than-expected set of talks that included a 130-minute one-on-one session with no advisers present, they said they had made progress in forging the bond both were seeking.

"We had direct, open, deeply productive dialogue," Mr. Trump said. "It went very well."

Mr. Putin said the two were "glad with the outcome of our first full-scale meeting," adding, "I hope that we start to understand each other better, and I'm grateful to Donald for it."
More from The Washington Post:
President Trump cast doubt on the conclusion of U.S. intelligence agencies that Russia interfered in the 2016 presidential election, saying after his summit here Monday with Russian President Vladimir Putin that the autocrat gave him an "extremely strong and powerful" denial.

After Putin said his government played no role in trying to sabotage the U.S. election, Trump offered no pushback and went on to condemn the Justice Department's investigation of Russian interference as "a disaster for our country."

Concluding their first formal one-on-one summit here Monday, Trump said his message regarding the Russian interference "was a message best delivered in person" during the meeting, during which the two leaders "spent a great deal of time" discussing the Kremlin's interference. Putin insisted publicly that the "Russian state has never interfered and is not going to interfere in internal American affairs," and Trump declined to dispute his assertions, instead saying that Putin "has an interesting idea" about the issue of interference.

"I don't see any reason why" Russia would interfere in the election, Trump said as he stood next to Putin at a joint news conference after their talks in the Finnish capital ended. Of their private conversation in Helsinki about the interference, Trump said, "President Putin was extremely strong and powerful in his denial today."

Trump also insisted that "there was no collusion" between his campaign and Moscow. "I didn't know the president. There was nobody to collude with. There was no collusion with the campaign."

Trump said that he holds "both countries responsible" for the frayed relations between the two nations and attacked special counsel Robert S. Mueller III's investigation.

Putin later confirmed that he did want Trump to win in 2016, "because he talked about normalizing relations" between Russia and the United States. Yet he did not answer directly when pressed on whether the Russian government had compromising information on Trump or his family members, dismissing it by saying that "it's hard to imagine greater nonsense." He told reporters, "Please throw this junk out of your head."
Sitting here some two hours after it ended, it's still hard to believe that I witnessed what I witnessed in that post-summit press conference between Putin and Trump and the extent to which it is likely to damage American national interests significantly for the foreseeable future. Rather than confronting a man who clearly is responsible for what amounts to cyber and psychological warfare intended to create chaos inside the United States, disrupt the electoral process, and interfere with the election of American President, Donald Trump chose instead to lash out yet again at his domestic critics and his own Administration. Instead of condemning Putin publicly for breaking into the computer systems of an American political party and a candidate for President of the United States, he essentially blamed the victim for the attack by repeating comments he made over the weekend about how DNC didn't adequately secure its servers. Instead of believing the uncontroverted assessments of his own hand-picked intelligence chiefs, all of whom have confirmed that Russia did indeed seek to influence the outcome of the Presidential election, he accepted the word of the man who ordered the attack and openly questioned why Russia would even want to interfere in an American election. It was, as more than one person has said in the hours since the press conference ended, without question the most embarrassing and abject performances on the world stage that we have ever seen from an American President and the most disastrous summit meeting between an American President and a Russian/Soviet leader since the end of World War II.
Not surprisingly, the reactions to the events of today are pouring in, and they are by and large entirely negative, although it's not at all clear what they are going to amount to. For example, within minutes after the press conference ended, former CIA Director John Brennan took to Twitter with scathing remarks that will reverberate for some time:
Donald Trump's press conference performance in Helsinki rises to & exceeds the threshold of "high crimes & misdemeanors." It was nothing short of treasonous. Not only were Trump's comments imbecilic, he is wholly in the pocket of Putin. Republican Patriots: Where are you???

— John O. Brennan (@JohnBrennan) July 16, 2018
Some Republicans have shown the courage to come forward with strong words of condemnation. For example, Senator John McCain, put it this way, and his full statement deserves to be read:
Today's press conference in #Helsinki was one of the most disgraceful performances by an American president in memory.

My full statement on the #HelsinkiSummit: https://t.co/lApjctZyZl

— John McCain (@SenJohnMcCain) July 16, 2018
As did Senator Jeff Flake:
I never thought I would see the day when our American President would stand on the stage with the Russian President and place blame on the United States for Russian aggression. This is shameful.

— Jeff Flake (@JeffFlake) July 16, 2018
Other Republicans have released statements that don't go nearly as far as McCain and Flake, and don't even come close to approaching the strong language that Brennan used in his Tweet, but it's clear in any case that they aren't going to do anything in response to what can only be called the most outrageous conduct any President has ever engaged in.
All of this comes after months of actions on the part of this President that have done everything possible to help Russia achieve the long-standing goal of driving a wedge between the United States and its allies, and to call into question the seemingly incontrovertible fact of Russian interference in the 2016 election. Instead of speaking out against Russia's efforts to interfere in the 2016 Presidential election, the evidence of which is now vividly apparent thanks to indictments that have been issued by the Office of Special Counsel Robert Mueller both in March and just this past Friday, as well as the acknowledgment of that interference by Trump's own intelligence advisers, the President has done everything he can to undermine that investigation and to dismiss it as "Fake News." During his visits to Europe last year, Trump left many of our closest allies wondering just how committed the President was to the alliance and to its collective defense principles notwithstanding later assurances regarding that commitment on his part.
Additionally, over the past several months the President has in a number of other actions that have gone further than the Soviets ever could have dreamed of driving a wedge between the United States and its allies. In late May, for example, he imposed tariffs against America's closest allies on the ridiculous ground on the ridiculous ground that they were a threat to American national security. He followed that up with a performance at the G-7 Summit in Canada during, which he basically blew up and during which he is reported to have made several derogatory comments about NATO itself. All of that has been topped off, of course, over the course of the past several days during which the President continued to trash the other members of NATO for allegedly not meeting their obligations to the organizations while making it clear he has no understanding of what the alliance is about or how it benefits the United States. This was followed up by a largely embarrassing visit to the United Kingdom during which he was derogatory toward his host Prime Minister Theresa May and made comments about internal British politics that were entirely inappropriate for a sitting American President. Now, he has topped it off with a performance that is both embarrassing and dangerous before the news cameras of the world that is going to do down in history as one of the greatest diplomatic disasters since the end of the Second World War.