Trump's Embarrassing Visit To The United Kingdom
Not surprisingly, the President's visit to the United Kingdom wasn't exactly diplomatic, or even borderline polite.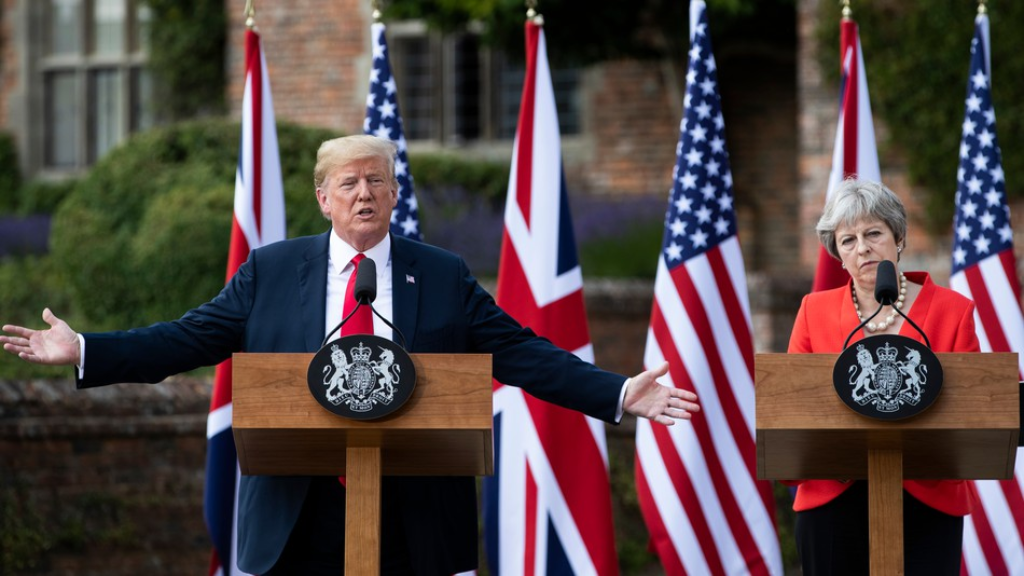 Hours after arriving in the United Kingdom yesterday, Donald Trump blasted his host in an interview with a Rupert Murdoch owned tabloid that released the interview just as the President was sitting down to dinner with Prime Minister Theresa May:
Near the end of the gala dinner Mrs. May was hosting for Mr. Trump on Thursday night, word emerged that he had given a newspaper interview in which he criticized her handling of the Brexit negotiations and appeared to boost the fortunes of a political rival.

If Mrs. May persists in seeking a so-called soft exit from the European Union, Mr. Trump reportedly told The Sun, she can forget about a separate pact with the United States. He described her approach as "very unfortunate."

"If they do that," the paper quoted him as saying, "then their trade deal with the U.S. will probably not be made."

He had much warmer words for Boris Johnson, the ambitious British politician who just quit as foreign minister in an open break with May.

Mr. Johnson, he said, would "make a great prime minister."

The bombshell interview may give Mr. Trump and Mrs. May something to talk about on Friday — when they are to meet for lunch.
More from The Sun:
Donald Trump today accuses the PM of wrecking Brexit — and warns she may have killed off any chance of a vital US trade deal.

The US President delivers his incendiary verdict on her negotiating strategy in a world exclusive interview with The Sun.

In an extraordinary intervention timed to coincide with his UK visit, Mr Trump said Theresa May ignored his advice by opting for a soft Brexit strategy.

And he warned her any attempts to maintain close ties with the EU would make a lucrative US trade deal very unlikely.

Mr Trump said: "If they do a deal like that, we would be dealing with the European Union instead of dealing with the UK, so it will probably kill the deal."

His comments, damaging to the Prime Minister, come as he delivers his most brutally honest verdict yet on Britain in which he also:

(…)

Theresa May's new soft Brexit blueprint would "kill" any future trade deal with the United States, Donald Trump warns today.

Mounting an extraordinary attack on the PM's exit negotiation, the President also reveals she has ignored his advice on how to toughen up the troubled talks.

Instead he believes Mrs May has gone "the opposite way", and he thinks the results have been "very unfortunate".

His fiercest criticism came over the centrepiece of the PM's new Brexit plan — which was unveiled in full yesterday.

It would stick to a common ­rulebook with Brussels on goods and agricultural produce in a bid to keep customs borders open with the EU.

But Mr Trump told The Sun: "If they do a deal like that, we would be dealing with the European Union instead of dealing with the UK, so it will probably kill the deal.

"If they do that, then their trade deal with the US will probably not be made."

Mr Trump made the bombshell intervention during a world exclusive interview with The Sun — the only British media outlet he spoke to before his arrival in the UK for his first visit as President.

It will pour nitroglycerine on the already raging Tory Brexiteer revolt against the PM.

And in more remarks that will set off alarm bells in No10, Mr Trump also said Mrs May's nemesis Boris Johnson — who resigned over the soft Brexit blueprint on ­Monday — would "make a great Prime Minister".

A big US-UK trade deal, long promised by Mr Trump, is cherished by Leave campaigners as Brexit's biggest prize.

But the President said Mrs May's plan "will definitely affect trade with the United States, unfortunately in a negative way".

He explained: "We have enough difficulty with the European Union.

"We are cracking down right now on the European Union because they have not treated the United States fairly on trading.

"No, if they do that I would say that that would probably end a major trade relationship with the United States."
The reaction from the British press and politicians was about what you'd expect it to be, but both Trump and May tried to put the best face on things after their meeting and lunch today:
LONDON — President Trump on Friday tried to repair the diplomatic damage he caused with an explosive interview blasting his host, Prime Minister Theresa May of Britain, by praising her leadership and calling their two countries' relationship "the highest level of special," even as he continued to publicly question her decisions.

During a news conference at Chequers, the prime minister's 16th-century official country residence, Mr. Trump was by turns defiant, fawning and dismissive about the interview. He first tried to deny he had criticized the prime minister and blamed the embarrassing episode on the news media. When that rang hollow, he then tried to compensate by lavishing Mrs. May with compliments and, in the end, claimed that the slights were so insignificant that she had waved off his attempts at an apology.

The contortions followed a report in The Sun newspaper late Thursday night that quoted him criticizing Mrs. May's approach to Britain's withdrawal from the European Union, the process known as Brexit. He said her business-friendly plan would leave Britain closely tied to the bloc, ultimately killing the prospect of a trade deal between the United States and Britain. He then proceeded to praise perhaps her most prominent rival, Boris Johnson, who resigned as foreign secretary last week in protest over her Brexit plan.

"I didn't criticize the prime minister; I have a lot of respect for the prime minister," Mr. Trump told reporters during an outdoor news conference after he and Mrs. May had met for talks. He blamed "fake news," falsely claiming the report — in a right-wing, pro-Brexit, Murdoch-owned tabloid — had omitted any praise of Mrs. May.

"I think she's doing a terrific job, by the way," Mr. Trump added, calling her "tough" and "capable."

He also used the news conference to lay out an ambitious agenda for his Monday meeting in Helsinki, Finland, with President Vladimir V. Putin of Russia, saying he had low expectations but high hopes for progress on nuclear arms control issues, Syria and Ukraine. He said he would ask Mr. Putin about Russia's meddling in the 2016 presidential election, but he said he did not expect his Russian counterpart to acknowledge his role.

"I don't think you'll have any 'Gee, I did it, you got me,' " Mr. Trump said, adding that there would not be a "Perry Mason moment," a reference to the old TV courtroom drama. "I will absolutely, firmly ask the question."

And Mr. Trump made it clear that he considered the special counsel investigation into Russia's election interference, and whether his campaign worked with Moscow in the effort, an impediment to a warmer relationship that he was eager to forge.

"We do have a political problem where, you know, in the United States we have this stupidity going on — pure stupidity," Mr. Trump said. "Anything you do, it's always going to be, 'Oh, Russia, he loves Russia.' I love the United States, but I love getting along with Russia. And China. And other countries."

Even as he tried to pivot away from his criticism of Mrs. May, Mr. Trump did confirm perhaps the most damaging element of the report in The Sun, which quoted him saying that the prime minister had rejected his advice about how to approach Brexit and was therefore headed down a damaging path. He said he still believed Mrs. May should follow his advice.

"I did give her a suggestion — I wouldn't say advice — and I think she found it maybe too brutal," Mr. Trump said. "As far as negotiating the deal, I probably would have done what my suggestion was to the prime minister, but she can always do that. At some point, she can do what I suggested."

Mr. Trump said that the first thing he had done upon his arrival at Chequers on Friday was to offer a mea culpa to Mrs. May but that she had assured him none was necessary, joining him in pinning the drama on the news media. "I said, 'I want to apologize, because I said such good things about you,' " Mr. Trump said of Mrs. May, adding, "She said, 'Don't worry, it's only the press.' "

Mrs. May, for her part, denied that she had felt undermined by the article, pivoting repeatedly to her insistence that the Brexit plan she is pursuing will, in fact, pave the way for an "ambitious" bilateral trade deal.
Notwithstanding the diplomatic niceties that were exchanged during the post-lunch press conference today, it's hard to understate just how extraordinary and mind-boggling Trump's comments to The Sun were, the potential damage they've likely done to a U.S.-U.K. relationship that has helped to guide the world since at least World War Two, and potentially the future political survival of Prime Minister May and her government, which is teetering on the edge after the resignations earlier this week. Traditionally, American Presidents have declined to comment on internal political battles in other nations, especially when it comes to allies and most especially when it comes to American allies and even more especially when visiting those foreign nations. It's a practice that President Obama and all the Presidents preceding him stretching back decades have largely adhered to except perhaps in extraordinary circumstances, and foreign leaders of friendly nations have generally refrained from commenting directly about American politics. This is why Prime Minister May's public response was rather muted even though what Trump said easily deserved the kind of dressing down she reserves for critics in the House of Commons during Question Time. As Daniel Larison notes, "U.S. presidents should refrain as much as possible from commenting on or speculating about political developments in another country, especially an allied one. It is even more important to avoid giving offense to the host government when the president is there on an official visit. " Instead of following that sensible advice, though, President Trump relied on the 'bull in a china shop' approach that has been a hallmark of his Presidency, and it's likely to have a negative impact on the relationship between the United States and the United Kingdom as much as his attacks on Justin Trudeau before and after the G-7 Summit last month have negatively impacted the relationship between the United States and Canada.
As if Trump's initial comments to The Sun weren't bad enough, his comments and conduct at the press conference with Prime Minister May this afternoon just helped to add to the disaster. With respect to a question regarding the interview itself, Trump accused the reporter who interviewed him of not accurately reporting what he said, even though the interview itself was recorded and one can hear Trump say exactly what the report in The Sun says that he said. He also called the report "fake news," as he has done with all negative coverage of him by the American news media and even refused to take a question from CNN White House Correspondent Jim Acosta, calling his entire network "Fake News" and deciding to take a question from John Roberts of Fox News Channel instead.
I'd say that this latest behavior by Trump is appalling, atrocious, and outrageous, but the reality of the situation is that it's really just standard Donald Trump. We've seen him behave like this at home for the past eighteen months, and we've seen it during past foreign trips to Europe, Asia, and even our neighbor to the north Canada. Nobody should be surprised by this behavior by now, and we should expect to see more of this in the future. All of this, including Trump's behavior and rhetoric at the NATO conference in Brussels that preceded his visit to the United Kingdom, comes just days before his summit meeting in Helsinki with Russian President Vladimir Putin. If past behavior is any indication, it's unlikely that he will be nearly as confrontational with the leader of a nation that is an obvious adversarial power as he has been this week with the leaders of our most important allies. That, too, will be entirely consistent with his past behavior, and it will likely do even more to erode American influence and credibility in the world to add to the damage he's already done. Whoever succeeds this man is going to have a lot of relationship mending to do.