The GOP Is Now The Party Of Putin
Much like the President they obsequiously defend, Republicans have become useful idiots in Russia's war on Western liberal democracy.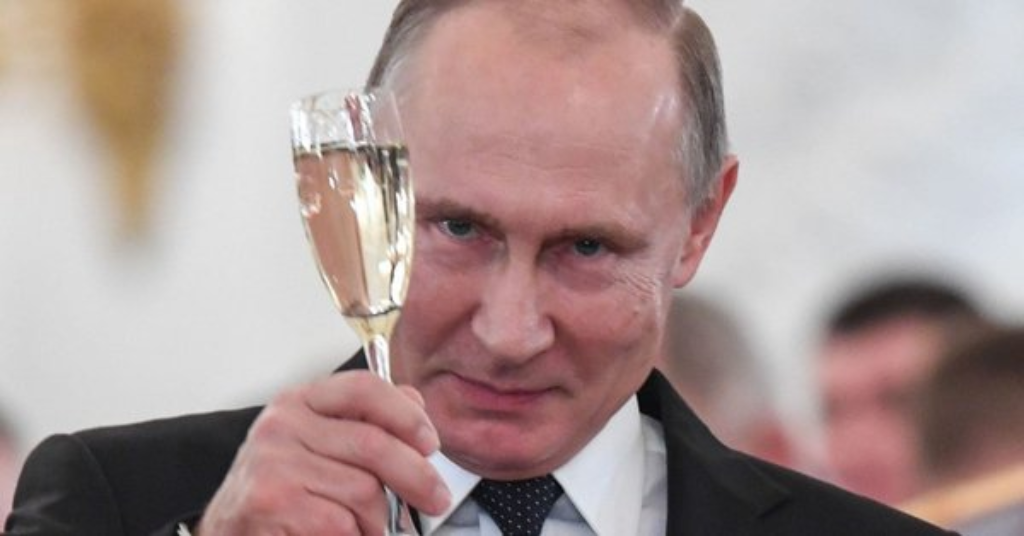 Writing in The Washington Post, Max Boot makes note of the extent to which the Republican Party and Trump-supporting conservatives have become defenders of Vladimir Putin and Russia even to the extent of endangering the interests of their own country:
Today, we have a Republican president who, while reluctantly acceding to sanctions against Russia, incessantly praises its dictator, Vladimir Putin ("a terrific person"); tries to bring Putin back to the Group of Seven; conceals the details of their meetings; undermines Ukraine, a victim of Russian aggression, by harping on its corruption while ignoring Russia's own kleptocracy; allows the Russians to take possession of U.S. bases in Syria; and propagates Russian propaganda blaming Ukraine for 2016 election interference. Trump is joined in spreading Russian disinformation by his secretary of state and other supporters, such as Rep. Devin Nunes (R-Calif.) and Sen. John Neely Kennedy (R-La.), even though the U.S. intelligence community has exposed claims of Ukrainian election interference as a "fictional narrative."

Fox News host Tucker Carlson, one of the biggest stars on the president's favorite television network and an informal adviser to the president, goes even further in expressing his admiration for Russia. Last week, he said: "Why do I care what is going on in the conflict between Ukraine and Russia?! And I'm serious. Why do I care? Why shouldn't I root for Russia? Which I am." Carlson claimed to be joking. But then this week, he said: "We should probably take the side of Russia if we have to choose between Russia and Ukraine. That's my view."

How did we get to the point where a "conservative" TV star openly sides with an anti-American dictatorship over a pro-American democracy? Most, but not all, of the blame lies with Trump. His affinity for Russia is as deep as it is mysterious. Has he been compromised by Russian intelligence? Is he financially dependent on Russian business partners? Or does he simply admire the way that Putin has destroyed Russian democracy? We still don't know, because special counsel Robert S. Mueller III did not release any findings from the FBI's counterintelligence investigation.

But while Trump's motives remain murky, his admiration for Russia has been clear from the start. Almost exactly four years ago — on Dec. 18, 2015 — Trump was asked by MSNBC's Joe Scarborough about Putin's habit of killing journalists and invading neighboring countries. Trump defended Putin as "a leader, unlike what we have in this country," and said, "Our country does plenty of killing, too, Joe."

As Boot goes on to note, Republicans embraced Trump even as his affinity for Russia and Putin became more obvious and more obsequious:
Republicans knew this but nominated Trump anyway. Then, during the summer of 2016, came the Russian hack of the Democratic National Committee, a social media blitz, and other actions designed to change the outcome of the U.S. election. Trump made full use of the stolen DNC emails and he invited Russian intelligence to hack Hillary Clinton's emails, too ("Russia, if you're listening"). He also hired a campaign chairman, Paul Manafort, who had a long history of corrupt dealings with Russian oligarchs, and gutted the language concerning Russia in the Republican platform.

The Republican Party could not have cared less. Senate Majority Leader Mitch McConnell (R-Ky.) refused to join the Obama administration in condemning Russia's attack on our election. The GOP thus became complicit in Russian election interference.

In for a kopek, in for a ruble: The Republicans continued defending Trump even after it emerged that he had tried to build a Trump Tower in Moscow while running for president and that members of his campaign's high command had met with Russian emissaries promising dirt on Clinton. Republicans were not even fazed when Trump fired FBI Director James B. Comey in May 2017 to stop the investigation of "this Russia thing," or when in July 2018 he was utterly supine before Putin in Helsinki.
To be fair, Republican and conservative affinity for Vladimir Putin's Russia didn't originate with Donald Trump. As long ago as six years ago, I've made note of what can only be called a love affair with Russia's authoritarian ruler on the American right several times over the past several years, specifically here, here, here, and here. To some extent, these positive views of a man who has denied civil liberties to his citizens, had his political opponents jailed and murdered, who continues to interfere in places such as Ukraine and Syria, and who now appears to have been personally involved in Russian efforts to influence the outcome of an American Presidential election, seemed at the time to come from conservative disdain for President Obama during the eight years he was in office. This disdain was so strong that they were willing to undermine his Presidency by boosting Putin. Additionally, much of the support for Putin in the West has come from cultural conservatives who bizarrely see him as some sort of guardian of Christianity largely thanks to the fact that he's spent the last several years expanding the relationship between the Russian government and the Russian Orthodox Church, a view that Rod Dreher repeated in a December 2016 blog post. Given this pre-existing support for Putin on the right, Trump's own odd relationship with the Russian leader fit in quite nicely with the prevailing point of view among what eventually became the core of Donald Trump's base of supporters.
As I noted at the time, it was astonishing that anyone would not see through the absolute cynicism of Vladimir Putin's supposed defense of "Christian values." In the end, it's no different from the manner in which the Czars, and even the Soviet Communists, turned the Russian Orthodox Church into a tool of the state. Vladimir Putin is no more a defender of Christianity than he is an advocate of open government. Secondly, as much as Dreher might like to think otherwise, it seems clear to me that it's impossible to separate Putin's "morally praiseworthy" ways from his repressive ones. The fact that American conservatives are defending his actions, even in part, is either a sign of willful blindness or a sign that they are so desperate to find allies for the losing side of the culture war that they continue to fight that they are willing to overlook tyranny and repression.
The latest example of the extent to which the GOP has become a useful idiot for the Kremlin can be seen in the extent to which it has embraced a discredited conspiracy theory in its defense of the President from the ongoing impeachment investigation:
Much of the Republican Party is pressing ahead with debunked claims about Ukraine as they defend President Trump from possible impeachment, embracing Russian-fueled conspiracy theories that seek to cast blame on Kyiv rather than Moscow for interference in the 2016 U.S. election.

The increasingly aggressive GOP efforts continued Tuesday on Capitol Hill and were amplified throughout conservative media, one day after House Republicans released a 123-page document that insisted that Trump's handling of Ukraine was founded on "genuine and reasonable" suspicions — despite mounting evidence rejecting that assertion and warning of its consequences.

"I am not," David Hale, the No. 3 official at the State Department, said Tuesday at a Senate Foreign Relations Committee hearing, when asked whether he was aware of any evidence of Ukrainian interference in the U.S. presidential election.

Hale's statement's echoed last month's testimony by Fiona Hill, a former White House adviser on Russia, who dismissed claims of Ukrainian interference as "a fictional narrative" spun by Russian intelligence.

Republicans' promotion of Trump's Ukraine conspiracy theory is the latest example of their capitulation to him and of the GOP's rapid transformation on Russia — from a party that for decades celebrated its hawkish stance toward the Kremlin to one that is reluctant to take a hard line and risk Trump's wrath.

For some seasoned Republican foreign policy voices, the GOP's refusal to back away from Trump's position on supposed interference by Ukraine risks erasing values forged in the Cold War and defined for a generation by President Ronald Reagan's prescient call for the Berlin Wall to come down.

(…)

Many Senate Republicans who spoke with reporters around their weekly lunch Tuesday argued that the way Ukrainian officials spoke about the 2016 presidential campaign constituted interference on par with Russian interference — a position that is directly at odds with the conclusion of U.S. intelligence officials.

Sen. John Cornyn (R-Tex.), who sits on the Senate Intelligence Committee, said he saw evidence of Ukrainian "cheerleading" for Democratic presidential nominee Hillary Clinton in 2016 that was "not insignificant."

Even Sen. Richard Burr (R-N.C.), the chairman of the Senate Intelligence Committee, who has drawn praise for his emphasis on bipartisan investigations, nodded this week toward Trump's belief that Ukraine interfered.

"There's no difference in the way Russia put their feet, early on, on the scale — being for one candidate and everybody called it meddling — and how the Ukrainian officials did it," Burr said Tuesday.

Sen. John Neely Kennedy (R-La.), a vocal Trump ally, was among the first key lawmakers to state that they believed Ukraine's conduct in 2016 was all but equivalent to Russian interference. But he has strained at times in doing so, pinballing from touting the claim to somewhat recanting to touting it again during a Sunday television interview on NBC's "Meet the Press," where he claimed that Ukraine's former president, Petro Poroshenko, "actively worked for Secretary Clinton" in 2016.
Outside of Capitol Hill, the right-wing obsession with the Ukraine conspiracy theory is even more extreme:
In other influential gathering places on the right, conservative media figures, including Fox News host Tucker Carlson, have been at the forefront of right-wing claims that Russian interference has been overstated by U.S. officials and the national political establishment, fueling the congressional Republican push to shrug off talk about Russian hostility.

"It never happened. There was no collusion. Russia didn't hack our democracy," Carlson wrote on Fox News's website Tuesday. "The whole thing was a talking point, a ludicrous talking point, invented by the Hillary Clinton campaign on or about November 9th, 2016 to explain their unexpected defeat in the last presidential election."

That column by Carlson came hours after he said on his Monday broadcast that "I think we should probably take the side of Russia, if we have to choose between Russia and Ukraine."
As Katie Hill, a Russia and Ukraine expert who served on the National Security Council until earlier this year, noted in her statement to the House Intelligence Committee this entire theory is nothing more than Kremlin propaganda:
Based on questions and statements I have heard, some of you on this committee appear to believe that Russia and its security services did not conduct a campaign against our country—and that perhaps, somehow, for some reason, Ukraine did. This is a fictional narrative that has been perpetrated and propagated by the Russian security services themselves.

The unfortunate truth is that Russia was the foreign power that systematically attacked our democratic institutions in 2016. This is the public conclusion of our intelligence agencies, confirmed in bipartisan Congressional reports. It is beyond dispute, even if some of the underlying details must remain classified.

The impact of the successful 2016 Russian campaign remains evident today. Our nation is being torn apart. Truth is questioned. Our highly professional and expert career foreign service is being undermined.U.S. support for Ukraine—which continues to face armed Russian aggression—has been politicized.

The Russian government's goal is to weaken our country—to diminish America's global role and to neutralize a perceived U.S. threat to Russian interests. President Putin and the Russian security services aim to counter U.S. foreign policy objectives in Europe, including in Ukraine, where Moscow wishes to reassert political and economic dominance.

I say this not as an alarmist, but as a realist. I do not think long-term conflict with Russia is either desirable or inevitable. I continue to believe that we need to seek ways of stabilizing our relationship with Moscow even as we counter their efforts to harm us. Right now, Russia's security services and their proxies have geared up to repeat their interference in the 2020 election. We are running out of time to stop them. In the course of this investigation, I would ask that you please not promote politically driven falsehoods that so clearly advance Russian interests.

As Republicans and Democrats have agreed for decades, Ukraine is a valued partner of the United States, and it plays an important role in our national security. And as I told this Committee last month, I refuse to be part of an effort to legitimize an alternate narrative that the Ukrainian government is a U.S. adversary, and that Ukraine—not Russia—attacked us in 2016.
What Hill is making clear here, of course, is confirmed in Putin's remarks regarding the ongoing impeachment proceedings and the fact that the President and his willing acolytes on Capitol Hill and in conservative media online and on Fox News Channel have completely bought into a conspiracy theory that is, quite simply, too ridiculous to be believed. According to this theory, perhaps best summarized by Byron York in a piece at the Washington Examiner, foreign interference in the election came not from Russia and its efforts to sow chaos in the United States, in part by working hand in glove with Wikileaks with respect to the hacking and leaking of emails stolen from the server of the Democratic National Committee and Clinton supporter Tony Podesta. T
This claim, as Hill noted, is one that Vladimir Putin and other Russian officials have been pushing ever since Russia's role in seeking to disrupt the election was revealed by American intelligence agencies and by the investigation conducted by former Special Counsel Robert Mueller. It's a claim that soon found its way into the fever swamps of Reddit, 4Chan, and 8Chan, and from there made its way to Alex Jones, other far-right conspiracy sites, and finally Fox News Channel. From there, it was just a matter of time before it became what amounts to the primary defense to allegations of collusion being advanced by the President, and from there that they became linked to American policy toward Ukraine, with the President demanding an investigation into the allegations as a part of the price for releasing military aid and progress in U.S./Ukrainian relations. Given this, it is no wonder that Putin is taking a victory lap as he watches the GOP repeat his propaganda.
What this means, of course, is that Republicans and their cohorts repeating this discredited theory are essentially doing the bidding of Vladimir Putin, It also shows that Russia is once again succeeding in sowing chaos and dividing Americans against each other for the investment of what likely involves a small number of operatives and a small amount of money. Indeed, this entire operation may rank up there as one of the most successful disinformation campaigns in history. And we've got a President, an entire political party, a cable news channel, and a conservative media dedicated to helping to spread it around as gospel truth Even when it is pointed out that what they are saying has been shown to be nothing more than Kremlin propaganda, Republicans continue to advance the narrative and ignore the source. No wonder Putin is smiling.