The Cultural Conservative Love Affair With Vladimir Putin Is Quite Odd
Vladimir Putin seems to be getting a lot of love from cultural conservatives in the United States.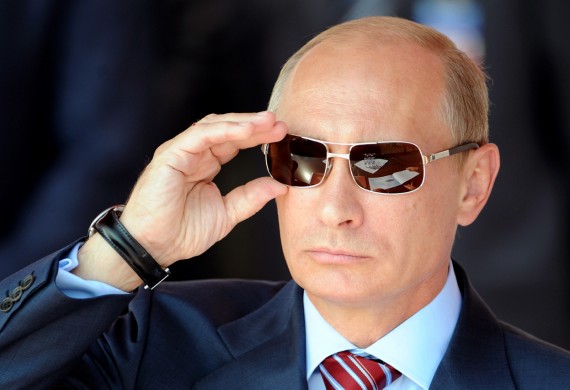 Pat Buchanan is out with yet another column praising Russian President Vladimir Putin, asserting this time around that the authoritarian leader, and former KGB officer, is a good example of the form of conservatism that he believes America needs to adopt:
Is Vladimir Putin a paleoconservative?

In the culture war for mankind's future, is he one of us?

While such a question may be blasphemous in Western circles, consider the content of the Russian president's state of the nation address.

With America clearly in mind, Putin declared, "In many countries today, moral and ethical norms are being reconsidered."

"They're now requiring not only the proper acknowledgment of freedom of conscience, political views and private life, but also the mandatory acknowledgment of the equality of good and evil."

Translation: While privacy and freedom of thought, religion and speech are cherished rights, to equate traditional marriage and same-sex marriage is to equate good with evil.

No moral confusion here, this is moral clarity, agree or disagree.

(…)

While much of American and Western media dismiss him as an authoritarian and reactionary, a throwback, Putin may be seeing the future with more clarity than Americans still caught up in a Cold War paradigm.

As the decisive struggle in the second half of the 20th century was vertical, East vs. West, the 21st century struggle may be horizontal, with conservatives and traditionalists in every country arrayed against the militant secularism of a multicultural and transnational elite.

And though America's elite may be found at the epicenter of anti-conservatism and anti-traditionalism, the American people have never been more alienated or more divided culturally, socially and morally.

We are two countries now.

Putin says his mother had him secretly baptized as a baby and professes to be a Christian. And what he is talking about here is ambitious, even audacious.

He is seeking to redefine the "Us vs. Them" world conflict of the future as one in which conservatives, traditionalists, and nationalists of all continents and countries stand up against the cultural and ideological imperialism of what he sees as a decadent west.

"We do not infringe on anyone's interests," said Putin, "or try to teach anyone how to live." The adversary he has identified is not the America we grew up in, but the America we live in, which Putin sees as pagan and wildly progressive.
This isn't the first time that Buchanan has heaped praise on Putin for his seeming cultural conservatism. Back in August when most Americans and other around the world were condemning Putin and Russia for the anti-gay legislation that is causing some world leaders to reconsider whether they'll be going to Sochi for the 2014 Winter Olympics, Buchanan was praising Putin's Russia for passing laws limiting the rights of people just because they're gay:
Our moral and cultural elites have put Putin on notice: Get in step with us on homosexual rights — or we may just boycott your Sochi games.

What this reveals is the distance America has traveled, morally and culturally, in a few short years, and our amnesia about who we Americans once were, and what it is we once believed.

Only yesterday, homosexual sodomy, which Thomas Jefferson said should be treated like rape, was outlawed in many states and same-sex marriage was regarded as an absurdity.

Was that America we grew up in really like Nazi Germany?

In the Catholic schools this writer attended, pornography — let alone homs taosexual propaganda — would get one expelled.

Was this really just like Kristallnacht?

As Father Regis Scanlon writes in Crisis Magazine, in 2005, Pope Benedict XVI reiterated Catholic doctrine that homosexuality is a "strong tendency ordered toward an intrinsic moral evil," an "objective disorder." That homosexual acts are unnatural and immoral remains Catholic teaching.

Thus, if we seek to build a Good Society by traditional Catholic and Christian standards, why should not homosexual propaganda be treated the same as racist or anti-Semitic propaganda?
Now, as then, Buchanan is joined in his praise for a man who has jailed political opponents, made war against Chechens and Georgia, fixed elections, and denied rights to his fellow Russians on a whim by Rod Dreher who also sees this man as some kind of ally:
Putin may be a cold-eyed cynic, but he's also onto something. I don't think Buchanan is correct in his column statement that America has been de-Christianized from above. I agree with him to a limited extent, but our all-American individualism and mode of capitalism have done far more to eliminate cultural conservatism and Christianity than elites have. The real question is whether or not Russia — or any nation — can modernize without liberalizing. China has (so far) achieved great wealth and economic dynamism without embracing liberal democracy, thus disproving the view common in the US over the last generation that economic liberalization would require cultural liberalization. So, we'll see.

Putin is faced with having to rebuild a nation that was absolutely devastated, at the cultural and social level, by Marxism-Leninism. It is hard to overstate what the destruction of civil society and the spiritual and cultural life of Russia did to the nation. My guess is that he sees no hope that rebuilding Russia along Western lines is a solution, given in part the collapse in fertility in the West, and given how grim Russia's own fertility situation is. If Russia is going to have a future, he must figure, it must be built on organic Russian traditions, which includes Orthodox Christianity.
Dreher may be correct on that last point. After all, there is a long history in Russia of an alliance between the political powers of the time and the Russian Orthodox Church. It was true in the time of the Czars when Russia essential stood as a guarantor of the Russian Patriarh's claim to a large degree of independence from the Orthodox Patriarchite in Constantinople/Istanbul and the Church's endorsement gave some sense of moral legitimacy to Czarist rule no matter how authoritarian it may have been. Notwithstanding the official atheism and the fact that it did, in the beginning, seize Church property and persecute people of faith, even the Communist leadership of the Soviet Union and the Russian Orthodox Church found a way to make peace. When the Soviet Union finally fell, the Church quickly began returning to its former place in Russian society and once again began forging close ties with the powers-that-be and the Russian state once again began exploiting its ties to the Church to enhance its power over the Russian populace. Indeed, according to many reports since 1991, the position of non-Orthodox religions in Russia has become increasingly precarious as the Church has done its best to use connections with the state to make life difficult for the small populations of Protestants and (mostly Eastern Rite) Catholics in the nation. That, essentially, is what Putin is doing here I think, using the Church to enhance his own political power. Either Buchanan and Dreher are blind to that fact, or they're willing to ignore it because Putin is saying things they agree with.
When I first wrote about this back in August, I made this point:
First of all, it's astonishing that anyone would not see through the absolute cynicism of Vladimir Putin's supposed defense of "Christian values." In the end, it's no different from the manner in which the Czars, and even the Soviet Communists, turned the Russian Orthodox Church into a tool of the state. Vladimir Putin is no more a defender of Christianity than he is an advocate of open government. Secondly, as much as Dreher might like to think otherwise, it seems clear to me that it's impossible to separate Putin's "morally praiseworthy" ways from his repressive ones. The fact that American conservatives are defending his actions, even in part, is either a sign of willful blindness, or a sign that they are so desperate to find allies for the losing side of the culture war that they continue to fight that they are willing to overlook tyranny and repression.
In Buchanan's case, that's not entirely surprising. This is a guy who spent more than a decade defending John Demanjuk, a man who had demonstrably committed war crimes while a guard at a Nazi concentration camp. He's also argued that Poland should be held at least partly responsible for World War II because it didn't give in to Hitler's demands. At heart, he's nothing more than a conservative in love with leaders who use power to achieve their ends regardless of whether its legal/moral or not. This shouldn't be surprising given his history with Richard Nixon. I'm not sure what Dreher's motivation is other than perpetuate the myth of the "culture war," something that Buchanan made the center of his 1992 campaign for President. I suppose he's entitled to fight a losing battle against the future if he wishes, but I honestly don't see why he feels the need to lavish praise on an obvious enemy of human freedom like Vlaidmir Putin while doing so, and nothing he's written on the topic has explained it clearly.
I do wonder, though, how many other self-described "conservatives" agree with this position.