Vladimir Putin's Stock Is Rising Among Republicans
Republicans sure have changed their mind about Vladimir Putin.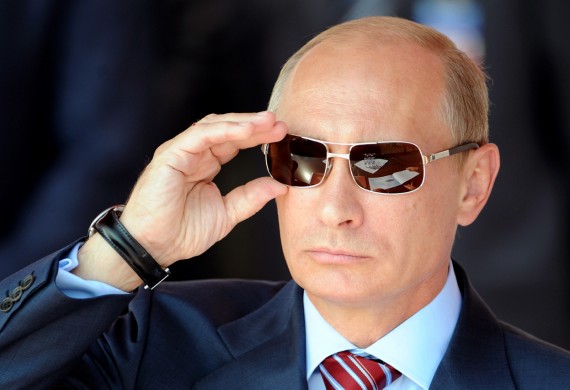 YouGov's Will Jordan noted something on Twitter yesterday that is quite striking, namely the extent to which Republican's have come to view Russia's Vladimir Putin more positively over a very short period of time:
Here is Republicans and Democrats on Vladimir Putin since July 2014. pic.twitter.com/s4I6FY5cbt

— Will Jordan (@williamjordann) December 14, 2016
This is nothing new, of course. I've made note of what can only be called a love affair with Russia's authoritarian ruler on the American right several times over the past several years, specifically here, here, and here. To some extent, these positive views of a man who has denied civil liberties to his citizens, had his political opponents jailed and murdered, who continues to interfere in places such as Ukraine and Syria, and who now appears to have been personally involved in Russian efforts to influence the outcome of an American Presidential election, seem to come from conservative disdain of President Obama that has been so strong over the past eight years that they were willing to undermine his Presidency by boosting Putin. Additionally, much of the support for Putin in the West has come from cultural conservatives who bizarrely see him as some sort of guardian of Christianity largely thanks to the fact that he's spent the last several years expanding the relationship between the Russian government and the Russian Orthodox Church, a view that Rod Dreher repeats in a recent blog post.
What explains the recent rise in GOP approval? Honestly, I have no idea. Kevin Drum notes that the uptick in the Republican assessment of the Russian dictator seems to begin around the same time that Trump formally became the Republican nominee, while Paul Mirengoff cites three possible factors including the fact that Russia, along with the Assad regime, has increased its attack on the city of Aleppo, the accusations that Russia was behind the anti-Hillary Clinton leaks that occurred prior to the Democratic National Convention, and the fact that Trump has a positive opinion of Putin. Mirengoff then comments:
The first development isn't causing Republicans to view Putin more favorably. In a better world, it would cause them to view the Russian thug less favorably. It dwarfs the second and third developments.

The second development might well cause Republicans to view Putin more favorably. If GOP voters believe that Putin was trying to undermine Hillary Clinton, or even that he harmed her without wanting to, they might well give him points for this (though I don't believe they should).

Evidence of this dynamic comes from another Economist/GOP finding. Republicans now view WikiLeaks far more favorably than before.

In the summer of 2013, WikiLeaks was viewed more negatively than positively by Republicans by a 47 point margin. Now, Republicans view WikiLeaks favorably by a 27 point margin.

This is a swing of 74 points. The swing of opinion about Trump is 56 points (assuming that the pollsters have accurately measured opinion).

The third development — Trump's somewhat favorable statements about Putin — are also likely to have helped move Republican opinion. Many Republicans have considerable confidence in the judgment of the formidable president-elect.

Party rank-and-file should take the views of their president, or president-elect, seriously. When they conflict with one's own view, it isn't wrong to take a second look.

But one can look at Vladimir Putin twenty times and the view should be the same. He is a a thug, a butcher, an aggressive, serial destabilizer, and an ally of Iran.
Whatever the reason, though, it is quite an odd phenomenon, and one that makes one wonder just where Republicans are coming from these days.