Donald Trump Jr. Had Direct Contact With Wikileaks Regarding Information About Clinton
More indications that Donald Trump Jr. was heavily involved in Trump campaign efforts to coordinate with foreign contacts regarding damaging information about Hillary Clinton.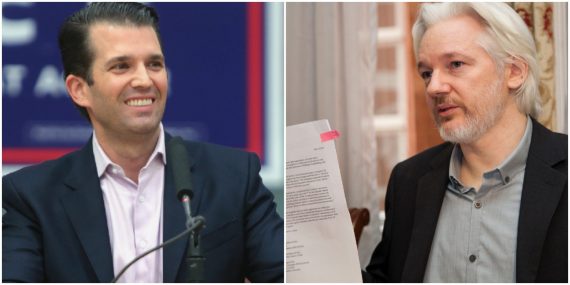 The Washington Post and The Atlantic are reporting that Donald Trump Jr. was in direct communication with Wikileaks during the course of the 2016 Presidential campaign regarding the release of damaging information about Hillary Clinton:
President Trump's eldest son exchanged private messages with WikiLeaks during the presidential campaign at the same time the website was publishing hacked emails from Democratic officials, according to correspondence made public Monday.

Donald Trump Jr. did not respond to many of the notes, which were sent using the direct message feature on Twitter. But he alerted senior advisers on his father's campaign, including his brother-in-law, Jared Kushner, according to two people familiar with the exchanges.

In the messages, WikiLeaks urged Trump Jr. to promote its trove of hacked Democratic emails and suggested that President Trump challenge the election results if he did not win, among other ideas. They were first reported by the Atlantic and later posted by Trump Jr. on Twitter.

WikiLeaks, which bills itself as an anti-secrecy group, was described in April by CIA Director Mike Pompeo as a "non-state hostile intelligence service often abetted by state actors like Russia."

In July 2016, the organization released thousands of emails that had been stolen from the Democratic National Committee by a cyberhack that U.S. intelligence officials concluded was orchestrated by the Russian government.

The newly revealed exchanges provide additional information about the role played by Trump Jr. in 2016. He also has come under scrutiny for agreeing to meet with a Russian lawyer in Trump Tower who he was told wanted to provide "dirt" about Democratic nominee Hillary Clinton on behalf of the Russian government.

Alan Futerfas, Trump Jr.'s attorney, said his client's exchanges with WikiLeaks were innocuous.

"All sides in this campaign, the Clinton side, the Trump side, were monitoring WikiLeaks to see what they would publish next," Futerfas said. "If The Washington Post or the New York Times was looking to see what was being released, does that suggest any impropriety on their part? Of course not."
Trump Jr.'s own tweets, however, as well as those from people such as Roger Stone and Donald Trump himself tell another story:
At one point during his communication with WikiLeaks, Trump Jr. sought to learn more about a rumored leak of new documents related to Clinton, the messages indicate.

"What's behind this Wednesday leak I keep reading about?" Trump Jr. asked during one exchange with the WikiLeaks account on Oct. 3.

More than a week later, on Oct. 12, the account replied with a suggestion:

"Hey Donald, great to see you and your dad talking about our publications," WikiLeaks wrote. "Strongly suggest your dad tweets this link if he mentions us." The message included a link to search documents that had been hacked from Clinton campaign chairman John Podesta.

Trump Jr. did not answer. Fifteen minutes later, his father tweeted to his millions of followers: "Very little pick-up by the dishonest media of incredible information provided by WikiLeaks. So dishonest! Rigged system!"

Two days later, Trump Jr. tweeted the link to his followers, writing, "For those who have the time to read about all the corruption and hypocrisy all the @wikileaks emails are right here: http://wlsearch.tk/."
The original report by Julia Ioffe in The Atlantic goes into further detail that goes into significant detail on all of this but is far too detailed to be fairly summarized in just a handful of excerpts. As Ioffe shows, there is a remarkable correlation between both Twitter Direct Messages and emails from Wikileaks to Trump Jr., the release of information regarding Clinton, the Democratic National Committee, or Democratic activist John Podesta, whose email was also hacked and stolen by individuals believed to be linked to both Russia and Wikileaks. On numerous occasions throughout the campaign, one can find compelling evidence of a direct correlation between a communication from Wikileaks to Trump about an impending release of information about Clinton or others and a corresponding tweet from him, informal campaign advisers such as Roger Stone, or even the President himself teasing such information. On those occasions when the communication concerned information that had already been released, the tweets or other communications would include a link to the post on the Wikileaks website where the information could be found. Additionally, there were several occasions during the course of the campaign where a Wikileaks communication with the younger Trump would advise him that information would be released and we would see a "tease" from Trump Sr. or others about 'big information' that was going to be released about Clinton. On many occasions, the gap between the time these messages was sent and the time someone associated with Trump was tweeting about it was as short as fifteen minutes. Based on this, it's clear that there was an active and engaged relationship between senior people in the Trump campaign such as Trump Jr. and Wikileaks, which seems quite clearly to have been acting in concert with the Russian government both before and during the 2016 campaign in the United States. Given that, the allegations and suspicions regarding potential collusion between people close to Trump and Russian officials.
These latest allegations come, of course, on top of everything else we know about contacts between various Trump campaign officials and people linked to the Russian government during the course of the campaign, and especially what we knew about the role that the President's oldest son was playing in this regard during the time he was serving as both a top campaign adviser and public spokesperson. Prior to this, of course, we had learned about the now famous meeting in Trump Tower between Trump Jr., Paul Manafort, and Jared Kushner, and a lawyer with ties to the Russian government. During that meeting, the lawyer in question recently stated that  Trump Jr. offered a quid pro quo in exchange for damaging information about Clinton. Initially, of course, the Trump White House and Trump Jr. claimed that the meeting was about the sanctions imposed by the so-called Magnisky Act and the issue of the adoption of Russian babies by American citizens, which was in limbo in wake of the sanctions imposed after Russia's annexation of the Crimean region of Ukraine. In fact, as we learned later,  the President himself participated in drafting a statement that made this claim on the way home from a trip to Europe on Air Force One. Very quickly, though, it became evident that these claims were untrue after Trump Jr. released a string of emails between himself and other campaign officials regarding the meeting. Those emails made it clear that purpose of the meeting was based on the claim that the Kremlin-linked lawyer could deliver damaging information about Hillary Clinton, a prospect that elicited a response from Trump Jr. that said: "Sounds great!" Taken in context with these new reports about Trump Jr.'s contacts and seeming coordination with Wikileaks regarding the release of damaging information about Clinton, and the level of coordination and possibe collusion takes on an entirely new light. Where all of this leads is something only time, and more information can tell, but it's obvious that more investigation is necessary and that Trump Jr. has some questions to answer.