Trump And Putin To Meet In Helsinki July 16th
The Presidents of the United States and Russia will meet next month and there's reason to worry about what Trump might give away.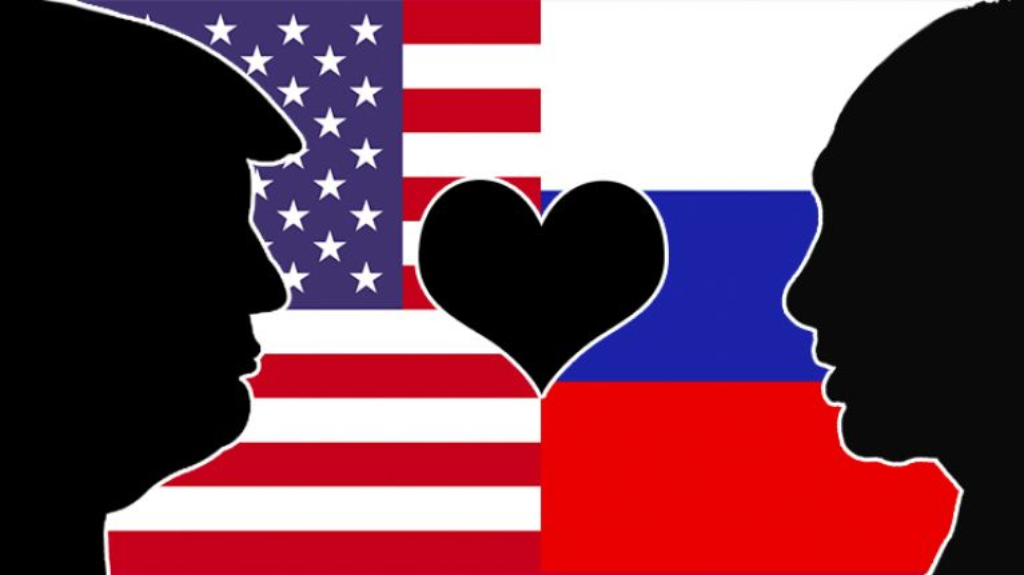 Just a month after he met with North Korean leader Kim Jong Un for a summit that turned out to be mostly just a photo opportunity, President Trump will be meeting with Russian President Vladimir Putin in Helsinki, Finland on July 16th:
MOSCOW — President Trump plans to meet President Vladimir V. Putin in Helsinki, Finland, on July 16 for one-on-one talks, the White House said on Thursday, a politically delicate meeting that will take place while the special counsel continues to investigate the Trump campaign's possible ties to Russia.

It will be the first formal summit meeting for Mr. Trump and Mr. Putin, who have spoken together twice on the sidelines of annual gatherings of world leaders, and it will come at a particularly critical moment, with midterm elections looming in the United States.

"The two leaders will discuss relations between the United States and Russia, and a range of national security issues," the White House said in a statement.

The Helsinki talks, which will come on the heels of a NATO summit meeting in Brussels on July 11 and 12, could exacerbate American relations with European allies even as it eases tensions with Russia.

Mr. Trump this week sent his national security adviser, John R. Bolton, to Moscow, where he met on Wednesday with Mr. Putin.

Afterward, an aide to Mr. Putin, Yuri Ushakov, reiterated Moscow's denial that it tried to influence the United States presidential election in 2016, comments that Mr. Trump cited on Thursday in a Twitter post before the meeting with Mr. Putin was announced.

"Russia continues to say they had nothing to do with Meddling in our Election!" Mr. Trump wrote.

The potential for such a high-level meeting has concerned some American allies in Europe, particularly because of recent tensions between the Trump administration and traditional American allies including Canada, France and Germany.
More from The Washington Post:
President Trump and Russian President Vladi­mir ­Putin will meet on July 16 in Helsinki, both of their governments announced Thursday, setting the stage for a high-profile attempt to soothe tensions between the United States and Russia.

Both Trump and Putin have pursued the tete-a-tete in hopes of moving beyond friction over Russia's interference in the 2016 U.S. presidential election and its aggression in Ukraine and elsewhere.

Shortly before the summit date and venue were announced, Trump took to Twitter, relaying that Russia continues to deny interfering in the 2016 election and airing grievances regarding the probe of special counsel Robert S. Mueller III into possible collusion between Putin's government and Trump's campaign.

"Russia continues to say they had nothing to do with Meddling in our Election!" Trump wrote as part tweets in which he also disparaged former FBI director James B. Comey and once again claimed that the investigation is tainted by partisan bias.

Finland, officially neutral during the Cold War and not a NATO member, shares a border with Russia, and its president, Sauli Niinisto, has fostered a relationship with Putin.

In a statement, White House press secretary Sarah Huckabee Sanders said Trump and Putin would "discuss relations between the United States and Russia and a range of national security issues."

Niinisto said the agenda would be decided in coming weeks, adding that Trump and Putin would "certainly discuss the overall international situation and hopefully also arms control and disarmament issues" during their meeting in the Finnish capital.

"Even small steps in reducing tensions would be in everybody's interest," Niinisto said in a statement.

Niinisto said he had received a joint inquiry last week from high-level U.S. and Russian officials about the possibility of hosting a meeting in Helsinki.

The summit date falls after previously planned stops during a trip to Europe by Trump for a NATO summit meeting July 11-12 in Brussels and a visit to Britain on July 13. It also allows Putin to be in Moscow for the World Cup soccer final on July 15.
Not surprisingly, the announcement of a Trump-Putin meeting is raising concerns about what the President might give away in talks with Putin. This is particularly the case given the fact that the President has sent some rather disturbing signals about his commitment to America's traditional allies in Europe in particular. Last year, for example, his two trips to Europe left many NATO allies wondering just how committed he is to the alliance and its principles of Collective Defense as set forth in Article V of the NATO Treaty itself. More recently, of course, Trump suggested on the eve of this G-7 Summit in Canada earlier this month, Trump suggested without consulting that Russia should be readmitted to the group it had been excluded from in retaliation for its interference in Ukraine in 2014. Then, Trump went to the meeting and proceeded to blow it up in a way that had not been seen before and to create even more animosity between the United States and its allies. As I noted shortly thereafter, Trump was essentially achieving something that Putin and leaders of the Soviet Union before him could only dream of by driving a wedge between the United States and its allies. In this regard, Axios reports this morning that Trump has taken to repeatedly bashing NATO in conversations with allies at the G-7 Summit, equating it with the North American Free Trade Agreement, which he has spent the better part of the last three years bashing as being unfair to the United States.
Of more immediate concern is the question of whether or not the President will even bother to talk to Putin about the issue that is the focus of most of the attention that Russia is receiving around the world right now. The first and most immediately important to the United States, of course, is the issue of Russian interference in the 2016 elections and the prospect that they will seek to engage in similar tactics in connection with the upcoming midterm elections, both of which have been acknowledged as reality by the men that Trump himself has appointed to run the nation's intelligence infrastructure. Trump, on the other hand, continues to dismiss these concerns and to essentially say that he believes Vladimir Putin more than he believes his own in intelligence chiefs, something he revealed against on Twitter this morning:
Russia continues to say they had nothing to do with Meddling in our Election! Where is the DNC Server, and why didn't Shady James Comey and the now disgraced FBI agents take and closely examine it? Why isn't Hillary/Russia being looked at? So many questions, so much corruption!

— Donald J. Trump (@realDonaldTrump) June 28, 2018
The Brits, in particular, are concerned:
As the U.K. prepares to welcome Donald Trump next month, there are fears at the top of government about what he might do when he meets Vladimir Putin.

One Cabinet minister, speaking on condition of anonymity, said that having watched the president's meeting with North Korean leader Kim Jong Un, they worry Trump would want to burnish his deal-maker credentials by outlining a plan to reduce military presence around Europe's Eastern boundaries.

Right after that June 12 summit with Kim, Trump called off joint military exercises with South Korea that had been an irritant to North Korea.

The U.K. has reason to be vigilant given its claim that Moscow was behind the poisoning of a former Russian spy on British soil. It's also been thrown off by the prospect of Trump and Putin meeting just before — or after — the U.S. leader's visit to the U.K. on July 13 and around the time of a NATO summit.

Britain has forces stationed on NATO's Eastern frontier to deter Russian aggression. The risk is that if Putin staged any kind of incursion, as has happened in the Ukraine and Crimea, there could be a direct confrontation between U.K. and Russian troops.

Some of the senior minister's concerns are shared within Prime Minister Theresa May's government and Conservative Party. Another U.K. official agreed it was difficult to know what Trump might say when he met Putin.

May's spokeswoman, Alison Donnelly, said "the meeting is a matter for them" — Putin and Trump — and that the "prime minister has been clear on our policy with Russia, and that is to engage, but beware."

The minister didn't say whether the U.K. had raised these concerns with other allies or the White House. British diplomats and politicians have struggled to read Trump since he took office, and been repeatedly caught out by him, leaving them wary of what he may do next.

Bob Seely, a Tory lawmaker and member of the foreign affairs parliamentary commitee, saw grounds to be concerned about what Trump might do. On his way to the Group of Seven summit, Trump blindsided other leaders by saying that Russia ought to be readmitted and then caught them off guard again by rejecting the joint statement he'd just agreed to.

He went from there to meet Kim, and was much warmer about the North Korean dictator than he had been about his G-7 colleagues.

"There seem to be three or four different policies towards Russia in Washington," Seely said in an interview. "The State Department is quite Russia-skeptic, but Trump seems quite pro-Putin. They veer between them."
The idea that Trump could give some concessions to Putin when they meet is not unfounded. It was just earlier this month, after all, that Trump seemingly out of the blue decided to agree to cancel for the foreseeable future the joint military exercises that the United States has conducted with the South Korean military as part of its regular readiness training. As we've learned since that summit, Trump did that without consulting his staff and, most importantly, without consulting the Pentagon or our South Korean allies. The prospect that he could do something similar with Putin, for example by agreeing not to put American troops or supply depots in the NATO allies close to Russia is something that Americans and our allies should be greatly concerned about. Additionally, given the fact that Trump has been more felicitous toward Putin than he has toward the democratically elected leaders of our most important allies, there's as much reason to be concerned about what Trump might give away to Putin as there was prior to the summit with Kim.