Trump And Kim Meet For What Amounts To Mostly A Photo Opportunity
The Singapore Summit meeting between President Trump and Kim Jong Un was about as substance-less as most analysts anticipated it would be.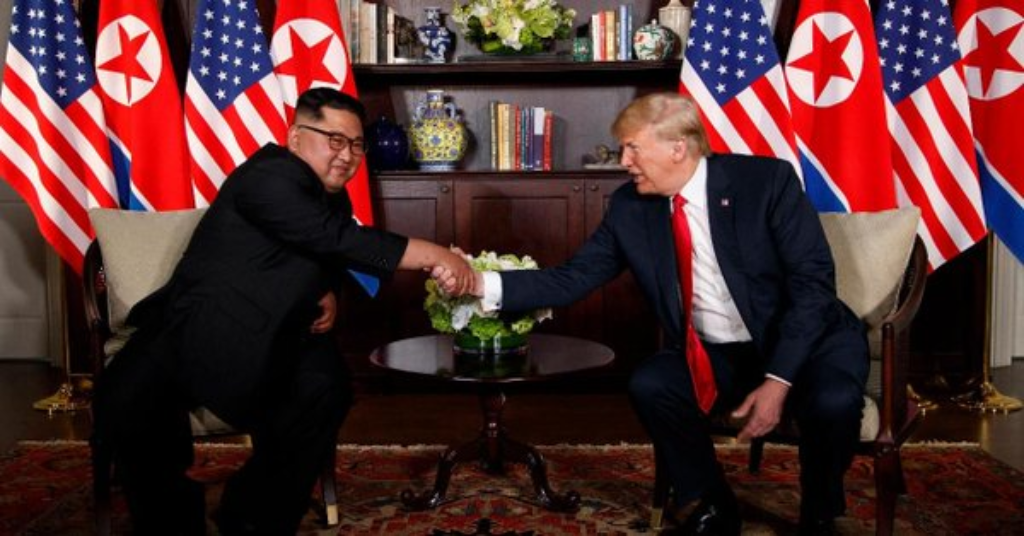 On the other side of the world, while most of America slept, President Trump and North Korean leader Kim Jong Un met in what is admittedly a historic summit, but the outcome isn't nearly as historic as the event itself:
SINGAPORE — President Trump concluded a historic meeting with North Korea's leader, Kim Jong-un, on Tuesday, saying that denuclearization on the Korean Peninsula would begin "very quickly."

In a televised ceremony held in Singapore, the two leaders signed a joint statement that Mr. Trump called "comprehensive." In the statement, Mr. Trump "committed to provide security guarantees" to North Korea, and Mr. Kim "reaffirmed his firm and unwavering commitment to complete denuclearization of the Korean Peninsula."

But the statement was short on details. It was not immediately released to reporters, but it was legible in a photo of Mr. Trump holding it up at the ceremony.

Asked if Mr. Kim had agreed to denuclearize, Mr. Trump said, "We're starting that process very quickly — very, very quickly — absolutely."

The joint statement said the two nations would hold "follow-on negotiations" led by Secretary of State Mike Pompeo and a high-level North Korean official "at the earliest possible date, to implement the outcomes" of the summit meeting.

It also said the two nations would "join their efforts to build a lasting and stable peace regime" on the divided peninsula, meaning talks to reduce military tensions that could eventually lead to a formal peace treaty to end the Korean War.

"We had a historic meeting and decided to leave the past behind," Mr. Kim said at the signing ceremony, adding that "the world will see a major change."

"We're very proud of what took place today," Mr. Trump said. "I think our whole relationship with North Korea and the Korean Peninsula is going to be a very much different situation than it has in the past." He said that copies of the document would be distributed and that he would speak to reporters later about it.

The signing ceremony came after several hours of discussions between the two leaders.

The day began with Mr. Trump shaking hands with Mr. Kim and hailing the start of a "terrific relationship." Brash, impulsive men who only a few months ago taunted each other across a nuclear abyss, the two had set aside their threats in a gamble that for now, at least, personal diplomacy could counteract decades of enmity and distrust.

In a carefully choreographed encounter, Mr. Trump and Mr. Kim strode toward each other, arms extended, in the red-carpeted reception area of a Singapore hotel built on the site of a British colonial outpost. It was the first time a sitting American president and North Korean leader had ever met.

Posing before a wall of American and North Korean flags, Mr. Trump put his hand on the younger man's shoulder. Then the two, alone except for their interpreters, walked off to meet privately in an attempt to resolve the crisis over North Korea's nuclear program.

"I feel really great," Mr. Trump said. "It's going to be a great discussion and, I think, tremendous success. I think it's going to be really successful, and I think we will have a terrific relationship. I have no doubt."

A more sober-sounding Mr. Kim said: "It was not easy to get here. The past worked as fetters on our limbs, and the old prejudices and practices worked as obstacles on our way forward. But we overcame all of them, and we are here today."

Later, as the two leaders reconvened with top aides, Mr. Trump declared of the nuclear impasse, "Working together, we will get it taken care of."

Mr. Kim responded, "There will be challenges ahead, but we will work with Trump."

Their negotiators had failed to make much headway in working-level meetings before the meeting, leaving Mr. Trump and Mr. Kim with little common ground ahead of what could be months or even years of talks.
More from The Washington Post:
SINGAPORE — President Trump said he "developed a very special bond" with North Korean leader Kim Jong Un during their historic summit here Tuesday and proclaimed the start of a new era that could break a cycle of nuclear brinkmanship and stave off a military confrontation.

"Yesterday's conflict does not have to be tomorrow's war," Trump said at a news conference in Singapore following more than four hours of talks with Kim.

Trump said Kim "reaffirmed" his commitment to denuclearization of the Korean Peninsula and also agreed to destroy a missile site in the country.

"We're ready to write a new chapter between our nations," the president said.

Trump sounded triumphant following his meeting with Kim, expressing confidence that the North Korean leader was serious about abandoning his nuclear program and transforming his country from an isolated rogue regime into a respected member of the world community.

But Trump provided few specifics about what steps Kim would take to back up his promise to denuclearize his country and how the United States would verify that North Korea was keeping its pledge to get rid of its nuclear weapons, saying that would be worked out in future talks.

"We will do it as fast as it can mechanically and physically be done," he said of the process to rid North Korea of nuclear weapons.

Trump announced that he will order an end to regular "war games" that the United States conducts with ally South Korea, a reference to annual joint military exercises that are an irritant to North Korea.

Trump called the exercises "very provocative" and "inappropriate" in light of the optimistic opening he sees with North Korea. Ending the exercises would also save money, Trump said.

The United States has conducted such exercises for decades as a symbol of unity with Seoul and previously rejected North Korean complaints as illegitimate. Ending the games would be a significant political benefit for Kim, but Trump insisted he had not given up leverage.

"I think the meeting was every bit as good for the United States as it was for North Korea," Trump said, casting himself as a leader who can secure a deal that has eluded past presidents.

South Korea's presidential office seemed blindsided by the announcement on the joint exercises.

"We need to try to understand what President Trump said," a spokesman for South Korean President Moon Jae-in said.

(…)

At his news conference, Trump called Kim, an absolute ruler accused of massive human rights violations, a transformational leader for his country.

"Today is the beginning of an arduous process. Our eyes are wide open. But peace is always worth the effort," Trump said.

Trump said human rights issues were raised Tuesday, but he did not give details. He said American college student Otto Warmbier, who died last year days after release from a North Korean prison, "did not die in vain."

After the series of meetings at Singapore's secluded and opulent Capella resort, the two leaders sat beside each other and signed what Trump called a "very comprehensive" agreement setting the path forward for negotiations.

The document was not immediately released, but Trump held aloft a copy for news photographers. Images show that the agreement includes a pledge by Trump to "provide security guarantees" to North Korea, while "Chairman Kim Jong Un reaffirmed his firm and unwavering commitment to complete denuclearization of the Korean Peninsula."

When asked about Kim's commitment to the process of getting rid of North Korea's nuclear weapons, Trump said: "We are starting that process very quickly. Very, very quickly."

But the document is an outline, with no specifics or deadlines, and it leaves the details on key issues such as how the United States would verify that North Korea had given up its nuclear program for future talks. It commits the two leaders to follow-on meetings and a new relationship between the nations, but it does not say that diplomatic relations would be opened.

"President Donald J. Trump of the United States of America and Chairman Kim Jong Un of the State Affairs Commission of the Democratic People's Republic of Korea have committed to cooperate for the development of new U.S.-DPRK relations and for the promotion of peace, prosperity, and security of the Korean Peninsula and of the world," the agreement reads.
The actual text of the statement is, perhaps not surprisingly, fairly stark and speaks mostly in aspirational terms that don't commit the North Koreans or the United States to much of anything. Indeed, its four points of agreement are remarkably bland given the hype leading up to the summit and the glowing terms in which the President spoke this morning:
The United States and the DPRK commit to establish new US-DPRK relations in accordance with the desire of the peoples of the two countries for peace and prosperity.
The United States and DPRK will join their efforts to build a lasting and stable peace regime on the Korean Peninsula.
Reaffirming the April 27, 2018 Panmunjom Declaration, the DPRK commits to work toward complete denuclearization of the Korean Peninsula
The United States and the DPRK commit to recovering POW/MIA remains, including the immediate repatriation of those already identified.
Beyond that, the statement speaks most in generalized diplomatic language, speaks of follow-on negotiations, but generally does not commit either side to much of anything. Most importantly, the agreement completely sidesteps any agreement about what the word "denuclearization" means, and it's unclear at this point that we've reached a point where the two sides are even at the point where they are talking about the same thing. As I noted as recently as yesterday, and have discussed several times in the past, it's been clear for months now that the North Koreans, and their patrons in China, have a very different idea of what 'denuclearization' means. The statement does nothing to close that gap and, indeed, leaves it wide open to interpretation going forward. Unless and until we have some indication that the two parties are talking about the same thing, the suggestion that there's been any agreement to actually do anything substantive is not only premature, it's rather absurd.
For the United States and its allies in the region "denuclearization" means "complete, verifiable, irreversible dismantlement of the North Korean program." For the United States "denuclearization" means a largely one-sided deal in which the DPRK gives up its weapons and its research programs and the United States and the west give up, perhaps, sanctions relief and some loosening of restrictions on North Korea's ability to participate in the international economy. From this perspective, the statement seems to make clear that the summit did nothing to come any closer to that goal, or even that the North Koreans would be willing to commit to it at some point in the future. Realistically speaking, of course, there are a million reasons why it seems hard to believe that the DPRK would agree to any deal that amounts to complete surrender of its nuclear weapons or its research programs. Given that, absent the inclusion of such an agreement then it's hard to see this statement as any kind of a victory for the United States.
When the North Koreans talk about "denuclearization," though, they speak of the "denuclearization of the Korean Peninsula." This means not only some action on the part of the North Koreans, but also the understanding that the United States would remove any nuclear weapons it may have in the region and that it would renounce the idea of providing South Korea and Japan with a "nuclear umbrella," which is essentially the threat that any attack on an American ally. It is also fairly clear that the North Koreans also include in their definition of "denuclearization" the idea that the American military presence in South Korea, and potentially in Japan, which the DPRK has made clear it considers to be part of the nuclear threat posed by the United States. From this perspective, it appears that the North Koreans got exactly what they wanted. The statement refers to "complete denuclearization of the Korean Peninsula," which is precisely the language that the North Koreans, and China, have been using not only since the start of this year but for much of the past two decades. Given the general language of the statement that was signed today, the North Koreans can legitimately claim that the United States now agrees with the DPRK on this point even though it seems clear from the evidence outside the agreement that this isn't the case at all.
Beyond the question of what "denuclearization" even means, the statement also sidesteps several other important issues. For example, there's is no apparent agreement about issues such as verification or how the North Koreans would actually go about dismantling their existing nuclear weapons stockpile even if they did somehow end up agreeing to this at some point in the future. At his post-summit press conference, President Trump basically sidestepped the issue when asked about it but did mention that it would likely include participation by the International Atomic Energy Association (IAEA). The ironic thing about this, of course, is that the IAEA is also the principal verifier for the nuclear deal with Iran, and has indeed continually certified that Iran is in compliance with that agreement. Despite that verification, though, it was just last month that President Trump withdrew from that agreement based in part on claims that Iran was not complying with the agreement.
If there is an element to what came out of this summit that amounts to something substantive, it's something that isn't even mentioned, and it raises more questions than it answers. During the post-summit press availability that he held prior to departing Singapore for the day-long journey home, President Trump announced seemingly out of thin air the cancellation of the annual joint exercises between the American and South Korean military that have been conducted on a regular basis for decades now. These exercises, of course, have nothing to do with the North Korean nuclear program and everything to do with the conventional threat that North Korea has paid to its neighbors to the South since virtually the day that the Korean War ended in 1953. As noted, neither the South Koreans nor the American military seemed to have any knowledge that this was a possible outcome of the summit, or that any such thing would be announced today. It's also unclear if this was something that Trump and Kim discussed in their meetings, or if it's something that Trump came up with on his own. Whichever it is, though, this would be a major concession by the United States and it appears that it was made without getting anything from the DPRK in return.
Beyond this, though, it seems fairly clear that this summit ended up being essentially what many anticipated it would be from the beginning. Unlike most of the summit agreements of the past between the United States and the Soviet Union, this meeting did not end with the signing of any kind of enforceable agreement, nor did it end with any kind of substantive agreement that could form the basis for future negotiations that would lead to an agreement. At best, we have an agreement to agree and it's not even clear what might be agreed to at some point further down the road. Kim Jong Un, on the other hand, got the international prestige and attention that comes from a first-ever for his nation face-to-face meeting with the President of the United States, and he gave up pretty much nothing in return to get it.  Instead of this meeting, there should have been a much longer negotiation process, resulting in a real substantive agreement, before we gave Kim the prestige that comes with being seen as an equal on the world stage alongside an American President. That, quite obviously, didn't happen. Perhaps this will lead to something substantive down the road, but that's going to require months if not years of future negotiations the results of which are impossible to predict at this point. In that case, I'll be as happy as anyone else to see peace finally come to one of the most dangerous parts of the world. That's still a long way off, and it's impossible to say if this summit has even accomplished anything in that regard.  It was, as the title of this post suggests, really nothing more than a great big photo opportunity.