Trump Continues To Drive A Wedge Between The United States And Its Allies
Donald Trump continues to do something that Russian and Soviet leaders likely only thought possible in their wildest dreams, drive a wedge between the United States and its NATO allies.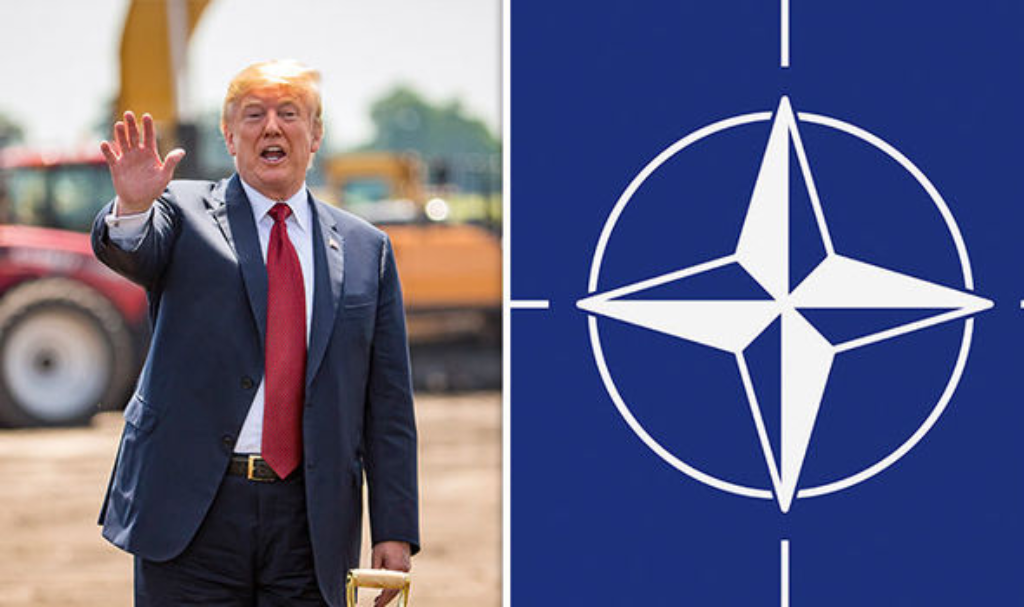 The New York Times reports that President Trump recently sent letters to leaders of most if not all of the members of NATO berating them for not living up to a commitment to increase their military spending:
WASHINGTON — President Trump has written sharply worded letters to the leaders of several NATO allies — including Germany, Belgium, Norway and Canada — taking them to task for spending too little on their own defense and warning that the United States is losing patience with what he said was their failure to meet security obligations shared by the alliance.

The letters, sent in June, are the latest sign of acrimony between Mr. Trump and American allies as he heads to a NATO summit meeting next week in Brussels that will be a closely watched test of the president's commitment to the alliance. Mr. Trump has repeatedly questioned its value and has claimed that its members are taking advantage of the United States.

Mr. Trump's criticism raised the prospect of another confrontation involving the president and American allies after a blowup by Mr. Trump at the Group of 7 gathering last month in Quebec, and increased concerns that far from projecting solidarity in the face of threats from Russia, the meeting will highlight divisions within the alliance. Such a result could play into the hands of President Vladimir V. Putin of Russia, who is to meet with Mr. Trump in Helsinki, Finland, after the NATO meeting, and whose primary goal is sowing divisions within the alliance.

In his letters, the president hinted that after more than a year of public and private complaints that allies have not done enough to share the burden of collective defense, he may be considering a response, including adjusting the United States' military presence around the world.

As we discussed during your visit in April, there is growing frustration in the United States that some allies have not stepped up as promised," Mr. Trump wrote to Chancellor Angela Merkel of Germany in a particularly pointed letter, according to someone who saw it and shared excerpts with The New York Times. "The United States continues to devote more resources to the defense of Europe when the Continent's economy, including Germany's, are doing well and security challenges abound. This is no longer sustainable for us."

"Growing frustration," Mr. Trump wrote, "is not confined to our executive branch. The United States Congress is concerned, as well."

The president's complaint is that many NATO allies are not living up to the commitment they made at their Wales summit meeting in 2014 to spend 2 percent of their gross domestic product on national defense. American presidents have long complained about the lack of burden-sharing by NATO member countries, but Mr. Trump has taken that criticism much further, claiming that some of the United States' closest allies are essentially deadbeats who have failed to pay debts to the organization, a fundamental misunderstanding of how it functions.

The Trump administration has already reportedly been analyzing a large-scale withdrawal of American forces from Germany, after Mr. Trump expressed surprise that 35,000 active-duty troops are stationed there and complained that NATO countries were not contributing enough to the alliance.

In the letter, Mr. Trump told Ms. Merkel that Germany also deserves blame for the failure of other NATO countries to spend enough: "Continued German underspending on defense undermines the security of the alliance and provides validation for other allies that also do not plan to meet their military spending commitments, because others see you as a role model."

In language that is echoed in his letters to the leaders of other countries — including Prime Minister Justin Trudeau of Canada, Prime Minister Erna Solberg of Norway and Prime Minister Charles Michel of Belgium — Mr. Trump said he understands the "domestic political pressure" brought to bear by opponents of boosting military expenditures, noting that he has expended "considerable political capital to increase our own military spending."

"It will, however, become increasingly difficult to justify to American citizens why some countries do not share NATO's collective security burden while American soldiers continue to sacrifice their lives overseas or come home gravely wounded," Mr. Trump wrote to Ms. Merkel.

Mr. Michel reacted tartly last week to the letter, telling reporters at a European Union summit meeting in Brussels that he was "not very impressed" by it, according to a report by Deutsche Welle.

Mr. Trump has long complained about the alliance and routinely grouses that the United States is treated shabbily by multilateral organizations of which it is a member, be it the World Trade Organization or the North Atlantic alliance. But in Europe, the letters to NATO allies have been greeted with some degree of alarm because of their suggestion that Mr. Trump is prepared to impose consequences on the allies — as he has done in an escalating tariff fight with European trading partners — if they do not do what he is asking.

"Trump still seems to think that NATO is like a club that you owe dues to, or some sort of protection racket where the U.S. is doing all the work protecting all these deadbeat Europeans while they're sitting around on vacation, and now he is suggesting there are consequences," said Derek Chollet, a former Defense Department official who is the executive vice president for security and defense policy at the German Marshall Fund of the United States.

"Europeans have been watching Donald Trump begin to implement his rhetoric on trade in ways that are very combative," he said, "and they're starting to contemplate whether he would do this regarding security issues, as well."
This letter is just the latest example of the President's rather obvious disdain, and what seems to be his fundamental misunderstanding of what the 2% spending goal that was agreed to at the 2014 NATO Summit is all about. First of all, it's important to note that this spending requirement is not part of the NATO Treaty itself and was never intended to be. Instead, it was meant to address the concerns that American Administrations have had in the past that the United States was bearing a disproportionate share of the burden when it came to defense spending focused on the alliance itself. As a result, the members at the time agreed to a goal that each member would spend roughly 2% of their Gross Domestic Product on defense, or at least make their best efforts to do so. It was never intended that this goal would be a cost of membership or that there would be any kind of punishment for failing to meet this goal. Additionally, it was also understood that, in some cases, exceptions would be made. Iceland, for example, does not even have a standing military to spend money on, but instead, it contributes financially to the alliance as best it can in addition to providing an important mid-Atlantic base for American and other naval forces.
Based on his rhetoric as both President and as a candidate, though, it seems clear that President Trump either doesn't understand the nature of the NATO alliance and the purpose of the 2% goal, or he doesn't care and is simply using this as an excuse to continue his habit of bashing our closest allies while at the same time cozying up to the leaders of antagonistic authoritarian regimes such as Russia and China. Judging by his rhetoric and by the apparent content of these letters to NATO leaders, it seems clear that Trump sees the 2% goal as some sort of membership fee that every nation is supposed to be paying to be part of the alliance and he also seems to believe that, rather than being spent on domestic defense, the money is supposed to be going to some kind of NATO central fund that quite simply doesn't exist. It's unclear if Trump actually believes this, or if he deliberately shades his rhetoric to falsely characterize the goal in this manner. In the end, it hardly matters which one is true though since the impact of Trump's rhetoric and this letter is the same.
In addition to not understanding, or deliberately misstating, what the defense spending goal is all about, it also seems clear that Trump does not understand what the NATO alliance is all about or the value that it provides to the United States merely because of its existence. In addition to the fact that it has helped keep the peace in Europe since the end of the Second World War, although it's also the case that the U.S. nuclear deterrent has gone a long way toward accomplishing that goal in any case. Additionally, the alliance and the American presence in Europe serve several important purposes for the United States and the rest of Europe. The primary purpose, of course, is the role it has played in checking Soviet and now Russian adventurism in Europe over the past seven decades, but its role goes far beyond that. The air, land, and sea bases that the United States is able to take advantage of in Europe thanks to the alliance have proven to be advantageous both in moving men and material during the Persian Gulf War, the war in Afghanistan, and the Iraq War and therefore have saved money and time in terms of transportation and other costs. Similarly, military hospitals in places such as Germany have been essential in treating wounded soldiers from those and other conflicts. Finally, it's worth noting that the alliances collective defense provision has only been invoked once in the alliance's history, in the wake of the September 11th attacks. As a result of that, NATO members have contributed personnel, material, and financial support to the fight against al Qaeda and other terrorist organizations and their soldiers have fought alongside American troops in Afghanistan and elsewhere for the past seventeen years. For the President to trash them now is both short-sighted and stupid.
The fact that this report comes just a week before the President is set to travel to Europe for the NATO summit in Brussels as well as a trip to the United Kingdom and a summit meeting with Vladimir Putin in Helsinki, Finland is obviously concerning. Most notably, of course, it raises the prospect that he will act much the same manner that he did at the G-7 Summit in Canada during, which he basically blew up and during which he is reported to have made several derogatory comments about NATO itself. There are also signs that the visit to the United Kingdom may not go very well, especially considering the disdain toward Trump by the majority of the British public. Much like he left the G-7 in chaos and flew to Singapore where he held a largely meaningless but yet obsequious summit meeting with North Korean leader Kim Jong Un it's entirely possible that we'll see Trump trash NATO both behind closed doors and in public and then turn around to have a buddy-buddy meeting with Putin. As I've noted before, whether it is intentional or not this President continues to do all he can to undermine America's relationships with its most important allies, these letters are just the latest example of that. The only person besides Trump who can possibly be happy about that is Vladimir Putin himself, who is witnessing an American President do what Soviet leaders from Stalin through Gorbachev could do, drive a wedge right into the heart of the Atlantic alliance. The prospect for permanent damage gets more likely by the day.