Donald Trump Is President, America Will Survive This
While vigilance is called for, America will survive Donald Trump just as it has survived everything else we've faced since the nation's founding.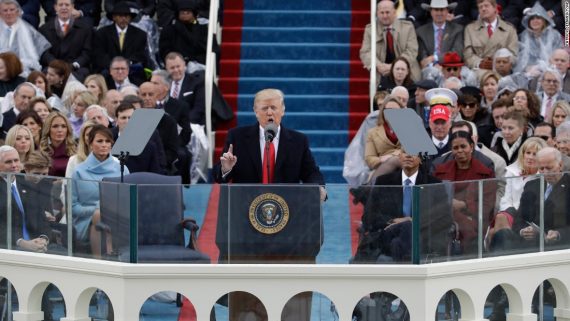 Continuing a tradition that began on April 30, 1789 in New York City when George Washington took the Oath of Office as President of the United States for the first time, today America witnessed a transfer of power from one Presidential Administration to the next, from one party to the other, and from a President that leaves office with the highest popularity rating of his tenure to one that enters office amid a nation divided and, given the controversies that had rocked the political establishment for the past two years, nervous about what the next four to eight years may bring:
WASHINGTON — Donald John Trump was inaugurated as the 45th president of the United States on Friday, ushering in a new and more unpredictable era in which he vowed to shatter the established order and restore American greatness.

From the West Front of the Capitol, overlooking a crowd of hundreds of thousands as rain began to fall, Mr. Trump presented a dark vision of a nation afflicted by division and dislocation, exploited and forgotten by a group of Washington elites and diminished around the world. His arrival, he promised, would finally turn it around.

"This American carnage stops right here and stops right now," he declared in a forceful 16-minute Inaugural Address.

"The time for empty talk is over," he added later. "Now arrives the hour for action. Do not allow anyone to tell you it cannot be done."

He said the inauguration represented not just the peaceful transfer of power from one party to another. "We are transferring power from Washington, D.C., and giving it back to you the people," he said.

"For too long," he added, "a small group in our nation's capital has reaped the rewards of government while the people have borne the cost. Washington flourished, but the people did not share in its wealth. Politicians prospered, but the jobs left and the factories closed. The establishment protected itself but not the citizens of our country. Their victories have not been your victories. Their triumphs have not been your triumphs."

He vowed to reverse that trend and make America first. "The forgotten men and women of our country will be forgotten no longer."

Mr. Trump, wearing a dark suit with red tie and accompanied by his wife, Melania, in a powder-blue suit, intends to waste little time after taking the 35-word oath that was administered by Chief Justice John G. Roberts Jr. to start unraveling the policies of his departing predecessor, President Obama. Within hours of taking office, the new president could begin signing executive orders freezing regulations put in place in the last weeks of Mr. Obama's tenure and reversing policies on health care, immigration and other areas.

His son Donald Trump Jr. said the new president was coming to grips with the gravity of his new position, even if it did not necessarily seem so in public. "He's been humbled by the whole process," he said on MSNBC. "And you know, whether he shows that outwardly or not is, you know, is one thing."

Through a long day of pomp and pageantry that will end with three inaugural balls, Mr. Trump will have the opportunity to revel in his moment of triumph. Surrounded by relatives, lawmakers, former presidents and other dignitaries, including Mr. Obama, and the Democrat he beat last November, Hillary Clinton, Mr. Trump took command of a country unsettled after one of the most polarizing periods in modern times.

His critics have made clear they will not defer even for a day to a new leader they accuse of playing to racism and hatred. Demonstrators gathered early Friday morning to protest the new president. Liberal groups have organized a march that they expect to draw as many as 200,000 to downtown Washington on Saturday.

Violence broke out an hour before Mr. Trump was inaugurated when protesters smashed shop windows around Franklin Square in downtown Washington. A Bank of America branch had all its windows shattered and a Starbucks was left with a gaping hole in its glass front door. Police officers in riot helmets used pepper spray to break up groups of protesters, who spread out and kept breaking windows.

For Mr. Trump, the ceremonies capped a remarkable rise to power that defied all expectations, and his ascension amounts to a hostile takeover of a capital facing its most significant disruption in generations. While officially a Republican, Mr. Trump has at times assailed leaders of both parties and positioned himself as the ultimate outsider, making clear that he will follow his own instincts in determining the nation's course.

America has never seen a president quite like Mr. Trump, the son and grandson of immigrants who grew up to become a real estate magnate, casino owner, beauty pageant operator and reality television star whose tumultuous love life played out on tabloid front pages.

Never before has the presidential oath been administered to someone who had never served either in public office or as a general in the military. At age 70, Mr. Trump will become the oldest president ever sworn in for the first time and the first born in New York since Franklin D. Roosevelt.

He is one of the wealthiest presidents ever to enter the White House, with far-reaching business ties that have already raised questions about where his interests end and the country's begin. He arrives in the Oval Office dogged by reports about Russian interference in the election on his behalf and, in the hours before his inauguration, fresh word of a federal investigation into the Russian ties of some of his advisers.

But Mr. Trump overcame the skeptics who did not take him seriously when he embarked on what seemed like a quixotic bid for the presidency. An Ivy League-educated mogul who lives in a tower with an 80-foot-long living room in the heart of the nation's largest city, he turned himself into the unlikely leader of a populist movement rooted away from the country's urban and suburban coasts.
More from The Washington Post:
Donald John Trump was sworn in Friday as the 45th president of the United States, taking office on a day that has featured smaller crowds and more subdued ceremony than previous inaugurations — but still ushers in a transformative shift in the country's leadership.

Trump, 70, was administered the oath by Chief Justice John G. Roberts Jr. His wife Melania Trump stood at his side. The oath was given using two Bibles — one from President Lincoln's inauguration, and another that Trump's mother gave him in 1955.Then, as

Then, as rain began to fall, Trump gave an inaugural address that — while short in duration — made a major break with presidential precedent. Most presidents use this moment to acknowledge the opponent they defeated, to praise America's promise and to call upon both parties to work together.

Trump, by contrast, made no mention of his Democratic opponent, former secretary of state Hillary Clinton. He used his speech to make a wide-ranging condemnation of America's current state — talking about "American carnage" caused by urban crime, and saying that "wealth, strength and confidence has dissipated" because of jobs lost overseas.

Trump also used his address to say that both major political parties have lost their way, serving the needs of an elite rather than the needs of the public. In grandiose language, Trump sought to cast this day as a kind of restart for American politics, with everything before — Republican and Democrat — cast aside.

"The United States of America is your country," he said.

With now former president Barack Obama and three previous presidents watching from behind him, Trump seemed to condemn them as unfaithful to the popular will, saying that his inauguration signaled that "the people" would rule the country again.

"Today, we are not merely transferring power from one administration to another, or from one party to another, but we are transferring power from Washington, D.C., and giving it back to you, the people," he said. He continued: "For too long, a small group in our nation's capital has reaped the rewards of government while the people have borne the cost. . . . Politicians prospered, but the jobs left and the factories closed."

It was a speech that closely matched the tone of Trump's presidential campaign, which he cast as a populist insurgency against GOP orthodoxies.

But it was not as close a match with the way Trump has acted since the election — a time when he has chosen some of his Cabinet picks and top staffers from Washington and Wall Street's existing elites. His choices have included the head of ExxonMobil, three retired generals, several top members of Goldman Sachs and several sitting GOP legislators.

"We assembled here today are issuing a new decree. . . . From this day forward, a new vision will govern our land. From this day forward, it's going to be only America first. America first!" Trump said. This two-word slogan, used heavily in Trump's campaign, became infamous in U.S. history as the slogan of isolationist forces opposed to American entry in World War II. Trump has used it as an economic message.

"Every decision on trade, on taxes, on immigration, on foreign affairs, will be made to benefit American workers and American factories," Trump said.

Trump's speech clocked in at less than 17 minutes, making it unusually short among recent inaugural addresses. It concluded with the signature promise of his stunningly successful presidential campaign, to "make America great again."
As with everything else about the political forces that brought him to power, Donald Trump's Inaugural Address was unique, concerning, and offered a vision of America that seemed unlikely to appeal to anyone other than people who already supported him. At times it seemed more like a campaign speech than an Inaugural Address, with frequent references to "America First" and the themes about departed jobs and closed factories that Trump often addressed in his stump speeches. What seemed lacking was what is usually the hallmark of Inaugural Addresses, the call for unity that reaches out not just to supporters but to opponents. Unlike President George W. Bush in 2001, there was no acknowledgment of the fact that Trump's opponent in the election was present on the platform, and little effort to reach out to her supporters. The closest that the speech seemed to come in that regard was when Trump said that there is no room for prejudice in patriotism. What the speech was full of, though, was the same rhetoric that we heard from Trump on the campaign trail, including appeals to populism and nationalism at home and seeming isolationism abroad that will raise rather obvious concerns on both sides of the political aisle.
The ascension of Donald Trump to the Presidency differs from many in the past, of course. While every new President enters office with some degree of opposition, Trump enters office with some of the lowest approval ratings of any new President in the modern era. Additionally, his rhetoric over the course of eighteen months of regarding minorities, women, the media, and his political opponents has many people concerned about what the next four years or longer may bring. As is often typical in these cases, there are those who are predicting and fearing the worst about the new President, and as my own writing over the past several years about Trump should make clear, I share many of those concerns. While campaigning for President, Donald Trump consciously appealed to the worst aspects of American politics and used the rhetoric of populism, nationalism, and division for political gain in a manner unseen since the 1968 campaign of the late Alabama Governor George Wallace. His rhetoric also mirrored that of others in American history who appealed that combination of bigotry and populism that has sadly played all too well in American politics from the days of the 19th Century Know Nothing Party, to the predatory populism of William Jennings Bryan, to the divisive rhetoric of men who rose up during the Great Depression since as Huey Long and Father Charles Coughlin. As I said immediately before Election Day, all of this led me to the conclusion that Trump was a unique enough danger that he needed to be stopped at all costs.
Unfortunately, that isn't how the election turned out, and while Hillary Clinton did win more popular votes, it was Donald Trump who walked away with the win in the Electoral College that made him the 45th President of the United States today. Since Election Night, there has been much rhetoric on both sides of the aisle about what it all means and where the nation is headed. For Donald Trump's supporters, his victory and today's events represent a win over the forces of an establishment that has had its hold on Washington for far too long. For his opponents, they represent a victory for the forces of division, and many of those opponents have spent the two months since Election Day predicting nothing but doom and gloom for the nation. While I remain as concerned as I was before the election regarding what Trump represents, though, I'd caution against panic mongering and fear at this point. Over the past
Our nation has faced many challenges over the past 228 years, including a war that divided the nation and threatened to destroy it even before it turned one hundred years old. It has faced dangers from overseas, including a war that was fought on two fronts and involved millions of deaths and casualties, and a quieter Cold War that threatened to unleash forces of destruction capable of making the planet essentially uninhabitable for hundreds of years. It has endured scandals and corruption in all three branches of government, racial, ethnic, and gender-based prejudice, and political polarization that was, as hard as it might be to believe, even worse than what we are dealing today. It has faced economic downturns that forced millions of people out of work and into seeming hopelessness, natural disasters, and political assassinations. Through it all the nation has survived, and it will survive Donald John Trump no matter how long he ends up serving as President of the United States.
None of this is to say that we shouldn't stand up and speak out when the new President does something we disagree with, of course. As Thomas Jefferson put it, "eternal vigilance is the price of liberty," and that means it is the responsibility of each of us to speak out and to act within the system when our leaders are headed down the wrong path. I fully expect that I will be critical of President Trump far more than I will be accepting of the policies he will advocate in the coming years. Of course, that was true of the man who just left the Presidency and the man before him as well, so that's hardly a change. At the same time, though, I'm going to try to remember that America will survive this just as it survived everything else we've faced over the past two centuries. The damage that is done, though, will depend largely on how vigilant men and women of conscience on both sides of the aisle are and whether they're willing to speak out when necessary. Donald Trump is our President, words that still astound me even as I type them, but he isn't our King and he isn't President for life. So remain vigilant, and try not to be too melodramatic about the future no matter how tempting it might be.
All that being said, I find myself much more somber this Inauguration Day than I have been in the past. Even when I didn't agree with the incoming President very much, which has been the norm for awhile, I was at least somewhat hopeful. It's harder to feel that today. So, if you're mourning today, I understand exactly how you feel. However, for all the cynicism I may have about politics in general I remain optimistic about the long-term future of our country. In the end, the only way we will fail is if we fail as a people to remember Jefferson's warning about eternal vigilance, because if we forget that then we'll be headed down a dangerous road from which there may be no return.