Biden's Christianity, Lincoln, and the Truth of Who We Are
Biden's America is a place and idea in which the trappings of empire or glory are ephemera in comparison with perennial human relationships---families; friendships; communities; schools; neighbors; partners.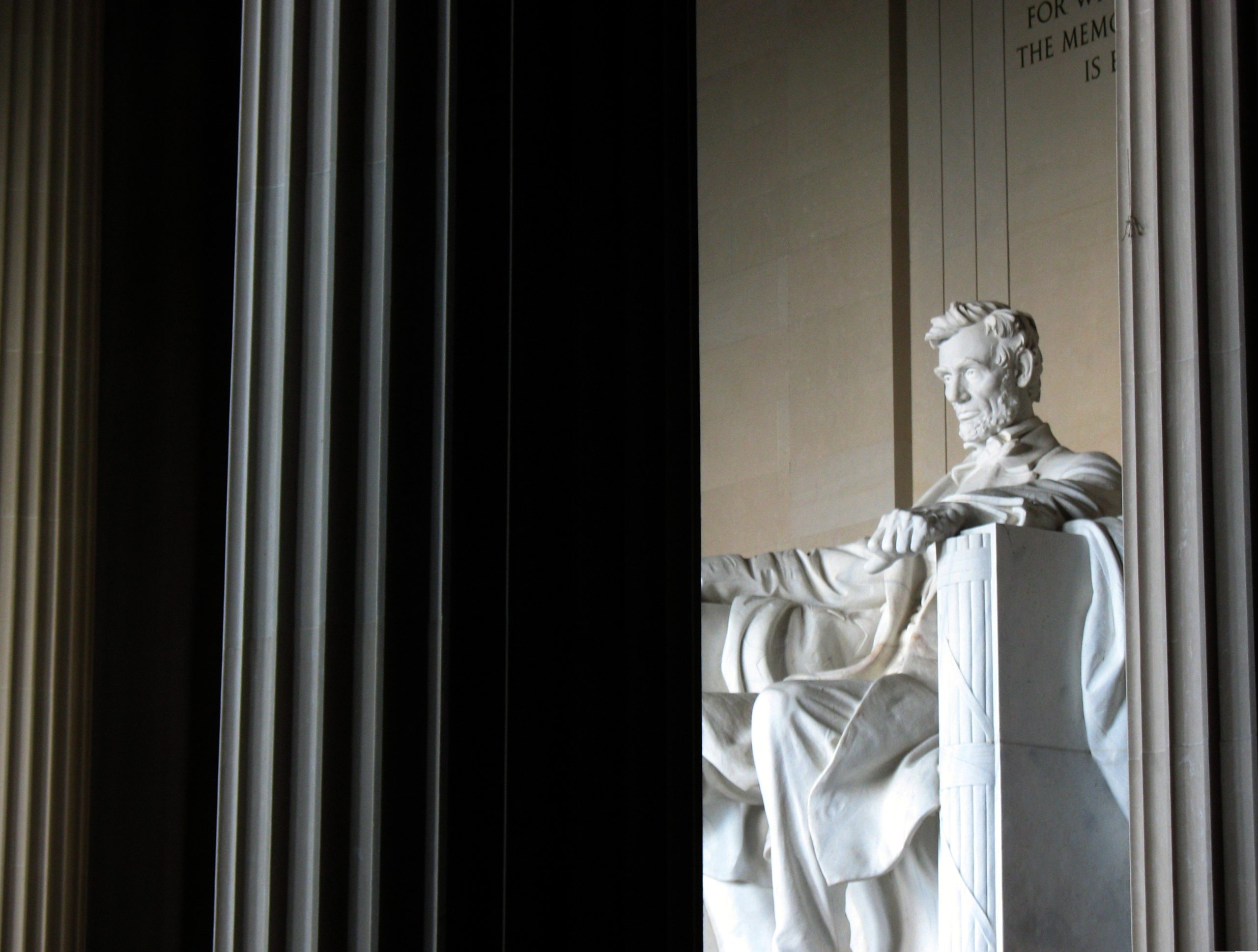 Presidential Inaugural Addresses remain the American political speech par excellence, the sole rhetorical event that seeks a broad, even global, audience and that is written with the intention, though typically unrealized, of saying something of permeant significance.
Watched by millions of people on television, reprinted in their entirety online, and discussed ad nauseum by countless pundits, these quadrennial speeches are considered by politicos and citizens alike to be important political events in themselves. The addresses sometimes signal future action, but more typically they suggest the most reflective thinking of the presidents, closer in spirit to contemplation than argument. They provide incoming presidents with a rare opportunity to share with the world their understanding of the American political experiment in its broadest framework. They sometimes touch upon policy issues but more often they connect deeper concerns of the day with the meaning of American life and in light of perceived historical, philosophical, and even cosmic purposes. In short, the inaugural allows the president to proffer a snapshot of the fundamental political principles and concerns of the day.
Inaugural speeches sound alike by design. The predictability of their form is part of their power. Inaugural speeches are not designed to surprise the audience as much as to encourage them to think through and finally embrace their shared political identities, principles, and affections. They are thus more ceremonial, solemn, principled, and foundational in substance than most other presidential speeches (to say nothing of presidential tweets) which, in contrast, tend to be far more partisan, point-keeping, policy-oriented, negative, pointed, and ephemeral in content.
Joe Biden's speech falls squarely within America's rhetorical inaugural tradition. It links the future to the present by way of the past, and it gently reminds us time and again that our partisan and ideological differences—"they are deep and they are real"—are less constitutive or important than all that unites us as Americans. Here Biden takes a page from the standard inaugural playbook. In the wake of the fantastically bitter election of 1800, Thomas Jefferson famously asserted, "We are all Republicans, we are all Federalists." Jefferson's theme of rising above our partisan differences infuses Biden's speech.
Nonetheless, Biden's speech is also something of an outlier by the standards of modern sensibilities. In tone, if not substance, it harkens back to the addresses of the 18th and 19th centuries in its emphasis on humility—his own humility but also the requisite humility of Americans necessary for the perpetuation of the democratic experiment. Completely absent in his speech is the clarion call to bold or heroic or world transformative action typical of the 20th Century addresses. In these speeches, America and Americans are challenged to vanquish every foe and to solve the problems of the world—to free the oppressed, to end poverty, to populate the cosmos, to beautify our cities, to build "a great cathedral of the spirit" (Nixon's 1st). Modern addresses have sought more or less to liberate the citizen from the trouble of grappling with the human predicament. Biden's call to action is more pedestrian but more human and decidedly more Christian. He says we can "right wrongs" by rewarding work, providing health care, ensuring safe schools and ending the virus. He invites us to wake up from our sleep and remember ourselves. He implores us to turn away from our most extreme (and thus our ugliest and most toxic) expressions and attitudes. The foes we face in Biden's vision are the disruptive and unruly extremes that tempt us all—"anger, resentment and hatred, extremism, lawlessness, violence."
During an earlier Cold War era, an era in which bravado was the natural response to the great deeds we performed in WWII and the daunting task of containing Communism we faced, John Kennedy urged American citizens to pay any price, to bear any burden, and to meet any hardship, to usher in a brave new world. Biden is more interested in the down-to-home goal of treating "each other with dignity and respect." We need to confront our own demons of "political extremism, white supremacy, domestic terrorism." Kennedy wanted to liberate humanity, to forge alliances for progress, and to equip the Peace Corps to win over the world's hearts and minds. Biden pleads with us to not be jerks.
Inaugural Addresses are not esoteric texts with secret messages teased out by knowing scholars. They're written for and delivered to a broad audience. They aim at eloquence but not subtlety or complexity of thought. Little about Uncle Joe has suggested the tendency to aim at complexity in his speeches heretofore, but a careful read of this speech reveals the vexing delicacy of the task he faces. Donald Trump's Inaugural Address was shockingly dark in rhetorical tone but blithely naïve and Pollyannaish in its posture toward all the future winning America would enjoy. In contrast, for all of Biden's optimistic rhetoric and his "can-do" life coach-style of encouragement about the good opportunities we face if we move in unity, his speech is profoundly troubling in context, and is perhaps the darkest inaugural address in our history.
Speeches are shaped by their settings as well as their audiences and moment. The city from which Biden delivered his address was shut down and devoid of the throngs who typically flock to the event. The city was filled with thousands of military personnel, cluttered by military-style barriers, and decorated with symbols commemorating the hundreds of thousands of lives laid waste by Covid-19. The text of Biden's speech treads lightly on its dark theme, but its brooding spirit infuses the text from within.
To be plain, that theme is that our democratic experiment was and continues to be in peril. Biden reassures us at the outset of his speech that democracy is fragile, but "at this hour, my friends, democracy has prevailed."
"At this hour."
At this hour democracy has prevailed.  But will it prevail moving forward?  One cannot be so presumptuous.  Biden mentions the Civil War twice as well as our own "uncivil war." He equates his own commitment to unify the country with Lincoln's commitment to liberate the slaves.  Biden's fixation on America's gravest historical moment is no accident, for Biden's speech is closest in spirit not to any previous inaugural address but to Abraham Lincoln's 1838 Lyceum Address.  Young Abraham Lincoln, not yet 30 years old, gave this speech, his first major articulation of his political sentiments, to a group of his peers in Springfield, Illinois in 1838. Lincoln went beyond what was called for by the occasion, moving from the usual praise of nation to consideration of some of the most difficult political questions one can pose about democratic government.  In that speech Lincoln addresses the vexing question of how best to secure the "perpetuation of our political institutions."  Lincoln expresses grave concern about the state of the American union.  Biden shares that same concern.
In the Lyceum Address Lincoln dismisses the notion that our demise could emerge from external threat. "All the armies of Europe, Asia and Africa combined… in a trial of a thousand years" could not bring the United States to its knees. So Lincoln asks:
At what point then is the approach of danger to be expected? I answer, if it ever reach us, it must spring up amongst us. It cannot come from abroad. If destruction be our lot, we must ourselves be its author and finisher. As a nation of freemen, we must live through all time, or die by suicide.
Moreover, Lincoln does not address the topic as an abstract or hypothetical question. He suggests that change must come, or the American experiment will come to a dishonorable conclusion.
If the laws be continually despised and disregarded, if their rights to be secure in their persons and property, are held by no better tenure than the caprice of a mob, the alienation of their affections from the Government is the natural consequence; and to that, sooner or later, it must come.
Lincoln's greatest fear was the influence of demagogic men of towering ambition and their effect on the population.  For such an ambitious man, "distinction will be his paramount object, and although he would as willingly, perhaps more so, acquire it by doing good as harm; yet, that opportunity being past, and nothing left to be done in the way of building up, he would set boldly to the task of pulling down."
Democracies presuppose the proposition–the "abstract truth"–that all men are created equal.  Therefore, above all other forms of government, democracies must fortify themselves against ambitious demagogues—demagogues such as Donald J. Trump. Lincoln reminds us that to combat the threat of such ambitious demagogues, citizens must be attached to their laws and institutions. 
It's hard to miss the parallels between Lincoln's concern of political disintegration and Biden's. Though Biden does not mention this speech, it's pretty clear his speechwriters studied it and its lessons closely.  Like Lincoln, Biden locates the direst threat from within. It is astounding how little Biden mentions the world. His speech is profoundly insular, but that is no oversight or chauvinistic bias.  He mentions that we have allies in passing, but he mentions no country by name—friend or foe—and nowhere does he suggest that any of our problems emerge from external threat.  Again, this is no accident.  Like Lincoln, Biden is reminding Americans that despite the problems we may have with other countries, only we can bring an end to our republic.
And while Lincoln's and Biden's respective remedies to the maladies we face are not identical, there is far more overlap between them than difference.  Both Lincoln and Biden argue hard that the remedy against mob rule and the dangerous threat of demagogic men is a rock-solid commitment to the democratic means of resolving differences.  Whereas Lincoln calls for a civil religion centered on venerating the Constitution and unwavering obedience to the law, Biden takes inspiration from an actual religion, Christianity.  He borrows St. Augustine's exquisite description of a people as "a multitude defined by the common objects of their love." Biden goes on to list these objects of our love: "Opportunity, security, liberty, dignity, respect, honor and, yes, the truth." Missing is any Trumpian language of bellicosity, winning, overcoming, battling, forcing victory, of being best.  Biden's America is a place and idea that suggests the trappings of empire or combat or glory, or even the obsession of besting those around us, are ephemera or even illusory in comparison with the reality of perennial human relationships—families; friendships; communities; schools; neighbors; partners.  Human beings are agents of will, but we are neither autonomous and self-creating nor utility-maximizing individuals.  We are social creatures whose fate is sometimes beyond our control, and to pretend otherwise is folly.  We are weak in isolation but strong in partnership.  He reminds us that "there is no accounting for what fate will deal you."  It follows then that some days when you will "need a hand," but there will be other days "when we're called to lend a hand." 
As the founding generation had recently died out when Lincoln gave his speech, Lincoln called for Americans to continue to tell the story of the Founding to forthcoming generations, to forge a common future identity in light of our shared past.  Just as we cannot understand ourselves in isolation, neither can a generation be understood, or even complete, apart from those who came before and those who will follow.  Biden again follows Lincoln's lead but once again places the thought in Christian-inspired terms.  He quotes the "American Anthem," a song that sings that "centuries have brought us to this day" and asks "What shall be our legacy?"
Biden's address is a lesson in the possibilities and fragility of human flourishing. It is rooted in part in Lincolnian rhetoric and Christian ideals, but is grounded in a surprisingly sophisticated  moral anthropology.  It is also a warning.  Biden warns us, though subtly and mostly by implication, that if we misconstrue who we are as human beings we will lose our democracy.  Who we are, finally, are not winners or losers or good guys and bad guys but social beings who are created to be open to the truth about ourselves and to the facts of the world. Unless we remain bound in humility by all the attendant limitations that such truths about who we are imply, we will achieve neither greatness nor goodness. And we will lose our precious democracy in the process.