Patriotism In The Trump Era
Recent polling finds that Americans aren't feeling quite so patriotic right now. It's understandable, but we shouldn't give up hope.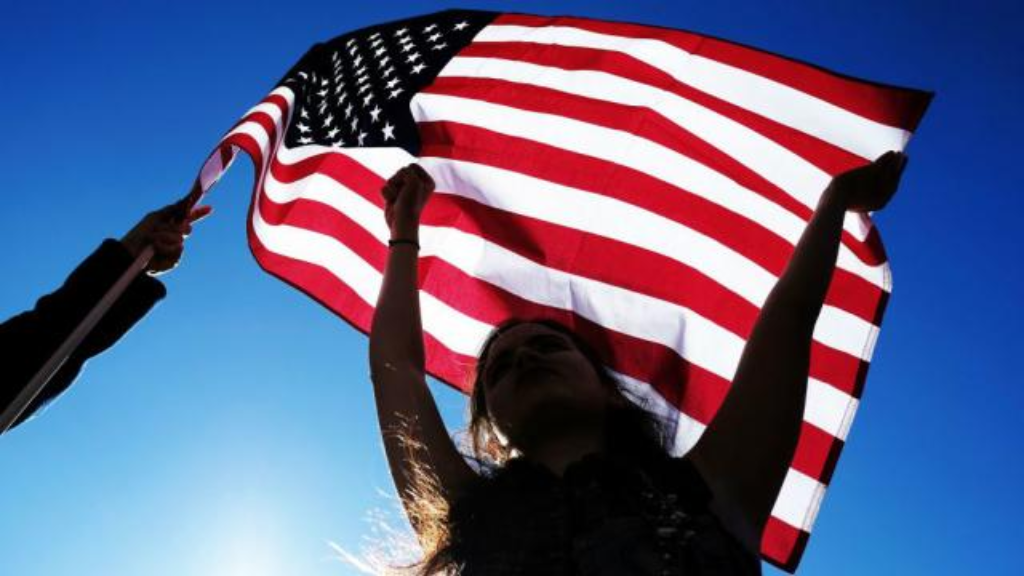 As we mark the 242nd birthday of the United States, the number of people who say they're 'extremely proud' to be Americans has hit a record low:
A record-low number of people in the U.S. consider themselves  either extremely proud or very proud to be Americans, a poll released Monday found.

Gallup found that 47 percent of citizens are "extremely proud" to be Americans, while 25 percent are "very proud." Both numbers mark new low points since Gallup started polling on the question in 2001.

The number of people who are "extremely proud" has slowly been declining in recent years, according to Gallup. The number peaked at 70 percent in 2003, but was down to 52 percent in 2016 and 51 percent in 2017.

This year, 7 percent of people said they are "only a little" proud of being American, and just 3 percent said they are "not at all" proud, according to Gallup.

Democrats in particular are less proud to be American, the poll found. Thirty-two percent of Democrats are "extremely proud," down 11 percentage points from last year.

Among Republicans, 74 percent say they are "extremely proud," according to the poll.
More details from Gallup:
This Fourth of July marks a low point in U.S. patriotism. For the first time in Gallup's 18-year history asking U.S. adults how proud they are to be Americans, fewer than a majority say they are "extremely proud." Currently, 47% describe themselves this way, down from 51% in 2017 and well below the peak of 70% in 2003.

The latest results are based on a June 1-13 poll. When Gallup first asked the question in 2001, 55% of Americans said they were extremely proud. After the 9/11 terror attacks caused the public to rally around the nation and its leaders, the percentage expressing extreme pride in the country increased to 65%, and went up further to 70% less than two years later.

By 2005, about the time George W. Bush was set to begin his second term in office and the U.S. was going on its second year of military involvement in Iraq, the percentage extremely proud to be Americans fell to 61%. It held in the high 50% range between 2006 and 2013, but has fallen at least marginally each year since 2015, about the time the 2016 presidential campaign was getting underway.

While the 47% who are extremely proud to be Americans is a new low, the vast majority of Americans do express some level of pride, including 25% who say they are "very proud" and 16% who are "moderately proud." That leaves one in 10 who are "only a little" (7%) or "not at all" proud (3%).

The combined 72% who are extremely or very proud to be Americans is also the lowest in Gallup's trend.
This chart shows the extent to which public sentiment about the nation has deteriorated can best be seen in this chart: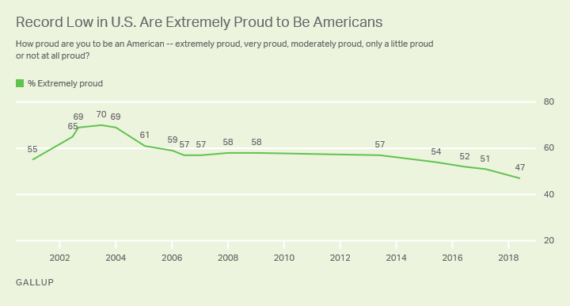 Perhaps not surprisingly, the answer to the question depends largely on politics and ideology:

Currently, 32% of Democrats — down from 43% in 2017 and 56% in 2013 — are extremely proud. The decline preceded the election of Donald Trump but has accelerated in the past year.

Less than half of independents, 42%, are also extremely proud. That is down slightly from 48% a year ago, and 50% in 2013.

As has typically been the case, Republicans are more inclined to say they are extremely proud to be Americans than are Democrats and independents. Seventy-four percent of Republicans are extremely proud, which is numerically the highest over the last five years.

With the large decline among Democrats, the Republican-Democratic gap in extreme pride has grown from 15 percentage points in 2013 to 42 points today.

Political liberals are even less likely than Democrats to say they are extremely proud — just 23% do so, compared with 46% of moderates and 65% of conservatives. Extreme pride among liberals has dropped nine points in the past year and 28 points since 2013.
Once again, the change over time among people by party can best be seen in this chart: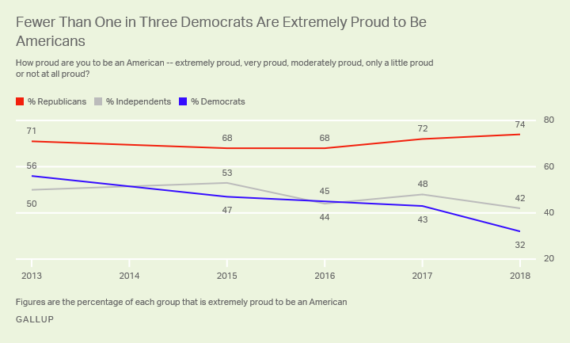 The same trends can be seen in the chart that breaks down by ideology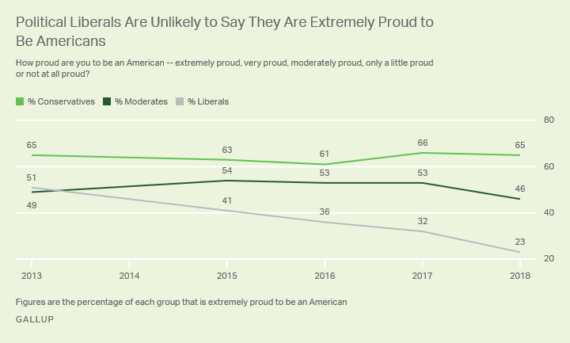 As The Washington Post notes, this is just one sign that overall faith in the nation is not exactly in a good place right now:=
Pew Research Center found in December 2017 that 18 percent of Americans say they trust the government in Washington "always" or "most of the time." That compares with 73 percent who said the same of the government when the National Election Study began tracking the question in 1958. Trust began to erode in the '60s and '70s and reached a 30-year high soon after the 9/11 attacks, but it fell to just over 20 percent in the early Obama administration and has barely budged since.

While partisans are usually more trusting of government when their party controls the White House, the December Pew survey found that Republicans and Republican-leaning independents were only slightly more likely to trust government today (22 percent) than Democrats and Democratic-leaning independents (15 percent).

Congress's reputation in particular continues to linger in the dumps, with a Gallup poll this month finding 19 percent of Americans approve of the way it is handling its job. That's up from the low teens at some points last year, in part because of more positive ratings among Republicans.

(…)

At the same time that extreme pride in being American is decreasing, the share of Americans saying they are not proud of democracy in this country is increasing. Last fall, a Washington Post-University of Maryland poll found 36 percent of Americans saying they were "not proud" of the way democracy works in the United States. That was twice as high as the General Social Survey found in 2014, when 18 percent said they were not proud, and four times as high as in 2002 (9 percent).

The poll showed a greater partisan divide than in past surveys, with Democrats significantly more likely to say they're not proud of the way democracy works in America (41 percent) than Republicans (24 percent). Shameful sentiment was not limited to Trump critics, though, with a quarter of Americans who approve of Trump saying they lack pride in the country's democracy.

(…)

Trump has been criticized for violating customs followed by past presidents, and the public is skeptical that Trump respects the country's democratic institutions and traditions. According to a June Pew Research Center poll, 6 in 10 Americans said Trump has "not too much" or "no respect at all" for the country's democratic institutions and traditions.
Finally, the bellwether Right Track/Wrong Track poll shows that most Americans are still pessimistic about the direction the nation is taking, as this chart from RealClearPolitics shows: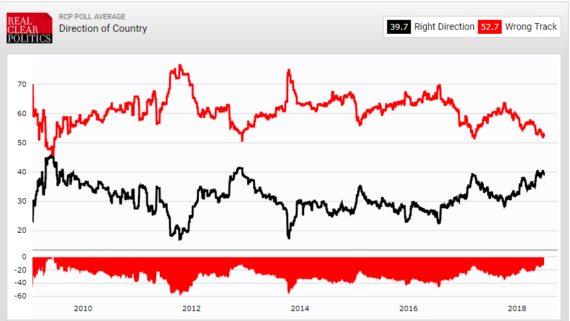 On some level, I suppose that this decline in the number of people expressing national pride can be attributed to the current state of American politics and the extent to which nearly eighteen months of the Trump Administration has worn away at public faith in political institutions and helped to bring some rather distasteful things out in the open. The most blatant example of that, of course, is the fact that the racism and xenophobia that Trump has tapped into since the start of his campaign more than three years ago has come into the mainstream by the President's rhetoric and the rhetoric of his supporters.
This can best be seen in the fact that, over these past three years, we have seen plenty of examples of the extent to which this President has seemingly resurrected the worse aspects of American politics. These include everything from  Charlottesville to the positive comments about Trump from former KKK Grand Dragon David Duke that it took Trump far too long to disavow to Trump's own campaign rallies, the signs that hate and racism have been normalized, at least among the small group of people who are in tune with those beliefs are plain and evident. Additionally, this year we've seen at least ten white supremacists running for office this year, all of them as Republicans and all of them claiming to be strong supporters of the President. One can also point to failed West Virginia Senate candidate Don Blankenship who based much of his campaign in the final weeks before the primary on a tirade on Mitch McConnell's family of "China people." There are also candidates such as Michael Williams, who ran an ultimately failed bid for the GOP nomination for Governor in Georgia and campaigned around the state in what he called a "deportation bus." In Virginia, meanwhile, Corey Stewart, who has run two recent statewide campaigns that openly appealed to the so-called alt-right, won the Republican nomination for Senate to take on Tim Kaine in November. He'll most likely lose that election, but nonetheless, his nomination is a sign of what kind of politicians Trump has inspired. Finally, several civil rights organizations, including the Anti-Defamation League, the Center for the Study of Hate and Extremism and the Southern Poverty Law Center. have reported that the number of reported hate crimes has increased measurably since Trump took the oath of office on January 20, 2017.
On the international stage, the President continues to embarrass the country on a regular basis, and arguably to place it in a dangerous position thanks to policies that run counter to everything that has been at the center of American foreign policy since the end of World War Two. On a regular basis, he has alienated the nation's most important allies while behaving obsequiously toward dictators such as Kim Jong Un, Xi Jinping, the Saud Family, and, of course, Vladimir Putin. Economically, he has spent the better part of this year sending the nation down an uncharted course with a trade war that has set us at odds not only with nation's such as China but also with some of our most important allies. In the process, he has casually tossed grenades into important international alliances such as the G-7 and NATO, leaving one to wonder what kind of damage he'll do to the standing of the United States in the world before he leaves office.
Given all of this, I suppose it's not surprising that many Americans aren't feeling particularly patriotic at this point. It's worth noting, though, that the United States of America is more than Donald Trump. For the most part, our institutions are holding up fairly well notwithstanding the efforts of this President to flout Constitutional norms, and possibly even the law. While Congress is demonstrably failing in its duty to act as a check against a President like Donald Trump, we still have the ability, through elections, to change that in November, and if that happens you can guarantee that, for better or worse, the scrutiny on this Administration will increase significantly. Additionally, the Courts have proven to be a strong bulwark against the Presidents efforts to remake the nation in his image, as we've seen in legal rulings dealing with the Muslim Travel Ban, DACA, the effort to undo the Deferred Action for Childhood Arrivals program, the efforts to deny rights to LGBT Americans, and the efforts to punish so-called "sanctuary cities." Even President Trump's own Justice Department is resisting his efforts to undermine an investigation that could end up implicating him or people close to him in version serious offenses. As I put it on the day that Trump was inaugurated, we will survive this:
Our nation has faced many challenges over the past 228 years, including a war that divided the nation and threatened to destroy it even before it turned one hundred years old. It has faced dangers from overseas, including a war that was fought on two fronts and involved millions of deaths and casualties, and a quieter Cold War that threatened to unleash forces of destruction capable of making the planet essentially uninhabitable for hundreds of years. It has endured scandals and corruption in all three branches of government, racial, ethnic, and gender-based prejudice, and political polarization that was, as hard as it might be to believe, even worse than what we are dealing today. It has faced economic downturns that forced millions of people out of work and into seeming hopelessness, natural disasters, and political assassinations. Through it all the nation has survived, and it will survive Donald John Trump no matter how long he ends up serving as President of the United States.

None of this is to say that we shouldn't stand up and speak out when the new President does something we disagree with, of course. As Thomas Jefferson put it, "eternal vigilance is the price of liberty," and that means it is the responsibility of each of us to speak out and to act within the system when our leaders are headed down the wrong path. I fully expect that I will be critical of President Trump far more than I will be accepting of the policies he will advocate in the coming years. Of course, that was true of the man who just left the Presidency and the man before him as well, so that's hardly a change. At the same time, though, I'm going to try to remember that America will survive this just as it survived everything else we've faced over the past two centuries. The damage that is done, though, will depend largely on how vigilant men and women of conscience on both sides of the aisle are and whether they're willing to speak out when necessary. Donald Trump is our President, words that still astound me even as I type them, but he isn't our King and he isn't President for life. So remain vigilant, and try not to be too melodramatic about the future no matter how tempting it might be.

(…)

[F]or all the cynicism I may have about politics in general I remain optimistic about the long-term future of our country. In the end, the only way we will fail is if we fail as a people to remember Jefferson's warning about eternal vigilance, because if we forget that then we'll be headed down a dangerous road from which there may be no return.
Notwithstanding the events of the past eighteen months and the strong possibility that things will seem to get worse before they get better, I continue to believe this. So, instead of wallowing in self-pity and pessimism this Independence Day I say we should remain optimistic about the future while keeping in mind that, as Thomas Jefferson said, eternal vigilance is the price of liberty. People like Trump and those who support can only win if the American people let them, and I remain hopeful that the American people will end up doing the right thing even if it takes them a while to figure out what that is.