We're Losing Donald Trump's Trade War
Donald Trump's trade war continues to have negative consequences for American consumers and businesses.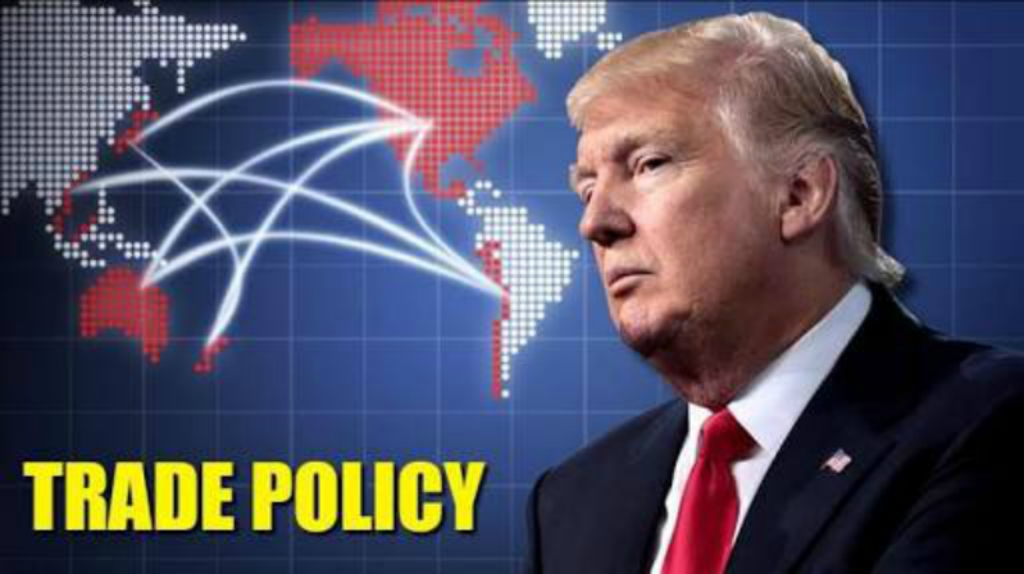 With the Trump Administration set to potentially announce new tariffs against China by the end of the week, we're already seeing signs of retaliation from America's allies for the tariffs that have been imposed against them. Over the weekend, for example, Canadian Prime Minister Justin Trudeau announced some $12.6 billion in new tariffs against American-made products including ketchup and other American-made food products as well as American steel and aluminum, a move that is obviously meant to counteract the tariffs that President Trump imposed on Canadian steel and aluminum earlier this year.  Significantly, Trudeau chose to announce those new tariffs yesterday, which of course marked Canada Day which celebrates the birth of Canada as a nation independent of British colonial rule. To a large degree, these new tariffs from our neighbor to the north are also a reaction to domestic pressure that Trudeau has felt as many Canadians have seen the American tariffs as an attack on Canadian pride and an underserved rebuke toward what has been a loyal American ally and trade partner.
In addition to Canada, the European Union is warning the United States regarding the long-rumored plan to impose new tariffs on cars made in Europe, and even a plan that would effectively ban German-made luxury automobiles from the American market. That warning was joined by one from General Motors regarding the impact that the tariffs could have on American carmakers:
General Motors warned Friday that if President Trump pushed ahead with another wave of tariffs, the move could backfire, leading to "less investment, fewer jobs and lower wages" for its employees.

The automaker said that the president's threat to impose tariffs on imports of cars and car parts — along with an earlier spate of penalties — could drive vehicle prices up by thousands of dollars. The "hardest hit" cars, General Motors said in comments submitted to the Commerce Department, are likely to be the ones bought by consumers who can least afford an increase. Demand would suffer and production would slow, all of which "could lead to a smaller G.M."

The president has promoted tariffs as a way to protect American businesses and workers, aiming at dozens of nations with metal tariffs, as well as bringing broader levies against Chinese goods. But companies, which rely on other markets for sales, production and materials, have been increasingly vocal about the potential damage from his policies.

The warning by G.M., echoed in comments by trade groups and other automakers, could test the president's aggressive approach to trade and his commitment to business. In the past, Mr. Trump has lauded General Motors for its job creation and vowed to defend the auto industry.

A G.M. spokeswoman, Dayna Hart, said that the company had no contingency plans calling for job cuts, but that such a move was "something that could happen."

"We are still assessing the impact," she added.

The White House did not respond to a request for comment.

G.M. and other industry leaders are caught in the middle of an escalating trade war that has prompted retaliation from the European Union, Mexico, Canada and China.

Last month, Mr. Trump ordered an investigation into whether imported cars and automotive components pose a national security risk, calling for penalties expected to be as high as 25 percent. The administration has already put levies on imported steel and aluminum, and is about place tariffs on $34 billion worth of Chinese goods.

G.M. and other automakers rely heavily on parts and materials from overseas to build their cars. The president's threat to pull out of the North American Free Trade Agreement could hurt the industry's supply chain, which integrates operations in the United States, Canada and Mexico.

"If there's a full-blown trade war, it will be pretty tough for the auto industry and consumers," said Michelle Krebs, an analyst at AutoTrader.com.

"Consumers are already facing headwinds in credit and average prices going up," she said. "If you add a tariff, my guess is a lot of people just won't buy new cars."
This is just the latest development in a trade war that has been going on for four months now, and it's showing no signs of letting up.
While we saw signs of what was to come when the President pulled the United States out of the Trans-Pacific Partnership early in his Administration, it wasn't until this year that the Administration really started taking three-quarters of a century of American trade policy off the trails. It started, of course, in March, when the Administration announced aluminum and steel tariffs that, at the time, were primarily aimed at China and a handful of other nations while exempting, for the time being, allies in Europe as well as Canada and Mexico. Not surprisingly, that announcement was received negatively on Wall Street, which until then had been largely headed upward, on fears that we were witnessing the beginning of a trade war that threatened to undo much of the progress that had been made on international trade since the end of World War Two. This announcement was followed weeks later by a Presidential announcement of a series of new tariffs on China, which quickly led China to announce retaliatory tariffs of its own, many of them aimed at industries such as agriculture that had been heavily pro-Trump in the 2016 election. Several soon afterward, Trump said that the United States was considering additional tariffs against the Chinese amounting to as much as $100 billion dollars. The Chinese Trade Ministry quickly responded to these statements from the President, saying that "We do not want to fight, but we are not afraid to fight a trade war." Indeed, as Steven Lee Myers noted when these statements were made, the Chinese are confident that they could win a trade war.
The trade war took an unexpected turn in May, though, when the President revoked the exemption from the steel and aluminum tariffs that had been announced back in March that applied to American allies in Europe as well as Canada and Mexico. This was obviously not well-received in Ottawa, Mexico City, or Brussels. Canada's Foreign Minister called the new tariffs "absurd," for example, and European Union officials announced retaliatory tariffs against American goods. Things got even more bizarre in this regard as Trump exchanged harsh words with Canadian Prime Minister Justin Trudeau prior to the G-7 Summit. Once he was at the summit, Trump essentially did everything he could to alienate America's closest allies, thereby seemingly achieving a goal that Russia and, before it, the Soviet Union had only dreamed of. After the Singapore Summit with North Korean leader Kim Jong Un, Trump continued his tirade against Trudeau, while polling revealed that Canadian public opinion about the United States was suffering as a result of American actions and the President's rhetoric.
All of this has had a predictable impact on the American economy, an impact that only seems likely to grow as long as this goes on. In May, for example. The Wall Street Journal reported that prices for both foreign and domestic steel and aluminum were increasing and having a negative impact on manufacturers that rely on these raw materials for their products. Other reports indicated that American pork farmers were increasingly nervous about their overseas business with nations like China. In Iowa specifically, it is being reported that Chinese retaliation for the tariffs imposed on Chinese goods could cost soybean farmers $624 million this year alone, with the prospect of larger losses if the retaliation continues beyond this year. This has led many leaders in Iowa and elsewhere, including Senator Chuck Grassley to express concern about the impact of the trade war on Republican fortunes in the fall. This is especially true given the fact that the tariffs seem to be expressly targeted toward Trump voters and middle-class Americans. This month has also seen that the tariffs have had a negative impact on other American businesses, and has even led an iconic American brand like Harley-Davidson to announce that they are moving some production overseas in response to the retaliatory tariffs imposed by the European Union.
As The Washington Post's Robert Samuelson put it in a column last week, while it's still early in the game, it's clear that the United States is going to lose this trade war:
The reality is that Trump's obsession with the trade deficit is misplaced. Since 1976, the United States has continuously run trade deficits on goods and services. If the United States were a normal country and the dollar a normal currency, a correction would have occurred long ago. The dollar would have dropped on foreign exchange markets, making U.S. exports cheaper and U.S. imports more expensive. Our trade would have swung toward balance or surplus.

But the United States is not any-old-country, and the dollar is not any-old-currency. It continues as the most important global money, used to settle trade transactions and make cross-border investments. This extra demand for dollars props up its exchange rate. This makes U.S. exports costlier and imports cheaper. Deficits ensue.

Just what technology controls the United States should adopt to screen transactions with China isn't clear or easy. The ultimate outcome is likely to be some combination of added powers for the Committee on Foreign Investment in the United States, which oversees foreign investment here, and export controls, which regulate sales of technology abroad, said Martin Chorzempa of the Peterson Institute.

But whatever Congress and Trump do won't be effective unless it's matched by other major trading countries. Trump either doesn't realize this or doesn't care. He's infuriating the very countries whose support he desperately needs. His policies are more than misguided; they're backward.
The expanding trade war has also had an impact on world financial markets, especially on those companies that rely on international trade. This has resulted in all of the major stock indices — the Dow Jones Industrial Average, the S&P 500, NASDAQ, as well as broader measures of the stock market such as the Wilshire 5000. Since March, all of these indices have declined precipitously, with many of them experiencing massive volatility based solely on the announcement of new American or retaliatory tariffs. As a result, we are now at the point where Wall Street has erased all the gains it made since the end of 2017. To be fair, it's worth noting that the stock market had been on a virtually uninterrupted upward swing since the November 2016 election and that a correction of some kind was inevitable. Nonetheless, it seems clear that Trump's trade moves have been a significant factor in pushing stock prices down due to the concerns about the impact they could have on corporate earnings and on financial markets around the world. Thus, while stock prices are still well above where they were after the election, and could easily turn around fairly quickly if the news warrants it, the fact that we are headed into what looks like it will be a prolonged trade war does not bode well for the future.
None of this should come as a surprise to anyone who is even moderately well-versed in economics, of course. Both economic analysis and actual history have demonstrated time and again that tariffs and trade wars are ultimately destructive, that they do not "protect" domestic industry, that the end up harming international relations outside of the economic sphere, and that they end up harming consumers. One of the best examples of this, of course, is the one that most Americans are probably the most familiar with, the infamous Smoot-Hawley tariffs imposed just before the start of the Great Depression. While later economic and historical analysis has shown that the role the tariffs played in precipitating the subsequent economic downturn likely wasn't as prominent as has been popularly believed, it's nonetheless true that they did nothing to help the economy recover and, predictably, led to the kind of retaliatory tariffs that weakened the world economy and helped to set in motion many of the elements that played a role in the inevitability of the Second World War. As I've said before, President Trump once said that trade wars are good and easy to win. Four months into this debacle, it's already becoming clear that he was disastrously wrong.