Hours After Praising A Brutal Dictator, Trump Attacked Justin Trudeau Again
Trump spent much of Tuesday praising a dictator who has murdered and imprisoned millions of people. Then he returned to attacking the democratically elected leader of one of our closest allies.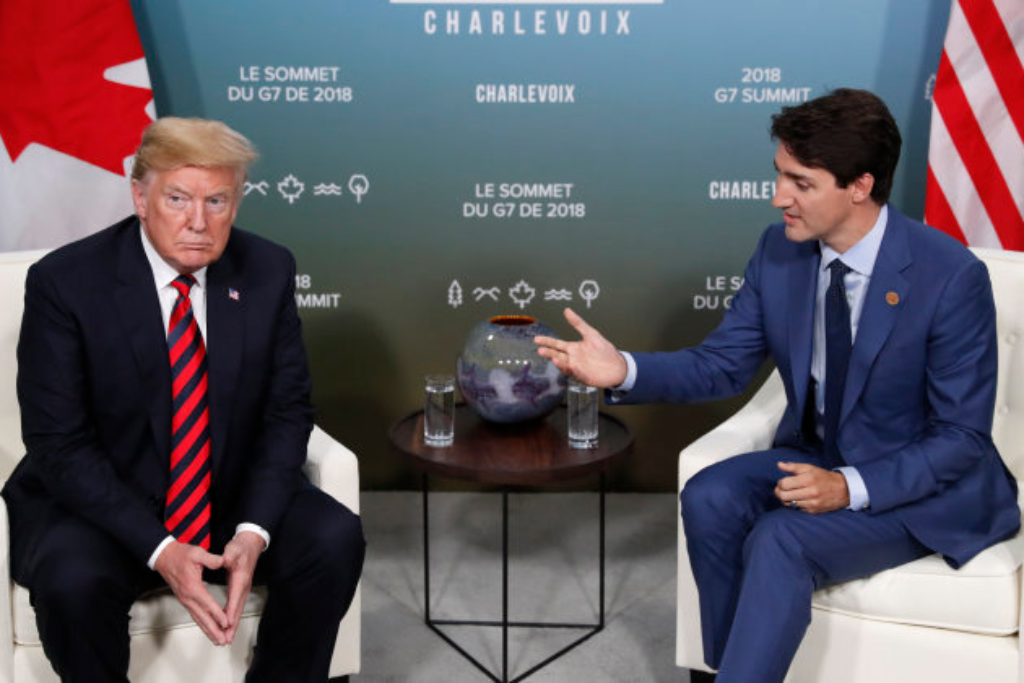 Even while he was wrapping up his summit with North Korean dictator Kim Jong Un, President Trump could not resist unleashing yet another attack against America's neighbor to the north:
President Trump reprised his criticism of Canada's prime minister here Tuesday, threatening that Justin Trudeau's tough exchanges with him over trade policy would "cost a lot of money for the people of Canada."

Trump said he departed the Group of Seven summit that Trudeau hosted in Quebec late last week on "very friendly" terms with his six counterparts, including the leaders of France, Germany, Italy, Japan and Britain.

"When I got on to the plane, I think that Justin probably didn't know that Air Force One has about 20 televisions," Trump said. "And I see the television, and he's giving a news conference about how he will not be pushed around by the United States. I say, push them around? We just shook hands. It was very friendly."

Trump said he was retaliating against Canada with countervailing tariffs, saying of Trudeau: "He learned that's going to cost a lot of money for the people of Canada. He learned."

Trump made his comments in a wide-ranging news conference in Singapore following his historic summit with North Korean leader Kim Jong Un.

Trump was asked about the contrast between the respect he accorded Kim here Tuesday and the hostility he showed Trudeau in recent days, and what he would say to those who worry he is treating America's longtime friends, such as Canada, as enemies and its longtime enemies, such as North Korea, as friends.

"I think it's a very fair question," Trump said. "I had a very good meeting with the G-7. And I left the meeting, and I'll be honest, we're being taken advantage of by virtually every one of those countries very seriously."
The truth, of course, could not be further from Trump's version of it. In reality, the United States has long-standing and very beneficial trade relations with Europe, Japan, and Canada and that international trade from these countries, and indeed from around the world, has inured to the benefit of the United States for generations now. Rather than acknowledge that, though, this President insists on listening to the false rhetoric of protectionism being whispered in his ear by Peter Navarro and others in his Administration and on pandering to an ill-informed base that views international trade as something that damaging to the American economy. More importantly, he ignores the relationship that the United States has had with Canada for decades now, a relationship, that as I argued on Monday, has benefited the American and Canadian people in innumerable ways. Most particularly, there's the fact that the American and Canadian economies were intertwined even before the North American Free Trade Agreement was adopted, particular in reference to the defense industry (something that makes the President's invocation of "national security" in connection with his extension of aluminum and steel tariffs to cover Canada particularly absurd.)
What's perhaps even more ironic, or perhaps insulting is the better word for it, is the fact that Trump continued to unleash idiotic criticism against the Head of Government of one of America's closest and most reliable allies just hours after meeting with the leader of one of the most repressive regimes on the planet and treating him a cordial and some would say even obsequious manner. For example, at the same press conference where he continued his unhinged attack on Prime Minister Trudeau, Trump said that Kim Jong Un was a funny guy who "loves his people." This is the same Kim Jong Un, of course, who presides over a regime that has held the North Korean people in virtual slavery for the past seventy years, has locked people into concentration camps. When reminded that this is the same person who has locked people away in concentration camps and murdered political dissidents, Trump said that Kim was "tough" and "smart" and essentially dismissed the fact that he had shook hands with a man who the blood of his people on his hands, including the blood of Otto Warmbier, whose torture-induced death he bizarrely claimed led to his Photo Op Summit. While this is consistent with Trump's admiration for other dictators such as President al-Sisi in Eqypt, the Saud family in Saudi Arabia, President Rodrigo Dueterte of The Philippines, Xi Jinping, and, of course, Vladimir Putin.
If a Democratic President had done what Trump did, Republicans would be attacking him mercilessly, and deservedly so. In Trump's case, and with a only a few notable exceptions, the Republican Party is as silent as it has always been in the face of Trump's behavior and statements. At some point, they are going to be called to answer for all of this.