Trump Escalates His Trade War Rhetoric With Predictable Results
President Trump is continuing his dangerous and misguided trade war rhetoric,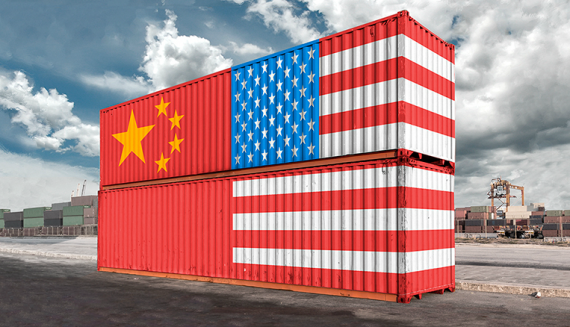 As the week drew to a close, President Trump continued his trade war rhetoric even while insisting that there either won't be a trade war or that if there is it will be easy for the United States to "win" without suffering much pain:
WASHINGTON — President Trump said Thursday that the United States would consider slapping tariffs on an additional $100 billion in Chinese goods, escalating a potentially damaging trade dispute with Beijing.

Mr. Trump said in a statement that he was responding to "unfair retaliation" by China, which published a list on Wednesday of $50 billion in American products that would be hit by tariffs, including soybeans and pork. That move was a direct reaction to the tariffs on $50 billion in Chinese goods that the White House detailed on Tuesday.

"Rather than remedy its misconduct, China has chosen to harm our farmers and manufacturers," Mr. Trump said, adding that he had instructed the United States trade representative to determine whether tariffs on an additional $100 billion in goods were warranted and, "if so, to identify the products upon which to impose such tariffs."

The announcement came one day after some of Mr. Trump's advisers tried to calm markets and tamp down fears of a trade war between the world's two largest economies, saying that the tariff threats were the first step in a negotiation process. Mr. Trump said in his statement that the potential for new tariffs would not preclude discussions with the Chinese "to protect the technology and intellectual property of American companies and American people," but any new tariffs are unlikely to make that already tough task easier.

The move is a high-stakes gamble aimed at cowing China into backing down and forcing it to make the kinds of changes that the United States is seeking — namely reducing the coercive tactics American officials say Beijing uses to try to dominate leading-edge industries like artificial intelligence, robotics and autonomous vehicles. But the move could ultimately bring about the kind of retaliation from Beijing that has spooked stock markets.

It also means that the United States would be somewhat more likely to place levies on Chinese products that American households routinely purchase, like furniture, clothing or shoes — an outcome the Trump administration said it sought to avoid with its initial round of tariffs.

The president's announcement was immediately criticized by manufacturers, retailers and politicians from states whose economies depend on agriculture.

Senator Ben Sasse, Republican of Nebraska, said Mr. Trump was "threatening to light American agriculture on fire."

"Hopefully the president is just blowing off steam again, but if he's even half-serious, this is nuts," Mr. Sasse said. "Let's absolutely take on Chinese bad behavior, but with a plan that punishes them instead of us. This is the dumbest possible way to do this."

A trade war could derail the current global economic expansion and cripple American businesses that depend on business with China. It could also further complicate geopolitical priorities given the Trump administration has enlisted the help of the Chinese in scheduling historic talks with North Korea next month.

In a statement, Robert Lighthizer, the trade adviser who is carrying out an investigation into Chinese practices, described the president's threat as "an appropriate response," saying China should have responded to the initial tariffs levied by the United States by changing its behavior.

On Friday, a spokesman for China's Ministry of Commerce accused the United States of starting the conflict and said that "the Chinese position has been made very clear. We do not want to fight, but we are not afraid to fight a trade war."

He added that if the United States followed through with its threats, "The Chinese side will follow suit to the end and will not hesitate to pay any price and will definitely fight back. It must take a new comprehensive response and firmly defend the interests of the country and the people."
As has been the case with Trump's other recent tariff threats, China was quick to respond:
Trump announced that he was considering expanded tariffs Thursday night, hours after administration officials played down the idea of a trade war. On Friday morning, China's Commerce Ministry told reporters that it would retaliate if the new tariffs were imposed, saying, "China has very detailed countermeasures."

Around midday in Asia, the Commerce Ministry released a terse statement: "On the issue of Sino-U.S. trade, the Chinese position has been made very clear. We do not want to fight, but we are not afraid to fight a trade war."
Trump's announcement of the possibility of additional tariffs against China, which could amount to as much as $100 billion, and the swiftness once again of the Chinese response to that announcement raised new concerns about the possibility of a trade war between the world's two biggest economies which President Trump's top economic advisor Larry Kudlow sought to tamp down:
The Trump administration may propose specific actions China could take to avoid being slapped with billions of dollars in tariffs, President Trump's top economic adviser said Friday.

"The U.S. may provide a list of suggestions to China," White House National Economic Council Director Larry Kudlow told a group of reporters at the White House, adding that resolving the trade dispute between Washington and Beijing is "eminently doable" within three months.

The comments come one day after Trump ordered his administration to consider $100 billion in additional sanctions on China, which raised fears of a full-blown trade war between the world's two largest economies.

Kudlow, who has been at the White House for just five days, has repeatedly tried to calm those fears in media appearances.

"We are not in a trade war," he said. "What this is is an attempt to right some of the wrongs with respect to China."

But Kudlow acknowledged the possibility of a costly trade conflict, saying that "any foreign policy can go awry."

The former CNBC analyst said the onus is on China to rein in intellectual property theft and other trade practices.

"I'm not a tariff guy, but sometimes you need to use tariffs to bring people to their senses," said Kudlow, calling the Chinese response so far "highly unsatisfactory."

Kudlow added: "China is the problem. Blame China, not Trump."
Even as Kudlow was seeking to dampen fears, Treasury Secretary Steve Mnuchin was pushing things in the opposite direction:
Treasury Secretary Steven Mnuchin said Friday the Trump administration is prepared for an escalation of its trade dispute with China.

"Our objective is still not to be in a trade war with [China]," Mnuchin said on CNBC's "Power Lunch." "I'm cautiously optimistic that we will be able to work this out."

But, he added, "there is the potential of a trade war."

Mnuchin said the U.S. is in "communications" with China, but he didn't want to comment on the progress of the talks.

"Right now we have initiated a plan. The tariffs will take some period of time to go into effect. There will be public comment, while we're in the period before the tariffs go on. We'll continue to have discussions," he said. "The president wants reciprocal trade."

Mnuchin also noted that President Donald Trump is actively involved on a daily basis in the tariff plans with him and U.S. Trade Representative Robert Lighthizer.
Not surprisingly, Wall Street reacted negatively to this latest round of news, with the Dow Jones Industrial Average falling nearly 600 points and all the other major stock indexes following suit. Some of yesterday's fall could probably be seen as a reaction to the disappointing jobs numbers as well as what clearly seems to be a market correction taking place after fifteen months in which the market was hitting new highs on a regular basis. However it also seems clear that at least part of what's roiling markets right now is the increasingly heated trade rhetoric coming from the White House, the manner in which the Chinese and other nations impacted by actual or threatened tariffs are reacting, and the threat that all of this could pose to the American economy and economic growth around the developed world, which in many cases nearly as robust as it has been in the United States.
Back before all of this started, Trump claimed on Twitter that a trade war would be "good" and "easy to win":
When a country (USA) is losing many billions of dollars on trade with virtually every country it does business with, trade wars are good, and easy to win. Example, when we are down $100 billion with a certain country and they get cute, don't trade anymore-we win big. It's easy!

— Donald J. Trump (@realDonaldTrump) March 2, 2018
Reality, of course, tells us otherwise. Instead of resulting in a "win" for any of those participating, a retaliatory trade war such as the one that appears to be brewing between the United States and China doesn't have winners, it only has losers. The American economy will not benefit in the least from what amounts to an increased tax on raw materials, manufactured products, and especially consumer goods. The tariffs that the President has announced will not just impact the industries directly impacted by the tariffs, they will also negatively impact American businesses that rely on imported goods and on American industries that rely on international trade for a large segment of their business. Already, for example, businesses that rely on imported steel and aluminum are telling reporters that their raw materials costs are increasing and American farmers, many of whom supported President Trump, are finding that the retaliatory trade sanctions that China has announced will have a significant negative impact on their businesses. Additionally, the tariffs themselves will likely have at least some impact on America's relationship with the nations that will be impacted by them. With respect to these latest rounds of tariffs, that includes both China and South Korea, who are essential players in American policy toward the Kim regime in North Korea. In other words, these tariffs will end up being bad news all around even if they do have some negligible positive benefit for some sectors of the economy that compete against foreign sources of goods in the marketplace.
To be sure, there are issues between the United States and China that need to be addressed. Beijing has been far too lackadaisical, and in some cases encouraged, intellectual property theft and industrial espionage on the part of Chinese industries linked to the central government, for example. Additionally, China's currency policies arguably contribute a great degree to the trade imbalance between our nation and theirs. The policies that the Trump Administration is following right now, though, are not going to accomplish anything in either of those important areas, and will likely make it harder to talk to the Chinese about dealing with them at all. Finally, treating China like a rival rather than a partner would seem to guarantee that relations between Washington and Beijing will sour at precisely the same time that we need them to be at least cordial for reasons completely unrelated to trade, and arguably more important than a trade deficit that, in the end, is largely a meaningless number.