ABC Cancels Top-Rated 'Roseanne' After Racist Tweetstorm
Hours after she unleashed a racist Twitter tirade, Roseanne Barr has had her show canceled by ABC. Of course, ABC knew who it was doing business with well before today.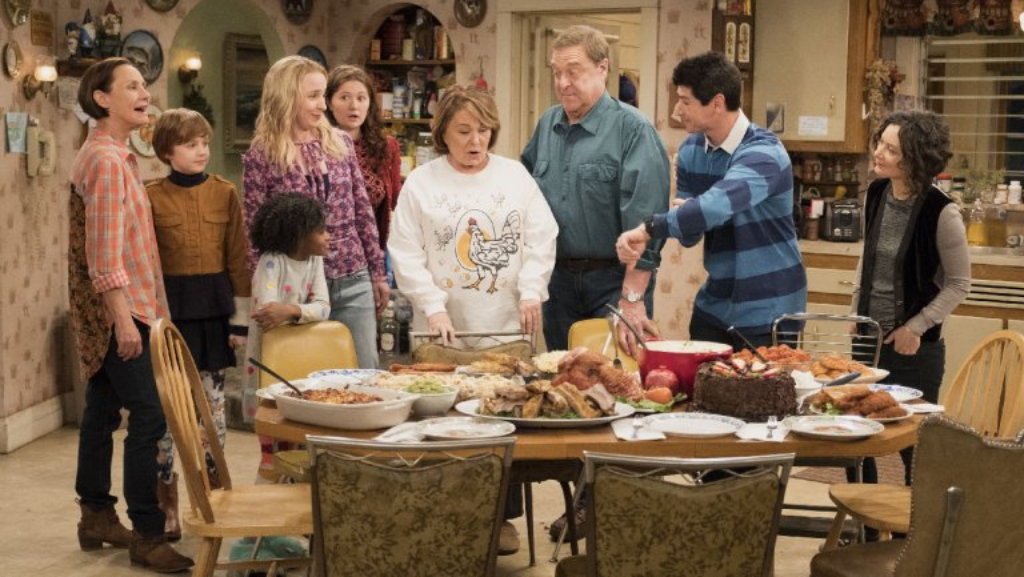 ABC has canceled the top-rated return of the 1990s television series Roseanne just hours after a racist Twitter tirade from the show's star Roseanne Barr:
ABC canceled the hit sitcom "Roseanne" on Tuesday hours after the show's star and co-creator, Roseanne Barr, posted a racist tweet about a former top adviser to President Obama who is black.

Early on Tuesday, Ms. Barr posted a comment about Valerie Jarrett, the former adviser to Mr. Obama, that said if "muslim brotherhood & planet of the apes had a baby=vj."

Ms. Barr, whose ABC sitcom about the Conner family ended a successful comeback season last week, initially dismissed accusations that the comment was racist, defending it as "a joke." She also said on Twitter, "ISLAM is not a RACE, lefties. Islam includes EVERY RACE of people."

Ms. Barr later deleted the post about Ms. Jarrett, and initially said nothing about the reference to "The Planet of the Apes." About a half-hour later, she offered an apology.

"I apologize to Valerie Jarrett and to all Americans," she wrote. "I am truly sorry for making a bad joke about her politics and her looks. I should have known better. Forgive me – my joke was in bad taste."

Ms. Barr also said she was "leaving Twitter."

Hours later, ABC canceled her show.

"Roseanne's Twitter statement is abhorrent, repugnant and inconsistent with our values, and we have decided to cancel her show," ABC's entertainment president, Channing Dungey, said in a statement.

The fallout over the Twitter post had begun earlier. Wanda Sykes, the black comedian who served as a consulting producer on "Roseanne" this season, said she was leaving the sitcom. Whitney Cummings — a showrunner for the revived comedy, and one of its most outspoken liberal supporters — had already left the series this month.
More from The Washington Post:
ABC announced Tuesday that it has canceled "Roseanne" after the show's star, Roseanne Barr, went on a vitriolic Twitter rant.

"Roseanne's Twitter statement is abhorrent, repugnant and inconsistent with our values, and we have decided to cancel her show," Channing Dungey, president of ABC Entertainment said in a statement released just hours after the comedian's offensive social media rant.

The cancellation capped a day of online furor over a Twitter rant by Barr in which the actress/comedian spewed false conspiracy theories, went after former firklash and calls for ABC to fire the comedian and cancel her show, Barr issued a blanket apology and said she was giving up the social media platform. "I apologize. I am now leaving Twitter," she wrote, hours after the tweetstorm began.

The mea culpa was apparently not enough for comedian Wanda Sykes, a consulting producer for Barr's show. "I will not be returning to @RoseanneOnABC," Sykes wrote shortly after the online tirade ended.

(…)

The social-media rant wasn't exactly a surprise performance by Barr, who regularly delights supporters of President Trump with her retweets of conservative memes and stories. She has trucked in conservative conspiracies before, though she deleted most of her old tweets once it was announced that her show "Roseanne" was coming back on the air after a 21-year hiatus.

But even by her own standards, the initial tweets were particularly vitriolic. She started by spreading the false rumor (which apparently Scott Baio believes, too) that Chelsea Clinton was married to the nephew of billionaire liberal Democratic donor George Soros, who is a lightning rod for false conservative theories.

Clinton responded in her usual M.O. when dealing with social-media weirdness: a clapback cloaked in sweetness. "Good morning Roseanne – my given middle name is Victoria," she wrote. "I imagine George Soros's nephews are lovely people. I'm just not married to one. I am grateful for the important work @OpenSociety [Soros's organization] does in the world. Have a great day!"

(…)

Clinton wasn't Barr's only target, though — she had more to say about Soros, whom she accused of wanting to "overthrow … [U.S.] constitutional republic."

Barr also falsely claimed that Soros was "a nazi who turned in his fellow Jews 2 be murdered in German concentration camps."

And she called on Americans to "unite against" a CIA mind-control program, for good measure.

In one of her most offensive missives (though it was a tough contest), she appeared to take aim at former Obama adviser Valerie Jarrett, identifying her by her initials: "muslim brotherhood & planet of the apes had a baby=vj," she wrote, though she later claimed it was "a joke." After more intense criticism directed to her and ABC, she issued a fuller apology. "I apologize to Valerie Jarrett and to all Americans," she wrote. "I am truly sorry for making a bad joke about her politics and her looks. I should have known better. Forgive me-my joke was in bad taste."

Barr has tweeted in the past about "Pedogate," the term for conspiracy theories that accuse people (usually Trump opponents) of being part of a secret ring of pedophiles, and Pizzagate (the most famous of those theories). She also tweeted last year about Seth Rich, the Democratic National Committee staffer who was shot in Washington, echoing a conservative theory that his death was covered up by the Clintons. "THE FIX IS IN!" Barr tweeted at the time.
Meanwhile, as The Hollywood Reporter notes, Roseanne was arguably causing other headaches for the network:
Roseanne was slated to return in the fall for an expanded 11th season of 13 episodes as ABC looked to build on the show's momentum. In a victory lap of sorts, Barr was the centerpiece of ABC's upfront presentation to Madison Avenue ad buyers earlier this month. The revival was part of a larger effort by Dungey — broadcast's lone African-American network topper — to cater to the underserved community who turned out in force to elect Trump. The success of the Roseanne revival has prompted other broadcast networks to pick up a wave of multicamera comedies in a larger push to program for middle America. (To that end, Fox revived Tim Allen comedy Last Man Standing a year after ABC's cancellation.)

On some level, the quick decision by ABC to cancel the show in the wake of Barr's racist comments was somewhat of a surprise. Her show, which had been off the air since ending back in 1997, returned earlier this year as a limited-run series and immediately bolted to the top of the television ratings. The first episode of the revival received remarkably high ratings for a show that had been off the air as a first-run series for nearly twenty years and the ratings for subsequent episodes, while not quite as high as that first episode, were still high enough for the network to announce quite early on that it was renewing the show for a second season.

Roseanne has never shied away from taking on timely and controversial subjects. In the spirit of its original run, which had a history of addressing larger political and social issues, the revival famously opened its new season with an episode that explored the country's divisive response to President Trump, whom Barr has publicly supported. The storyline between Roseanne and her sister, Jackie (Laurie Metcalf), was designed to reflect the debate among Trump's working-class base and spur a larger discussion. The May 22 season finale, likewise, set the stage to explore a larger debate about health care in America.

The reboot also found itself under the microscope earlier this season when a one-off joke taking aim at fellow ABC comedies Black-ish and Fresh Off the Boat was blasted as being "reductive" and "belittling."
The most notable thing about the revived show was the extent to which it became much more overtly political than the show had been in its previous incarnation. Reflecting Roseanne herself, the character she played was a vocal and strong supporter of Donald Trump, and several of the episodes of this past seasons involved clashes between her and other family members regarding this and the results of the 2016 Presidential election. At the same time, though, the show also featured the main character's mixed-race grandchildren, including one who seemed to be clearly identified as heading toward the realization that they are transgendered. As noted above, the success of the show was such that President Trump cited it several times, and pointed to the success of the show as evidence that "people like us" are a substantial force in the country, if not an outright majority, regardless of what the reporting might say.
Personally speaking, I can't say that I'm surprised. Anyone who was around when Roseanne was originally on the air back in the 1990s will surely remember that Roseanne Barr, or whatever she chose to call herself at any given point in time, was an erratic and bizarre person off-screen who was apt to say things that were offensive to a wide variety of people. For a time at least, the show itself was funny enough to be something I would watch on a regular basis, but to no small degree that was due more to what many of Roseanne's co-stars, such as John Goodman and Laurie Metcalf, brought to show than Roseanne Barr herself, who was as much of a bizarre person off-screen back then as she proved herself to be on Twitter. I stopped watching the show on a regular basis at some point halfway through its run, though, and am only aware of some of what happened in subsequent seasons due to the fact that the show has been running in syndication on a number of different cable networks over the intervening two decades and I'd sometimes run across it while channel surfing. Other than the first episode of the return series, which I watched after the fact if only because it had become something of a pop culture phenomenon and I wanted to see what all the talk about. The only thing I concluded after watching that episode was that walking away from it nearly twenty years ago was the right decision.
In any case, the abrupt decision to cancel the show is likely the quick recognition by ABC and Disney that failing to act quickly to separate themselves from Roseanne Barr would end up causing more headaches than the ratings were worth. At the same time, though, one does have to say that they really have only themselves to blame for all of this. As I noted, Roseanne Barr has been an erratic and controversial figure ever since her show was first put on the air, and that has only increased in the intervening years since it ended its original run. Her Twitter account alone presented more than enough evidence dating back to well before the revival began production that she was capable of and prone to saying things that were crazy, offensive, and just all around ridiculously stupid. Despite all of this, they decided to go forward with the project and to quickly renew the show for a second season after just a few episodes because of the ratings. That decision to reboot the series came at the same time that Barr had ended a brief Twitter hiatus and begun tweeting out bizarre nonsense about the so-called "Pedogate" and "Pizzagate" conspiracy theories that are popular in alt-right circles and among die-hard Trump supporters. On top of all that, there had to be at least some people left at ABC who remembered the controversies that Barr found herself in the middle of when the show was originally on the air. It's not like she woke up this morning and just decided to be a crazy racist on Twitter. They knew what they were getting into, but they chose to ignore it because they saw dollar signs. While they deserve credit for acting quickly, they never should have given this woman a platform to begin with.