William Barr Is Exactly The Kind Of Attorney General Trump Always Wanted
Late last week, Attorney General William Barr demonstrated quite aptly the extent to which he has become just another Trump loyalist.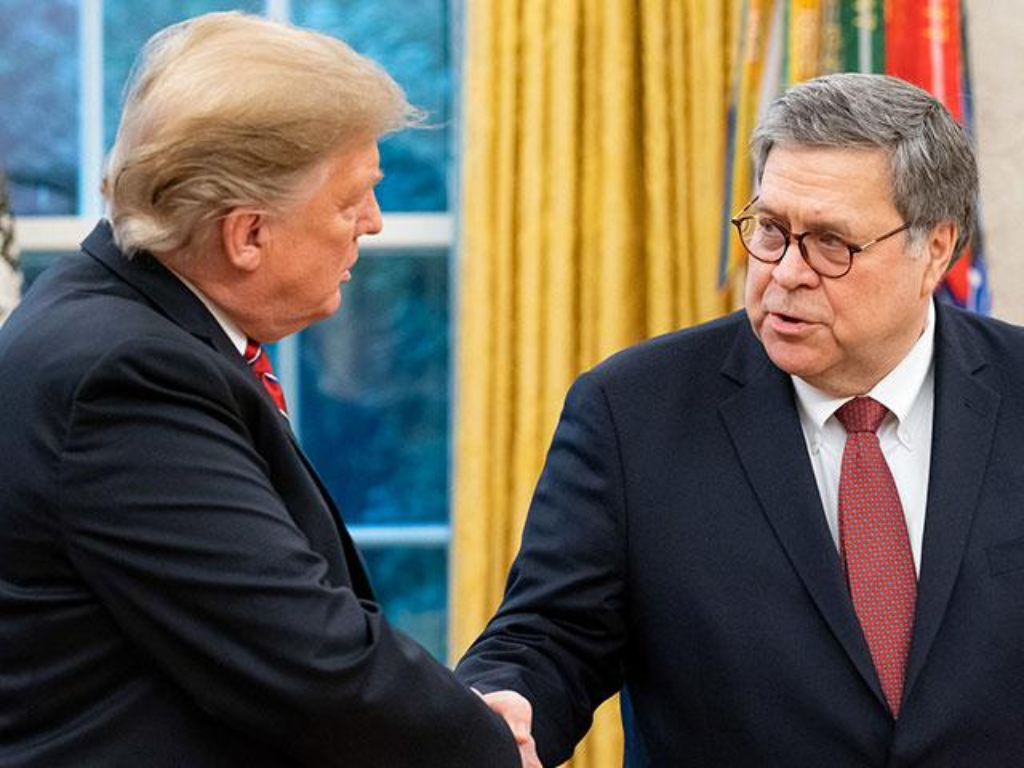 In an unusual step for a sitting Attorney General of the United States, but a typical one for the Trump Administration, Attorney General William Barr delivered a controversial and highly partisan attack in a speech late last week:
Attorney General William P. Barr accused Democrats on Friday of using their oversight powers to sabotage the executive branch, criticizing the "resistance" to President Trump and what he called a broader erosion in the commander in chief's rightful authority.

The Trump appointee described a "war" against a "duly elected government" at a conference of the Federalist Society, a conservative legal group that has played a key role in the administration's efforts to seat record numbers of right-leaning federal judges.

"The fact of the matter is that, in waging a scorched earth, no-holds-barred war of resistance against this administration, it is the left that is engaged in the systematic shredding of norms and the undermining of the rule of law," Barr told his audience of lawyers at Washington's Mayflower Hotel.

To critics, the speech was overly partisan and even "authoritarian." It prompted some calls for Barr's impeachment from lawyers and legal scholars, many of whom believe his views of presidential power are too expansive. Barr says the Constitution's creators envisioned a strong executive.

His speech came amid a newly public, high-stakes phase of Democrat-led investigations into the White House, as impeachment hearings examine whether Trump abused his office to secure a foreign country's probe of his political rival. Barr recently declined Trump's request that he hold a news conference defending Trump in the inquiry by saying the president broke no laws in a call to Ukraine's president, individuals familiar with the situation told The Washington Post.

But the attorney general was vociferous Friday in his defense of Trump's actions in office, saying legislators are the ones who have overstepped their bounds. Judges, too, have interfered with the president's authority in recent years, he said.

"I don't deny that Congress has some implied authority," he said. "But the sheer volume of what we see today, the pursuit of scores of parallel investigations through an avalanche of subpoenas, is plainly designed to incapacitate the executive branch and indeed is touted as such."

Richard Painter, who served as chief White House ethics attorney in the George W. Bush administration, called the attorney general's statements "authoritarian," comparing the Federalist Society talk to another Barr speech that criticized "radical secularists."

Barr's talk was "an attack on our Constitution and on the rule of law," the University of Minnesota law professor tweeted.

(…)

The attorney general has been warning for decades of "legislative encroachments" on the president's power, as he put it in a 1989 memo that his Democratic successor quickly replaced with one that recognized a bigger role for Congress.

Speaking Friday, Barr traced a "steady grinding down" of executive authority to the mid-1960s, saying the trend had quickened after the Watergate scandal that led to President Richard Nixon's resignation.

Barr emphasized the president's purview over policy and diplomacy and argued for the executive branch's ability to keep its conversations secret from what he called a meddling Congress. For the attorney general, the so-called resistance to the president implies a "dangerous" notion of insurgency against a military occupation.

He pointed to Trump's election as a mandate for his actions.

"While the president has certainly thrown out the traditional Beltway playbook and punctilio, he was up front about what he wanted to do, and the people decided they wanted him to serve as president," Barr said.

The attorney general defended specific Trump administration policies such as a travel ban aimed at citizens of mostly majority-Muslim countries, pointing to court victories. The Supreme Court upheld that policy last year in a close ruling that found Trump can bar travelers for national security reasons.

Barr contended the Obama administration wielded executive power more aggressively than its successor — for example, through its creation of the Deferred Action for Childhood Arrivals program that protects certain undocumented immigrants known as "Dreamers" from deportation.
Barr's defense of a strong executive generally and of the actions of the Trump Administration particularly are not surprising, of course. Months before he was selected to replace Jeff Sessions, Barr was writing Op-Ed's and appearing on cable news arguing in favor of Trump Administration policies, questioning the validity of the Mueller investigation into Russian interference in the 2016 election, potential collusion with the Trump campaign, and obstruction of justice by the Trump Administration. Democrats raised several of these issues at Barr's confirmation hearings, of course, and Barr responded by saying that as Attorney General he would see his responsibility as being toward enforcing the law rather than representing the President.
Since taking office, though, Barr has behaved exactly as the Democrats and other critics of Barr's nomination predicted. Shortly after the Mueller Report was released to Congress and the public in a redacted form, Barr released a letter purporting to summarize the investigation's conclusions that were so inaccurate that the Special Counsel's office felt the need to send a letter to the Attorney General demanding that his misrepresentations be clarified. Once the report was released, it was clear that Barr's summary of the report was at the very least misleading and at the very worst outright lying. Despite demands, Barr has also refused to comply with Congressional demands for an unredacted copy of the report, an action that led the House Judiciary Committee to hold him in contempt earlier this year.
In addition to his actions involving the Mueller report, Barr has been a consistent defender of the President and has utilized the Justice Department to defend the President even in cases that don't directly implicate the Presidency. This includes lawsuits over documents regarding the President's personal finances and tax returns as well as a number of other issues. In addition, as he demonstrated in this speech, he has become a vocal partisan spokesperson for Administration policy rather than the relatively neutral enforcer of the laws that the post is supposed to be. Granted, we've had Attorneys General or are partisan in one sense or the other in the past, Edwin Meese comes to mind for example, but Barr exceeds even those boundaries in his obsequiousness toward Trump and his efforts to turn the Justice Department into Trump's private law firm inside the Federal Government.
Max Boot accurately describes Barr's defense of Presidential power-grabbing as "chilling":
Barr's wrongheaded assumption was that "over the past several decades, we have seen steady encroachment on presidential authority by the other branches of government." His view faithfully reflects the conservative consensus of the 1970s when he was a CIA analyst and a law student. Few serious analysts share that view today at a time when the president claims the authority to kill suspected terrorists anywhere in the world without any judicial oversight. In fact, conservatives decried President Barack Obama's tendency to rule by fiat — for example, in protecting "dreamers" from deportation or reaching a nuclear agreement with Iran that wasn't submitted for Senate ratification.

Trump has now taken rule-by-executive-order to the next level by declaring a "state of emergency" to spend money on his border wall that Congress refused to appropriate. Trump has also misused his authority in myriad other ways, including obstructing justice (as outlined in a special counsel report that Barr deliberately mischaracterized) and soliciting a bribe from Ukraine to release congressionally appropriated military aid.

Yet, to hear Barr tell it, Trump is somehow denied power by the nefarious "Resistance." Barr decried Trump critics who do not view "themselves as the 'loyal opposition,'" but rather "see themselves as engaged in a war to cripple, by any means necessary, a duly elected government."
Earth to Barr: Trump does not treat his critics as "the loyal opposition."

He calls them "human scum," "traitors" and "the enemy of the people," using the language of dictators. And it is Trump and his toadies — not his opponents — who are "willing to use any means necessary to gain momentary advantage."

(…)

"In this partisan age," Barr sanctimoniously concluded, "we should take special care not to allow the passions of the moment to cause us to permanently disfigure the genius of our Constitutional structure." He is right, but not in the way he intended. The real threat to "our Constitutional structure" emanates not from administration critics who struggle to uphold the rule of law but from a lawless president who is aided and abetted in his reckless actions by unscrupulous and unprincipled partisans — including the attorney general of the United State
What Barr is doing here is nothing less than reinforcing and emboldening the worst aspects of the Trump Presidency, including most notably his open contempt for the Rule of Law and his baseless attacks on the independent judiciary. He is, in other words, becoming exactly the kind of Attorney General that Trump wanted from the start.