Trust In State Government
A new poll finds that people in Illinois have an accurate assessment of politics in their state.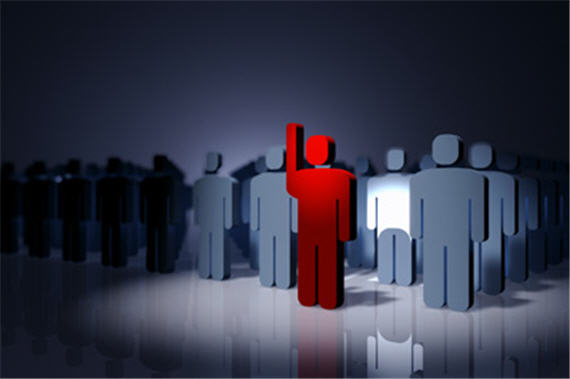 A new poll finds that people in Illinois have an accurate assessment of politics in their state.
Gallup ("Illinois Residents Least Trusting of Their State Government"):
Illinois residents trust their state government to handle their state's problems far less than residents in any other state. Twenty-eight percent of Illinois residents trust their state government "a great deal" or "a fair amount." In contrast, at least 75% of North Dakota, Wyoming, and Utah residents trust their state governments.
When I saw the headline, I guessed that Louisiana would be second. Turns out, they're fifth.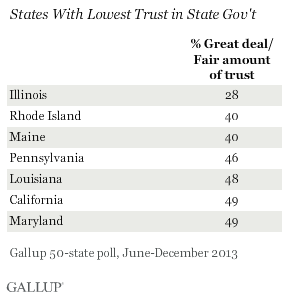 I know little of the politics in Rhode Island and Maine but am somewhat surprised to see them so high on the list; unlike Illinois and Louisiana, I can't recall a spate of high profile criminal malfeasance from officials there. Nor does it jibe with this, potentially specious, finding:
In general, trust is lower in more populous states than in less populous states. The 10 most populous states and 10 least populous states differ by 11 percentage points in state government trust, with the middle population states in between. Larger states have larger economies and more citizens needing services, and often more diverse populations, so they may be more challenging to govern than smaller states.
Maybe. But it's quite possibly a specious, irrelevant finding. To the extent that population size alone—irrespective of diversity, geographic sprawl, and other issues that may be more explanatory—affects people's trust in state government, we'd want to see correlation analysis. Simply breaking into neat groups of ten states is silly. California and Texas are massively larger than the other 48 states, making the delta within Group 1 larger than from the top of Group 2 and the bottom of Group 5. For that matter, while California is indeed in the group of states with the least trust, Texas is in the group with the most. I strongly suspect population size is a spurious metric.
The population size-trust relationship may help explain the finding that trust in state government tends to be higher in Republican-leaning states than Democratic-leaning ones, since larger states tend to be Democratic and smaller states Republican. Using Gallup's 2013 data on state party affiliation, average trust in state government is 67% in solidly Republican or Republican-leaning states, 58% in competitive states, and 53% in solidly Democratic or Democratic-leaning states.2All of the 10 most populous states are either Democratic or competitive, according to Gallup's party affiliation estimates. The most populous solid or leaning Republican state is Tennessee, which ranks 17th in population size. North Dakota, Wyoming, South Dakota, and Alaska rank among the top states in trust and the bottom states in population, and are all Republican-oriented states. Additionally, there are many other cultural, economic, and demographic factors that correlate with population size and politics that could help explain the trust-partisanship relationship.

Although Illinois' exceptionally low trust level does bring down the averages for both Democratic states and most populous states, those groups of states would still rank lower than other states if Illinois were excluded.
Again, I'm dubious that party affiliation is the actual explanatory metric at work here, both because there's no obvious reason it should be (indeed, Republicans would seemingly be ideologically disposed to distrust government, not Democrats) and because I'm suspicious of the coding. Texas, for example, is listed as "competitive" despite the fact that the governor, lieutenant governor, both US Senators, 23 of 36 US Representatives, and a majority of both houses of the state legislature are Republicans and the state last went in the Democratic column in a presidential election in 1976.