Losing Our Religion
Americans as a whole are becoming less religious and some people are panicking about it.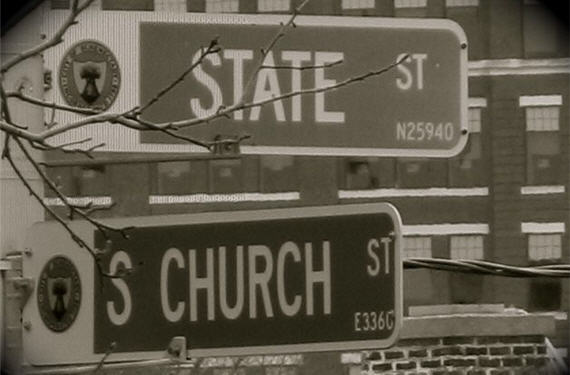 A recent Scientific American article points out the extent to which religion, at least in the form of organized religion, seems to be fading in American life while the percentage of Americans who say they have no religious affiliation continues to rise:
Since 1990, the fraction of Americans with no religious affiliation has nearly tripled, from about 8 percent to 22 percent. Over the next 20 years, this trend will accelerate: by 2020, there will be more of these "Nones" than Catholics, and by 2035, they will outnumber Protestants.

The GSS, which surveys 1,000-2,000 adults in the U.S. per year, includes questions related to religious beliefs and attitudes. Regarding religious affiliation, it asks "What is your religious preference: is it Protestant, Catholic, Jewish, some other religion, or no religion?"

(…)

Among people born before 1940, a large majority are Protestant, only 20-25 percent are Catholic, and very few are Nones or Others. But these numbers have changed rapidly in the last few generations: among people born since 1980, there are more Nones than Catholics, and among the youngest adults, there may already be more Nones than Protestants.

However, this view of the data does not show the effect of age. If religious affiliation increases or decreases, on average, as people get older, this figure could be misleading.

Fortunately, with observations over more than 40 years, the design of the GSS makes it possible to build a statistical model that estimates the effects of birth year and age separately. Then we can use the model to generate predictions, by simulating the results of future surveys. The details of this methodology are in a longer version of this article (see links below).
The results of the survey show the extent to which religious affiliation has changed over time: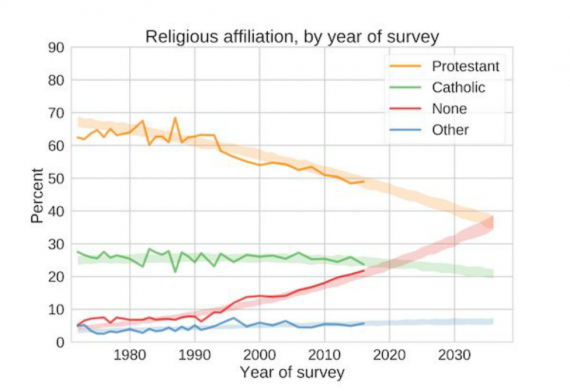 And this chart, which shows the answer to the same question grouped by year of birth shows how the change is even more apparent among younger generations: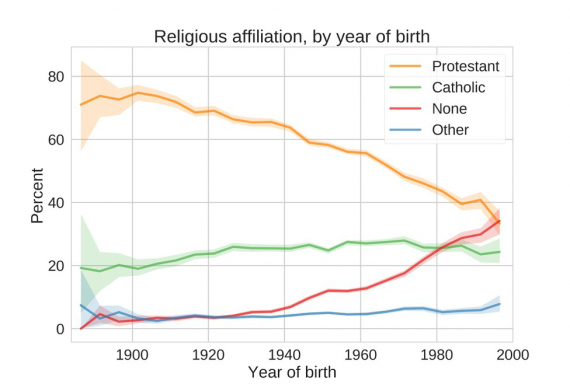 The most apparent thing from both charts, of course, is the extent to which they are largely identical in what they show for various attitudes toward organized religion. Whether one looks at it from the perspective of the response of the population as a whole or based on year of birth, there are two distinct trends. One is a marked decline in those professing membership in the large number of different faith traditions that can be grouped under "Protestant," a group that includes everything from the relatively mainstream faith traditions such as Episcopalians, Lutherans, Methodists, and Presbyterians, to more conservative traditions such as the Evangelicals, Fundamentalists, and so-called "Born Again" Christians as well as smaller groups, has declined markedly since the turn of the 20th Century. At one point, that group made up the vast majority of Americans who claimed membership in any faith tradition to a point where they now comprise less than 50% of the population. At the same time, the percentage of Catholics has remained relatively steady to the point where it comprises somewhere in the low 20% of all Americans. Members of other religions, which would include everything from Judaism and Islam to Hinduism, Buddhism, and other faiths associated with immigrants from non-European parts of the world, has also remained relatively steady. What has increased markedly, though, is the percentage of people who say that they have no real religious affiliation. This group is now at a point where it is essentially equal to self-identified Protestants and, based on the fact that younger generations are as likely to have no formal religious affiliation as they are to consider themselves Protestant. Given that trend, it seems inevitable that we'll soon be at a point where people with no religious affiliation compromise a majority of the population.
The manifestation of this phenomenon can be seen in many examples from the real world. Over the weekend, for example, Jazz Shaw at Hot Air noted the fact that the Episcopal Diocese in Baltimore has been closing a number of churches that have stood for years due to declining attendance and the increasing costs of keeping such churches open. The same phenomenon is apparent in the Roman Catholic Church, where the combination of an aging population, the fact that people are moving to other parts of the country, and a decline in the number of available Priests has led to the closure or consolidation of many Churches in recent years. In some cases, such as the small town outside of Scranton, Pennsylvania where my mother grew up, those changes are due to changes in the population and a gradual lessening of the differences between various ethnic groups. In that town, for example, there were once as many as four active Catholic Churches, that catered to the Slovak, Polish, Italian, and Irish immigrants that lived in the community in the early 20th Century. As those immigrant groups became more assimilated, though, the need for separate ethnic parishes declined and eventually the idea of four or five different Catholic Churches in one small town made no real sense. The other reason, of course, can be attributed to secularization overall that led one Baltimore Pastor to say "we no longer live in Christendom."
As for why this is happening, and why the increase in people with no religious affiliation seems to be accelerating, Allen Downey makes some excellent points:
Why is this happening? I suspect that it's because the social well-being of America is increasing over time, and there's plenty of evidence that increased well being—measured by a variety of statistics like healthcare, income inequality, incarceration rates and so on—is associated with lower religiosity both among countries and among states in the U.S. But of course if this is the reason, some unpredictable cataclysm, like nuclear war with North Korea, could upset these trends.

Absent that, we can still say with confidence that those who proclaim that "religion in America is stronger than ever" are simply full of it.
Downey has an expanded look at the data from the survey at his personal blog that provides more evidence of the extent to which American society is becoming more secular, including these two charts regarding the strength of religious belief generally: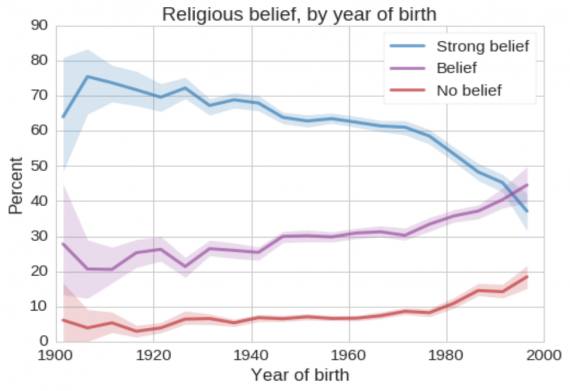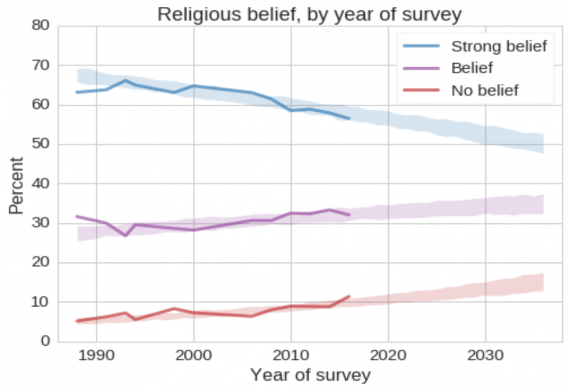 As these charts show, the change in belief has been somewhat less marked that the change in formal religious affiliation, but that's not to say it hasn't been non-existent, especially among those expressing a "strong belief." One suspects that the reasons for this decline are similar to those that help explain the changes in faith identification. In other words, as a society becomes more modern, religion and strong religious belief tend to weaken. This has been true for much of the Western world for some time now and it's now becoming apparent in the United States.
Downey's insights are largely correct, I think. If you look at the rest of the Western world, the trend away from organized religion has been even more apparent in places such as Western Europe than it has in the United States. Church attendance in nations with "official" religions such as the United Kingdom, France, Germany, and the nominally Lutheran nations of Scandinavia began declining years ago and his now at a point where most of the largest churches in these nations are virtually empty of anyone other than the older population on the average Sunday. Another aspect of this phenomenon both in Europe and here in the United States is the fact that it's simply no longer the case that Sundays are seen as a day for religion. Instead, it's fast become a day for sports and other activities and, thanks to the repeal of so-called "Blue Laws" that forced businesses to stay closed for all or part of the day on Sundays, commercial activities such as shopping. Given this, churches are finding that fewer people are attending services, especially younger people and even young families with children, which used to be a large part of the church-going community.
As for whether or not this is a good thing, that depends on where you sit on the religion question itself. In his post about the church closings in Baltimore, Jazz Shaw laments the trend to some degree:
What's causing this? I blame the internet. Okay… that's partly a joke because I essentially blame the internet for everything these days. But there's also some truth to it. An age of mass, instant communication and exposure to not just an ocean of good facts but an epic amount of conspiracy theories, dystopian drama and culture wars are probably driving more people toward despair and a loss of hope in any sort of greater good or lofty ideals.

I don't think this is a case of the churches "failing to keep up with the times" or somehow veering away from the needs of the people. It's the people who are choosing to leave the church and raising new generations of children who are never brought into the faith to begin with. Being religious isn't mandatory in the United States, but the more we veer away from such beliefs as a nation, the more coarse our culture has become. Or at least it seems so to me.
Rod Dreher, meanwhile, is alarmist about the whole thing and things such as the Baltimore church closings as more evidence in support of his advocacy of the so-called "Benedict Option" that essentially calls on the religiously orthodox to withdraw into their own faith communities rather than letting the allegedly poisonous world of secularism impact them or their children:
All that might sound like a lot of theoretical hoo-ha, but what it means, deep down, is this: Thou Shalt Have No Other Gods Before Me. Not on Sunday morning, not ever. Choosing Sunday sports over church is many things, but it is also to induce cultural amnesia into your family, and to embrace a new, godless culture and its liturgies — sports on Sunday morning, say — by sedimenting its values into your family's bones. You are teaching your children and yourself that there is no sacred order other than the one you choose. Do not be surprised if they learn this lesson well from you, and as adults, choose not to pretend that they really believe in God. And you will not be blameless in this.

I know I'm being harsh here, but people, this ain't no party, this ain't no disco, this ain't no foolin' around.  We American church people like to tell ourselves that if the secret policemen were to show up at our door to arrest us for being Christians, that we would bravely go to our fate, as the martyrs and confessors of the past did. What crap. Many of us won't even say no to soccer on Sunday morning. If the secret police in some distant dystopia were to come to our door and ask if we are Christian, we will already answered that question many times in the past, by the quotidian choices we will have made.

This is why I am, yes, alarmist about the Benedict Option and the future of Christianity. Things really are as bad as all that. When I talk about "strategic withdrawal" as necessary for the preservation of the Christian faith, I'm talking about things as mundane as taking your kids out of sports leagues that require them to play on Sundays (or Saturdays, if you're Jewish) and holy days. It really is a big deal, bigger than most people realize. You might think, "He's saying head for the hills, but we can't do that, because we have to stay engaged, to be salt and light to the world." Come on, really? If you really want your kids, and yourself, to be salt and light, then you cannot choose sports over Sunday worship, because in so doing you will have lost your savor, and accepted assimilation over fidelity.
The alternative to Dreher's alarmism, of course, is to accept the fact that what is happening in the United States is simply a natural evolution that mirrors what has happened in the rest of the world as nations have become more prosperous and more ethnically and religiously diverse. It's something that has been happening in Western Europe since at least the 1960's, and arguably since the end of World War Two, and it was only inevitable that the same thing would begin to happen in the United States as time went on. Additionally, it's worth noting that while the number of people who claim no adherence to a specific faith tradition, the vast majority of Americans continue to believe in a God of some kind and many Americans who don't attend church on a regular basis do end up attending services on holidays such as Easter and Christmas. The one thing that has changed is that religion has become a more personal thing for many Americans, and many people have realized that there really isn't a need for organized religion in their life.
The difference is that we no longer live in a country where religion can dictate to politics and culture in the manner that it used to. The most notable recent example of this, of course, can be seen in the debate over issues such as reproductive rights, same-sex marriage, and the rights of the LGBT community where the public as a whole, including people who do attend services on a regular basis, have moved away from more conservative religious doctrines and become more respectful of the rights of their fellow citizens. From my perspective, that's a good thing, but obviously, people such as Dreher see it as a sign of the if not the times then the beginning of some new Dark Ages. That kind of paranoia notwithstanding, it seems to me that increased secularization has largely been a good thing and that we could use a lot more of it. If Dreher and those like him wish to close themselves off from the modern world, that's their choice, of course. Absent living a life like the Amish, though, it strikes me as not an easy thing to do unless one is willing to deprive oneself of the very things that make living in a nation like the United States in the 21st Century so great notwithstanding the fact that our elected representatives continue to embarrass us on a daily basis.