Are "Liberal" States Shrinking?
Thinking about unsupported narratives and a little bit about data usage.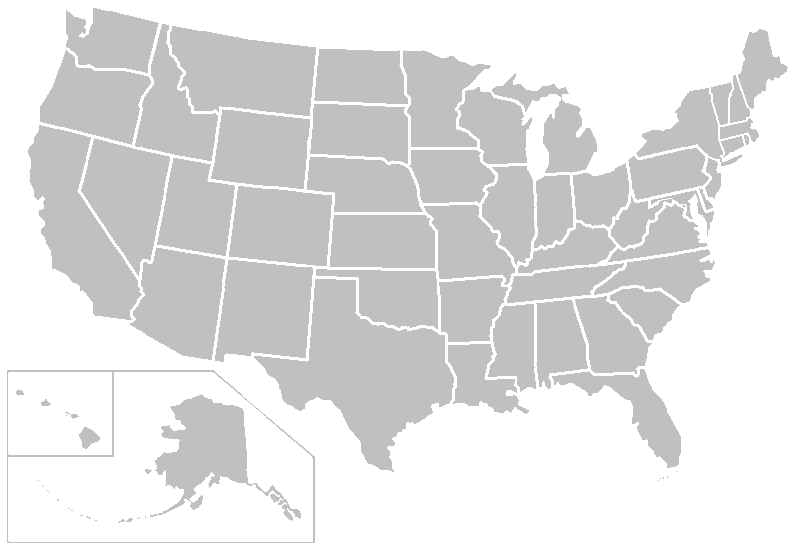 I noticed an editorial in the Washington Examiner, Is it any wonder liberal states are shrinking? that has inspired me to comment because it hits on a pet peeve of mine (a narrative about California and of state population trends in general) and mostly because it just represents a sloppy job of "analysis."
The narrative about California is that it is just such a horrible place that people are fleeing droves. It is a staple in right-wing media, wherein places like San Francisco are described as hellscapes of human feces and used needles to the point that no one wants to live there (which is, of course, why real estate is so high there).
It is true that I lived in California for about six years in my youth, finishing high school, and graduating with my BA from the University of California, Irvine. I had my first date with my wife 35 years ago last week and made several lifelong friendships during that period. I will also say that California is an absolutely gorgeous place (and SF is no hellscape, quite the contrary, at least not when I visited about 5 years ago).
However, my CA-related pet peeve has nothing to do with any nostalgia or allegiance. Truth be told, I have no interest in living there again, largely because it is too crowded and expensive. I agree that housing policies in CA, especially in places like the Bay Area have lead to unnecessary housing shortages. I concur that the property tax structure under Proposition 13 created any number of distortions to the system (ironically, a conservative anti-tax policy). I understand why people would find it too expensive to live there and flee eastward (and why companies might decide that business operations would be cheaper elsewhere).
No, my annoyance at cries that California is a hellhole and that people are fleeing in droves is driven by my desire to have people talk about facts and reality, as well as because if people are going to cite data points that they should do so competently. And, facts should trump ideology, not the other way around (tilting at windmills, I know).
Let's face facts: the editorial linked above, and most conversations about people leaving "liberal" states is really about a simplistic ideological game wherein it is pretended that points can be scored to states based on inflow and outflow of persons and that said flows are a direct commentary on prevailing policy in those states (especially taxes).
For an entire human lifetime, the state of Illinois has been a laggard in population growth. It has lost eight congressional districts since the 1950s. But new census estimates released last week show that this decade, something very special has happened.

The state, affectionately referred to by many as either the "Deadbeat State" (for its practice of handing out IOUs in place of payments to vendors) or "Madiganstan" (after the powerful speaker-for-life of its state House), has actually been losing population every year since 2013.

In fact, the land of Lincoln has lost a net 308,000 residents over the last seven years and a quarter million since the last decennial census. Both numbers are larger than the population of any city in Illinois except for the megalopolis of Chicago. And Illinois's rapid shrinkage is occurring even as the United States grew by nearly 7% since the last census.

Illinois's state government is extraordinarily left-wing, and its taxes are extraordinarily high. Its Supreme Court stubbornly stands athwart desperately needed pension reforms, without which the state's finances simply cannot be saved. Opportunity there is dying under the weight of corruption and the stranglehold of special interests such as labor unions.

Illinois is not alone. The same census data point to two other big states that are also driving away residents with similarly impractical, ideologically leftist policies ⁠— California and New York.
Look, I am not going to pretend to know why Illinois shrank. It may well be because of tax policy, although odds are quite good that there are other factors.
Nonetheless, sweeping conclusions are drawn:
Even as these states empty out, the same census numbers show that people are gravitating toward states that have low or no income tax. Not all of these are conservative states either ⁠— Washington state and Colorado are among the fastest growers, along with Utah, Texas, Idaho, Arizona, Florida, North Dakota, and South Carolina. But in all these cases, those in power have remained practical. Rather than treating their job-creating businesses as golden geese ready to be slain, they have guaranteed a friendly, nonideological business climate and mostly stayed out of the way of individual success.

If you want your state to succeed, that's the formula. It isn't hard to understand why.
Well, since the has been a decades-long trend of US population shifting from the northeast/north to the south and west, the notion that Illinois and New York would have peaked in population and places likes AZ, FL, SC, and TX have grown is no surprise: it fits a known trend. We also know that North Dakota (the main geographical outlier) has grown of late due to fracking (as has South Dakota).
If you are going to write about such things, you kind of need to acknowledge this kind of thing.
Note this projected map of House reapportionment (via PBS):
And then note the shift that took place after the 2010 Census:
And after 2000:
What could the trend be?
I could go on by decade, but here's a map that shows the shifts from 1930 to 2000: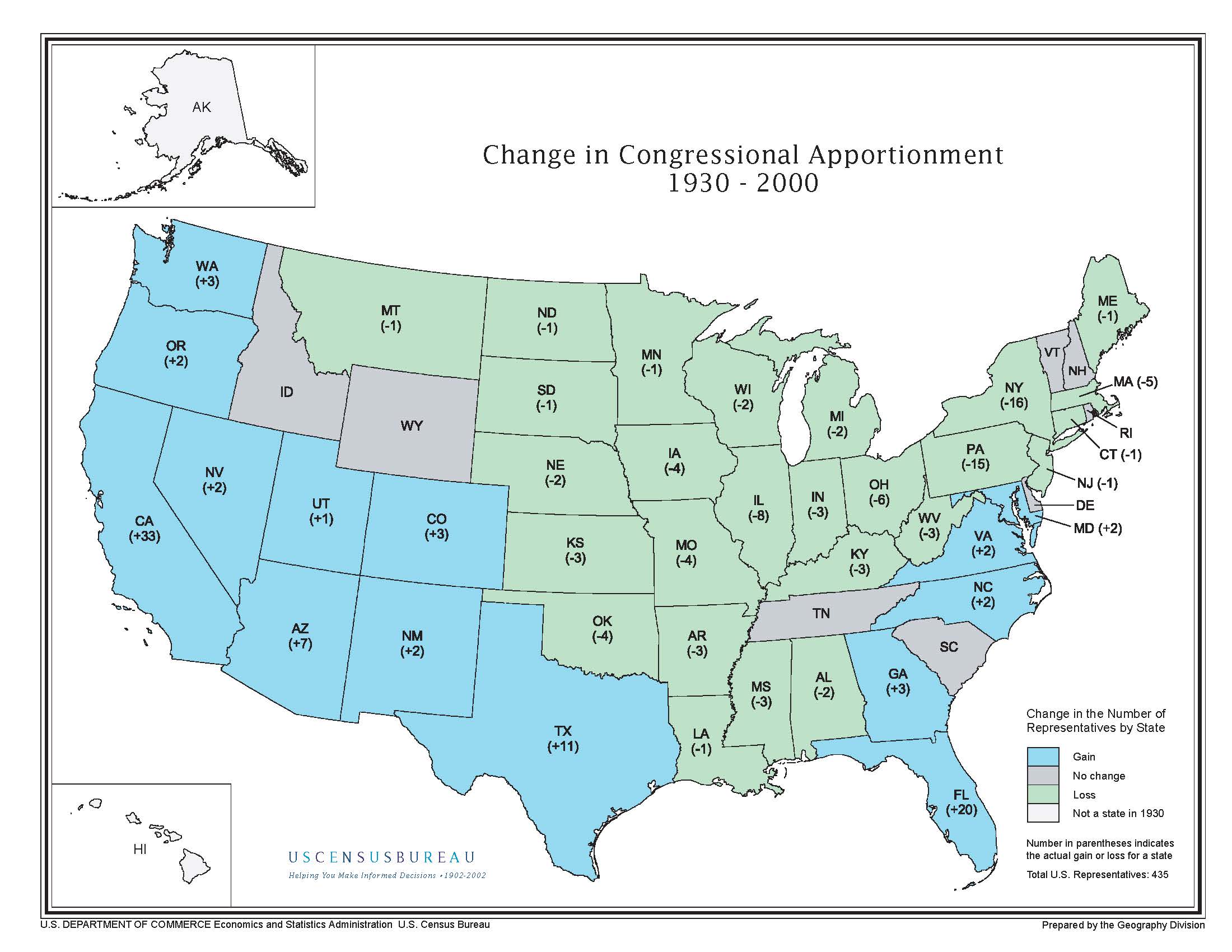 The prevailing trend is rather obviously south and west from the north and east. I would note too, in terms of the Washington Examiner's simplistic thesis, low-tax states like Alabama, Arkansas, Louisiana, and Mississippi have not done as well as their notion should have predicted.
Indeed, it makes me think of an ongoing local problem in Alabama's capital: If the quality of area's schools doesn't improve, could Maxwell AFB take off?
Military, education, city, county and business leaders gathered in front of the Maxwell Air Force Base main gate Wednesday to stress the importance the base has to Montgomery's success, and how dependent its future is on the Montgomery Public School system.

There is a connection between military readiness and quality education opportunities around a base, said Gen. Trent Edwards, a former 42nd Air Base Wing Commander at Maxwell.

If the Montgomery County school system does not improve, the missions of Maxwell and Gunter could be reduced or relocated, he said. That potential loss would strip nearly 13,000 jobs attached to the base, as well as its the $2.6 billion annual economic impact — the largest of any industry in the River Region.
Indeed, infrastructure and other factors that require public expenditure have a direct influence on the ability of localities to attract business investment (and, therefore, in-migration). Low taxes alone are not enough to induce investment and in-migration.
For that matter, Kansas engaged in a massive supply-side experiment starting in 2012, and its population has been largely flat since then.
Also, a little basic math is in order.
The editorial notes that Illinois' population shrank by 308,000 over the last seven years. On the one hand, a lot of people. On the other, some quick googling and calculations suggest that the state has gone from roughly 12.9 million to about 12.6 million since 2013, for a loss of ~2.4%. That is hardly the emptying of the state.
In regards to New York, the piece asserts "New York…has also lost about 42,000 residents in the last decade. Its population peaked in 2015, and in the time since, it has lost about 320,000."
This amount to, again using numbers from the US Census Bureau via Google, to a -0.66% loss in the state from 2010 to 2020. That is shrinkage I don't think even George Costanza would notice and, again, is not anywhere near an emptying. (FWIW, NY's population growth rate has been fairly flat since 1960).
Back to California for a second, here's the population growth chart for the state from the Public Policy Institute of California:
California has been known for the high cost of living and for doing business for decades. I recall this complaint back when I lived there in the late 80s/very early 90s. I also recall conservative commentators at the time claiming the state would soon lose business in droves to other states. And while some did move to those states due to cost reasons, many did not. Indeed, the trend line kind of kills the notion that the state is emptying out.
As the write-up that goes along with the graph notes
One out of every eight US residents lives in California.
With almost 40 million people (according to 2019 estimates), California is the nation's most populous state—its population is much larger than that of second-place Texas (29 million) and third-place Florida (21 million). California's population is projected to reach 45 million people by 2050.
But the piece does note:
…but growth has slowed in recent decades.
Over the past 20 years, California has experienced its slowest rates of growth ever recorded, and growth has been especially slow since 2017. According to estimates by the California Department of Finance, California's population grew by 7.3% (or 2.7 million) from 2010 to the end of 2019; this rate is only slightly higher than the national rate of 6.3%. International migration to California has remained strong, with a net inflow of 1.5 million. But net domestic migration has been negative: about 900,000 more people left California for other states than came to California from other states. Natural increase—the difference between births and deaths—added 2.2 million residents. But birth rates are at record lows and the number of deaths is increasing as the population ages.
Was this a bit of overkill to respond to, of all things, a Washington Examiner editorial? Of course, but it is actually something I have been meaning to write for a while, as there is a constant attempt to make simplistic claims about population growth patterns and tax policy. I also find it galling that people with big platforms make ridiculous claims like states are "empty[ing] out" without giving any time to looking at long-term trends, or the relative size of the changes.
All of this is knowable via some basic social science, consultation of basic demographic data, and a little math.
(If I ever decide to go anonymous, I think I should pick the nom de plume of "Sisyphus").