Has Nate Silver Ruined Politics?
Is the triumph of political forecasting good for our democracy?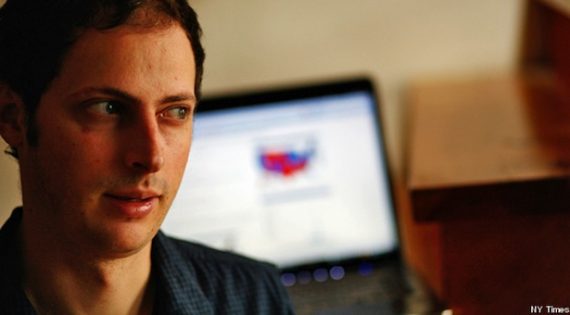 Jason Zengerle worries about the impact of the triumph of numbers represented by the success of Nate Silver's forecasting model:
What's most problematic about Silver's and the pollsters' triumph last night is what it may herald for the future of campaign coverage. Without a doubt, Silver's rigorous empiricism is much, much more preferable to the lazy, gassy, vibration-sensing punditry that has made up so much of our political journalism. And yet, the biggest complaint about campaign coverage over the last twenty years has been that it's too focused on the horse race and doesn't pay enough attention to the substance. Silver and his fellow polling analysts and aggregators have brought a welcome degree of precision, but they've only made the horse race more central to the political conversation. After all, what dominated that conversation for the past month? It wasn't a conversation about the candidate's dueling tax plans. Rather, it was a debate about the polls. The fact that the good guys — who put their faith in the data rather than the vibrations — won that debate may turn out to be something of a pyrrhic victory.
Zengerle may have a point here. The media has been obsessed with polling and "the horse race" to the exclusion of any actual discussions of the substance of policy for decades now. Every single poll release is treated as "Breaking News" even though it's really just one snapshot among many that may or may not be an accurate reflection of the state of the race. We fall victim to it here in the blogosphere too, with every poll becoming fodder for yet another blog post, although I did try during this last cycle (with admittedly spotty success) to limit that and focus more on poll averages and trends than individual polls. This time around, the "horse race" coverage turned into a month's worth of coverage of the question of who was right about the polls, resulting in a complete rank amateur like Dean Chambers getting far more media coverage and conservative accolades than he deserved, especially since he doesn't appear to have any formal training at all in mathematics, statistics, or polling. At the end of the day, Nate Silver was proven to be right, indeed more right than he had been in 2008 when he correctly predicted the outcome in 49 out of 50 states. This year he went 50 for 50 plus, of course, the District Of Columbia. I can easily see the media lesson from this being that they need to invent their own forecasting models, so that in 2016 we end up with coverage of whose forecasting model is correct.
I'm not saying the Silver should shut his forecasting model down. Far from it, actually. He's provided invaluable insights into how polling works, and how polls should be properly evaluated. At the same time, though, it as though all the attention that's been paid to his model this year is going to create a perverse set of incentives for the media in the future that will mean yet more coverage of the "horse race" and less coverage of substantive issues. Already, we live in a world where that kind of coverage shapes how campaigns act. If it becomes even more prevalent, then candidates and their advisers will act accordingly.
More broadly, though, I have to wonder what this actually means for our politics. Campaigns are at least supposed to be about issues and about the direction that candidates will take our country. The more we become obsessed with numbers and what the latest forecast says, the less I fear people will pay attention to what matters. After all, why bother listening to an opposing candidate if the forecasting model says that the incumbent has a 95.46% chance of winning the election?