How The New York Times Lost Nate Silver
Apparently, there was a culture clash at the Grey Lady.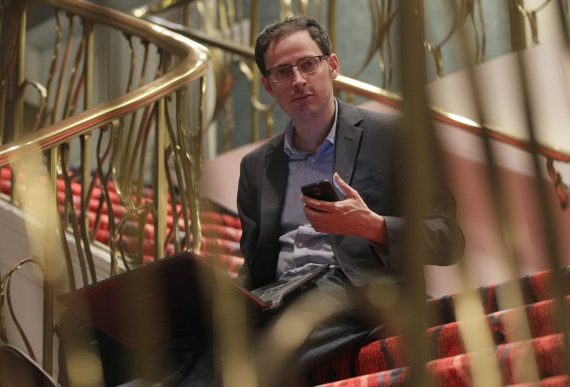 The New York Times' Public Editor places at least some of the blame for losing Nate Silver on the fact that the newspaper's culture never really made him feel welcome:
* I don't think Nate Silver ever really fit into the Times culture and I think he was aware of that. He was, in a word, disruptive. Much like the Brad Pitt character in the movie "Moneyball" disrupted the old model of how to scout baseball players, Nate disrupted the traditional model of how to cover politics.

His entire probability-based way of looking at politics ran against the kind of political journalism that The Times specializes in: polling, the horse race, campaign coverage, analysis based on campaign-trail observation, and opinion writing, or "punditry," as he put it, famously describing it as "fundamentally useless." Of course, The Times is equally known for its in-depth and investigative reporting on politics.

His approach was to work against the narrative of politics – the "story" – and that made him always interesting to read. For me, both of these approaches have value and can live together just fine.

* A number of traditional and well-respected Times journalists disliked his work. The first time I wrote about him I suggested that print readers should have the same access to his writing that online readers were getting. I was surprised to quickly hear by e-mail from three high-profile Times political journalists, criticizing him and his work. They were also tough on me for seeming to endorse what he wrote, since I was suggesting that it get more visibility.

Many others, of course, in The Times's newsroom did appreciate his work and the innovation (not to mention the traffic) that he brought, and liked his humility.

* The Times tried very hard to give him a lot of editorial help and a great platform. It bent over backward to do so, and this, too, disturbed some staff members. It was about to devote a significant number of staff positions to beefing up his presence into its own mini-department.
Well, the fact that the Times was being helpful to Silver is understandable. After all, by the time they had hired him after the 2008 election he had already built a name for himself with his uncannily accurate statistical projections, something that was entirely new at the time.  The fact that it was not just new but seemingly so accurate made Silver an overnight star and the decision to move his entire "FiveThirtyEight" operation under the rubric of The New York Times was a big deal, not just in the newspaper business but also in the still burgeoning world of online political punditry and election forecasting.  By the time the 2012 election rolled around, Silver's site was accounting for the largest part of the traffic to the Times' website. Given all of that, it made sense that Times management would be interested in making him happy. It's also understandable why the more traditional political reporters at the paper might not be so thrilled about the sudden laurels being given to this "kid" who does math.
Sunday's Politico Playbook provides some more behind the scenes information about Silver's departure:
Silver had told The Times that he wanted to expand to weather, economics and anyplace else at The Times that had statistics and numbers he could bring to life. He had already begun doing that, with "Claims on I.R.S. Are Challenged By Probability," which ran in the paper, as did an examination of Chief Justice John Roberts's use of statistics, along with "Health Care Drives Increase in Government Spending" and "Congressional Proposal Could Create 'Tax Bubble.'" In December, Silver had his first front-page story in the print paper.

Early this year, The Times laid out a plan that would give Silver a staff of six to 12 bloggers to focus on a variety of topics, modeled on Ezra Klein's Wonkblog at The Washington Post. The plan was so specific that it named Megan Liberman, an up-and-coming deputy news editor at The Times, as Silver's editor. As recently as last month, some executives at The Times were confident Silver would stay, mainly because they had given him everything he had asked for. Silver is very interested in prestige, and the prestige of The Times was a huge deal to him. But Silver, who first made his name with forecasts for Major League Baseball players, still loves sports. At times, he felt unwelcome in the Times Sports section, and seemed to struggle to fit into its culture. The section is among the most innovative at the paper, but not in the areas that are Silver's wheelhouse.
There's much more at the link about the negotiations with ESPN/Disney that led to the deal that Silver ended up accepting. What's interesting about it all is that it makes one wonder if Silver hasn't possibly bitten off more than he can chew. This is a guy who earned his chops with Sabermetrics in baseball and then with a statistical model for analyzing poll results in the political world that proved to be uncannily accurate. He's obviously a very smart guy who understands more math than I've forgotten at this point. However, numbers and statistical analysis can only get you so far. As several people have pointed out, Silver's Oscar predictions, which apparently is something he'll be doing on a regular basis for ABC now as part of his contract given that ABC has the broadcast rights for those awards at least through 2020, haven't really been any more accurate than those made by anyone else. And I'm not really sure how you an apply statistics to an analysis of the weather without having an in-depth understanding of the science of meteorology. So, it's possible that Silver is biting off more than he can chew here. Of course, people have underestimated the guy before so I'm not going to say that I'm absolutely sure about that.
The one thing I am sure about, though, is that he's probably going to need a lot of patience to work with Keith Olbermann on a regular basis Good luck with that one, Nate.