Nate Silver Leaving New York Times For ESPN, ABC
Three years after joining The New York Times, Nate Silver is jumping ship to Disney's ESPN and ABC.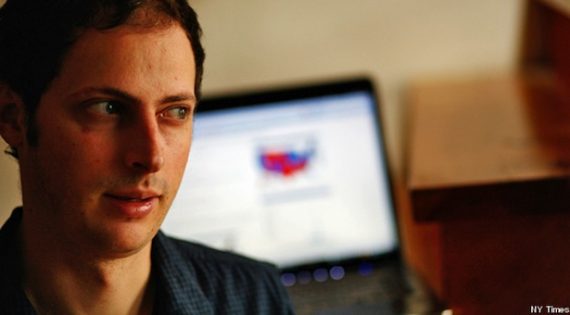 Nate Silver, who achieved no small degree of fame over the past four years for his uncannily accurate calls in both the 2008 and 2012 Presidential races, will be leaving his position at The New York Times to take a position at ESPN and, during the political season, ABC News:
Nate Silver, the statistician who attained national fame for his accurate projections about the 2008 and 2012 presidential elections, is parting ways with The New York Times and moving his FiveThirtyEight franchise to ESPN, the sports empire controlled by the Walt Disney Company, according to ESPN employees with direct knowledge of his plans.

At ESPN, Mr. Silver is expected to have a wide-ranging portfolio. Along with his writing and number-crunching, he will most likely be a regular contributor to "Olbermann," the late-night ESPN2 talk show hosted by Keith Olbermann that will have its debut at the end of August. In political years, he will also have a role at ABC News, which is owned by Disney.

An ESPN spokeswoman declined to comment on Friday night. Mr. Silver declined to comment. The employees, who spoke on the condition of anonymity, said that Mr. Silver's deal could be announced as soon as Monday.

Before creating statistical models for elections, Mr. Silver was a baseball sabermetrician who built a highly effective system for projecting how players would perform in the future. For a time he was a managing partner of Baseball Prospectus.

At public events recently, he has expressed interest in covering sports more frequently, so the ESPN deal is a logical next step.

Mr. Silver's three-year contract with The Times is set to expire in late August and his departure will most likely be interpreted as a blow to the company, which has promoted Mr. Silver and his brand of poll-based projections.

He gained such prominence in 2012 that President Obama joked that Mr. Silver had accurately predicted which turkeys the president would pardon that Thanksgiving. "Nate Silver completely nailed it," he said. "The guy's amazing."

Speculation about the future of Mr. Silver and FiveThirtyEight heated up shortly after last November's election, and he was wooed by no small number of other news organizations. Jill Abramson, the newspaper's executive editor, and Mark Thompson, the chief executive of The New York Times Company, said earlier this year that they would try hard to sign Mr. Silver to a new contract.

NBC News and its cable news channel MSNBC was another interested party.

In an e-mail several weeks ago, Mr. Silver said negotiations were continuing with The Times "and I'm still trying to make a decision." He informed The Times on Friday of his plan to leave.
As noted, Silver's departure for ESPN is likely to return him to the world of sports statistics where he got his start, although its worth noting that his recent efforts to apply his statistical modeling to that arena, such as picking Super Bowl winners and such, has proven to be much less successful than his endeavors in the political arena. We're also likely to see him on television far more than we used to in the past, although he did become something of media star in the run-up to the 2012 election as many on the right attempted to deflate his ultimately spot-on call of the outcome of the Presidential election. There's no official word about what will happen to the FiveThirtyEight blog itself, although one imagines it will end up getting subsumed in someway into ABC News's political coverage in some way in the same way that his independent blog became part of The New York Times when he moved there three years ago.
This could end up being a big hit for the Times. Shortly after last year's election, we learned that Silver's blog was responsible for a "significant" portion of the page views that the Times was receiving. While that statistic is likely to have changed after interest in the election ended, without Silver the Times won't be able to count on that boost in the run up to the 2014 or 2016 elections.
The interesting thing to watch will be how Silver and Olbermann work together, especially since one of the stipulations that Olbermann agreed to regarding his new ESPN show is that he won't be discussing politics at all.