A Reminder About Polling
As we begin to head into General Election season, a few things to remember about the avalanche of polls to come.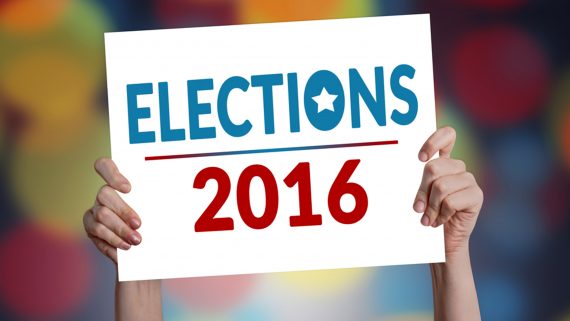 Yesterday's headlines included the news of three new Quinnipiac polls from swing states that show the race between Donald Trump and Hillary Clinton to be tighter than many had expected. This prompted a response from polling and statistics guru Nate Silver:
Nate Silver thinks it's time to pump the brakes on predicting the results of a Donald Trump-Hillary Clinton matchup in November.

"For f–k's sake, America. You're going to make go on a rant about general election polls — in May?" the editor in chief of FiveThirtyEight wrote as part of a tweetstorm on Tuesday.

Silver said Clinton has an about 6 percent lead over Trump nationally, but cautioned: "It's early. Trump could win. Also, he could lose in a landslide." He added that Trump's presumptive nomination and Clinton's ongoing battle with Bernie Sanders could be having an effect — "We'll know more in June."

(…)

"The election will go through a lot of twists and turns, and polls are noisy. Don't sweat individual polls or short-term fluctuations," Silver tweeted.
In addition to the fact that they are far too early, one of the primary reasons why these Quinnipiac polls may not be entirely reliable is the fact that they are being taken at a time when the political ground is arguably more advantageous to one candidate than another. The race for the Republican nomination is over, and, with the exception of a dwindling number of true believers, most Republicans appear to be clearly rallying around their party's nominee just as they would in any other election year. The Democratic race is another matter. While it's apparent to anyone capable of doing the math that Hillary Clinton will be the Democratic nominee, she still finds herself in an adversarial contest with Vermont Senator Bernie Sanders, who continues to rally his supporters with the idea that he could somehow pull of the impossible and win the nomination. As a result, Clinton's numbers are arguably still being deflated somewhat by the fact that Sanders supporters have yet to reconcile themselves to the fact that she is going to be the nominee. That will most likely happen at some point, of course, but right now it isn't happening largely because the Sanders campaign is still acting as if it is trying to win the Democratic nomination. Until we're at the point where both party nominations are settled, these head-to-head polls don't really tell us much of anything. Trump is getting his boost in the polls right now, and will likely get another one after the Republican National Convention. The same will happen to Clinton. Once the dust settles later in the summer, it will make a lot more sense to look at these polls, especially at the state level, which is what really matters in the context of a Presidential campaign. With that in mind, these early polls should be taken with a grain of salt at the very least.
It's also worth keeping in mind that not all polls are created equal, and that not all polling firms can be trusted. During the GOP primary battle, there were several first-time pollsters that put out polls that received far more media attention than they probably deserved, especially since several of them turned out to be outliers that were nowhere near being accurate when compared to the final election results. Generally, speaking the polling from the top media companies has proven to be the most reliable over the years, but even there we have seen plenty of examples of outliers that showed a candidate surging when no other poll was doing so. Given that, more attention ought to be paid to poll averages and to trends within individual polls rather than a single poll that the media is freaking out about because they need something to talk about. Finally, it's worth remembering that polls are useful analysis tools but, in the end, they are at best snapshots in time that may not reflect last minute developments, and which could end up being completely inaccurate if they fail to pick up on a surge of new voters, which is something that we've seen on both sides of the ballot this time around thanks to the candidacies of Bernie Sanders and Donald Trump.
In any case, here's all of Silver's Tweetstorm, which includes other well-taken advice regarding polling:
1. For fuck's sake, America. You're going to make go on a rant about general election polls — in May?

— Nate Silver (@NateSilver538) May 10, 2016
2. The data is consistent with Clinton having a ~6% nat'l lead over Trump. It's early. Trump could win. Also, he could lose in a landslide.

— Nate Silver (@NateSilver538) May 10, 2016
3. State polls are broadly consistent with that ~6% Clinton lead + noise + house effects. Not nearly enough data to say more than that.

— Nate Silver (@NateSilver538) May 10, 2016
4. Possible there are effects from Trump wrapping up his nomination while Clinton still competes against Sanders. We'll know more in June.

— Nate Silver (@NateSilver538) May 10, 2016
5. Watch whether polls are likely or registered voters. Usually GOP gains a point or two with likelies. Possible Trump will be an exception.

— Nate Silver (@NateSilver538) May 10, 2016
6. The election will go through a lot of twists and turns, and polls are noisy. Don't sweat individual polls or short-term fluctuations.

— Nate Silver (@NateSilver538) May 10, 2016
7. Looking at Electoral College is great once you have rich data — multiple recent polls of each state. We won't have that for a few months.

— Nate Silver (@NateSilver538) May 10, 2016
8. It's usually not worth it to diagnose why an individual poll deviates from the consensus. Think 'macro' not micro—look for robust trends.

— Nate Silver (@NateSilver538) May 10, 2016